A homemade silky smooth key lime pie that's creamy, sweet, and tangy and is prepared with authentic key lime juice. It's the perfect pie for Spring!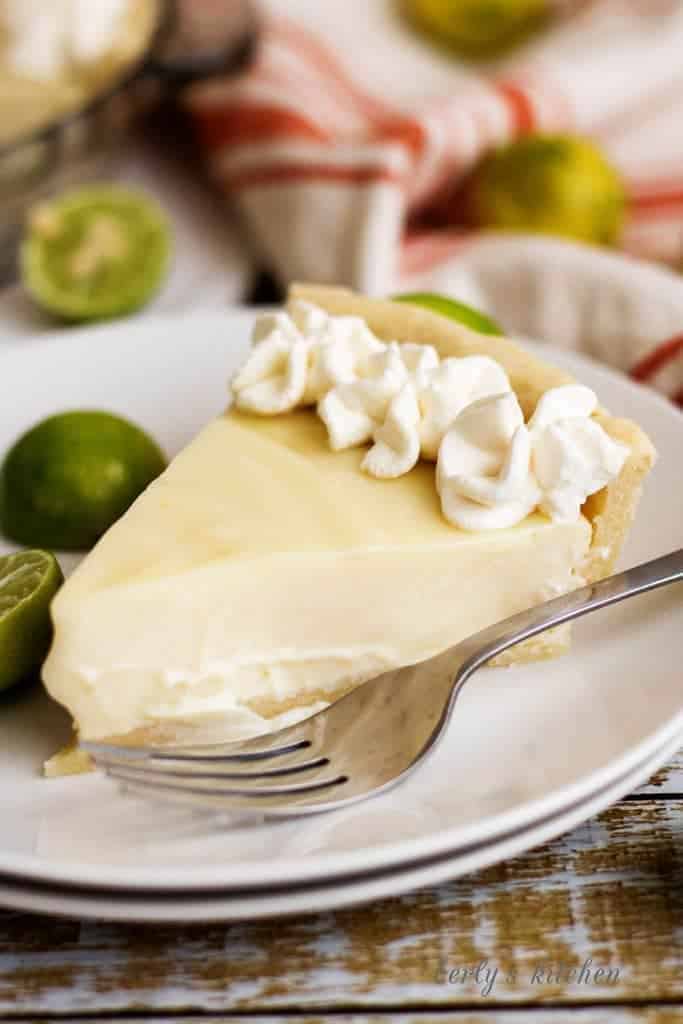 I am sure at this point you have probably begun to realize that key lime is one of our favorite dessert flavors. From key lime dip to key lime martinis, this citrus fruit brings the perfect balance of tart and tangy to any treat.
For today's recipe, we present our Silky Smooth Key Lime Pie. It was inspired by another blogger, Jolina, at The Unlikely Baker.
However, she wasn't the only one who helped us bring this delicious dessert to you.
Nicole, from Gluten-Free on a Shoestring and The Hero Rolling Pin kit we received also contributed to making this key lime dream come true.
Key Lime Pie Filling:
Jolina is a food blogger and all-around wonderful person. Every interaction I have had with her so far has always been a joy.
Don't let the name of her blog fool you; this lovely lady can bake, saute, and whip up a meal that is sure to satisfy any craving.
She has many recipes to choose from, both savory and sweet. One weekend we decided to try her Dreamy Creamy Meyer Lemon Pie recipe, and we were hooked!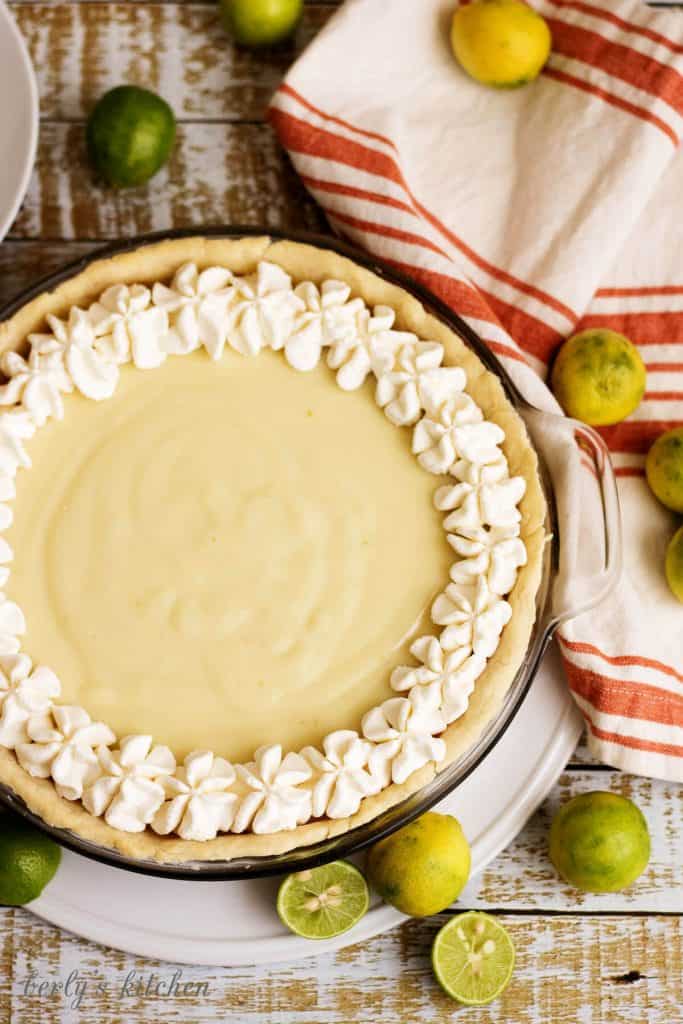 It has a smooth, silky texture and is sweet and tart at the same time. One bite and Kim and I had to share this fantastic recipe.
The only changes we made were to substitute key limes for Meyer lemons and increase the amount of sweetened condensed milk.
All the credit for this fabulous pie filling goes to Jolina! Her website is definitely a "must see" blog!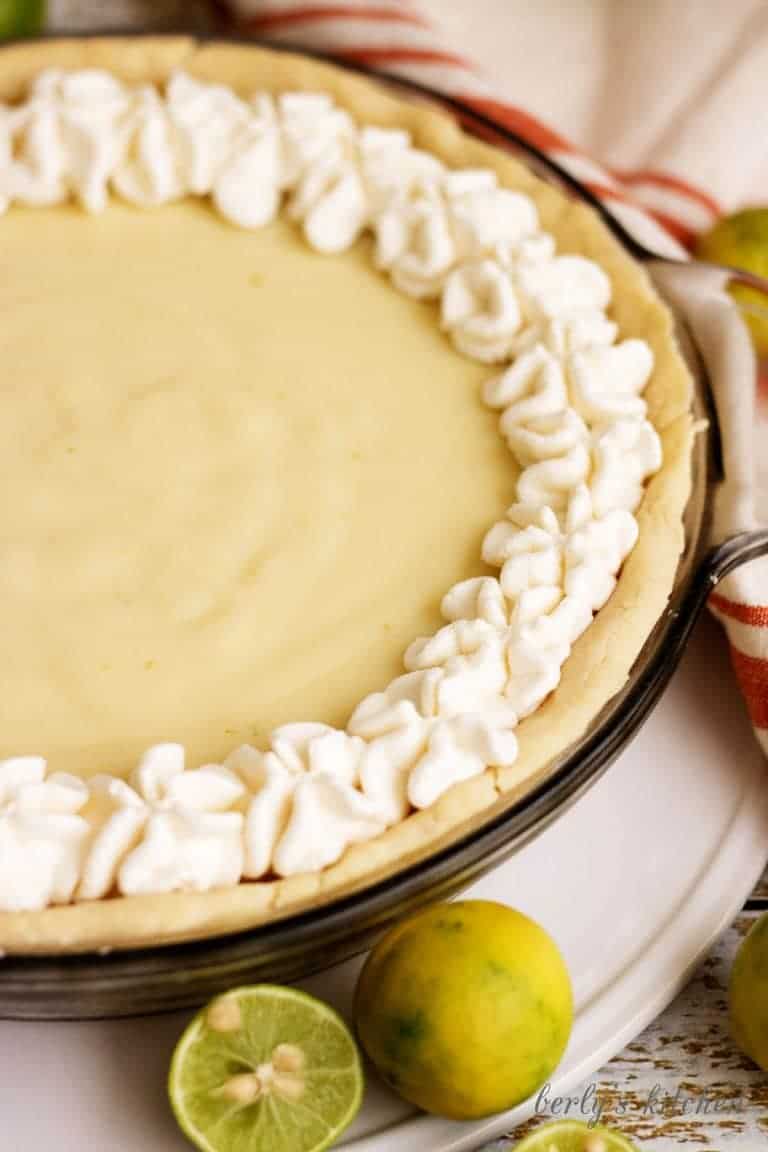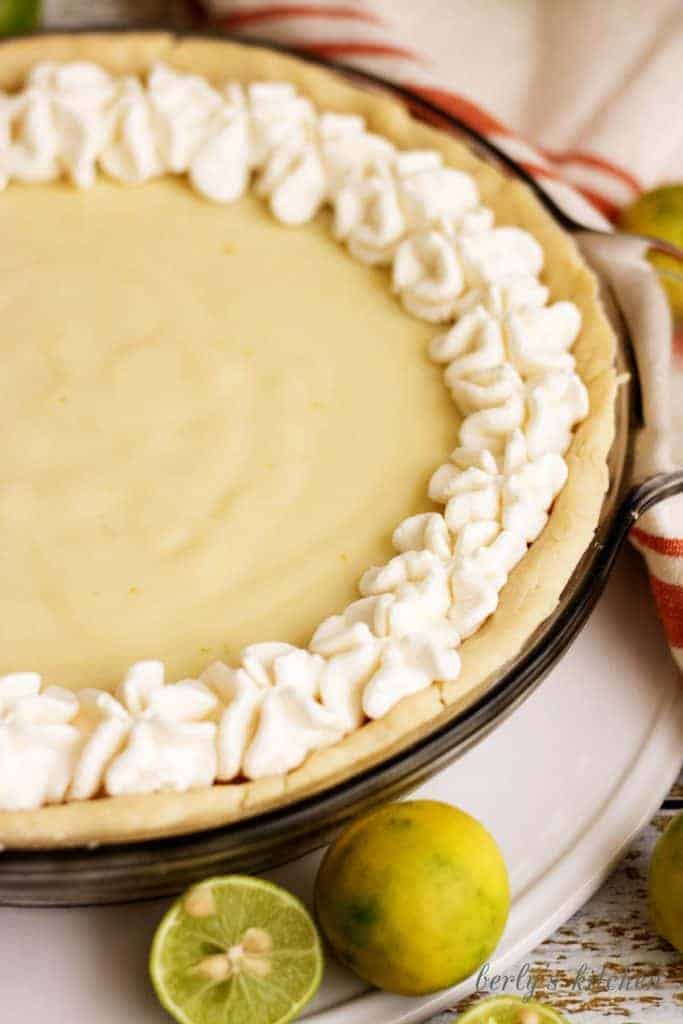 Gluten-Free Pie Crust:
I am being honest here, I am not gluten-free by choice. I have started removing gluten from my diet because Kim is now gluten-free.
We felt it was better for us both to take that dietary journey together. With that being said, there were certain foods that I just could not eat without gluten; pie crusts being one.
Well, that is until we found Nicole's Extra Flaky Gluten-Free Pie Crust. It is "as advertised."
It's buttery, flaky, and so good I have to eat the back of the pie crust first before digging in with my fork. Yeah, it's that good!
In fact, I will be using it for all my pie crusts from now on, so Kim doesn't get left out. The only thing
Kim ran into was the crust is so flaky that it can break when you try to move it from the countertop to the pan. Honestly, anything can cause that, from humidity to technique.
So, I don't think that's any reflection on the recipe. Additionally, I encourage you to check out Nicole's site for more awesome gluten-free recipes!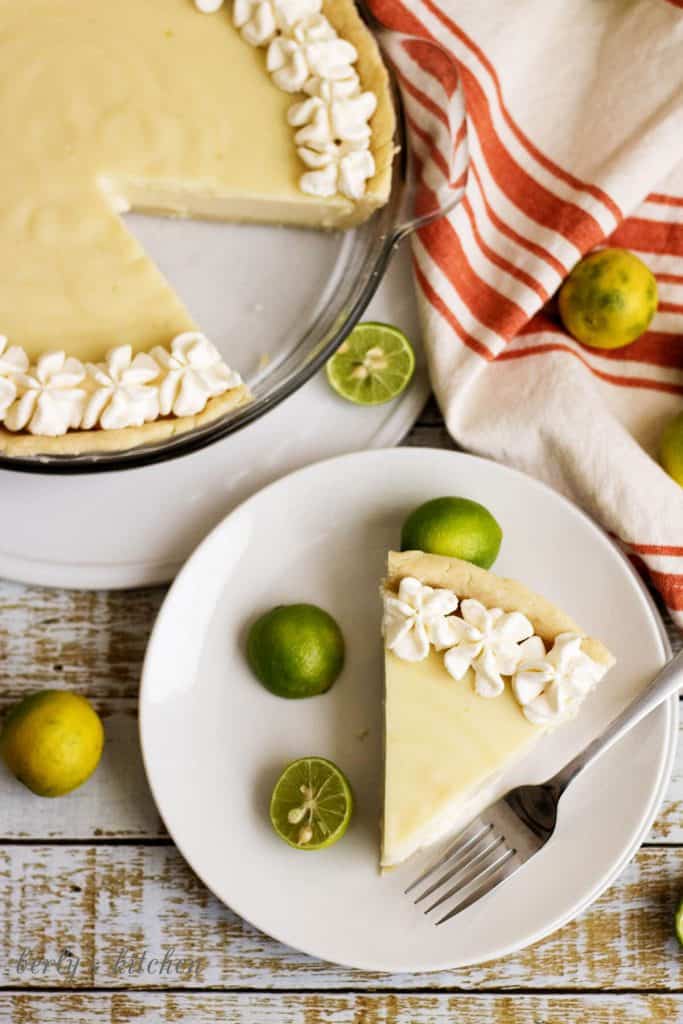 The last conspirator in this menagerie of key lime goodness were the Hero Rolling Pin kit and pie weight sets. The rolling pin is unique in two ways.
First and foremost, it can be filled with cold liquid. This is a cool feature when you are working with crusts and doughs because the butter has to stay cold.
Secondly, it has measurements and guide strips that help you obtain the correct diameter and depth of dough. It was great not to have to "eyeball" everything.
When we received our kit, I used them on our biscuit recipe, and it was unbelievable to see the rolling pin in action. The biscuits turned out flaky and golden!
Kim used the rolling pin and the pie weights with this key lime pie recipe and once again, everything was perfect.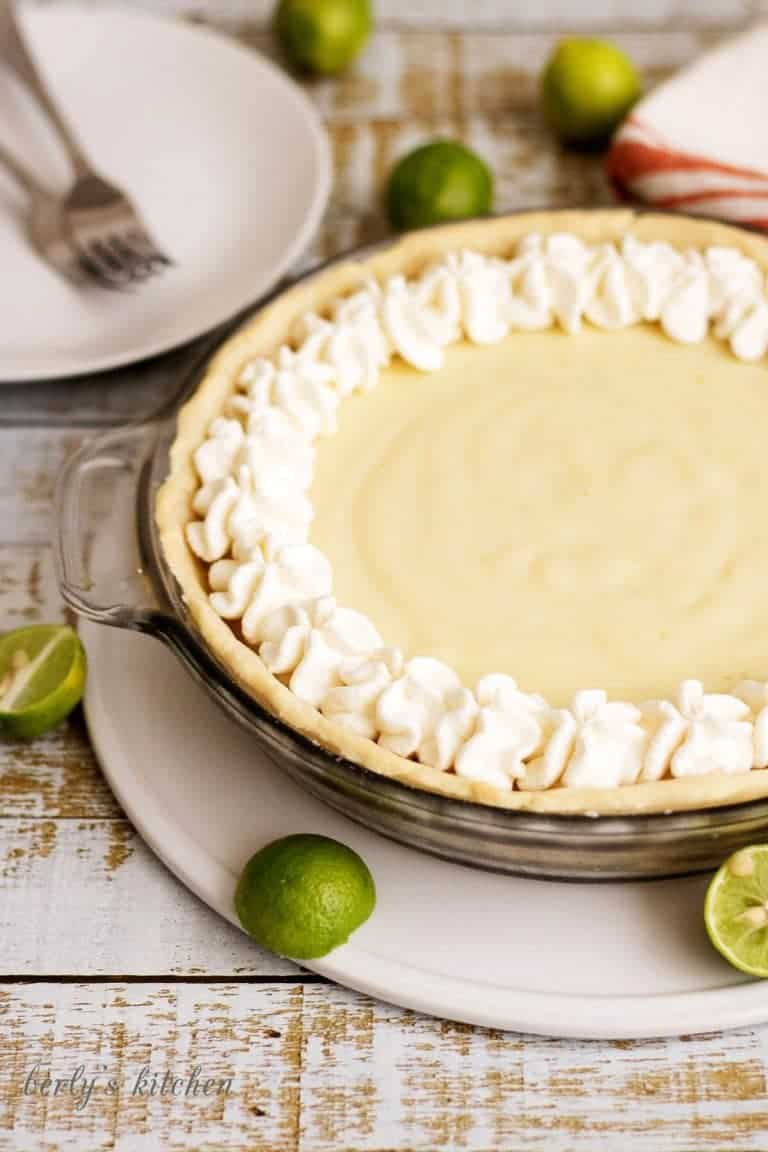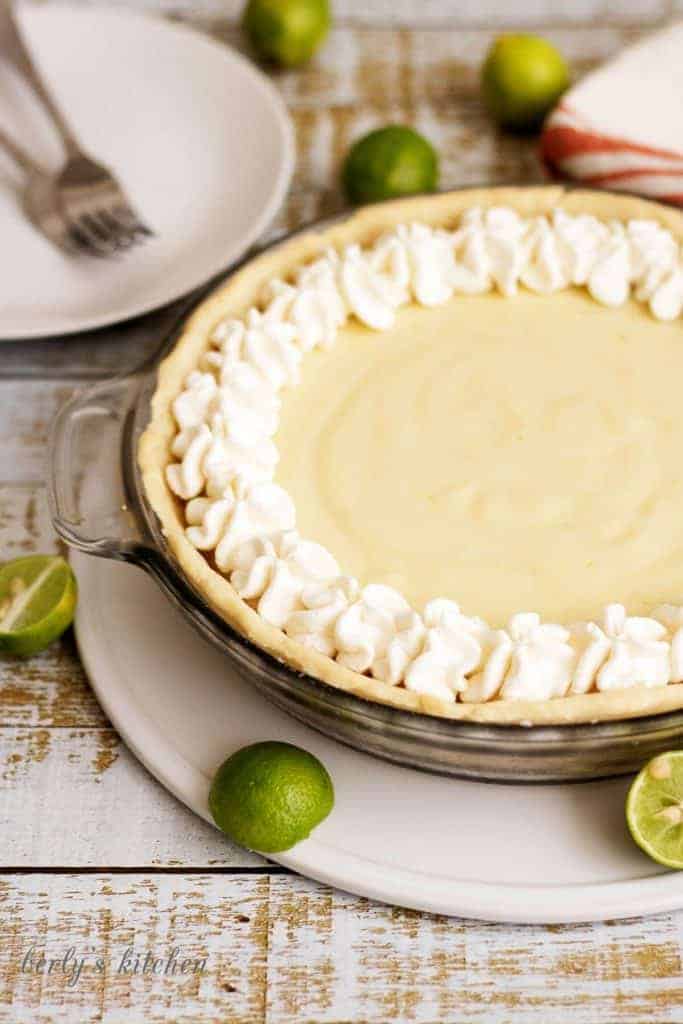 In closing, I would like to thank everybody involved in making this key lime dessert possible! As always, I wish you all a long healthy life, everlasting love, and a tummy full of delectable treats!
Recipe Card with Ingredient Amounts and Instructions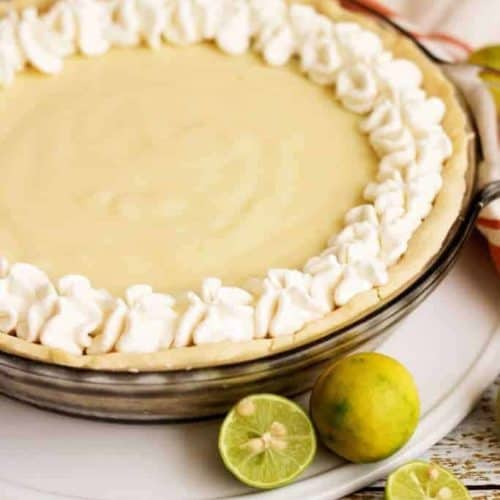 Ingredients
Gluten-Free Crust From Gluten-Free on a Shoestring
1 ½

cups

all-purpose gluten-free flour blend

,

(We used King Arthur AP Blend.)

¾

teaspoon

xanthan gum

¼

teaspoon

baking powder

½

teaspoon

kosher salt

6

tablespoons

unsalted butter

,

roughly diced and chilled

½

cup

sour cream

1 to 2

tablespoons

ice water

,

just enough to bring the dough together
Key Lime Pie Filling Inspired by The Unlikely Baker
28

ounces

sweetened condensed milk

,

2 (14 ounce) cans

½

cup

sour cream

¾

cup

key lime juice

1

tablespoon

key lime zest
Instructions
Gluten-Free Crust From Gluten-Free on a Shoestring
Mix the flour blend, xanthan gum, baking powder, and salt in a medium bowl until well combined.

1 ½ cups all-purpose gluten-free flour blend

¾ teaspoon xanthan gum

¼ teaspoon baking powder

½ teaspoon kosher salt

Cut the butter in with a pastry cutter or flatten it between your fingers as you mix it with the flour. Ensure that the butter is evenly coated and mixed.

6 tablespoons unsalted butter

Add the sour cream and combine until the mixture begins to form a dough ball. Add ice water a teaspoon at a time if necessary just to bring the dough together.

½ cup sour cream

1 to 2 tablespoons ice water

Remove the dough from the bowl, form into a ball, and wrap with plastic wrap. Place in the refrigerator for at least 30 minutes before rolling.

Remove the dough from the fridge and place on a lightly floured surface. Carefully begin to roll the dough with light pressure.

Roll into a 12-inch circle that's between ¼-1/2 inch thick. Carefully roll part of the dough onto the rolling pin and move the crust into the pie dish. (Our dough falls apart, but it's easy to put back together and bakes beautifully.)

Crimp or style the edges as desired. Poke holes in the bottom of the crust with a fork. Place parchment paper onto the crust and lay pie weights on the parchment paper.

Place crust in the preheated oven (375°F for the crust) and bake for 30 minutes. Remove from the oven and allow to cool completely before filling.
Key Lime Pie Filling Inspired by The Unlikely Baker
Combine all ingredients in a medium bowl and pour into a cooled pie crust.

28 ounces sweetened condensed milk

½ cup sour cream

¾ cup key lime juice

1 tablespoon key lime zest

Bake at 350 for 10-15 minutes or until small bubbles form around the edge.

Remove from the oven and allow the pie to cool for about an hour before transferring it to the refrigerator to cool completely (2-3 hours).

Garnish with whipped cream of your choice.
Notes
The calories listed on this recipe card include the gluten-free crust and key lime pie filling. The whipped cream topping is optional and is NOT included on the recipe card or the calories listed below.
Nutrition
Serving:
1
slice
|
Calories:
533
kcal
|
Carbohydrates:
74
g
|
Protein:
11
g
|
Fat:
24
g
|
Saturated Fat:
14
g
|
Polyunsaturated Fat:
1
g
|
Monounsaturated Fat:
6
g
|
Trans Fat:
0.3
g
|
Cholesterol:
73
mg
|
Sodium:
357
mg
|
Potassium:
447
mg
|
Fiber:
3
g
|
Sugar:
56
g
|
Vitamin A:
718
IU
|
Vitamin C:
10
mg
|
Calcium:
337
mg
|
Iron:
1
mg
Don't Lose This Recipe!
Save it on Pinterest! Follow us at @berlyskitchen!