Spice up your Taco Tuesday with our delicious turkey tacos! Ground turkey seasoned with a savory blend Southwest spices along with fresh onions and garlic.
Alright, who's ready for some tacos? Given that Tuesday is only three (3) days away, I know I'm ready. Honestly, I would love to say these are the best turkey tacos you'll ever try, but the term, "best," is very subjective.
What I will say, is that these are some of the tastiest tacos you can make and are a household favorite. We prefer them over ground beef and as someone who grew up in Texas, that's a bold statement.
The truth is, you'll have to try them and see for yourself how tasty turkey can be when it's properly seasoned and garnished with Tex-Mex toppings. Kim and I invite you to make these for your next Taco Tuesday dinner.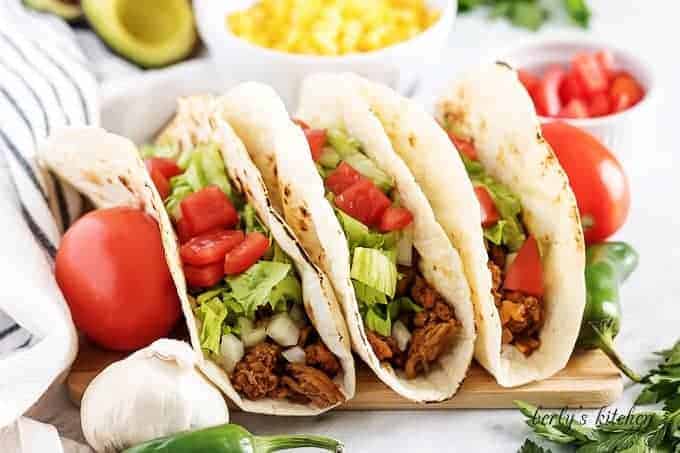 How to make tasty tacos:
Okay, this recipe is pretty darn simple. A little prep work, some stove top cooking, and finally, assembly. In all honesty, the amount of time it will take depends on how many toppings you want.
To get started, dice your garlic, onions, and tomatoes (and any other garnishments you desire). After that, grab a large skillet and place it over low-medium heat.
In the skillet combine the garlic, ground turkey, onions, and taco seasoning (feel free to use ours, it has the Southwest seasonings I listed in the description above). Mix everything together and break the turkey up into small pieces as it cooks.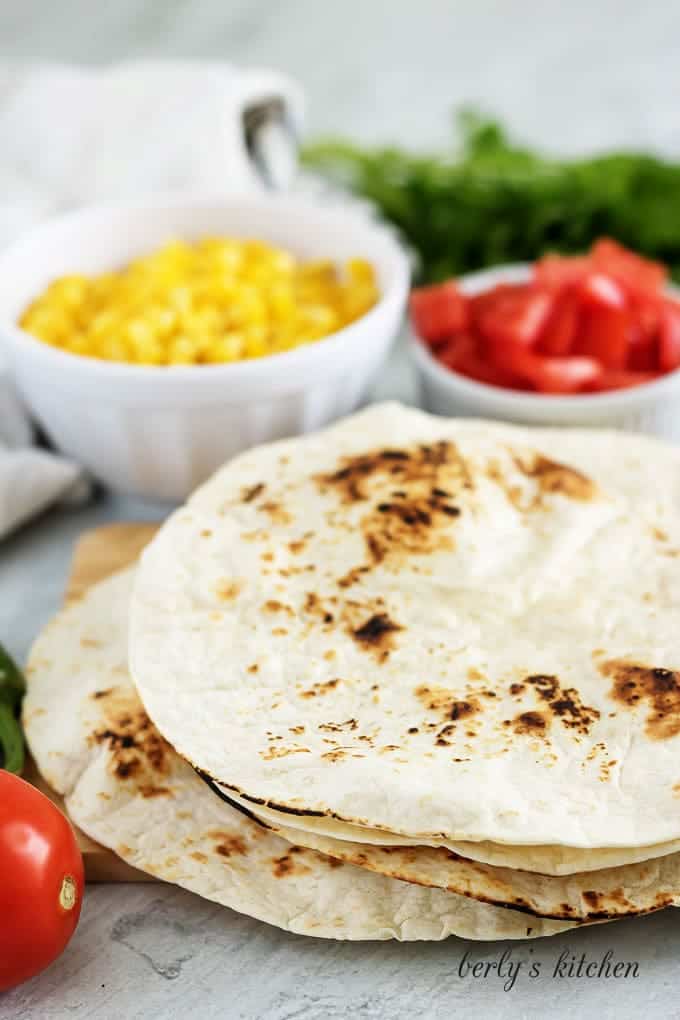 It should take around ten minutes for the taco meat to reach a safe temperature and cook out all the, "pink."
Now, go ahead and heat your tortillas, if you wish. Use a microwave or a small skillet over medium heat. This step makes them more pliable and less likely to break and tear.
Once the meat and tortillas are done, portion out the ground meat into the turkey tacos. Add your favorite toppings and serve.
That's it, dinner is done! Kim and I hope you enjoy the recipe and wish you all the best 🙂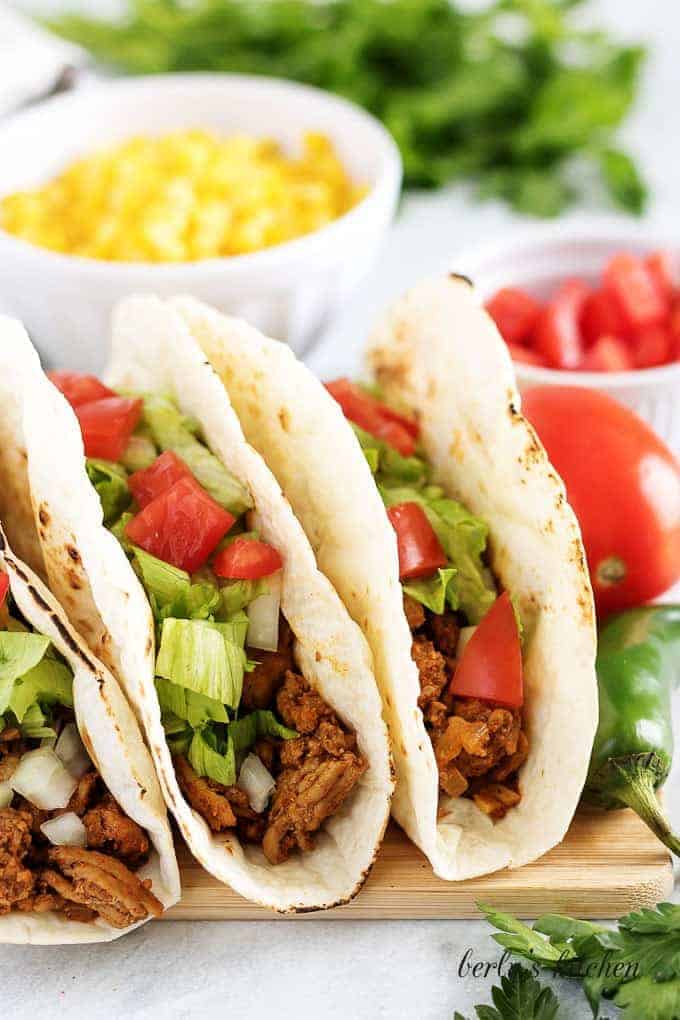 Tasty Turkey Taco Tips:
Are turkey tacos better than beef? The short answer is, "that depends on your dietary needs."
For example, if you prefer a high-fat diet (keto or low-carb), then you may want to use ground beef or pork.
However, if you're like me and prefer a lean diet (low-fat, medium protein, high-carb), then ground turkey might be a better choice.
Now, I'm not a nutritionist or physician, so I would advise you to seek professional advice concerning this question and not take the word of a blogger as, "gospel," so to speak.
Want more toppings for your tacos? Then try using diced cilantro, fresh lime juice, grilled corn, guacamole, sliced avocados, or sour cream. Get creative, and try different salsas, or sauces.
How many calories are in homemade turkey tacos? Well, our recipe has about 336 calories per serving. A serving size is two tacos with the toppings listed below.
I would assume most other recipes are in the same ballpark. Combine that with a serving size of tortilla chips and salsa and you have a meal for around 500 calories. Not bad.
If you like this tasty turkey tacos recipe, please leave us a comment and rate the recipe card. You can also find us on Facebook, Pinterest, Twitter and Instagram searching for Berly's Kitchen!
Yield: 4 Servings
Tasty Turkey Tacos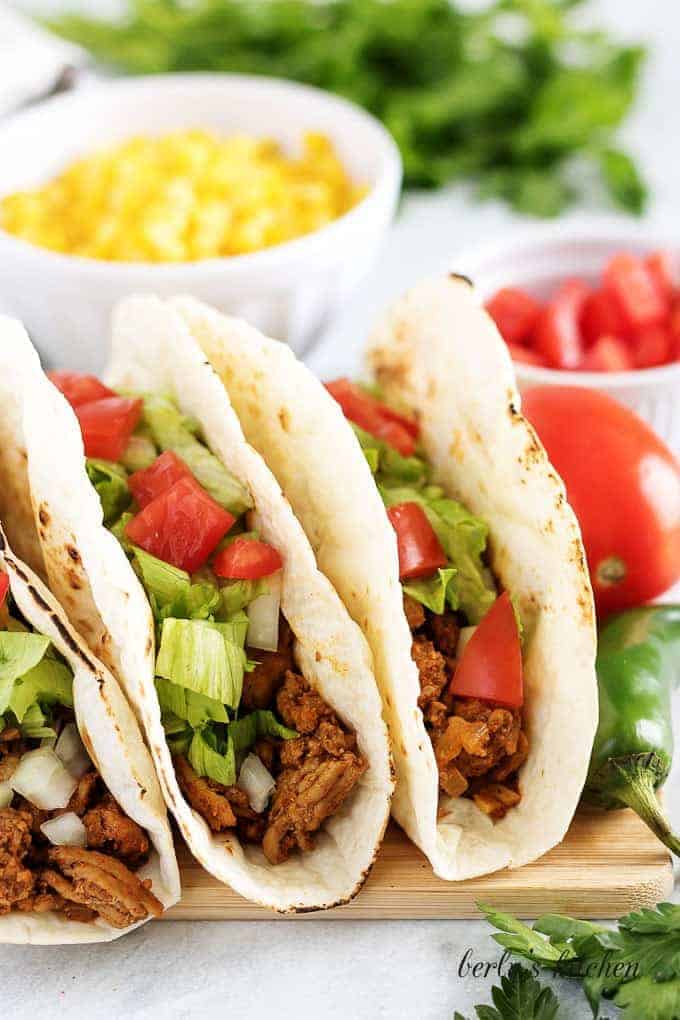 Spice up your Taco Tuesday with our delicious turkey tacos! Ground turkey seasoned with a savory blend Southwest spices along with fresh onions and garlic.
Ingredients
Turkey Filling
1 Lb. Ground Turkey
1/2 Cup White Onion, (half a medium onion, diced)
1 Large Garlic Clove, (minced)
Taco Shells
8 Medium Flour Tortillas, (fajita size)
Toppings
1/4 Cup Lettuce, (shredded)
1/4 Cup White Onion, (diced)
1/4 Cup Tomatoes, (diced)
Instructions
Heat a large skillet over low-medium heat. Add the ground turkey, onion, garlic, and taco seasoning. Use a wooden spoon or spatula to break up the turkey and mix the ingredients. Cook until the turkey is no longer pink and is cooked completely (about 7-10 minutes).
While the turkey cooks, heat the tortillas by placing them individually in a warm skillet or in the microwave for 5-10 seconds. Place spoonfuls of the cooked filling into the tortillas and top with lettuce, onions, tomato, and any additional toppings. Serve immediately.
Store any leftover filling and topping in the refrigerator for up to 3 days in a sealed container.
Notes
The calories listed are an approximation based on the ingredients and a serving size of two (2) turkey tacos filled with four (4) ounces of ground turkey each and garnished with the listed toppings equally divided among the eight (8) tacos. Actual calories will vary. The turkey tacos can be stored in your fridge in a sealed container for up to three (3) days.
Recommended Products
As an Amazon Associate and member of other affiliate programs, I earn from qualifying purchases.
Nutrition Information:
Yield:
4
Serving Size:
2 Tacos
Amount Per Serving:
Calories:

336
Total Fat:

6g
Saturated Fat:

1g
Unsaturated Fat:

0g
Cholesterol:

62mg
Sodium:

1043mg
Carbohydrates:

38g
Fiber:

3g
Sugar:

5g
Protein:

32g