Valentines Rice Krispie Treats are a fun way to add a holiday twist on the classic Rice Krispie Treats dessert. These treats are packed with melted marshmallows, chocolate candies, and more mini marshmallows for extra gooiness!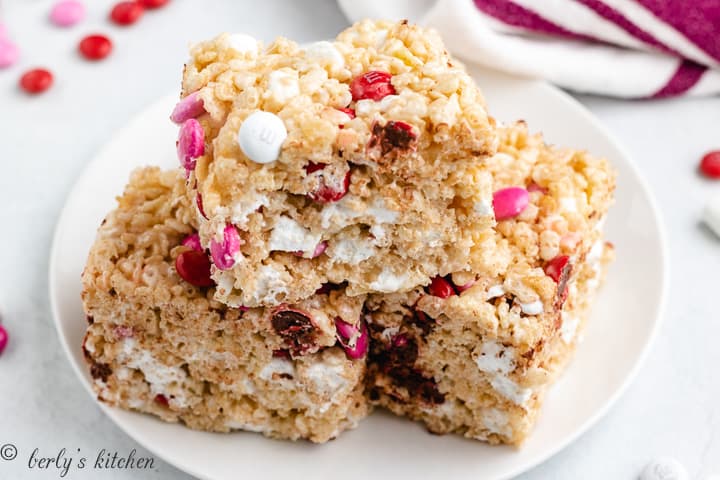 Back a few years ago, I shared my version of the perfect rice krispie treats. They're thick, bakery-style treats chock full of gooey marshmallows with extra mini marshmallows dotted throughout.
I've been making those since high school, and every now and then I change up the recipe a bit. However, the base recipe remains the same.
This time I decided to play off the original recipe to make Valentines Rice Krispie Treats. Along with extra mini marshmallows, these also have plenty of M&Ms chocolate candies that are red, pink, and white. Perfect for Valentines Day!
They make a great no-bake dessert option (although they do take some stovetop or microwave time). If baking is more your style, we have a couple of shortcut desserts that may be perfect.
Check out these red velvet cupcakes, Instant Pot Lava Cakes, M&M Cheesecake, Valentine's Chex Cereal Bars or red velvet truffles! They're great options for Valentines Day treats.
How to Make Valentines Rice Krispie Treats:
Line a 9 x 13-inch baking dish in foil, then grease the foil lightly with butter or spray it with cooking spray. Grab the largest saucepan or non-stick Dutch oven you can find. I used a 5.5 quart saucepan to make these, and it wasn't quite big enough.
Add the butter and marshmallows to the pan over low heat. Stir constantly until the marshmallows are smooth and completely melted.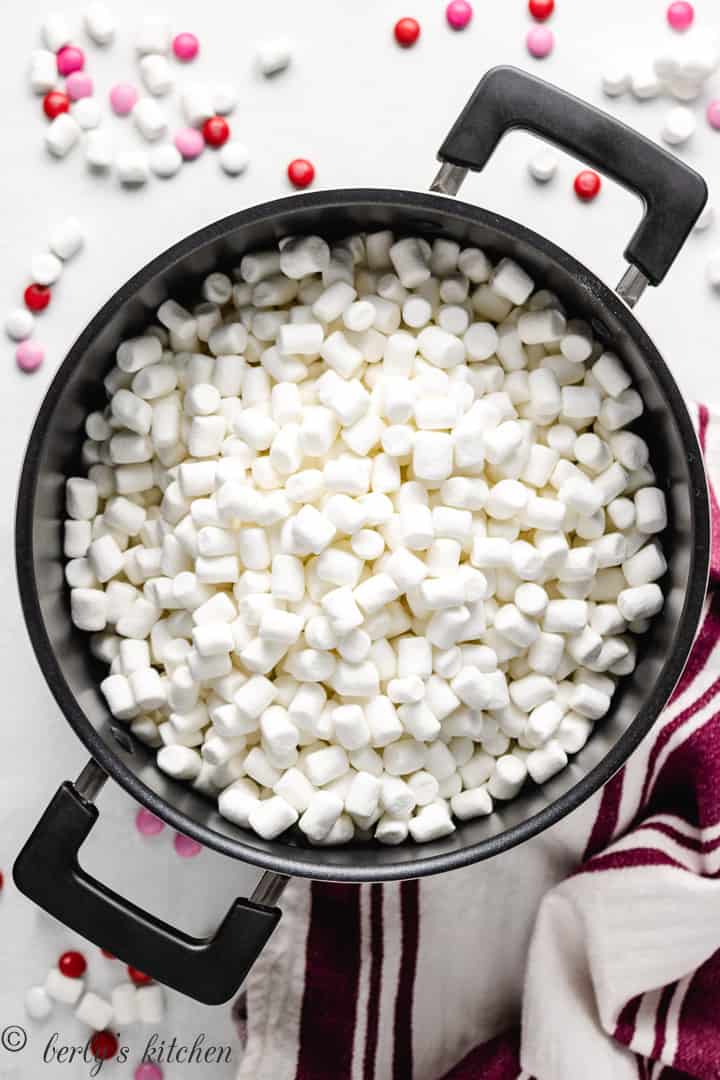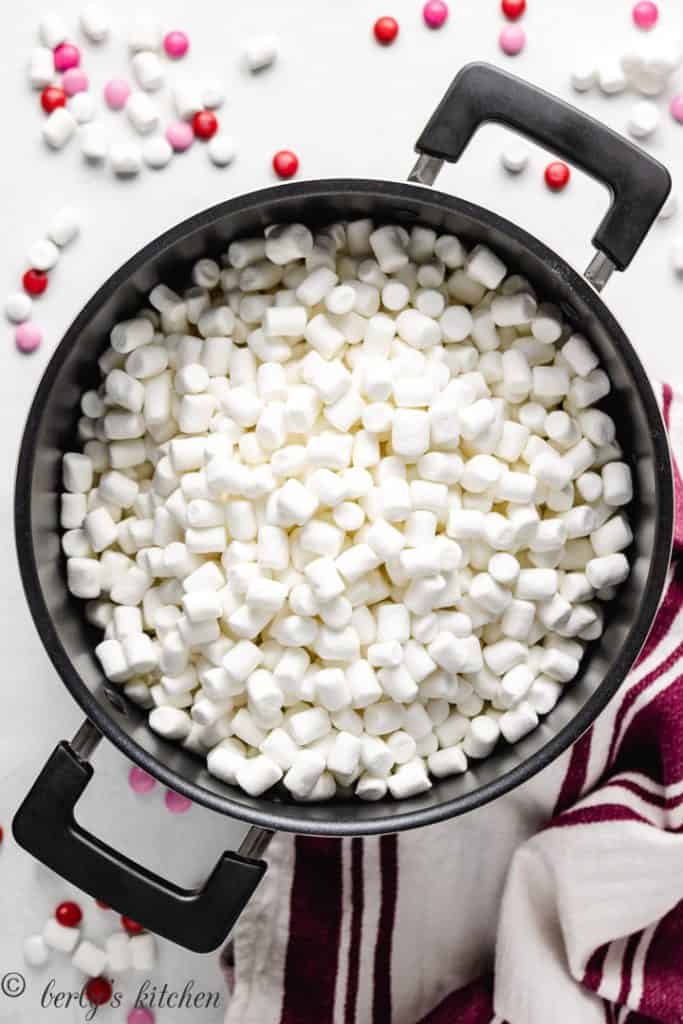 Pour in the vanilla, and stir to combine. Add the rice cereal, and stir well to ensure all the cereal is evenly coated.
Make sure to stir all the way to the bottom edges of the pan. Sometimes "puddles" of melted marshmallow can hide below the Rice Krispies, and you don't find it until much later.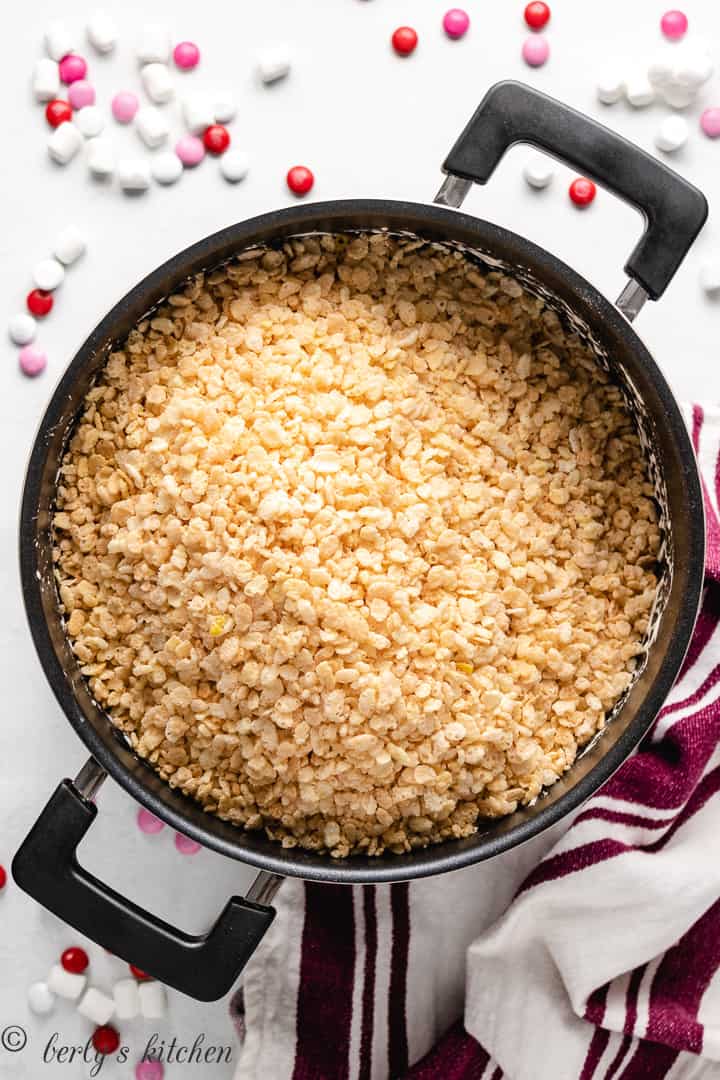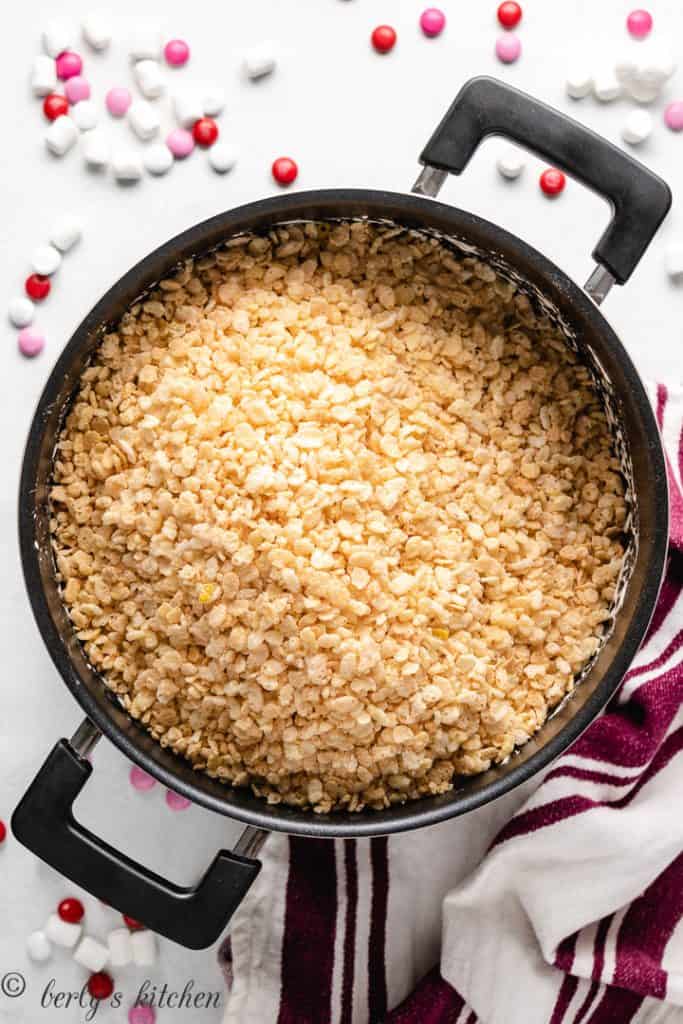 After the cereal is mixed, the Rice Krispie treats are technically done. This is where I add my own twist with extra marshmallows, and in this case, chocolate candy.
Remove the pan from heat, and add the additional mini marshmallows and M&Ms. These are a little more difficult to incorporate, since the Rice Krispie treats are already mixed. Stir them in as best you can while trying to get an even distribution. Transfer the mixture to the prepared baking dish.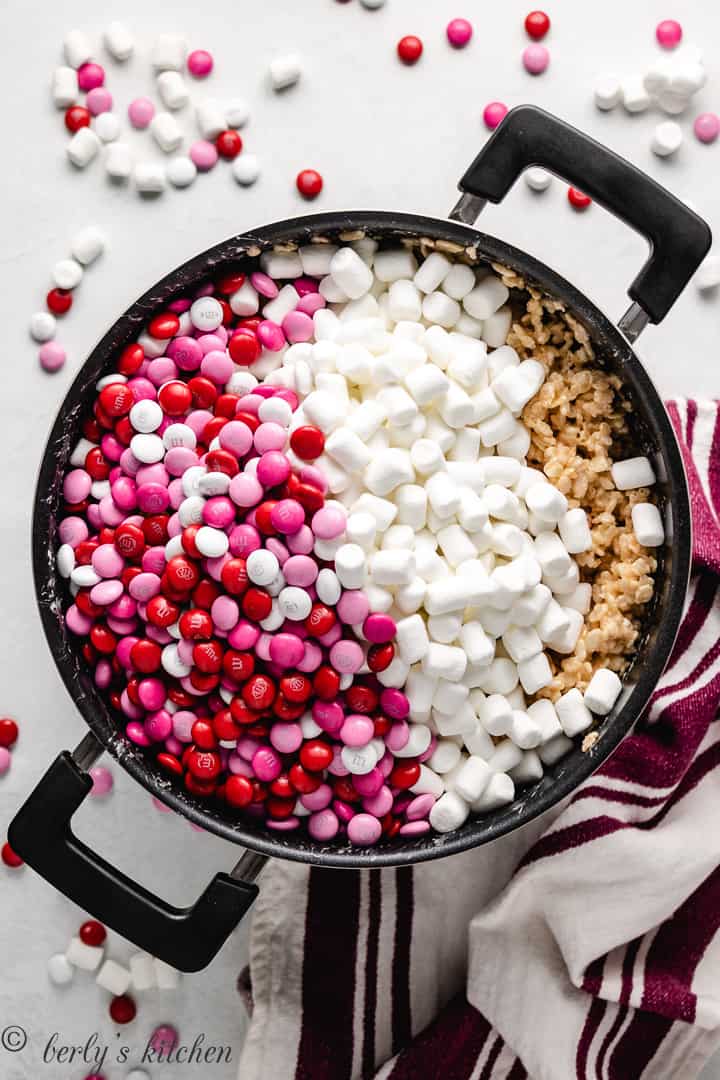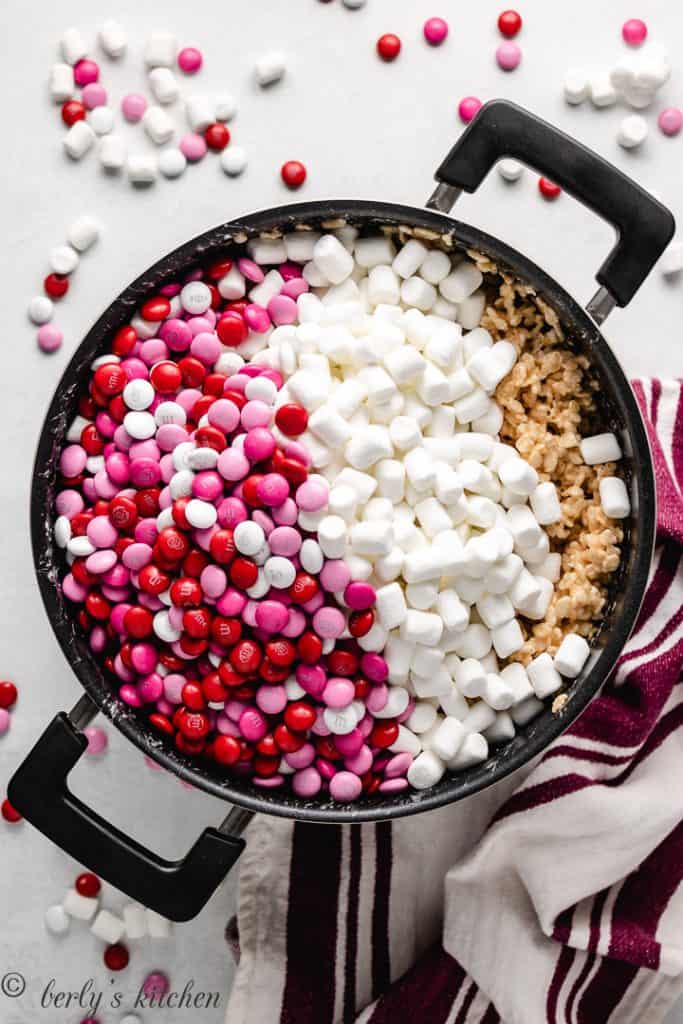 *Fair warning: It is a lot of Rice Krispie treats to fit into one 9 x 13 dish, but it can be done. Use buttered hands to press them into place.
They're going to come to the very top of the baking dish, so the Rice Krispie treats will be about 2-inches thick. If needed, the recipe can be divided into multiple dishes to make thinner treats.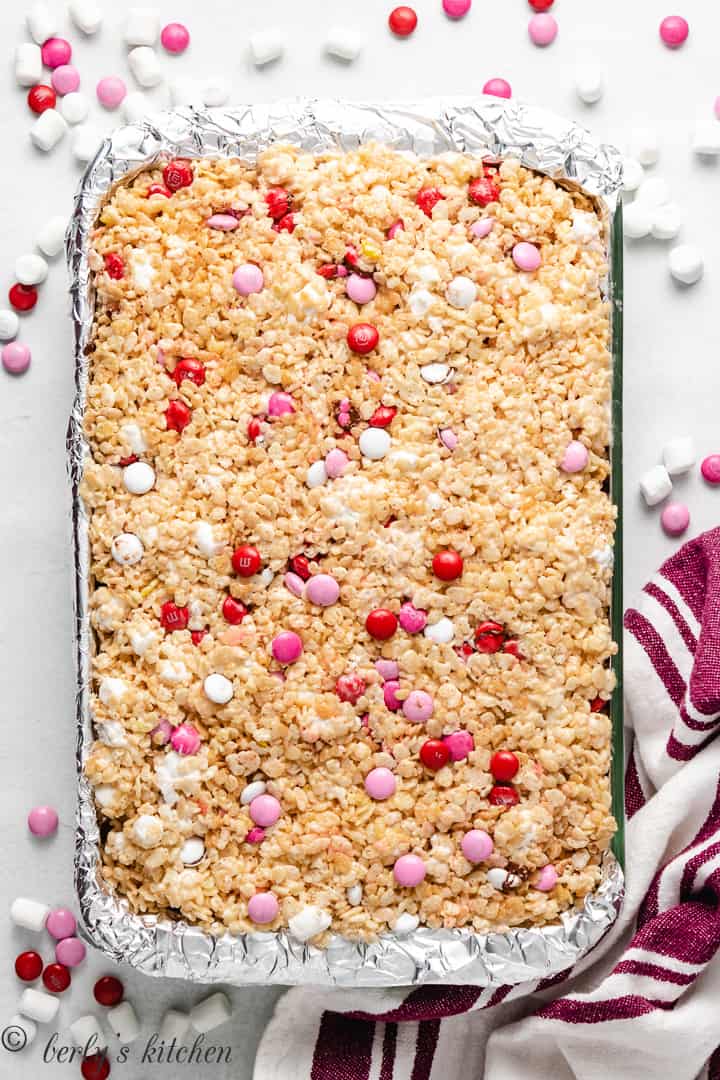 Allow the treats to set for at least 30 minutes to firm up a bit before serving. For jumbo Valentines Rice Krispie treats, cut them into 12 large squares.
If you'd prefer smaller servings, the treats can be cut into 32 or 40 squares. Keep in mind, they'll be taller since most standard baking pans are about 2-inches in height.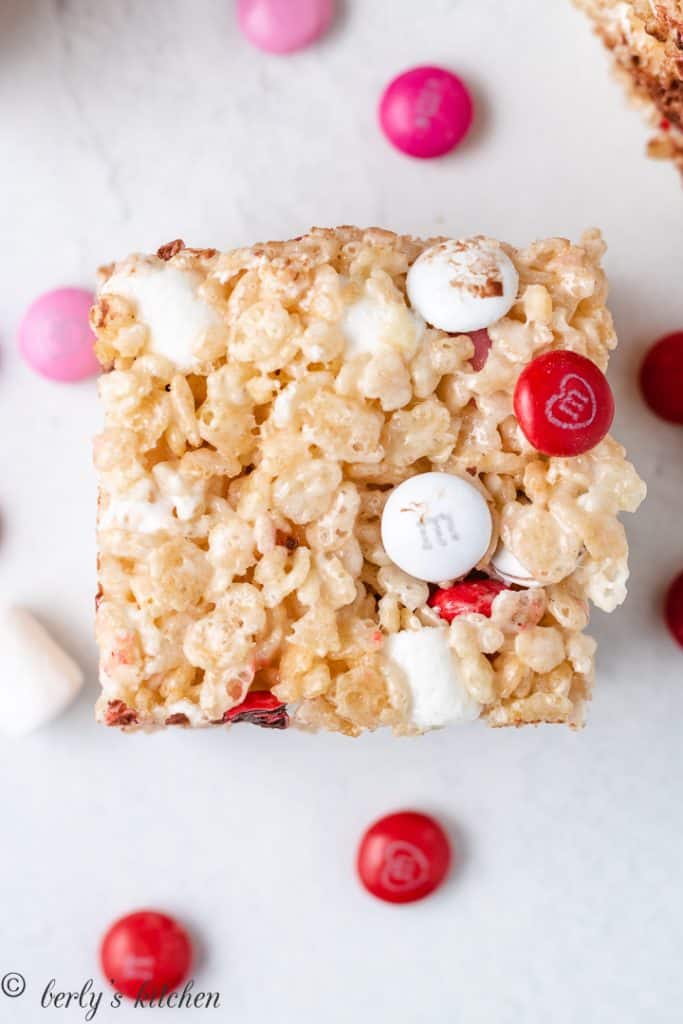 Can Valentines Rice Krispie Treats be made in advance?
Rice Krispie treats are best enjoyed the same day that they're made. However, if they're wrapped tightly in plastic wrap and stored in an airtight container, they'll stay fresh for about 3 days.
Should Rice Krispie Treats be refrigerated?
It's not necessary to refrigerate Rice Krispie Treats. In my experience, Rice Krispie treats tend to get hard and dry out when they're kept in the refrigerator.
Why are my Rice Krispie treats falling apart?
If there's too much cereal or too many marshmallows, the treats can fall apart. In the case of these Valentines Rice Krispie treats, they tend to pull apart easily near the slightly melted, mini marshmallows.
Can you use marshmallow creme in Rice Krispie treats?
We have some information on our perfect rice krispie treats recipe regarding the use of marshmallow crème. However, I haven't used it on this specific recipe.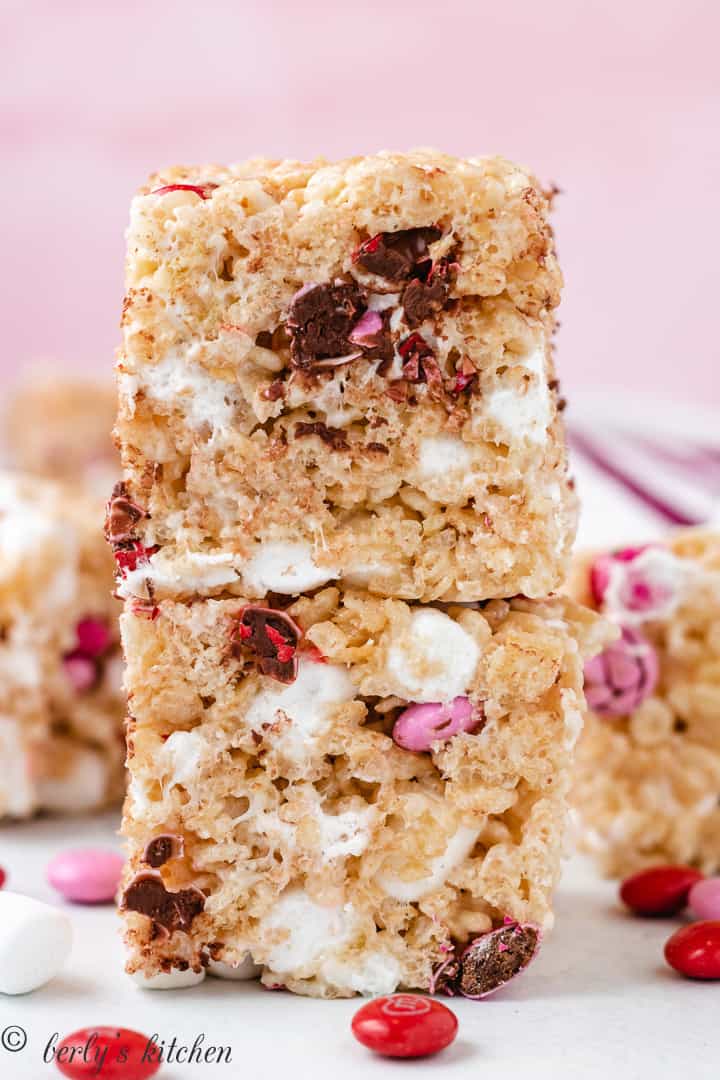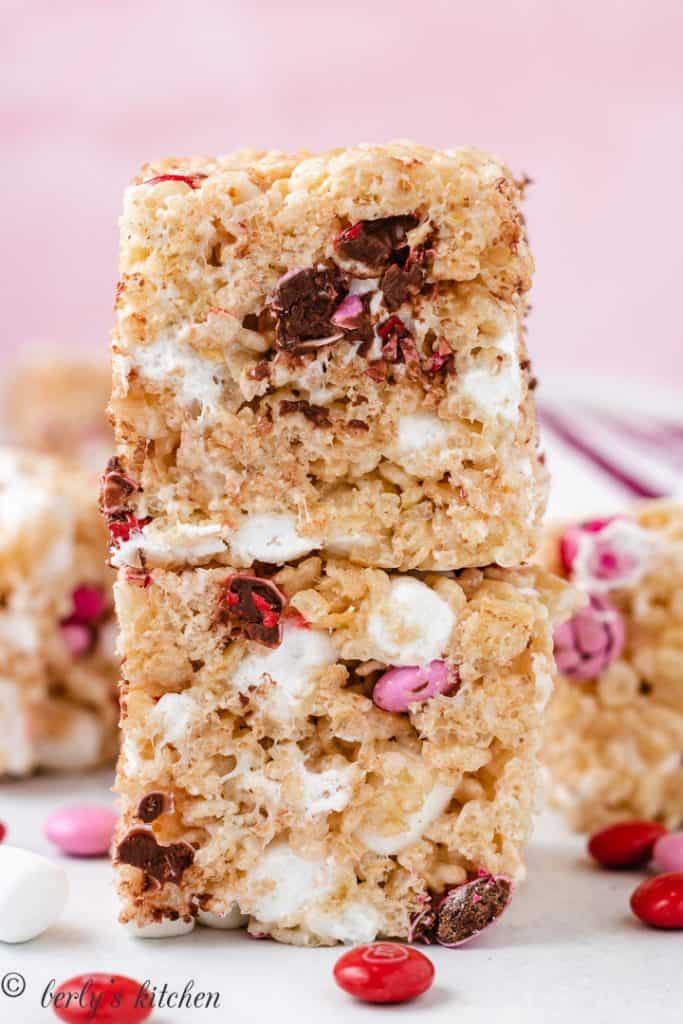 Other recipes you may love:
Recipe Card with Ingredient Amounts and Instructions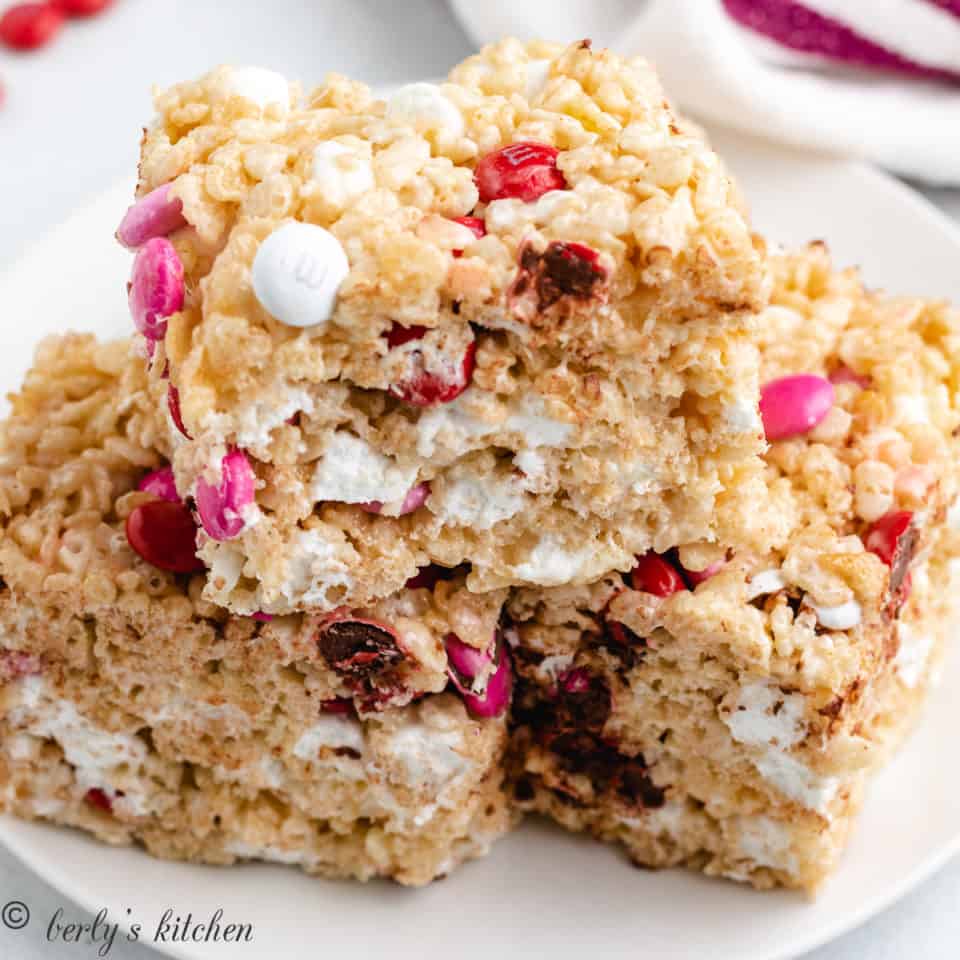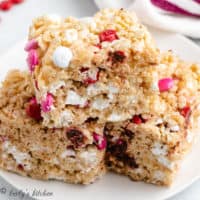 Ingredients
10

tablespoons

unsalted butter

20

cups

mini marshmallows

,

divided 3 ½ (10-Ounce Packages)

12

cups

crisped rice cereal

,

about 1 (12-ounce box)

2

cups

chocolate coated candies

,

such as M&Ms (1.5 10-Ounce Packages)

2

teaspoons

pure vanilla extract
Instructions
Line a 9 x 13-inch baking dish with aluminum foil, then butter the foil or spray with cooking spray.

In a large pan, melt together the butter and 15 cups of marshmallows over low heat while stirring constantly. After the marshmallows are completely melted, add the vanilla.

10 tablespoons unsalted butter

2 teaspoons pure vanilla extract

Next, stir in the cereal. Remove from heat, and mix in the remaining 5 cups of miniature marshmallows and chocolate candies (M&Ms).

12 cups crisped rice cereal

2 cups chocolate coated candies

Scoop out the warm rice krispie treats, and transfer to the prepared baking dish. Butter your hands, and press the mixture into the dish to form an even layer.

Allow the treats to set for at least 30 minutes before cutting. Cut into 12 large squares or 32 small squares, and save any extras in an airtight container for up to 3 days.
Notes
*The calories listed are an approximation based on the ingredients in the recipe card and a serving size of 1 square (rice krispie treat). Actual calories will vary.
*For more information, tips, and answers to frequently asked questions, please refer to the post.
*The amount of extra marshmallows and M&Ms can be reduced or omitted.
*This recipe makes a large batch and can be halved if needed.
Nutrition
Serving:
1
treat
|
Calories:
224
kcal
|
Carbohydrates:
40
g
|
Protein:
2
g
|
Fat:
7
g
|
Saturated Fat:
4
g
|
Polyunsaturated Fat:
0.2
g
|
Monounsaturated Fat:
1
g
|
Trans Fat:
0.2
g
|
Cholesterol:
11
mg
|
Sodium:
62
mg
|
Potassium:
11
mg
|
Fiber:
0.5
g
|
Sugar:
26
g
|
Vitamin A:
138
IU
|
Vitamin C:
0.1
mg
|
Calcium:
18
mg
|
Iron:
0.4
mg
Don't Lose This Recipe!
Save it on Pinterest! Follow us at @berlyskitchen!