Our Cranberry Simple Syrup is the perfect way to add cranberry flavor to your favorite holiday cocktails. Made with tart cranberries, sugar, and water, you'll be making this homemade simple syrup all holiday season!
​Looking for other simple syrup recipes? Try Mint Simple Syrup, Cherry Simple Syrup, Raspberry Simple Syrup, Ginger Simple Syrup, or Blackberry Simple Syrup.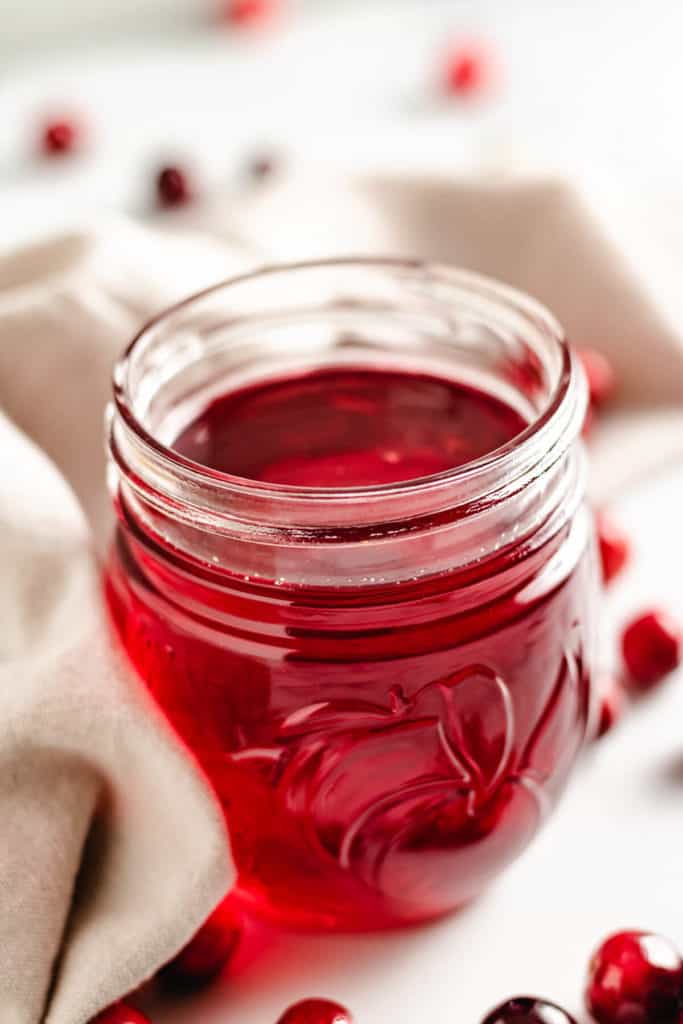 What is Cranberry Simple Syrup?
Cranberry simple syrup is a homemade sweetened syrup used to add festive flavor to alcoholic drinks, mocktails, breakfast foods, sodas, and ice cream. It's made with an equal ratio of sugar to water and plenty of fresh cranberries.
How to Store Simple Syrup:
Refrigerator: Store leftover simple syrup in a sealed container in the fridge for 3-4 weeks. Don't store at room temperature.
Freezer: Pour leftover syrup into a ice cube trays and freeze. Place "syrup cubes" into a plastic bag or freezer-safe container for up 2 months.
How to Adjust the Sweetness in this Sugar Syrup:
As written, this simple cranberry syrup is fairly sweet.
We use 6 ounces of fresh cranberries (half a 12 ounce bag). If you don't have a digital food scale, just eyeball it by using about half the bag.
*This amount is not the same as using ¾ cup!
To make the syrup more tart, add more cranberries or reduce the sugar.
Recipe Tips:
If you cover the pan while the mixture cooks, keep an eye on it. The mixture can boil over the sides of the pot.
You can use frozen cranberries. Just be sure to thaw and drain them first.
Don't overcook the syrup otherwise, you'll end up with cranberry sauce. Still good, but a very different dish.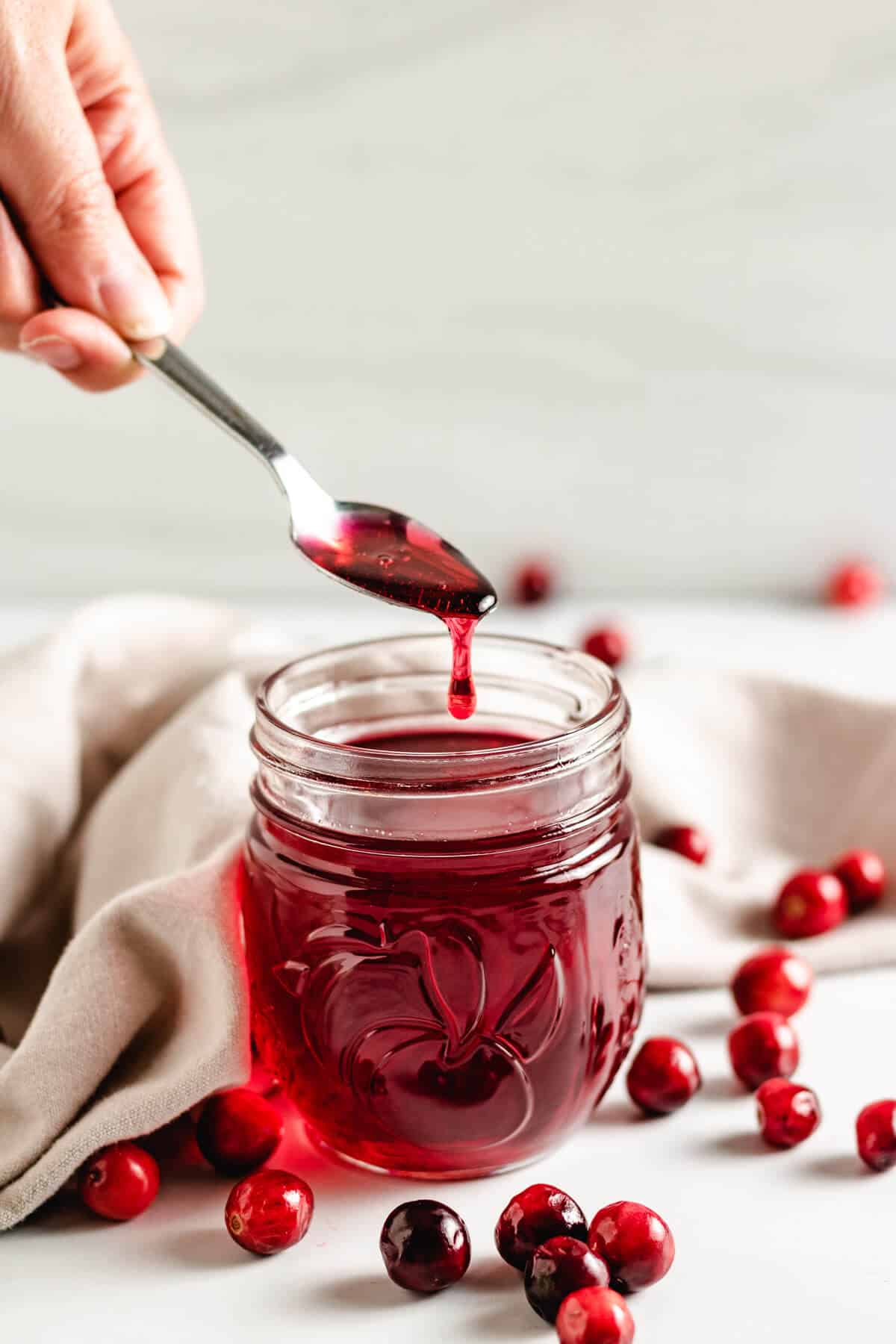 Serving Suggestions:
Cranberry simple simple isn't just for winter cocktails. It has so many other great uses. Here are some ideas:
Can You Make Spiced Simple Syrup?
Yes! To make homemade spiced cranberry simple syrup, simply add your desired whole spices to the ingredients and cook in the wonderful spiced flavor.
Star anise, a cinnamon sticks, whole cloves, nutmeg, and fresh orange zest are some options.
Is Cranberry Juice the Same as Cranberry Syrup?
No, cranberry juice and cranberry syrup are not the same. While both can be used to craft Christmas cocktails, they are used differently.
Cranberry juice is made from the liquid juice of the cranberry and may be sweetened or unsweetened depending on the variety. It's available in grocery stores any time of year.
Cranberry juice is an ingredient in a Vodka Cranberry (Cape Codder) and Malibu Bay Breeze.
Cranberry simple syrup, on the other hand, is made using a combination of sugar, water, and fresh cranberries to create a sweet, slightly thickened syrup used to flavor cocktails. It's a great way to add sweet cranberry flavor to holiday drinks.
Recipe Card with Ingredient Amounts and Instructions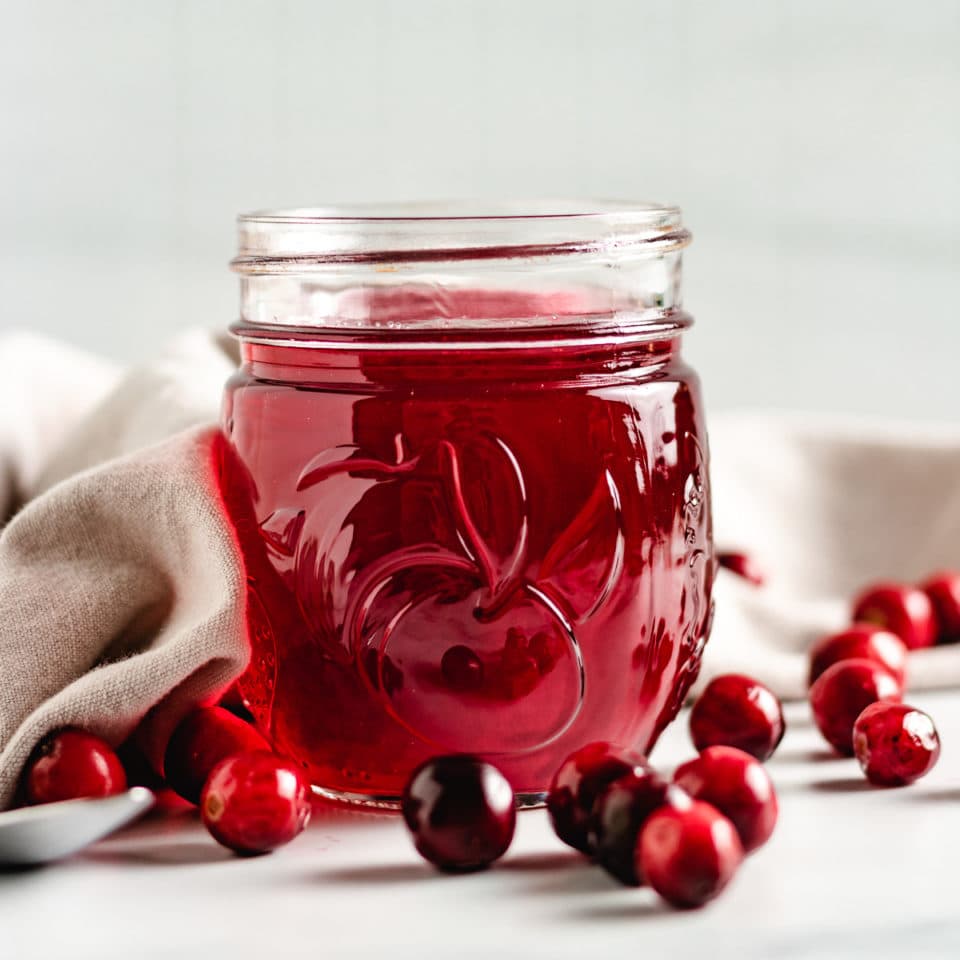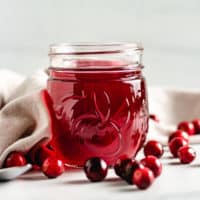 Ingredients
16

ounces

water

2

cups

granulated sugar

6

ounces

fresh cranberries
Instructions
Place water, sugar, and cranberries into a medium saucepan with tall sides. Cook over low-medium heat for 10-15 minutes, stirring occasionally, until the sugar dissolves and the cranberries soften.

16 ounces water

2 cups granulated sugar

6 ounces fresh cranberries

Remove from heat, and allow the mixture to cool. Pour it through a mesh strainer to remove the cranberry pieces.

Scroll up and see the post for storage info, tips, and FAQs.
Notes
*The calories listed are an approximation based on the ingredients in the recipe card and a serving size of 1 ounce of cranberry simple syrup. Actual calories will vary.
*For more information, tips, and answers to frequently asked questions, please refer to the post.
*This syrup is sweet and not too tart, making it great for cocktails and condiments. If you'd prefer a little more tartness to the syrup, use an entire 12 ounce bag of cranberries instead of only 6 ounces.
*Don't overcook the syrup; otherwise, you'll end up with cranberry sauce.
Nutrition
Serving:
1
ounce
|
Calories:
116
kcal
|
Carbohydrates:
30
g
|
Protein:
0.1
g
|
Fat:
0.1
g
|
Saturated Fat:
0.001
g
|
Polyunsaturated Fat:
0.01
g
|
Monounsaturated Fat:
0.002
g
|
Sodium:
2
mg
|
Potassium:
10
mg
|
Fiber:
0.4
g
|
Sugar:
29
g
|
Vitamin A:
7
IU
|
Vitamin C:
2
mg
|
Calcium:
2
mg
|
Iron:
0.04
mg
Don't Lose This Recipe!
Save it on Pinterest! Follow us at @berlyskitchen!