Looking for the perfect way to add flavor to your drinks? Then try our simple syrup, it's a great way to add a touch of sweetness to any beverage.
Whether you prefer cocktails or sweet tea, knowing how to prepare a simple syrup is a useful ability. For example, our virgin Cranberry cocktail has zero alcohol but still uses a simple syrup. We use cranberry simple syrup in that recipe.
Best of all, once you know how to make the base syrup, you can flavor it with will all kinds of stuff. For example, we use a similar base for our raspberry simple syrup recipe and our cherry simple syrup recipe.
You can add mint or vanilla extract to create a syrup that works in any beverage. Simply put, this recipe is really important to making drinks. So, let's get started!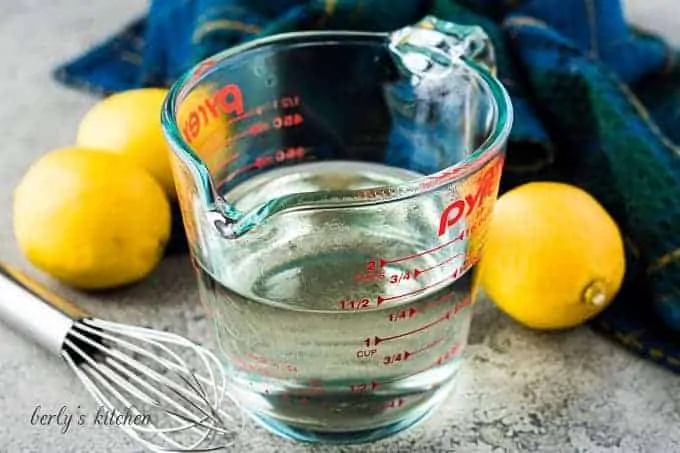 How to make a simple syrup?
It's really easy. The important thing to remember is that it's usually a one-to-one (1-1) ratio. In other words, equal parts sugar and water.
Oh, and pay no mind to the fresh lemons in the photos, they're just in the pictures to add a splash of color.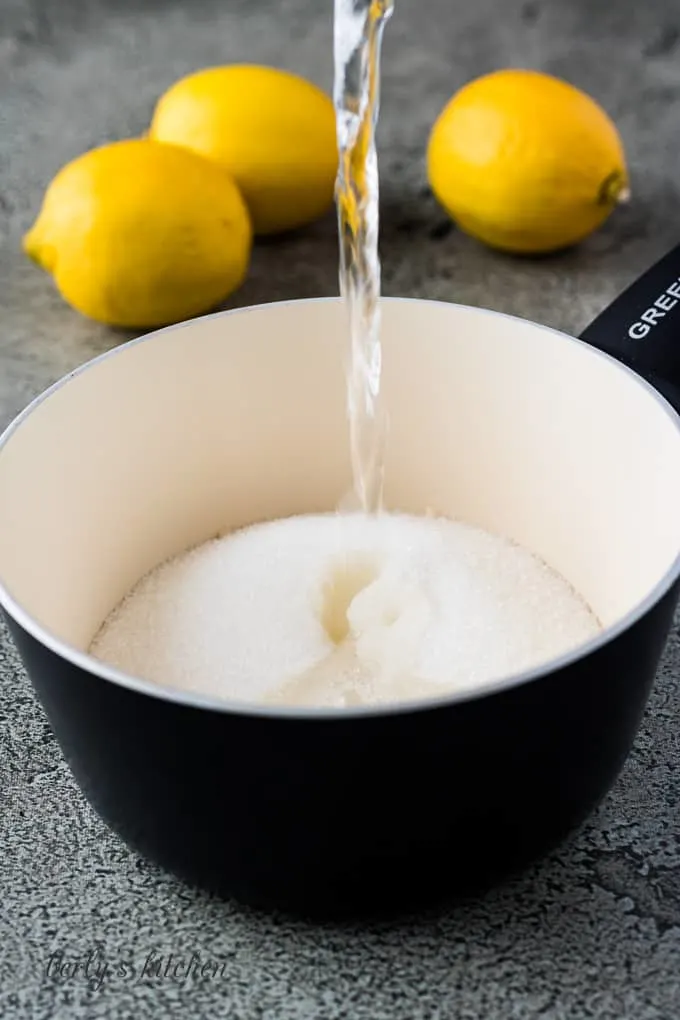 First, grab a medium saucepan. Measuring out one cup of sugar and add it to the pan. Next, grab your measuring cup and add one cup of water to it. Pour the water into the saucepan.
Then, place the pan over high heat and use a whisk to stir the ingredients. As the mixture boils, stir everything together to ensure the sugar has dissolved.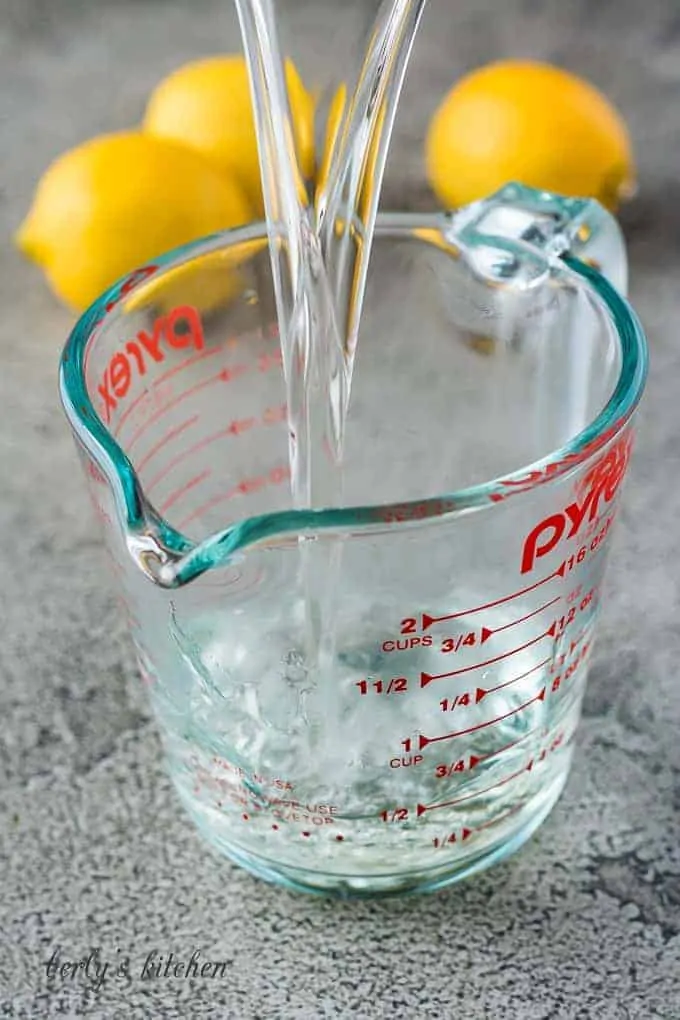 Now, remove the pan from the heat and let the syrup cool for a few minutes. Last, transfer it to a heat safe container, with a lid and place it into your fridge. That's it, your recipe is done!
Kim and I hope you put this syrup to use and wish you all the best 🙂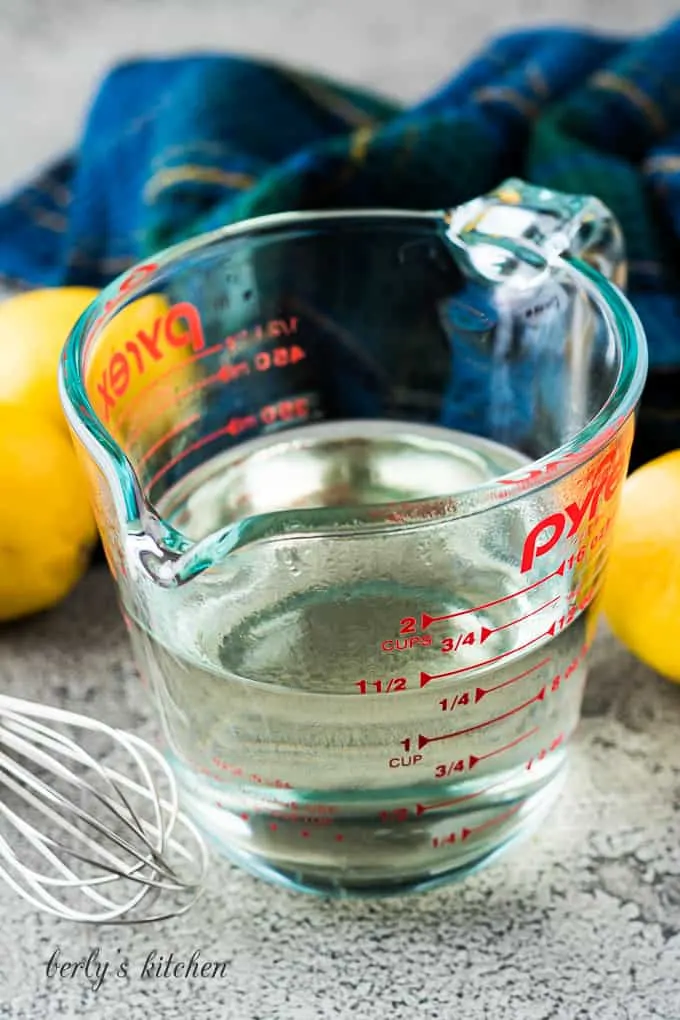 Recipe Tips:
In a pinch and need a quick simple syrup? Whisk together equal parts warm tap water and powdered sugar. It's not the perfect solution but it work.
Don't need a cup of the sweetener? Well, as long as you use the one-to-one (1-1) ratio, any amounts will work. For example, half a cup of sugar combined with half a cup of water is fine.
How to flavor simple syrup?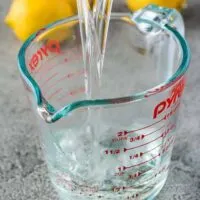 Simple Syrup for Drinks
Print
Pin
I earn a commission from Amazon and Instacart from qualifying purchases.
Ingredients
1

cup

water

1

cup

granulated sugar
Instructions
Combine the water and sugar in a medium saucepan and heat over high heat. Bring the mixture to a boil and stir constantly until the sugar has completely dissolved.

1 cup water

1 cup granulated sugar

Allow the mixture to cool then transfer it to a container with a lid and store in the refrigerator until ready to use. The simple syrup stays fresh when stored in the refrigerator for about a month.
Notes
The calories listed are an approximation based on the ingredients and a serving size of two tablespoons of the simple syrup. Additionally, the calorie count does NOT include the lemons seen in the photos as garnish. Actual calories will vary.
Nutrition
Serving:
2
tablespoons
|
Calories:
64
kcal
|
Carbohydrates:
17
g
|
Fat:
0.1
g
|
Sodium:
1
mg
|
Potassium:
0.3
mg
|
Sugar:
17
g
|
Calcium:
1
mg
|
Iron:
0.01
mg