Our creamy cucumber tomato salad recipe is a Southern favorite! Crisp cucumbers with juicy tomatoes covered in a homemade dill sauce.
Growing up, tomato cucumber salad was a household favorite. Since we lived in Texas, we always used ranch dressing.
However, a few years ago, Kim and I wanted to change it up a little. So, she decided to use our simple dill sauce instead.
It was amazing! The fresh dill made the perfect creamy cucumber salad. In fact, I prefer that sauce to ranch dressing.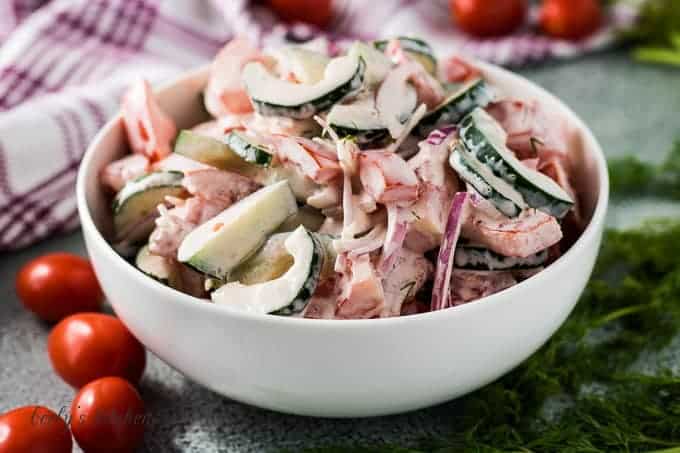 Creamy versus Marinated: Which is better?
Okay, so this is a topic of debate amongst a lot of people. Personally, I prefer creamy. But, that shouldn't come as a surprise given where I grew up.
With that being said, many people prefer marinated. Because, marinated versions are tart and light.
Whereas, creamy tomato salads generally have a smooth and salty flavor. It seems to me, it just comes down to personal preferences.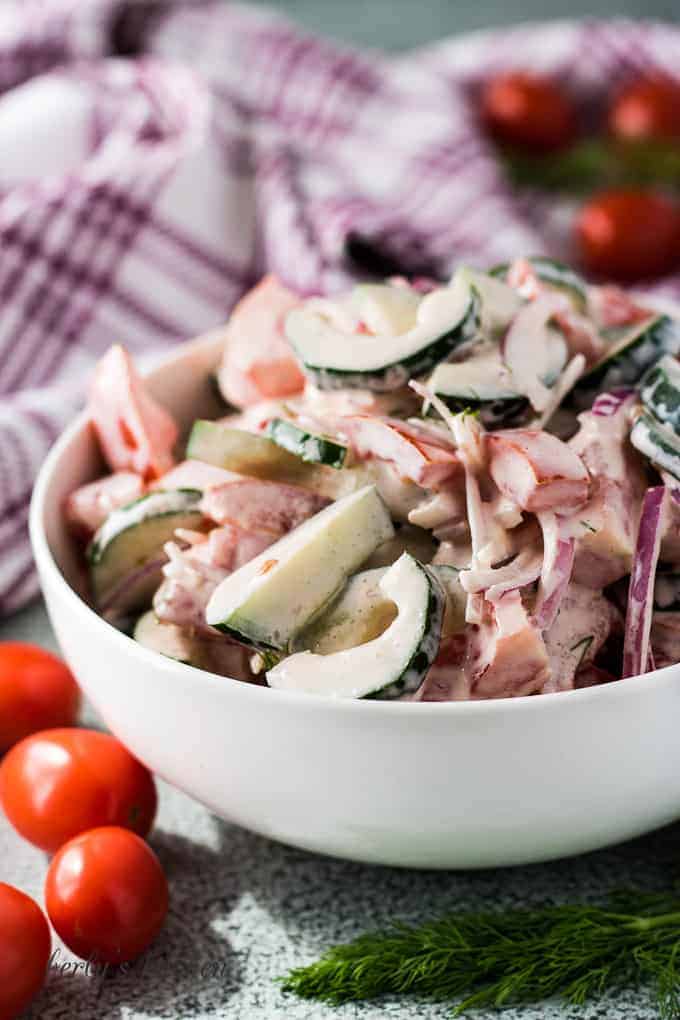 If you enjoy light and tart, then go for marinated. On the other hand, if you like heavy and salty, then go for creamy.
In short, I can't tell you which one is better because you have to decide that for yourself.
How make a creamy cucumber salad?
First, start by dicing the tomatoes and thinly slicing the cucumbers and purple onion.
You can use white onion if you can't find red or purple. We chose purple onion for the color.
Similar to a tomato avocado salad, the purple hue looks great with green and red.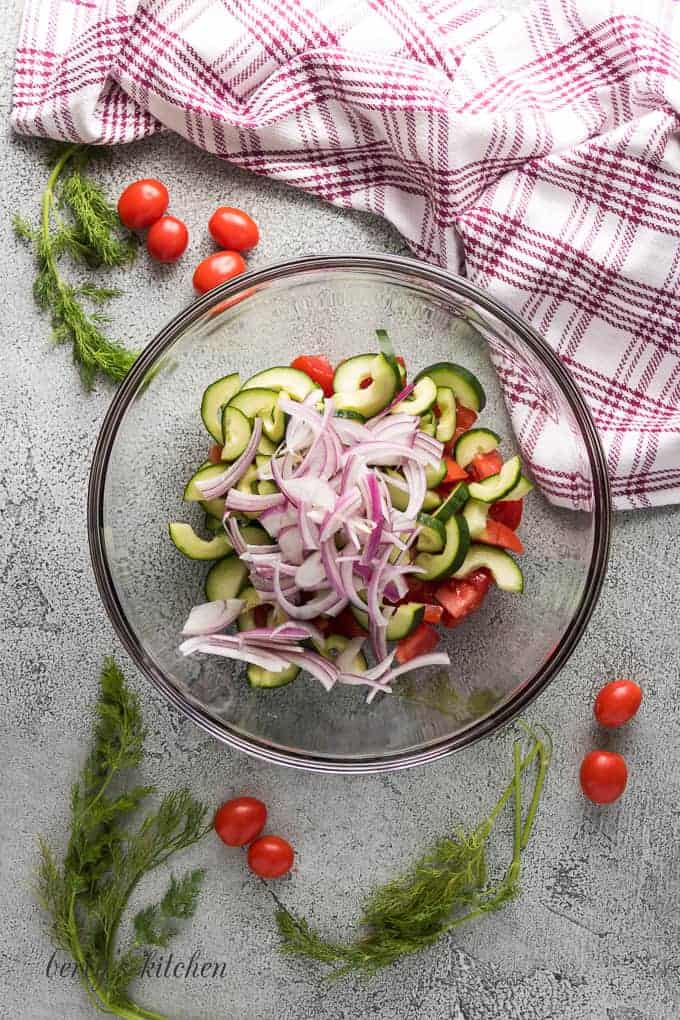 Next, add the prepared vegetables and the tomatoes to a large mixing bowl. Then, pour in the dill sauce.
Now, I provided a link to our sauce recipe above and in the recipe card. However, you can use ranch dressing if you don't care for dill sauce.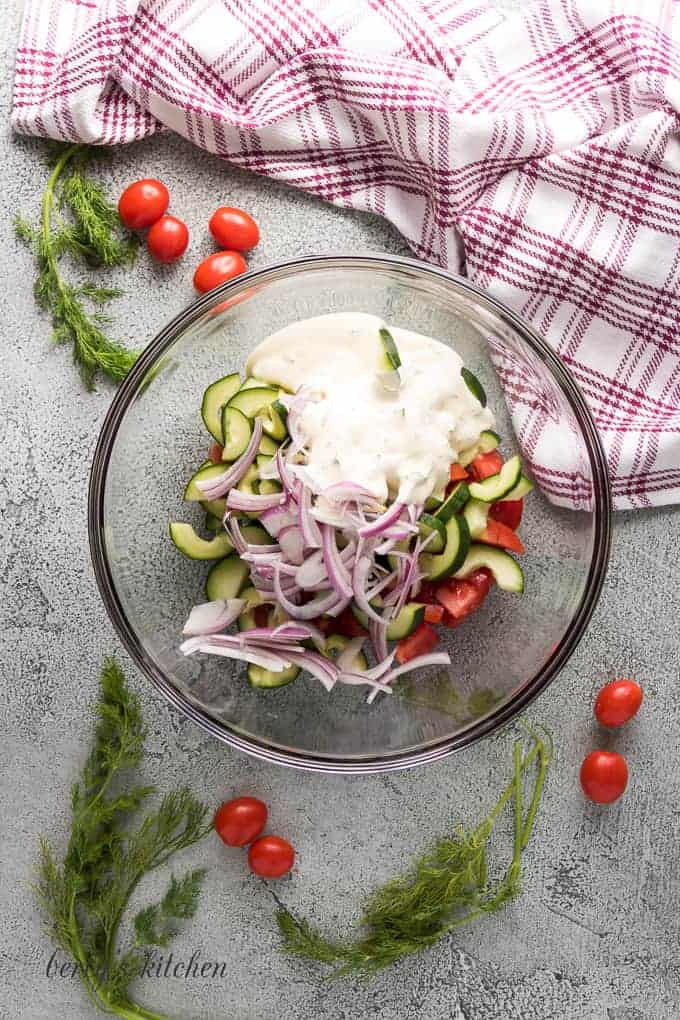 Last, toss all the ingredients together and serve! That's it, your creamy cucumber tomato salad is done.
Kim and I hope you enjoy the dish and we wish you all the best 🙂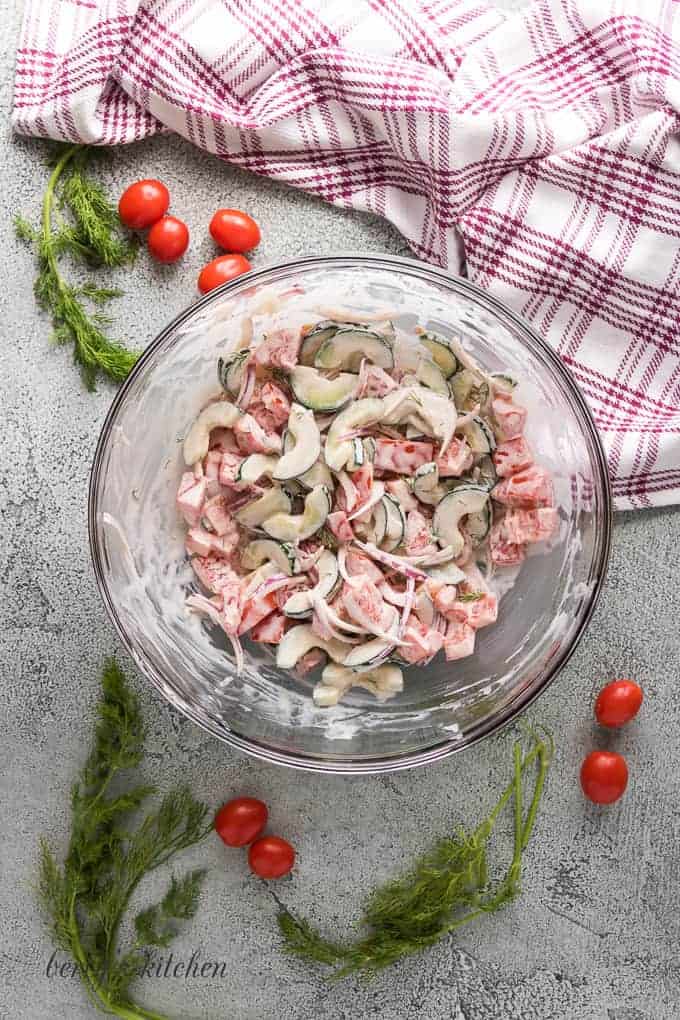 Can I make this salad in advance?
Yes, but I wouldn't do it any earlier than the day before you plan to eat it. Mainly, because tomatoes get mushy when they've been cut and stored in your fridge.
Can I use a vinaigrette dressing?
Absolutely, instead of using a creamy dressing try using a mixture of olive oil, vinegar (white wine or apple cider), lemon juice, dill, and sugar.
Place the oil, vinegar, lemon juice, dill, and granulated sugar into a mason jar. Seal and shake the jar and then pour it over the cucumber tomato onion salad.
Toss everything together. Cover the salad and let it marinate in your fridge for 1 hour before serving.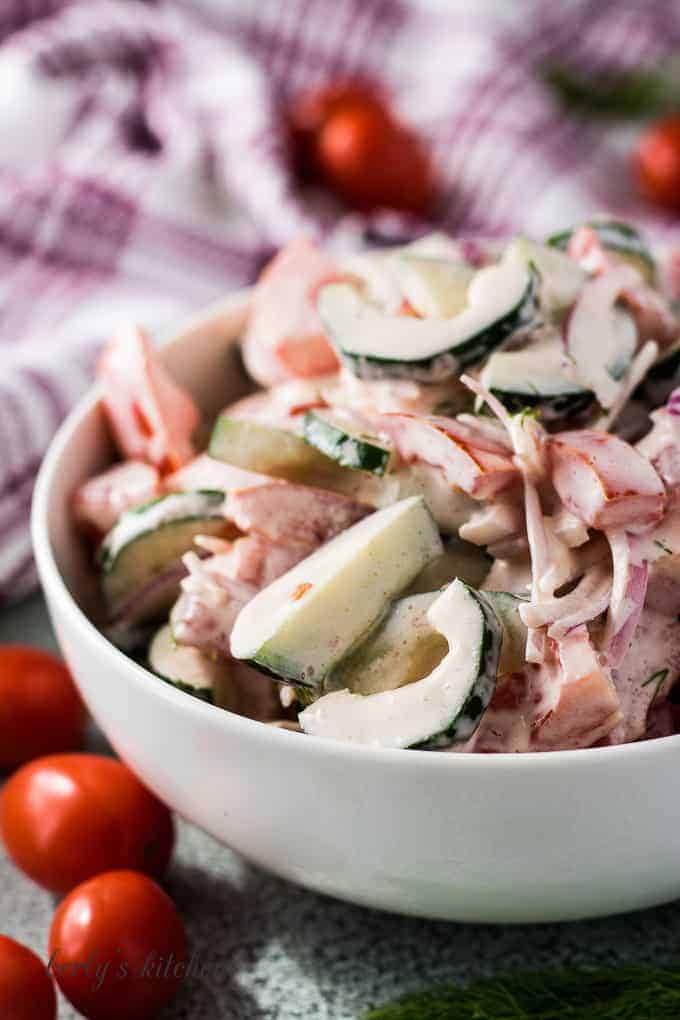 Yield: 8 Servings
Creamy Cucumber Tomato Salad Recipe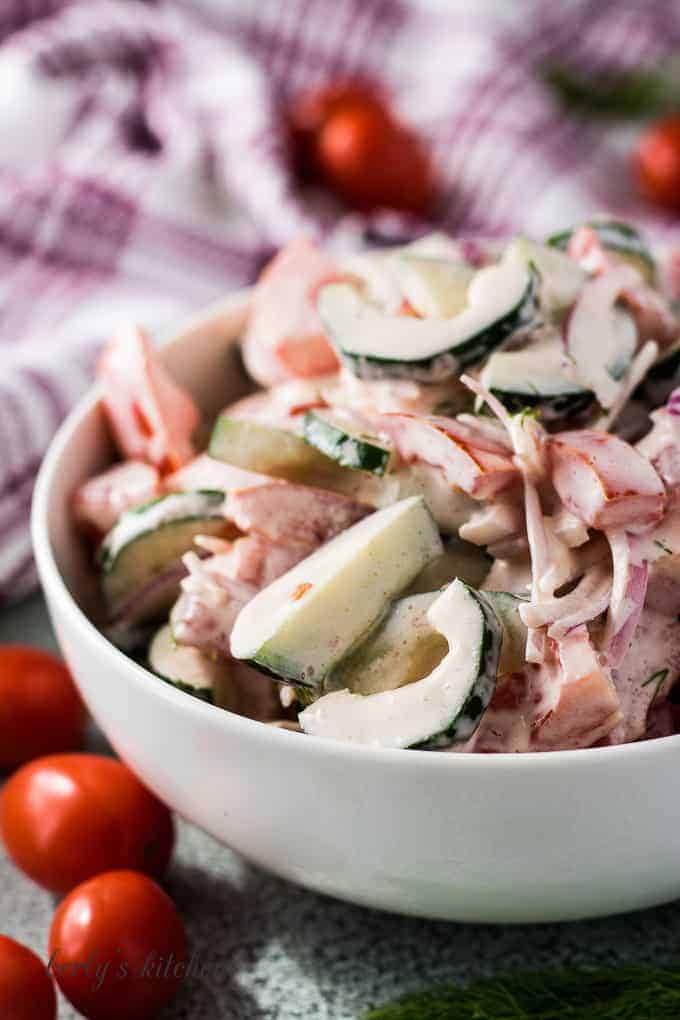 Our creamy cucumber tomato salad recipe is a Southern favorite! Crisp cucumbers with juicy tomatoes covered in a homemade dill sauce.
Ingredients
2 Cups Tomatoes, (we used Roma, diced)
1 1/2 Cups Cucumber, (sliced)
1/2 Cup Purple Onion, (thinly sliced)
Instructions
After dicing and slicing, place the tomatoes, cucumber, and onions in a large bowl. Toss with ½ cup of dill sauce or your favorite ranch dressing.
Serve cold and garnish with fresh dill. Store leftovers in the refrigerator for up to 3 days.
Notes
The calories listed are an approximation based on the ingredients and a serving size of 1/2 a cup of the cucumber tomato salad. Actual calories will vary.
Recommended Products
As an Amazon Associate and member of other affiliate programs, I earn from qualifying purchases.
Nutrition Information:
Yield:
8
Serving Size:
0.5 Cup
Amount Per Serving:
Calories:

86
Total Fat:

8g
Saturated Fat:

1g
Unsaturated Fat:

0g
Cholesterol:

5mg
Sodium:

167mg
Carbohydrates:

4g
Fiber:

1g
Sugar:

2g
Protein:

1g