Basil, garlic, and tomatoes blended with olive oil are the main ingredients in this easy marinara sauce recipe that almost anyone can prepare.
Wow, this recipe was originally published back February of 2017. It's been over two (2) years since we added this pasta sauce to the blog. Well, turns out, the post needs a little updating.
Which is not surprising given the changes that have occurred. Now, the nice part is that the marinara sauce recipe is still delicious and simple.
Using less than ten (10) ingredients, you can create a red sauce that goes with just about any pasta noodle.
Furthermore, you can use it as a dipping sauce for bread sticks, meatball subs, pizza sauce, and in lasagnas and pasta bakes.
So, it's versatile and tasty! Best of all, it can be made on the stove or in a slow cooker. I added instructions for that as well shall we get started?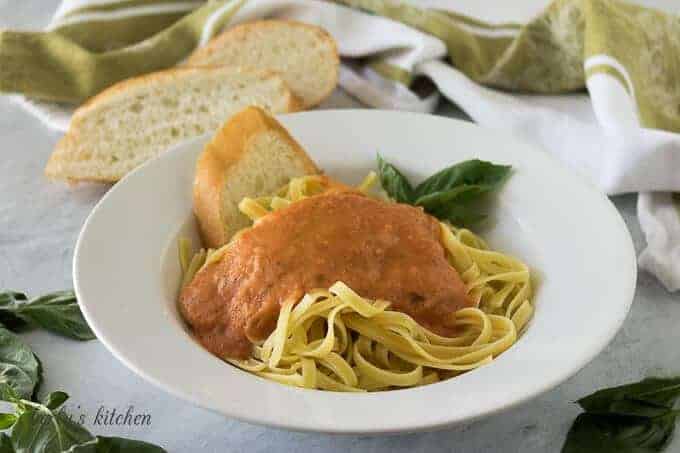 Easy Marinara Sauce Recipe Instructions:
First, roughly chop the tomatoes, onions, garlic, and basil. It is important to note; you don't have to worry about dicing everything up because it's all going into one pot to cook.
Given the fact you will eventually blend the sauce, there is no need to spend too much time on the cutting board. Just give it all a quick chop and move on with your life.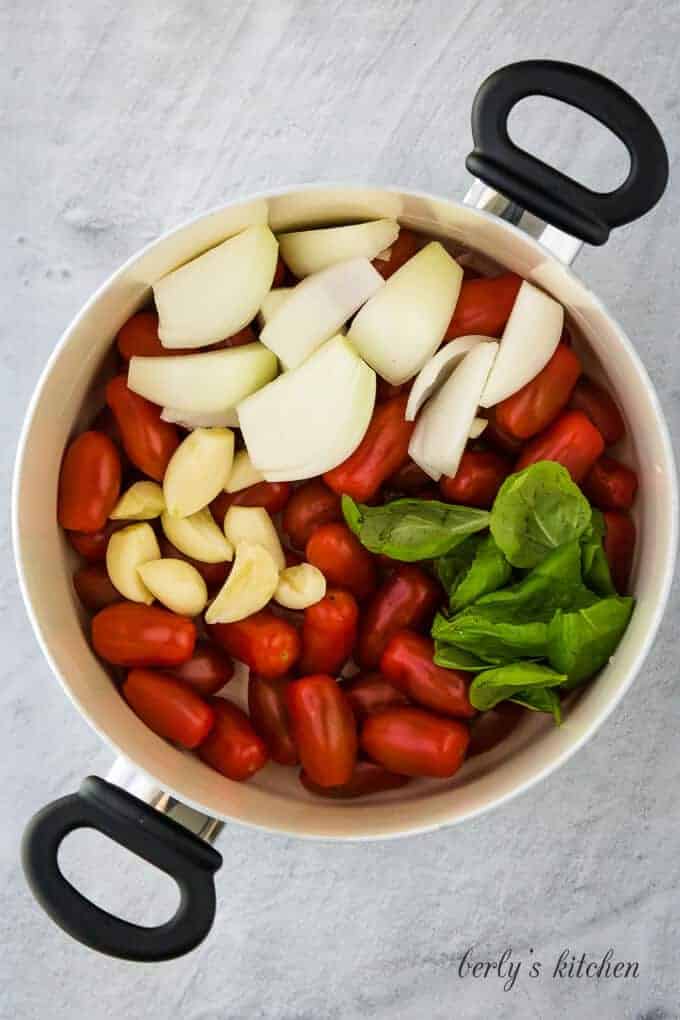 Next combine the tomatoes, onions, garlic, basil, olive oil, and chicken stock into one pot.
You can use a large sauce pot, stock pot, or even your slow cooker. Although, if you use the slow cooker, then you'll want to double the cook time.
Either way, it doesn't really matter too much because the only reason you're letting it cook more than a half an hour is to concentrate the flavors and reduce the amount of liquid in the sauce.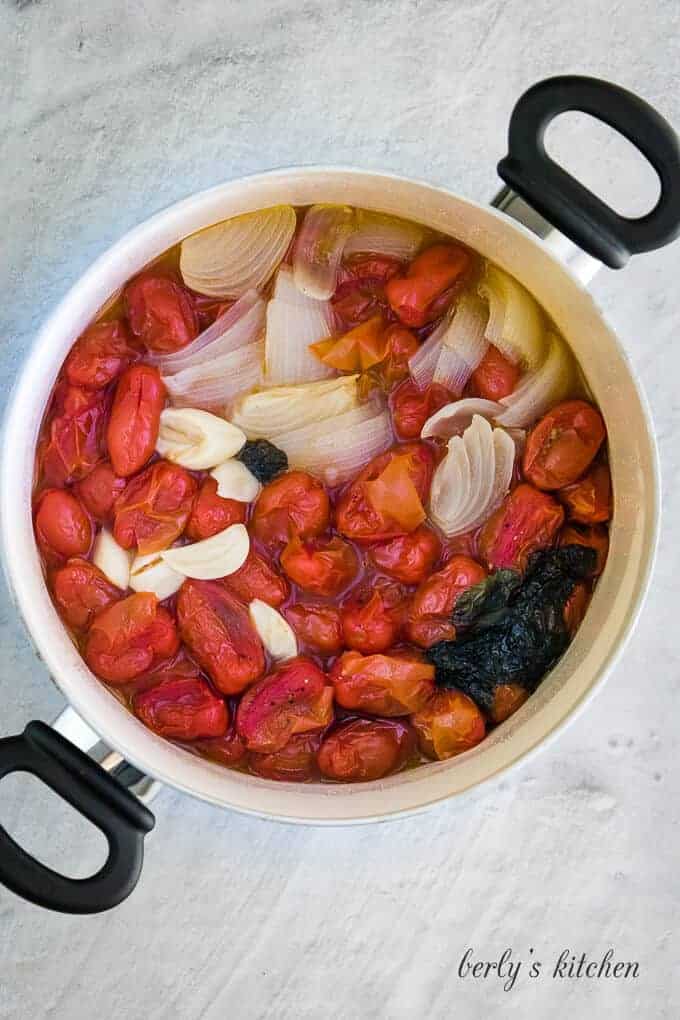 If you prefer a thick sauce, then set the heat on low and let it go until most of the stock has evaporated. Once you have desired liquid content, remove the sauce from the heat and let it cool for at least twenty (20) minutes.
Last, transfer the sauce from the pot to a blender or food processor (or use an emulsifier), and pulse the sauce until it's smooth. Afterward, go ahead taste test the tomato sauce.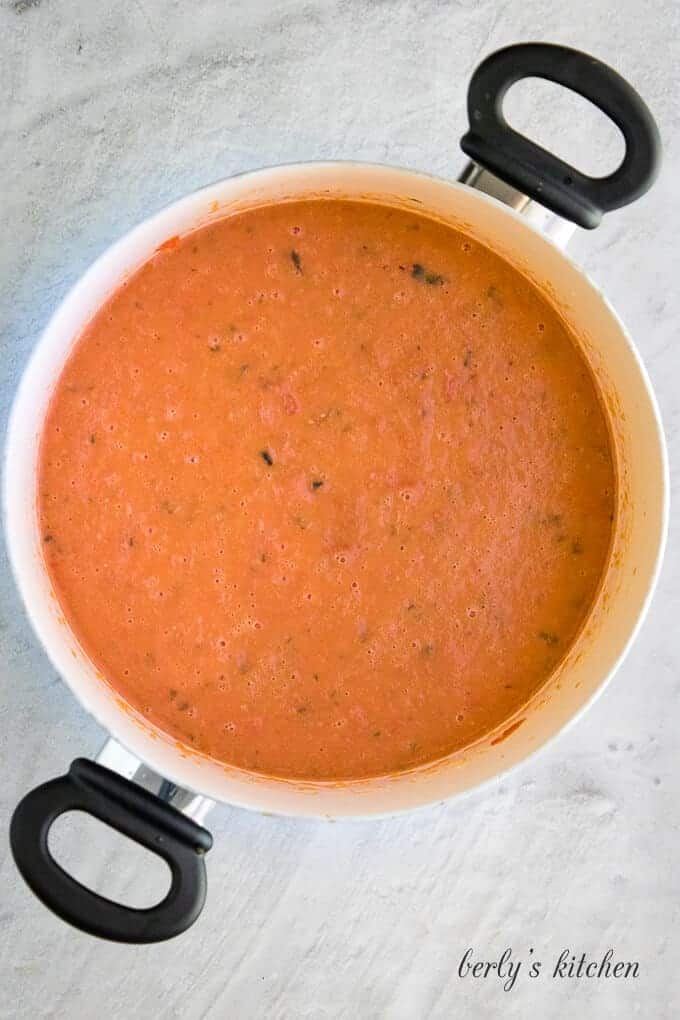 You may find the stock did not have enough sodium. If that is the case, add salt and pepper as needed until you are happy with the flavor.
Combine the sauce with your favorite pasta and devour!
That's it your easy marinara sauce recipe is done. Kim and I hope you enjoy the sauce and wish you all the best 🙂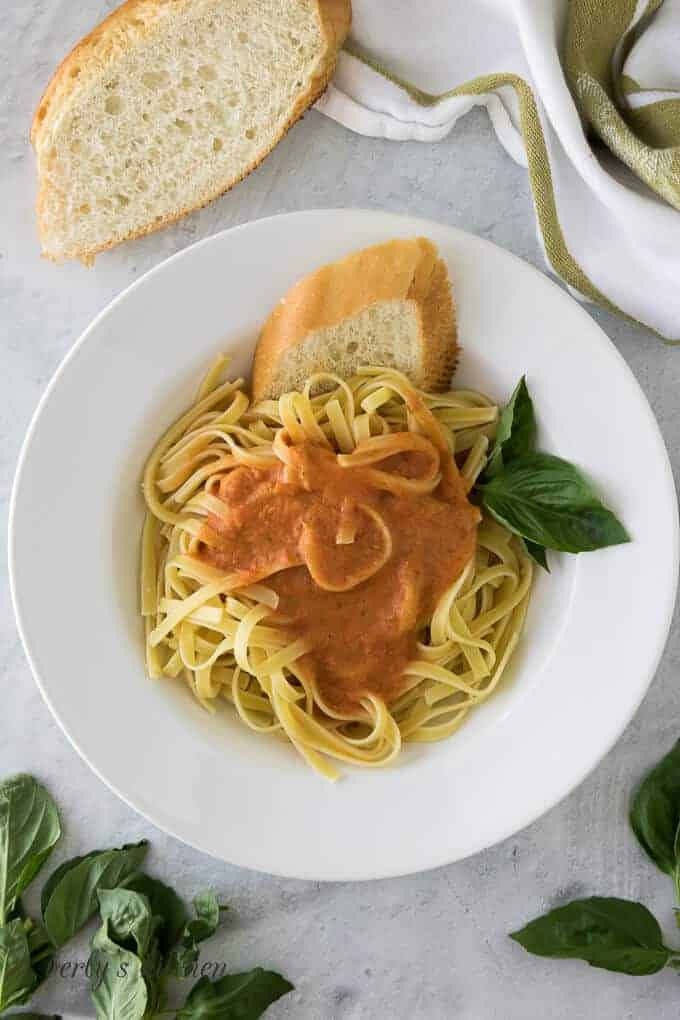 How to Make Tomato Sauce with Canned Tomatoes:
We prefer to use fresh tomatoes for this recipe. However, in a pinch, canned tomatoes will do the trick.
Swap out the fresh tomatoes with a twenty-eight (28) ounce can of crushed tomatoes or whole peeled tomatoes. If using peeled tomatoes, they'll need to be chopped or smashed and cooked down for the recipe to work.
Make sure to cook the tomatoes for the same amount of time as you would for fresh. Canned foods tend to carry a metallic taste, so it takes some time to cook that taste out. Follow the rest of the recipe as written.
Regardless of how you make it, this homemade marinara sauce recipe is versatile, simple, and always tasty.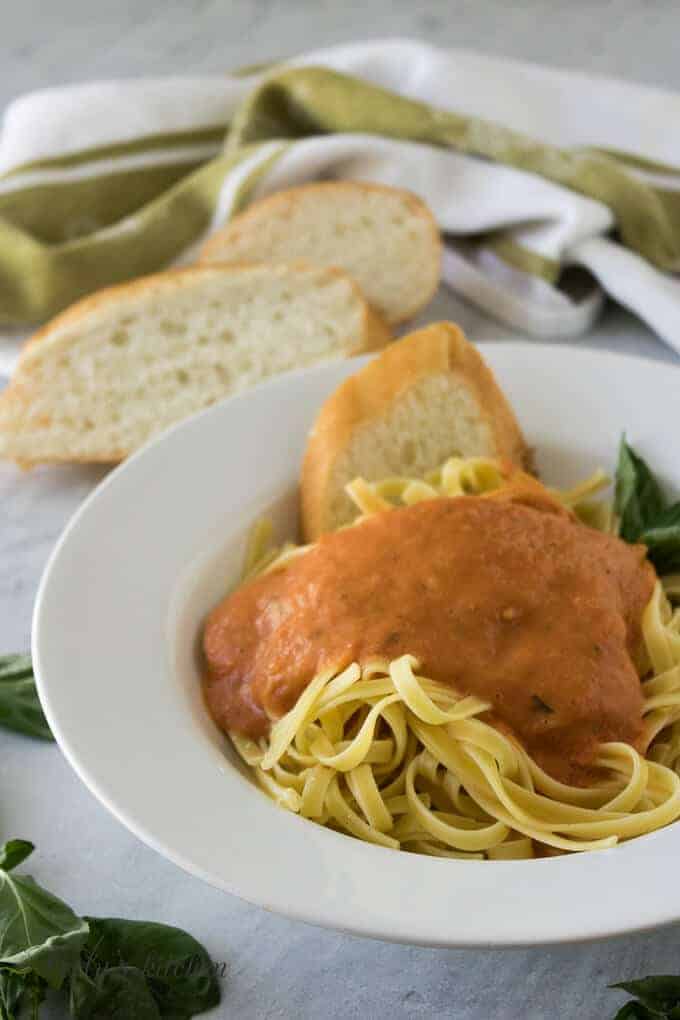 Marinara Sauce Recipe Tips:
The basil, onions, tomatoes, and garlic can be roughly chopped since sauce will be blending after cooking process. Otherwise, you would need to finely chop everything if you chose not to blend the easy marinara sauce.
You can substitute vegetable stock for the chicken stock to make a vegetarian version of sauce.
Also, the marinara sauce recipe can be stored in your freezer and stay frozen for later use. With that being said, the frozen sauce should be used within six (6) to eight (8) weeks.
If you like our easy marinara sauce recipe, please leave us a comment and rate the recipe card. You can also find us on Facebook, Pinterest, Twitter and Instagram searching for Berly's Kitchen!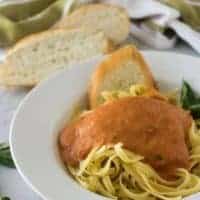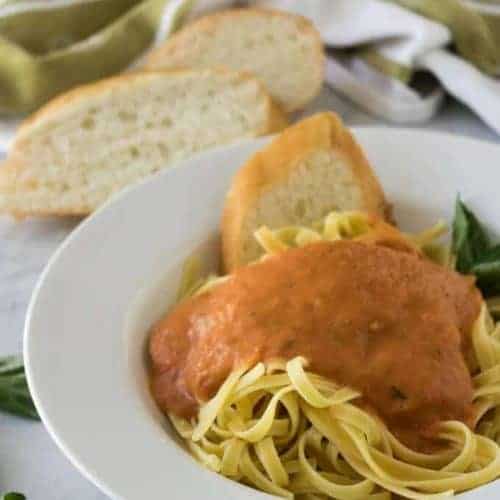 Easy Marinara Sauce Recipe
Print
Save
Saved!
Pin
I earn a commission from Amazon and Instacart from qualifying purchases.
Ingredients
2

tablespoons

Olive Oil

3

tablespoons

fresh basil

6

Cloves

Garlic

(Peeled)

1

Cup

white onion

(roughly chopped)

1 1/2

pounds

tomatoes

(whatever you can find)

1 1/3

cups

Chicken Stock

(Substitute Vegetable Stock for a Vegetarian/Vegan Option)

Salt and Pepper to taste
Instructions
In a medium stock pot or slow cooker combine olive oil, fresh basil, garlic, onions, tomatoes, and chicken stock.

Cover and let cook on medium heat for 45 to 65 minutes.

Remove from heat, remove lid and let cool for approximately 20 minutes.

In a blender or food processor, pulse sauce until smooth. Taste test and add desired salt and pepper.
Notes
The calories listed are an approximation based on the ingredients and a serving size of approximately one-fourth (1/4) of a cup marinara sauce. Additionally, the calorie count does NOT include any garnishments (extra basil and bread) seen in the photos. Actual calories will vary. The sauce can be stored in your fridge for up to three (3) days in a sealed container.
Nutrition
Serving:
0
.25 grams
|
Calories:
96
kcal
|
Carbohydrates:
10
g
|
Protein:
3
g
|
Fat:
6
g
|
Saturated Fat:
1
g
|
Cholesterol:
2
mg
|
Sodium:
84
mg
|
Fiber:
2
g
|
Sugar:
5
g