Need a fast and inexpensive dinner idea? Then try our easy tuna casserole recipe made with canned tuna and egg noodles. Dinner just got a whole lot easier!
It doesn't take an economics professor to see that everyone's budget is about to get a lot tighter.
Keeping that mind, you're going to need lunch and dinner recipes that are filling but still easy on the bank account.
Why not give our tuna casserole recipe a try? The total cost of the dish is about 15.00 USD, that's comes out 1.25 USD per serving.
Try feeding twelve (12) people for that amount at any fast food or restaurant chain. So, shall we get started?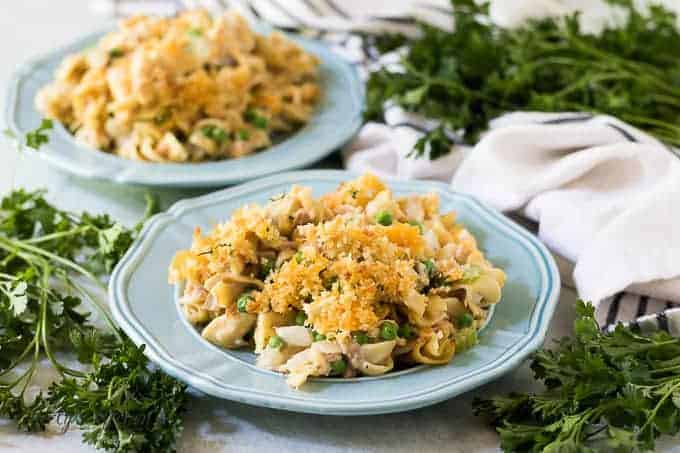 How to make a tuna casserole recipe?
First, begin by preheating your oven to 425° F., greasing a two and a half (2.5) quart casserole dish, and mixing the breadcrumb ingredients.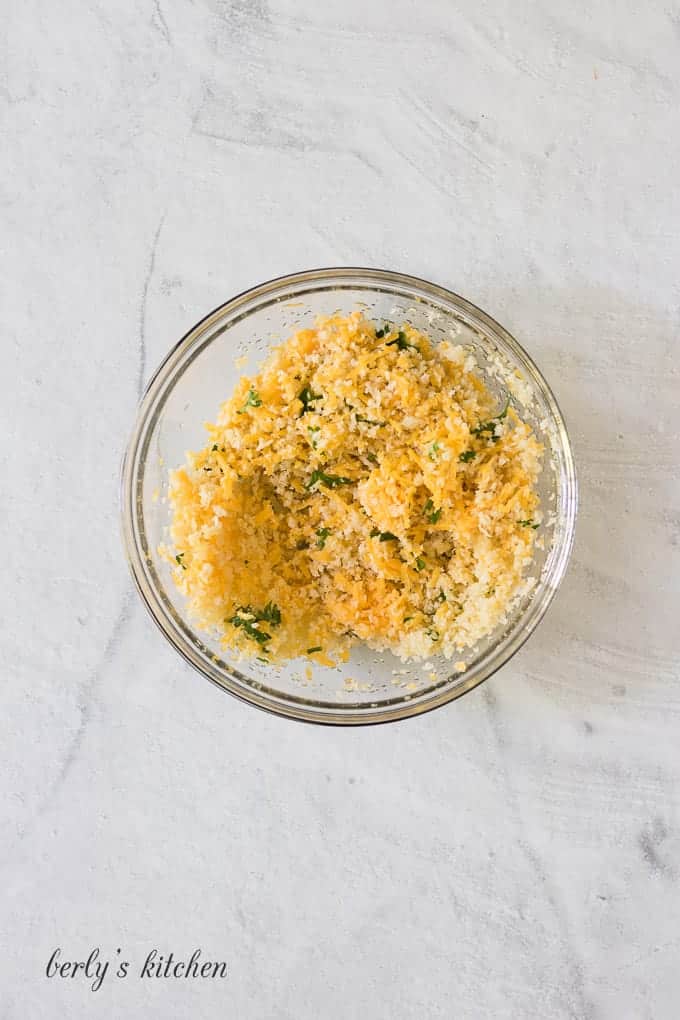 Also, it's probably a good idea to dice the celery and onion; as well as, shred the cheese and open the cans of tuna.
Next, cook the egg noodles until they're almost done or al dente as it's called in the culinary industry.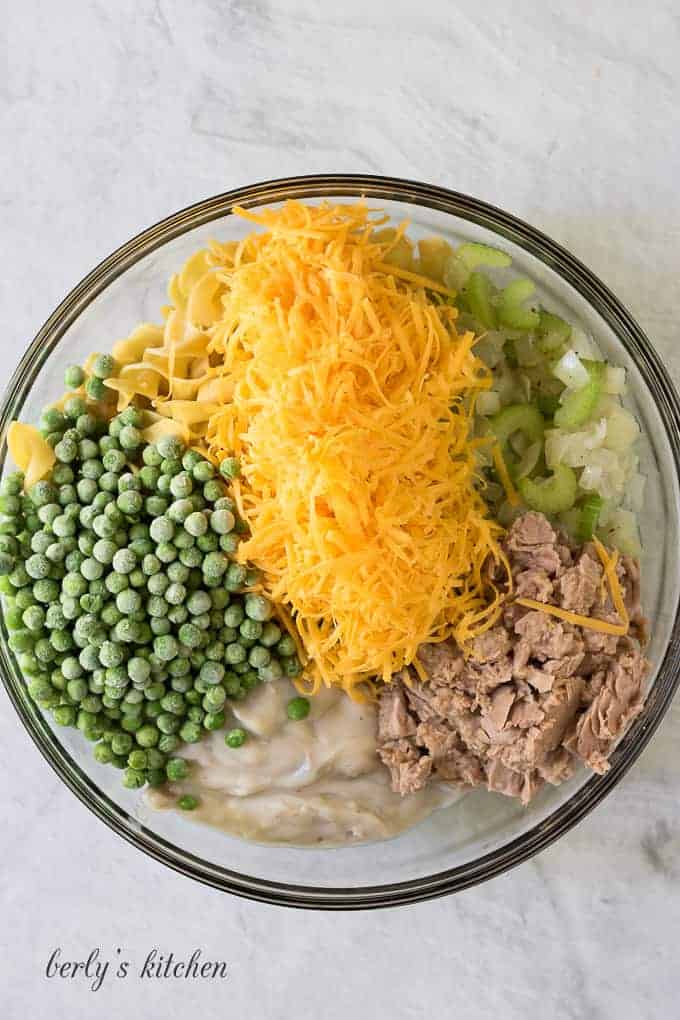 After that, grab a skillet and place it over low-medium heat. Melt the butter and cook the celery and onions until they're soft. It should take about five (5) minutes.
Now, combine the celery, milk, mushroom soup, noodles, onions, peas, shredded cheese, and tuna in a large mixing bowl.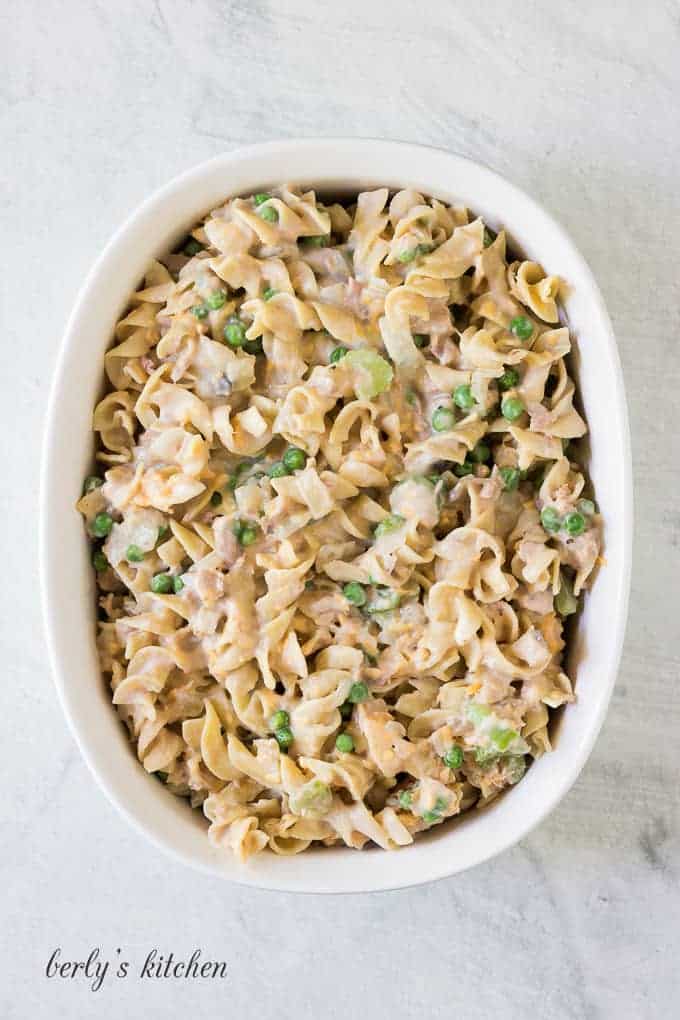 Use a wooden spoon to mix everything together. At this point, you can transfer the mixture to the casserole dish.
Then, top the tuna casserole with the breadcrumb mixture you prepared earlier.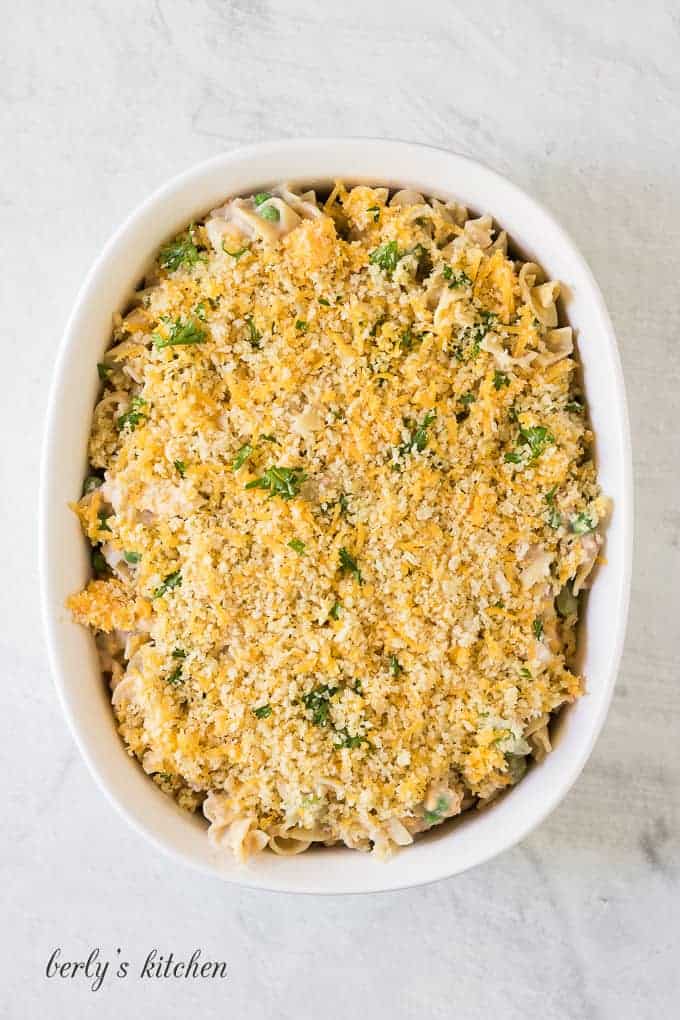 Place the dish into the oven to bake for about sixteen (16) minutes or until it's bubbling. Last, remove it from the oven and serve while warm.
That's it, your easy tuna casserole recipe is done! Kim and I hope you enjoy the meal and wish you all the best 🙂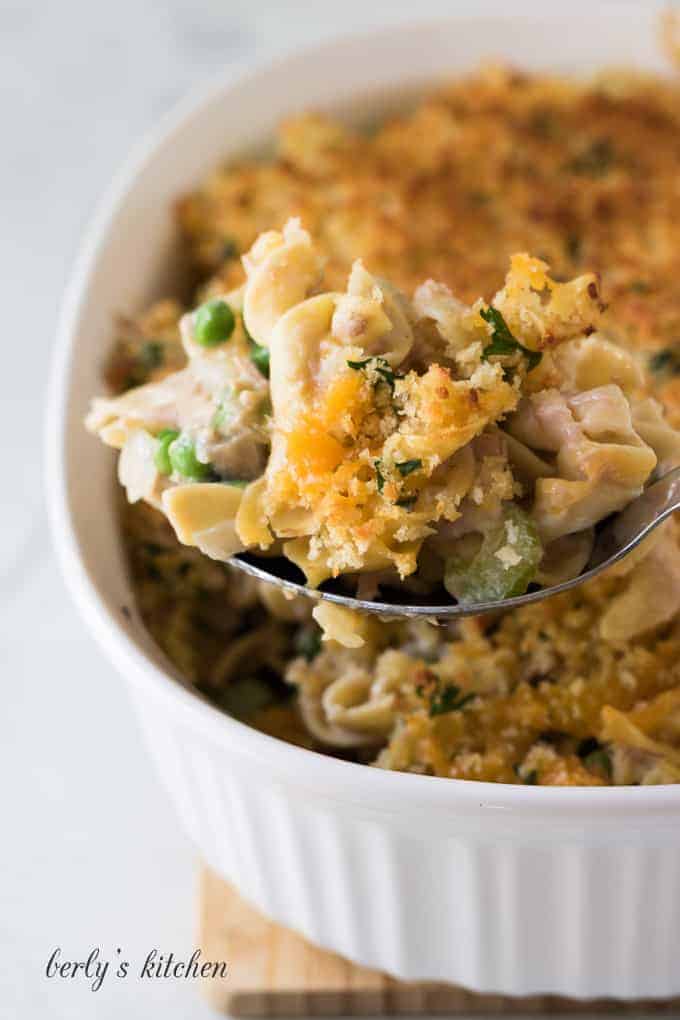 Can you freeze tuna casserole?
Absolutely, you can either do it before or after you bake the dish. Personally, I would freeze it beforehand, then pop it into the oven to bake once we're ready to eat it.
How long is tuna casserole good for?
Once baked, the tuna pasta will hold in your fridge for up to three (3) days in a sealed container. In other words, it's okay to eat for another three (3) days as long as it's stored in the fridge.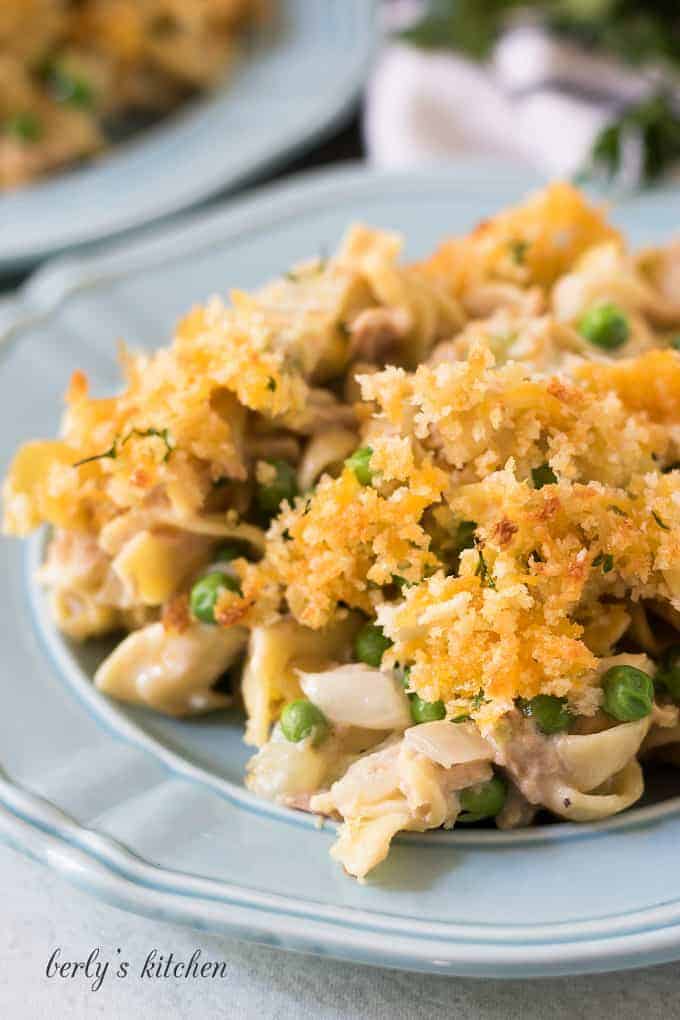 Yield: 12 Servings
Easy Tuna Casserole Recipe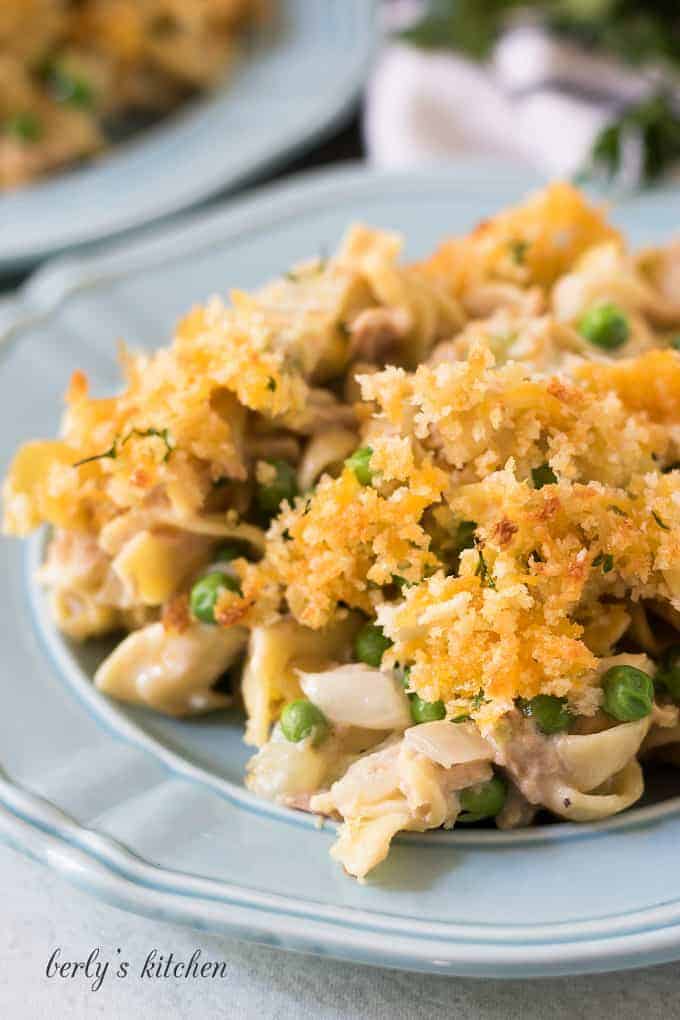 Need a fast and inexpensive dinner idea? Then try our easy tuna casserole recipe made with canned tuna and egg noodles. Dinner just got a whole lot easier!
Ingredients
Tuna Casserole
12 Ounces Egg Noodles
2 Tablespoons Unsalted Butter
1 Cup White Onion, (diced)
1/4 Cup Celery, (about two ((2)) stalks, chopped)
1 Cup Frozen Peas
10 Ounces Tuna, (about two ((2)) cans in water, drained)
10.5 Ounces Cream of Mushroom Soup
1 Cup Milk, (we used whole)
1 1/2 Cups Cheddar Cheese, (shredded)
Salt and Pepper to Taste
Panko Topping
3/4 Cup Panko Breadcrumbs
2 Tablespoons Unsalted Butter, (melted)
1/2 Cup Cheddar Cheese , (shredded)
1 Tablespoon Parsley, (dried or fresh chopped)
Instructions
Preheat the oven to 425 degrees, and lightly grease a 2.5 quart baking dish. Combine the ingredients for the breadcrumb topping, then set aside.
Cook the egg noodles until they are al dente, drain, and set aside.
In a medium skillet, melt the butter over low to medium heat. Add the onions and celery. Cook until they begin to soften (about 5 minutes), then remove from heat
In a large bowl, combine the cooked noodles, onions, celery, peas, tuna, soup, milk, and shredded cheese. Place the mixture in the 2.5 quart baking dish. Top with the breadcrumb topping.
Bake for 15-18 minutes or until the casserole is golden brown and bubbly. Serve hot.
Notes
The calories listed are an approximation based on the ingredients and a serving size of one (1) cup of the tuna casserole recipe. Actual calories will vary. The dish can be stored in your fridge, in a sealed container, for up to three (3) days.
Recommended Products
As an Amazon Associate and member of other affiliate programs, I earn from qualifying purchases.
Nutrition Information:
Yield:
12
Serving Size:
1 Cup
Amount Per Serving:
Calories:

295
Total Fat:

13g
Saturated Fat:

7g
Unsaturated Fat:

0g
Cholesterol:

65mg
Sodium:

336mg
Carbohydrates:

29g
Fiber:

2g
Sugar:

4g
Protein:

16g