King Ranch chicken casserole is a spicy, cheesy chicken dish loaded with all the flavors of the Southwest. We know you'll love it as much as we do!
I'll be honest, before we made this King Ranch chicken, I'd never heard of it. Which is weird considering I lived in Texas for seven years.
Apparently, this chicken casserole origin's are matter of debate. Most people believe it originated at the King Ranch in Texas.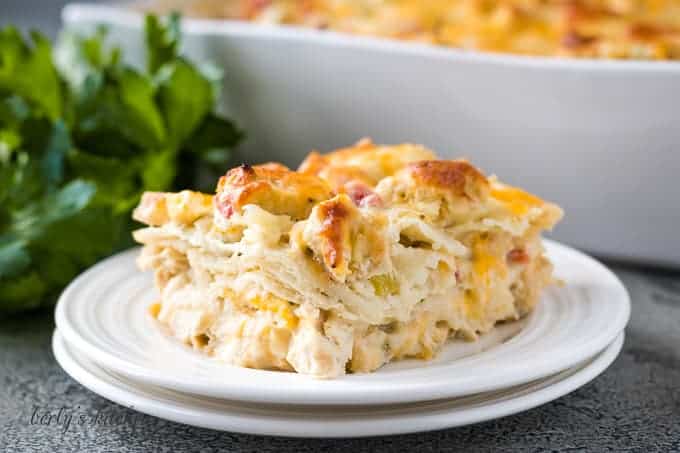 However, according to Houstonia, (a magazine based in Houston, Texas), as of 2016, the family has never taken credit for the recipe.
I read over the article, written by Victoria Haneveer, and it was extremely interesting.
The author included details about the history of King Ranch Chicken. I've included a link to the article here.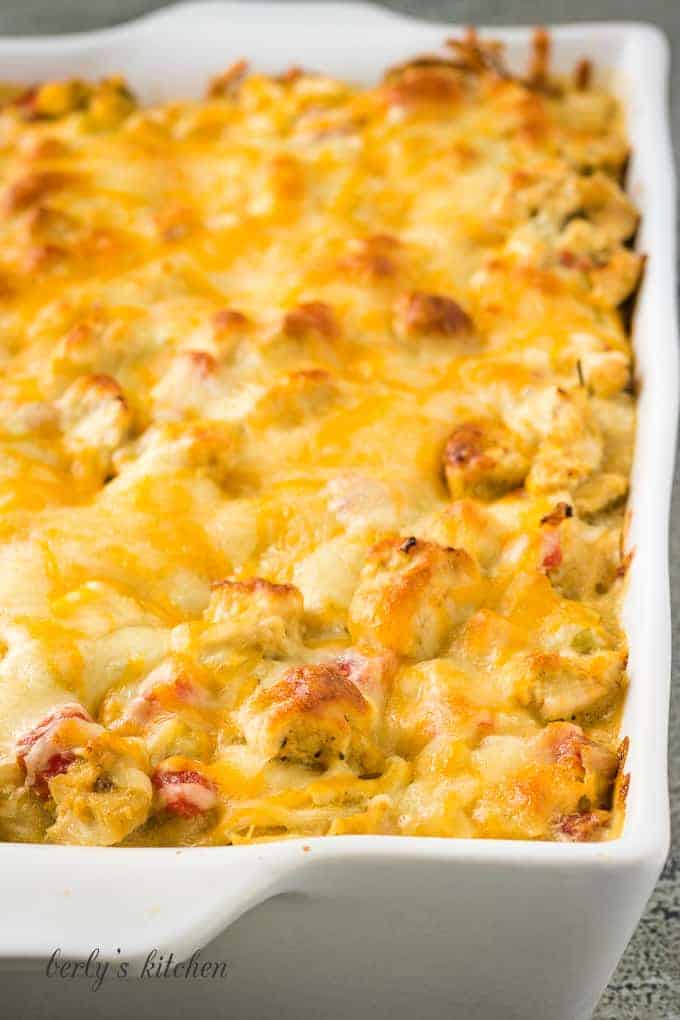 Well, that article got me curious about King Ranch itself. So, I decided to Google them.
They have an informative website with links to the history of the ranch dating all the way back to 1853.
If you're curious about the origins of the King Ranch, I encourage you take click this link to their website. You could even book a tour!
How to make King Ranch Chicken?
There are only five (5) steps to making this Tex-Mex infused casserole. We're providing some recipe information below.
The recipe card is listed at the bottom of the page along with detailed instructions. Use the pictures found in the post to help you through the process.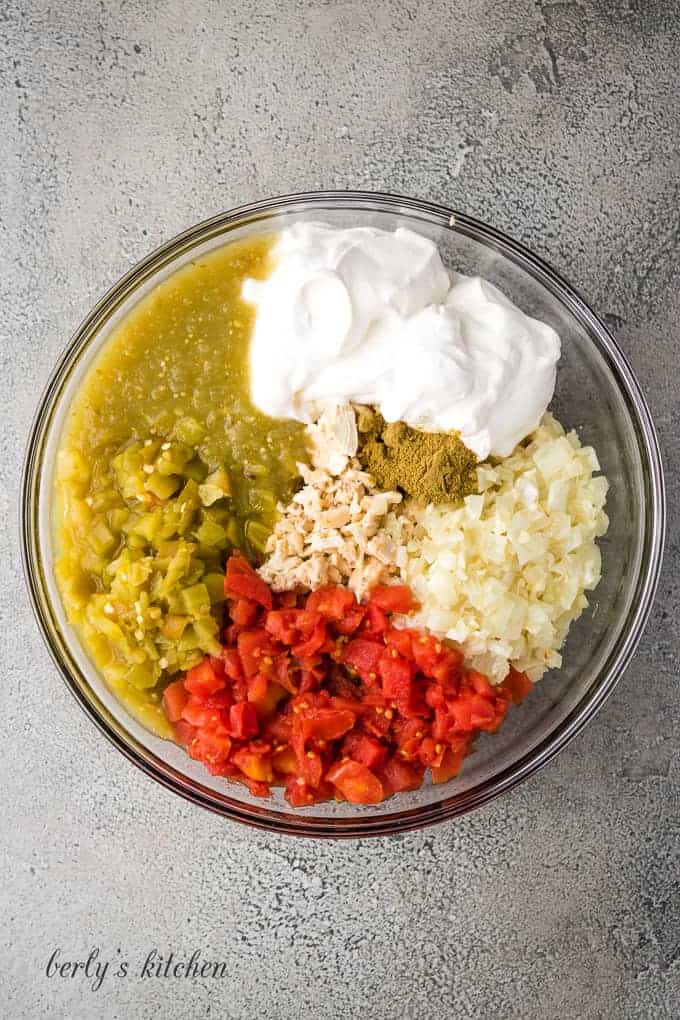 Start by preheating your oven to 400 degrees F. and spraying a nine (9) by thirteen (13) in casserole dish with non-stick cooking spray.
After that, cook the onions with butter over low to medium heat until they're soft. Toss in the garlic just before the onions are done.
Next, grab a large mixing bowl and combine the chicken, cumin, garlic, green chiles, onions, sour cream, salsa verde, and tomatoes.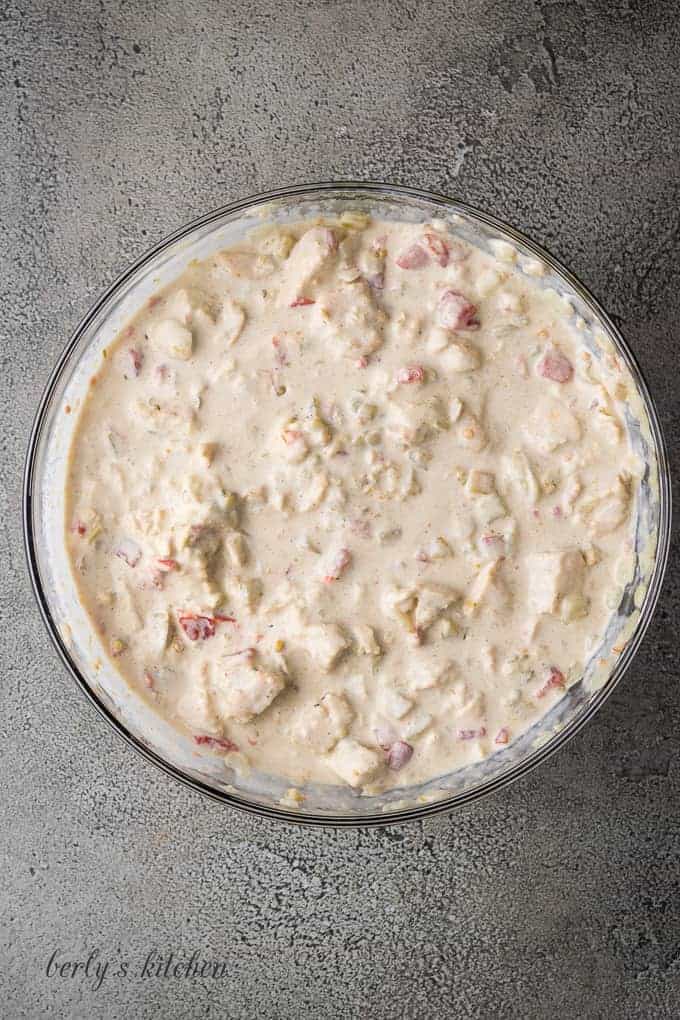 Now, cut up the tortillas and lay part of them into a casserole dish.
Sprinkle some of the filling over the tortillas. Then, add some of the cheddar cheese.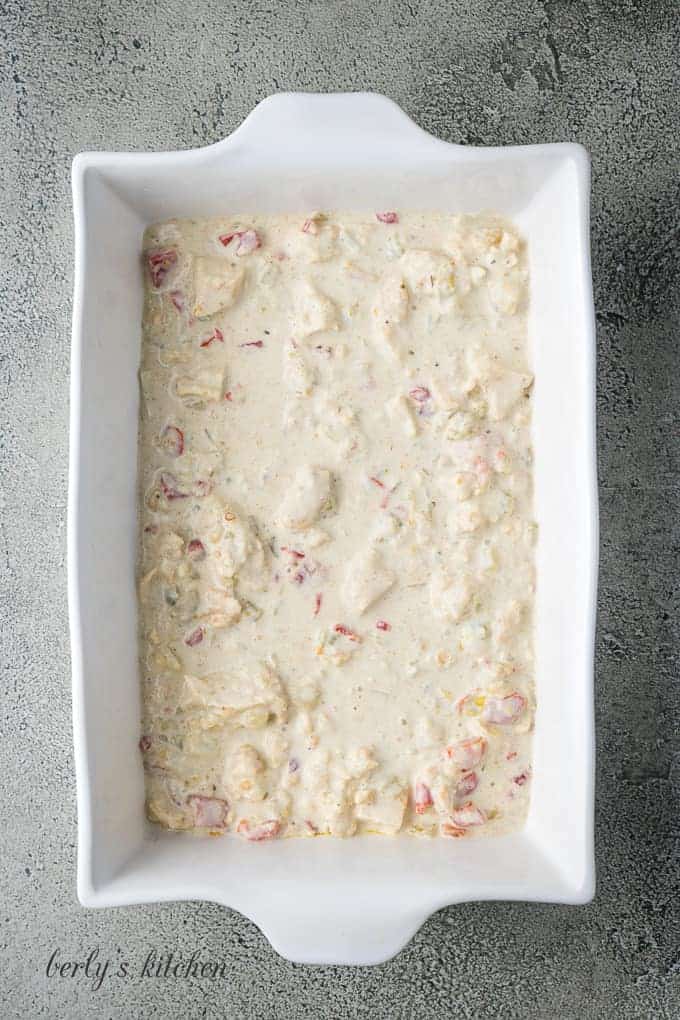 That's the first layer of the King Ranch chicken.
Keep repeating tortillas, filling, cheese over and over until all the ingredients are gone.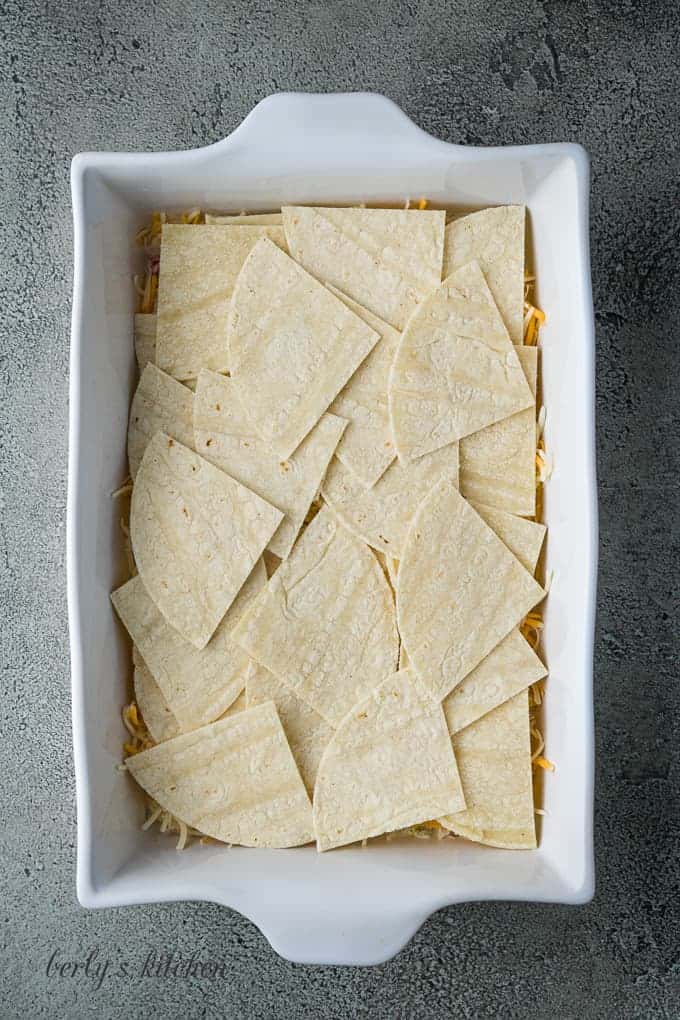 By the time you're done, the topping should be shredded cheddar. Once everything is gone, toss the chicken casserole into the oven.
Let it bake, uncovered, for about 25 minutes or until the cheese is golden and bubbly.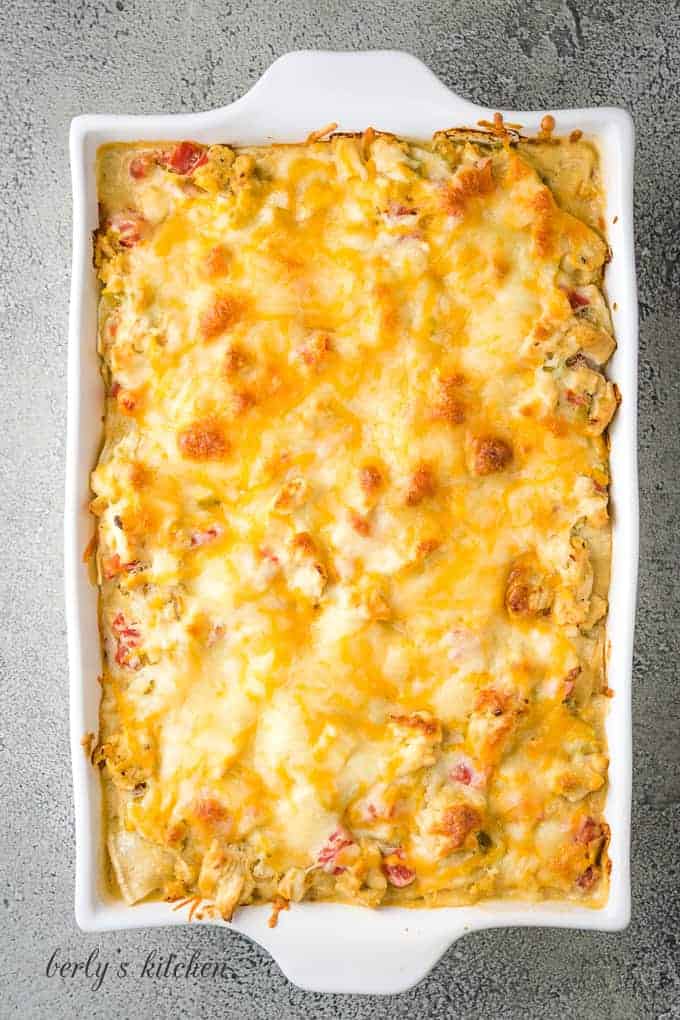 Last, let it cool for about 10 minutes before serving. That's it, the King Ranch chicken is done!
Kim and I hope you enjoy the dish and we wish you all the best!
Can you freeze King Ranch chicken?
Yes, it can be frozen before or after it bakes. If you freeze it, then set it in your fridge to thaw before baking.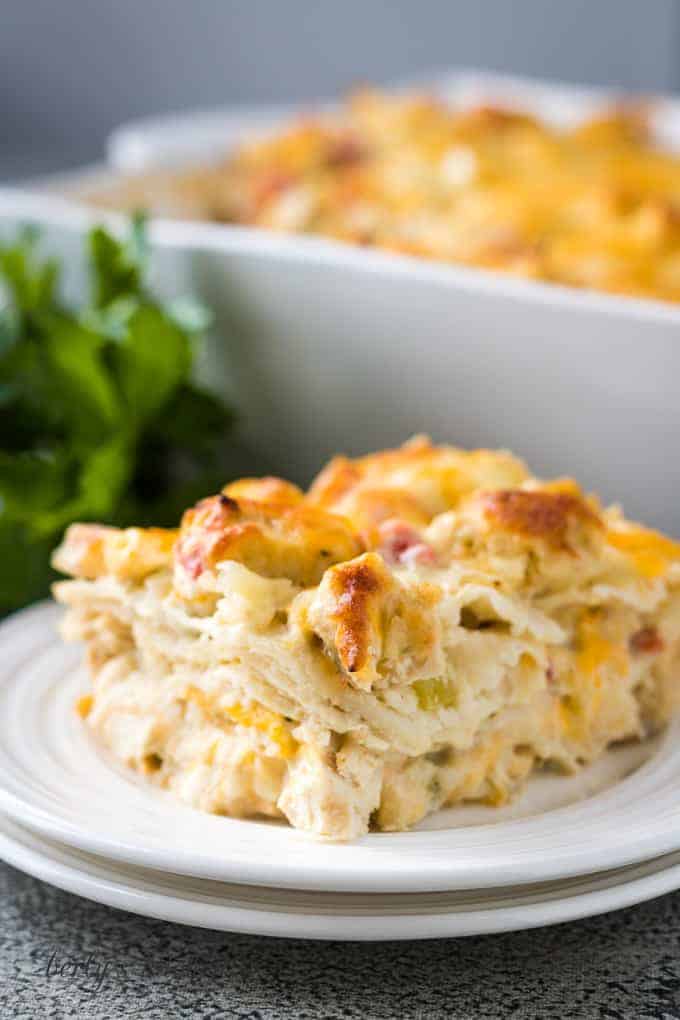 How do you make King Ranch chicken from scratch?
That's an easy one to answer; however, it would take a lot of steps. Including, making your own salsa verde, seasoned chicken, and diced green chiles and tomatoes.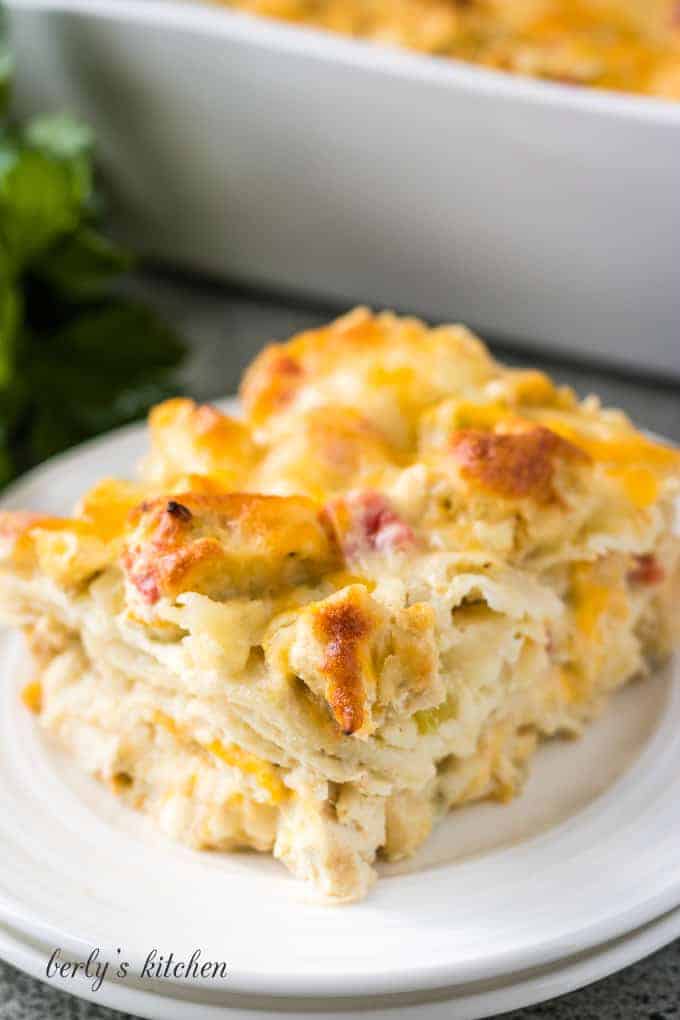 Yield: 12 Servings
King Ranch Chicken Casserole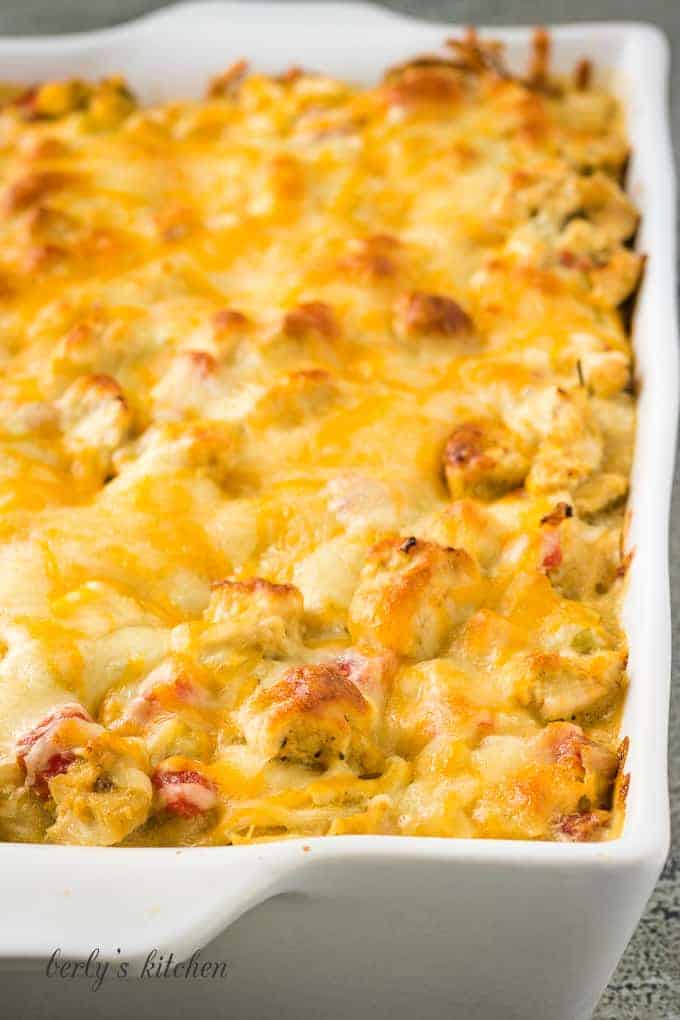 King Ranch chicken casserole is a spicy, cheesy chicken dish loaded with all the flavors of the Southwest. We know you'll love it as much as we do!
Ingredients
1 Tablespoon Unsalted Butter
1 Cup White Onion, (diced)
3 Large Garlic Cloves, (minced)
5 Cups Chicken, (cooked and chopped)
2 Cups Sour Cream
16 Ounces Salsa Verde, (jarred)
10 Ounces Tomatoes and Green Chiles
4 Ounces Green Chiles
2 Teaspoons Ground Cumin
4 Cups Cheddar Cheese, (shredded)
20 Small Corn Tortillas, (cut into fourths)
Instructions
Preheat the oven to 400 degrees F. Lightly spray a 9 x 13-inch or 3-quart casserole dish with cooking spray, then set aside.
In a medium skillet, melt the butter over low-medium heat, then add the onions. Cook the onions until they begin to soften, about 3 to 5 minutes, then add the garlic. Cook for an additional 30 seconds.
In a large bowl, combine the onions, garlic, chopped chicken, sour cream, salsa verde, tomatoes, green chiles, and cumin. Set aside.
Cut the tortillas into quarters. Spread one fourth of the chicken filling into the bottom of the baking dish. Top with 1 cup of shredded cheese, then place a layer of tortillas over the cheese. It's okay if the tortillas overlap some. Repeat this process of chicken filling, cheese, and tortillas 2 more times (total of 3 layers) making sure to use all the tortillas. Spread the last of the chicken filling on the top, then top that with the last cup of cheese.
Bake for 20 to 25 minutes until the cheese is melted and the sides are bubbly. Cool for 10 to 15 minutes before serving.
Notes
The calories listed are an approximation based on the ingredients and a serving size of 1.5 cups of the King Ranch chicken. Actual calories will vary. Leftovers can be stored in a sealed container, in your fridge, for up to 3 days.
Recommended Products
As an Amazon Associate and member of other affiliate programs, I earn from qualifying purchases.
Nutrition Information:
Yield:
12
Serving Size:
1.5 Cups
Amount Per Serving:
Calories:

413
Total Fat:

26g
Saturated Fat:

14g
Unsaturated Fat:

0g
Cholesterol:

79mg
Sodium:

644mg
Carbohydrates:

27g
Fiber:

4g
Sugar:

6g
Protein:

17g