Caramel Iced Coffee is the perfect blend of sweet caramel and iced coffee. It tastes so much better than the coffee shop version, and only takes a couple of minutes to prepare!
Caramel Iced Coffee is quickly becoming one of my favorite go-to drinks. It only has 3 ingredients (4 if you count the ice), and it's so quick and easy to make. Plus, it's a great way to enjoy a cold coffee drink.
I'm not too picky when it comes to coffee drinks. I'll take them just about any way I can get them. Hot coffee or cold coffee drinks, I love both equally!
Some of my other favorite coffee drinks are this Iced Coffee with Bailey's and Kahlua, Hot White Chocolate Mocha, Espresso Martini, and Easy Frangelico Coffee.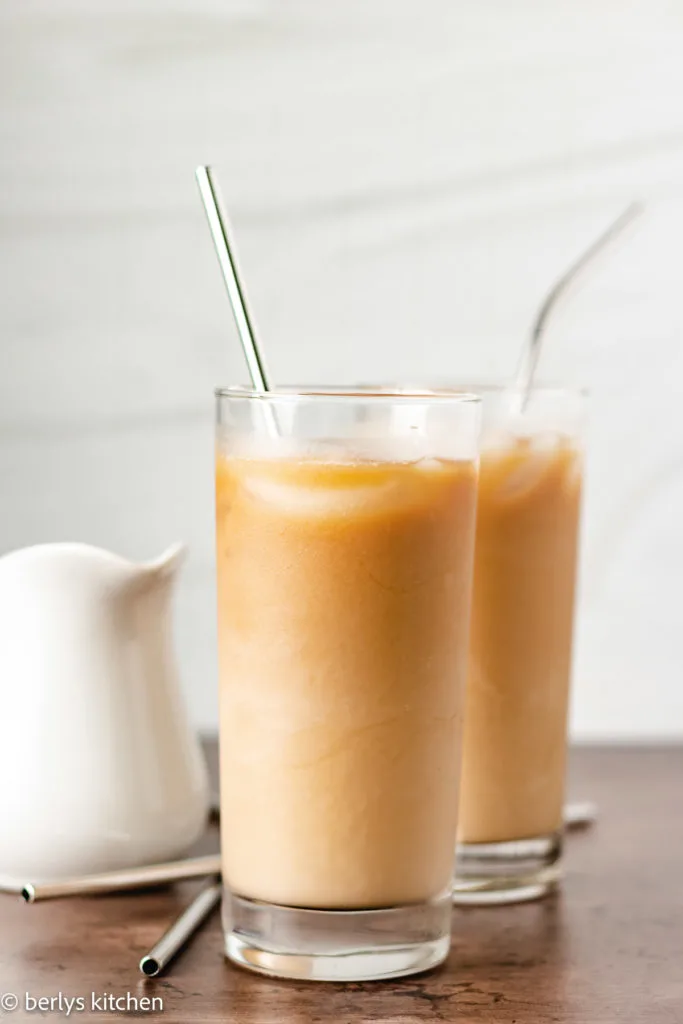 Caramel Iced Coffee Recipe:
Our caramel iced coffee is a delicious and refreshing drink that combines the smooth sweetness of caramel with the bold flavor of cold brew coffee.
This delightful blend comes together in minutes at home, giving you a flavorful alternative to expensive trips to your local coffee shop.
This coffee recipe started out as a turtle coffee drink and had lots of extra ingredients and flavors like chocolate, caramel, and pecan.
It was really good, but over time I decided I liked it better as a 3 ingredient, easy caramel coffee that I could whip up in less time that it takes to brew a pot of coffee.
This caramel coffee recipe is smooth, buttery, and perfect for a midday drink or late morning treat. You'll never go back to the coffee shop version again!
Ingredients You'll Need:
This sounds like a fancy drink, but it uses simple ingredients. The best part? It's completely customizable!
Coffee: You'll need 8 ounces of cold brew coffee, chilled coffee, or homemade iced coffee for this recipe. Adjust the amount of coffee to your tastes.
Creamer: Use 1-2 ounces of your favorite coffee creamer, milk, or milk alternative to make this caramel iced coffee nice and creamy.
Coffee Syrup: We add 1 ounce of caramel coffee syrup to give this coffee its signature caramel flavor.
How to Make Caramel Iced Coffee:
Scroll to the recipe card below for full instructions and ingredient amounts!
This caramel coffee is one of the best iced coffee recipes. It's not only easy to make but it's simple to customize.
Pour the cold brew coffee over ice, then add caramel syrup and coffee creamer.
Stir to combine, and enjoy!
Iced Coffee Tips:
Use quality coffee: If making freshly brewed coffee, start with a good quality coffee blend or whole beans for the best flavor. Choose a medium or dark roast that complements the caramel flavor.
Cold brew or chilled coffee: For a smoother taste, consider using cold brew coffee or chilling your regular brewed coffee in the refrigerator before making caramel iced coffee.
Sweetness control: Adjust the sweetness level to your liking. If you prefer a less sweet drink, use less caramel syrup or opt for a sugar-free alternative.
Stir well: Before enjoying your caramel iced coffee, give it a good stir to ensure that the caramel syrup and other flavors are evenly distributed.
Serve in a chilled glass: For the ultimate refreshment, serve your iced coffee in a chilled glass. You can place the glass in the freezer for a few minutes before pouring the coffee to keep it extra cold.
Caramel Iced Coffee Variations:
Caramel syrup options: Experiment with different types of caramel syrups, such as regular caramel, salted caramel, or even sugar-free caramel syrup, depending on your preferences and dietary needs.
Milk or creamer choice: Choose a milk or creamer that complements the caramel flavor. Traditional options like whole milk or half-and-half work well, but you can also try almond milk, oat milk, cashew milk, or coconut milk for a dairy-free alternative.
Whipped cream and toppings: Top your caramel iced coffee with a dollop of whipped cream and drizzle additional caramel syrup or caramel sauce for an extra indulgent treat. You can also sprinkle some cocoa powder, cinnamon, or crushed caramel candies for added flavor and presentation.
Experiment with additional flavors: Feel free to experiment with additional flavors to customize your caramel iced coffee. You can add a hint of vanilla extract, a dash of cinnamon, or even a sprinkle of sea salt to elevate the taste.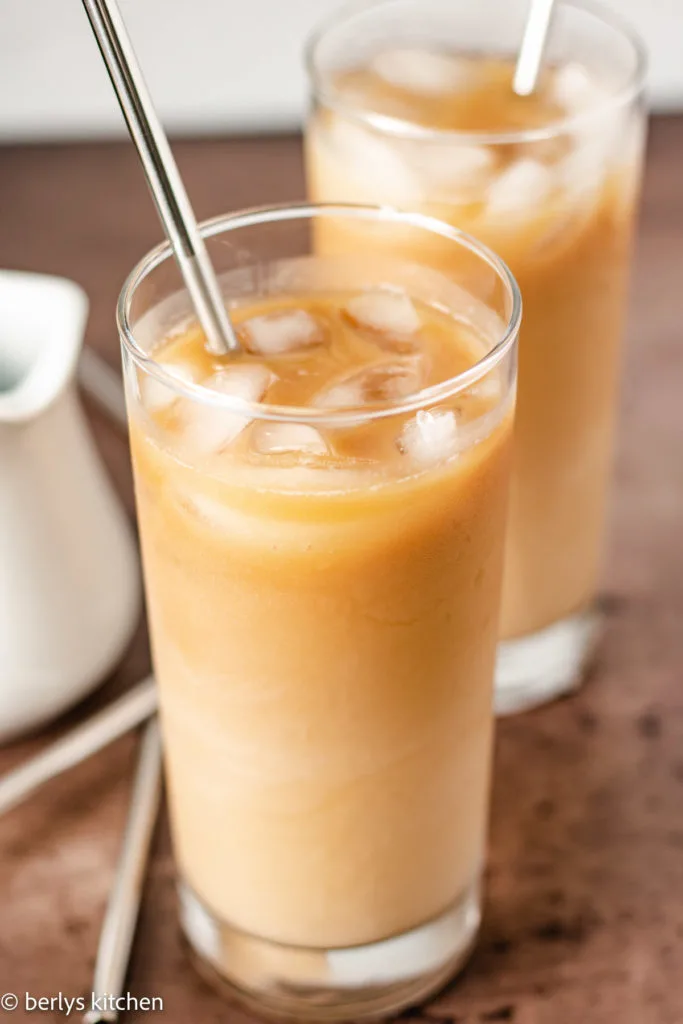 Storage Recommendations:
Room Temperature: This drink should be enjoyed immediately after preparation, and should not be left at room temperature for long periods of time.
Refrigerator: Caramel iced coffee can be made about 30 minutes to an hour ahead of time and stored in the refrigerator. However, it's best to omit the ice cubes until you're ready to serve the coffee.
Freezer: Freeze any leftover caramel coffee in an ice cube tray and make coffee ice cubes for the next time you make this coffee drink.
Is caramel iced coffee sweet?
The sweetness of the iced coffee is dependent on the variety of creamer or milk you choose. If you choose sweetened coffee creamer, this iced coffee will be sweet.
If you choose unsweetened creamer, milk, or unsweetened almond milk or oat milk, this coffee drink won't be overly sweet.
Can you make caramel iced coffee with different types of milk, like almond or oat milk?
Yes, you can make caramel iced coffee with different types of milk like almond milk, soy milk, or oat milk. It will just require slightly different amounts since these non-dairy milks are more diluted than cow's milk.
You may need to add more syrup or a little bit extra coffee to get the desired flavor but overall it should still turn out delicious!
It also works with heavy cream, half and half, whole milk, skim milk, and 2% milk. Choose your favorite!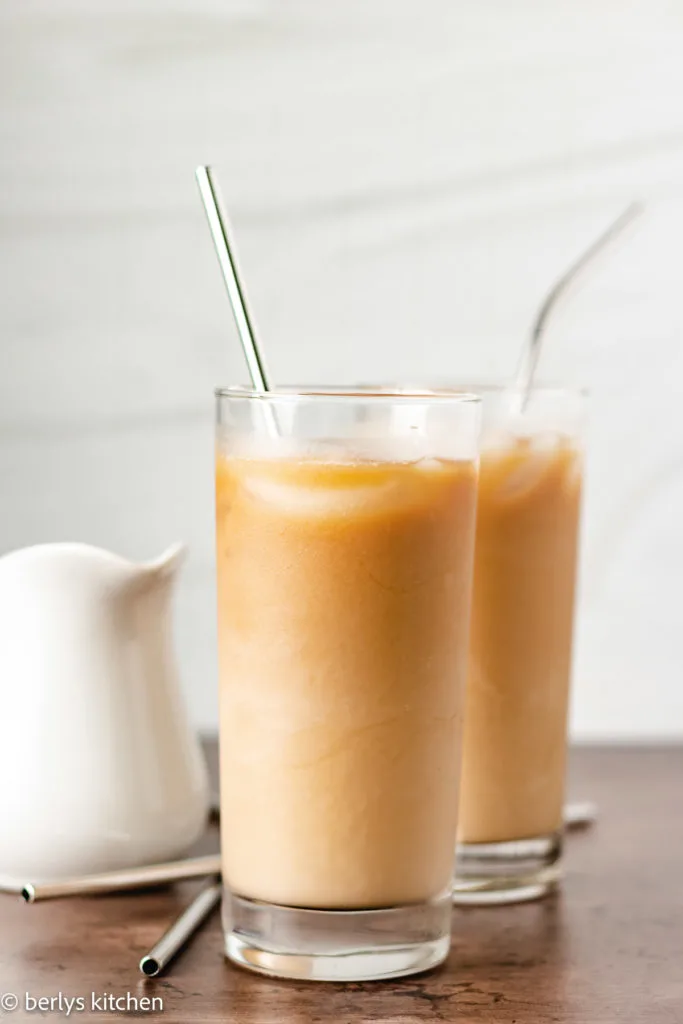 What type of coffee is best for homemade iced coffee?
The best type of coffee for homemade iced coffee is cold brew.
Cold brewed coffee has a higher caffeine content and stronger flavor compared to regular hot-brewed coffee, making it the perfect choice for homemade iced coffee drinks.
Additionally, cold-brewed coffee doesn't contain as much acidity as other types of brewed coffees, so it won't leave a bitter aftertaste.
You can also opt for an espresso blend or dark roast if you prefer a richer taste in your iced coffee.
Which is better for caramel iced coffee, caramel sauce or caramel coffee syrup?
The answer to the question depends on personal preference. Caramel sauce has a more intense and sweeter flavor, while caramel coffee syrup is milder in taste.
If you prefer a strong and sweet flavor, go with caramel sauce. On the other hand, if you'd like something with a more subtle sweetness then caramel coffee syrup may be your best bet.
We prefer the coffee syrup, because caramel sauce doesn't always mix well in iced coffee. Ultimately it all comes down to individual tastes!
Other recipes you may love: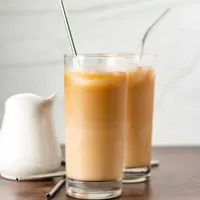 How to Make Homemade Caramel Iced Coffee (Simple Recipe)
Print
Pin
I earn a commission from Amazon and Instacart from qualifying purchases.
Ingredients
8

ounces

iced coffee

,

or cold brew

2

ounces

coffee creamer

,

caramel or vanilla flavored (or to taste)

1

ounce

caramel syrup,

or to taste
Instructions
Pour the coffee over ice, then add the creamer and caramel syrup.

8 ounces iced coffee

2 ounces coffee creamer

1 ounce caramel syrup

Stir to combine. Top off with additional iced coffee if desired.

Serve immediately. Scroll up and see the post for tips, FAQs, and storage options.
Notes
*The calories listed are an approximation based on the ingredients in the recipe card and a serving size of 1 (10-12 ounce) drink. Actual calories will vary.
*For more information, tips, and answers to frequently asked questions, please refer to the post.
Nutrition
Serving:
10
ounces
|
Calories:
138
kcal
|
Carbohydrates:
19
g
|
Protein:
2
g
|
Fat:
7
g
|
Saturated Fat:
4
g
|
Polyunsaturated Fat:
0.3
g
|
Monounsaturated Fat:
2
g
|
Cholesterol:
20
mg
|
Sodium:
136
mg
|
Potassium:
205
mg
|
Sugar:
19
g
|
Vitamin A:
226
IU
|
Vitamin C:
1
mg
|
Calcium:
79
mg
|
Iron:
0.1
mg
Don't Lose This Recipe!
Save it on Pinterest! Follow us at @berlyskitchen!