*This post may contain affiliate links. As Amazon Associates we earn from qualifying purchases.
Looking for a fast chicken noodle soup recipe? Then try our Instant Pot chicken noodle soup. All the flavor of a slow cooked soup in less than an hour!
The temperatures definitely dropped overnight, so this is the perfect Instant Pot soup recipe for today's post.
Our Instant Pot chicken noodle soup recipe will warm you up and keep you full on cool days. Best of all, it's done in less than an hour!
All you need to do is follow the simple instructions below and you'll have a chicken soup that tastes homemade in half the time. So, shall we get started?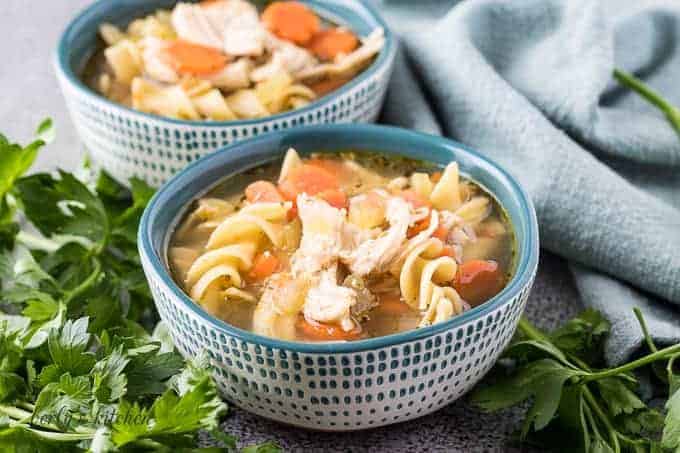 How to make chicken noodle soup in the Instant Pot?
First, start by slicing the carrots and celery, dicing the onions, and mincing the garlic.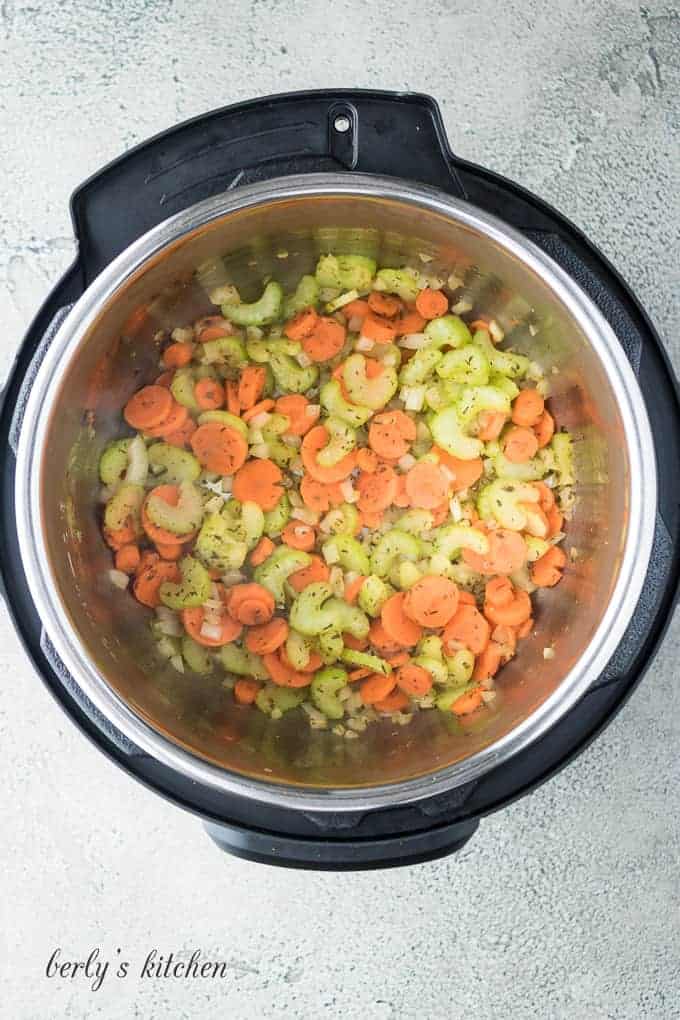 Next, place the stainless steel liner into the pressure cooker and set the machine to the saute function. Afterward, let the liner get hot.
Then, toss in the oil, carrots, celery, onions, dried oregano and thyme, and the salt and pepper. Be sure to stir the ingredients as they cook.
Now, let the veggies and spices cook for about four (4) minutes. After that, add the garlic and let is saute for about thirty (30) seconds.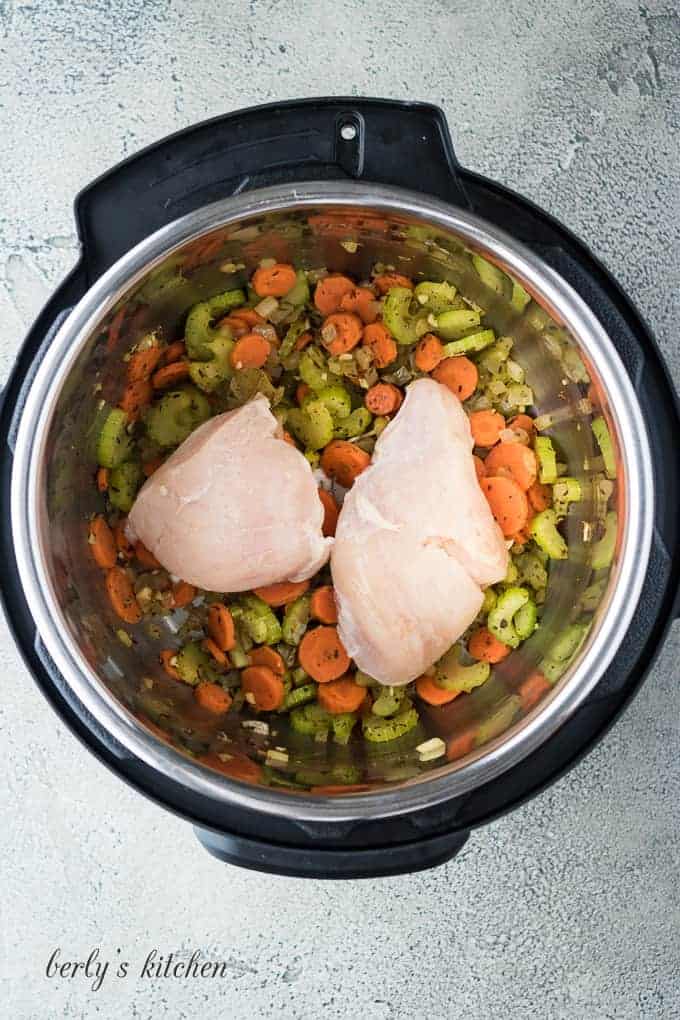 At this point, it's time to add the raw chicken. Simply, place the chicken into the pot on top of the veggies.
Additionally, go ahead and throw in the bay leaf and chicken broth.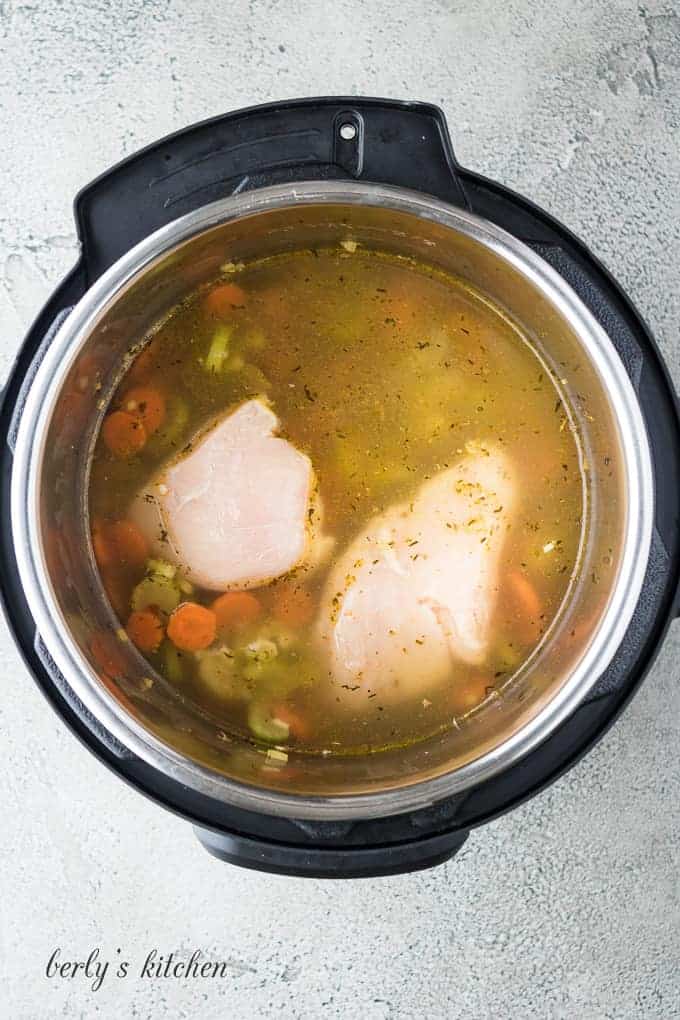 So, once the pressure cooker is done pressure cooking the chicken soup, let it complete a ten (10) minute natural release. Then, use a kitchen towel to open the valve to release the remaining pressure.
Afterward, remove the lid and take out the chicken. Shred it and then place it back into the soup now or after the noodles cook.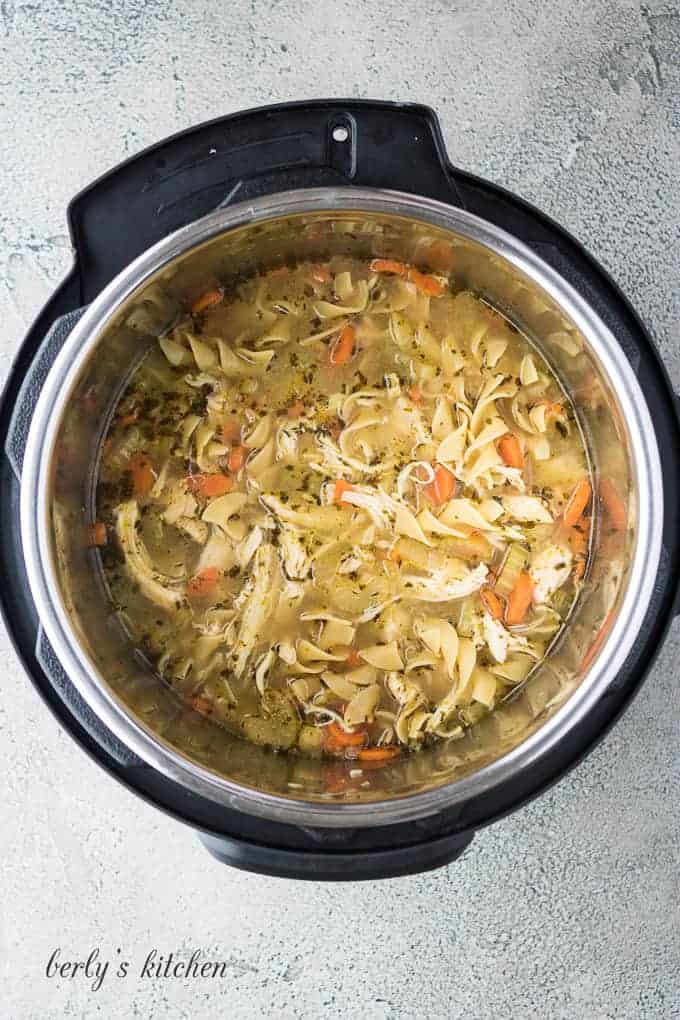 Last, turn on the saute function of your Instant Pot. Stir in the egg noodles and let them cook for about five (5) minutes or until they are soft.
Turn off the machine and serve the chicken soup with your choice of condiments; like crackers or dinner rolls.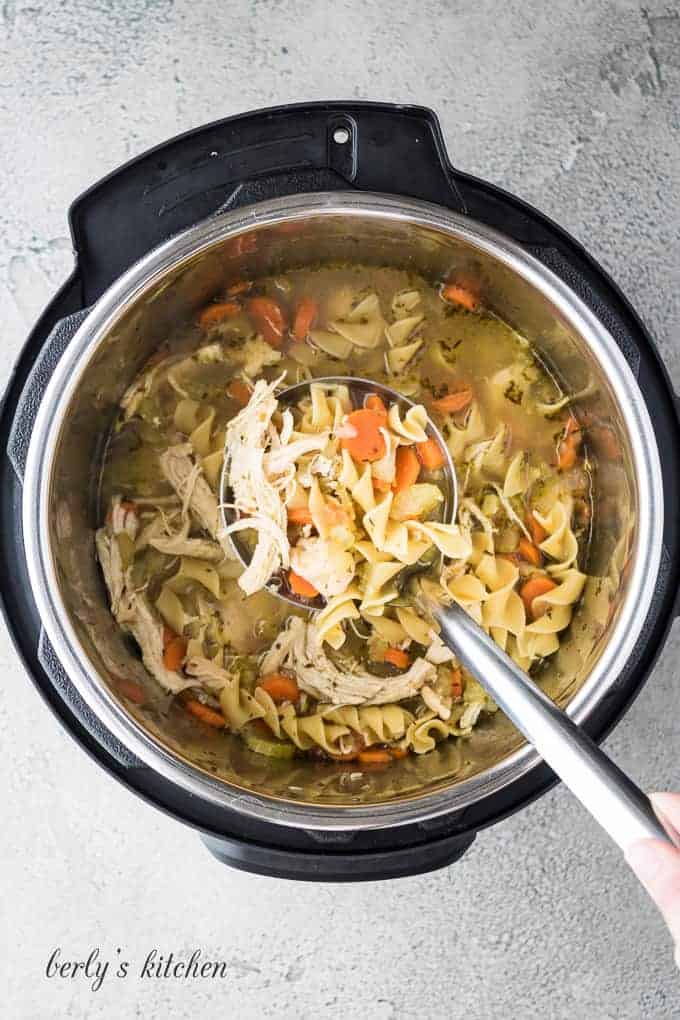 That's it, your Instant Pot chicken noodle soup is done! Kim and I hope you enjoy the recipe and wish you all the best 🙂
Need a hearty stove-top soup? Then check out our chicken potato soup made without milk!
Recipe Tips:
Can this soup be frozen? Absolutely, we freeze soups all the time. In fact, I recommend separating the soup out into portions using freezer bags. Then freezing the portions for individual servings.
For faster results, you can use canned chicken (drained) instead of raw. Reduce the pressure cook time to three (3) minutes and skip the natural release. Follow the rest of the directions as they are written. Except, of course, shredding the chicken.
Do you precook noodles for soup? Typically, no you don't want to pre-cook noodles. Otherwise, they will become way too soggy.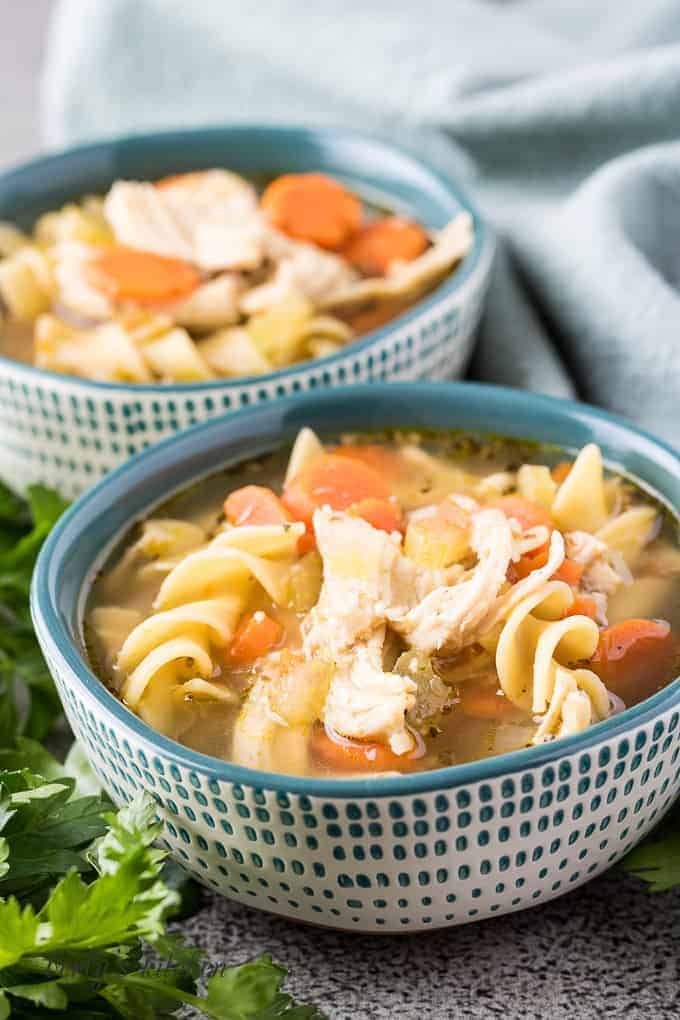 If you like our Instant Pot chicken noodle soup recipe, please leave us a comment and rate the recipe card. You can also find us on Facebook, Pinterest, Twitter and Instagram searching for Berly's Kitchen!
Join our Facebook group for more recipes from Berly's Kitchen, our new site More Than Meat and Potatoes, and some of our blogger friends!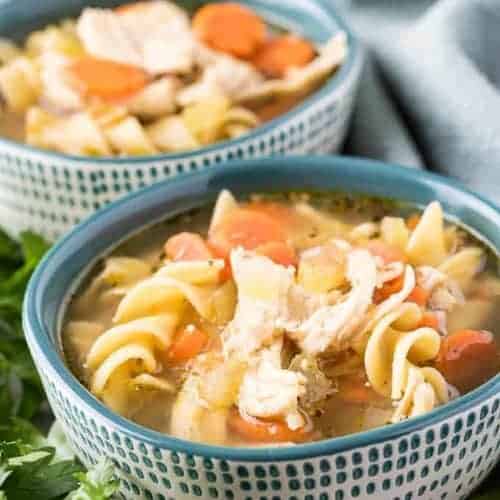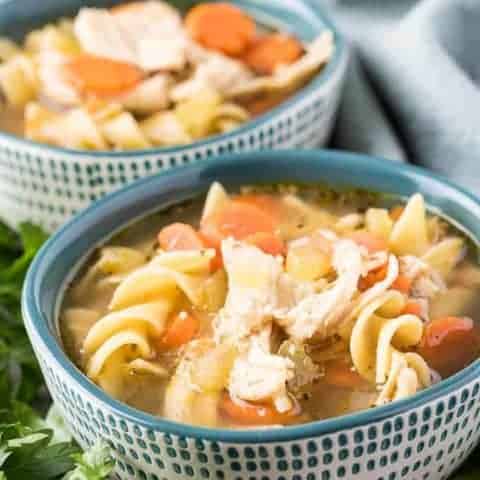 Instant Pot Chicken Noodle Soup Recipe
Come to Pressure and Natural Release:
25 minutes
Looking for a fast chicken noodle soup recipe? Then try our Instant Pot chicken noodle soup. All the flavor of a slow cooked soup in less than an hour!
Ingredients
1 Tablespoon Cooking Oil, (vegetable, canola, olive, etc.)
1 Cup White Onion, (about one ((1)) medium onion, diced)
1 Cup Carrots, (about three ((3)) medium carrots, sliced)
1/2 Cup Celery, (about two ((2)) ribs, sliced)
1/2 Teaspoon Oregano, (dried)
1/4 Teaspoon Thyme, (dried)
Salt and Pepper to taste, (start with less than half ((1/2)) a teaspoon of each)
1 Tablespoon Garlic, (about three ((3)) cloves, minced)
1 Lb. Chicken Breast, (boneless, skinless)
1 Large Bay Leaf
6 Cups Chicken Broth, (low sodium)
4 Ounces Egg Noodles
Instructions
Turn on the pressure cooker using the "saute" function, and allow the stainless steel liner to get hot. Add the oil, onions, carrots, celery, oregano, thyme, salt, and pepper. Saute for 3 to 5 minutes or until the vegetables begin to soften. Add the garlic, and saute for an additional 30 seconds. Press "cancel" to turn off the pressure cooker.
Add the chicken breasts, bay leaf, and chicken broth. Close the lid, ensure that the valve is set to "sealing," and press the manual (pressure cook) button. Adjust the time to 8 minutes.
After the time is up, allow a 10 minute natural release before opening the valve to release any remaining pressure. Carefully open the lid, and remove both chicken breasts from the pressure cooker. Place then on a plate or in a large bowl, and use two forks to shred. Set aside.
Press "cancel" on the pressure cooker, then press "saute." Add the egg noodles, and stir to combine. Cook the egg noodles for 5 to 6 minutes or until the desired firmness is reached. Press "cancel" again to turn off the pressure cooker. Add the shredded chicken back to Instant Pot, and stir.
Serve hot.
Notes
The calories listed are an approximation based on the ingredients and a serving size of about one (1) cup of the Instant Pot chicken noodle soup. Actual calories will vary. The chicken soup can be stored, in a sealed container, in your fridge for up to three (3) days.
*This soup has a lot of noodles, chicken, and veggies but is light on broth. If you prefer more broth, add an additional 1 to 2 cups of broth to the recipe. The spices may need to be adjusted to compensate for the additional liquid.
Recommended Products
As an Amazon Associate and member of other affiliate programs, I earn from qualifying purchases.
Nutrition Information:
Yield:

6
Serving Size:

1 Cup
Amount Per Serving:
Calories:

214
Total Fat:

6g
Saturated Fat:

1g
Unsaturated Fat:

0g
Cholesterol:

64mg
Sodium:

975mg
Carbohydrates:

20g
Fiber:

2g
Sugar:

3g
Protein:

20g
Looking for more Instant Pot soup recipes?