*This post may contain affiliate links. As Amazon Associates we earn from qualifying purchases.
Our Pineapple Mango Smoothie is made with coconut milk, pineapple, and mango. Tropical flavors that whisk you away to sandy beaches with warm ocean breezes.
After all this cold weather, I could use some warm sunny days. A tropical smoothie wouldn't hurt either.
Well, it just so happens, we already have a few smoothies on the site like our pineapple coconut smoothie and blueberry smoothie. The most popular might be the strawberry banana smoothie.
Pineapple Mango Smoothie Instructions:
Okay, it's a smoothie, so don't expect a complicated process with a lot of different steps. In fact, you probably don't even need detailed directions for this recipe.
Instead, I will give a quick rundown on what to do and then we'll talk about something else. There will still be step by step pictures for you peruse, but I doubt you'll need them.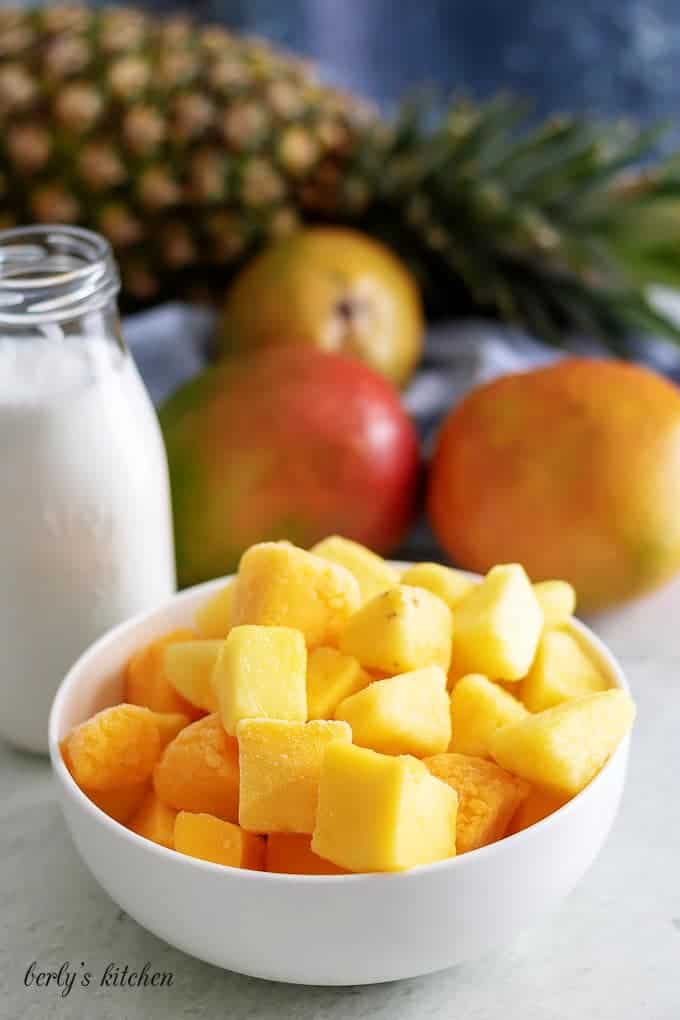 To start, grab your frozen mango and pineapple chunks. After that, open the can of coconut milk.
Then, snag your honey and turmeric. Now, measure it all out and dump it directly into your blender.
Turn your blender onto high and start pulverizing the pineapple mango smoothie. Once everything is creamy and there are no chunks, pour the drink into two (2) twelve (12) ounces glasses and serve.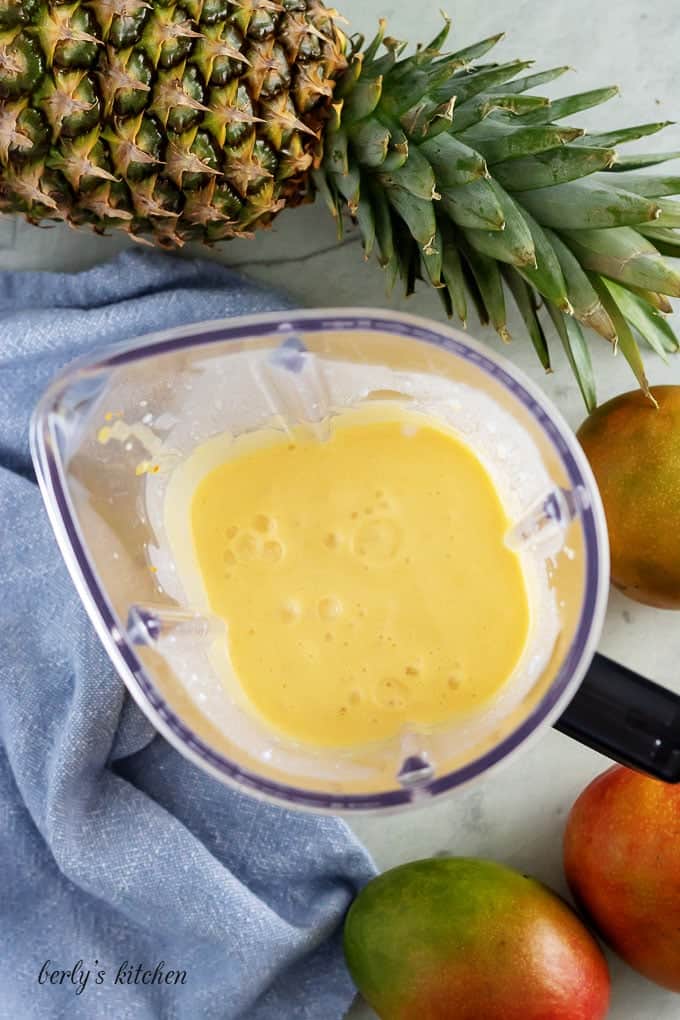 So, uh, yeah, that's it. You just made your own smoothie. Honestly, most smoothies are that simple. Between you and me, I don't know how all these "specialty," drink shops stay open.
From what I've heard, hearsay mind you, the is secret ice cream. It seems that a lot of places use ice cream and/or sherbet to make their smoothies.
For that reason, Kim and I make our favorite drinks at home. One quick note before I wrap things up.
When this post was sponsored, Kim had written about some the anti-inflammatory properties of turmeric. Personally, I believe that those claims are based on sound research and I apply them to my own life.
With that being, since I'm neither a doctor nor nutritionist, all of those claims have been removed. In my opinion, if you want expert advice on your dietary needs, then, you need to go to an expert in that field.
Smoothie Tips:
Alright, what kind of tips can I give for making a smoothie? You could substitute ice cream for the coconut milk. While that will add a lot more sugar, it will also enhance the flavor of the drink.
As I stated earlier, most smoothies are made the same way. On the chance that you don't care for mangoes, try a different tropical fruit like papaya.
If you don't have a blender, then I recommend Hamilton Beach. Because, they have a single serve blender for under twenty (20) bucks (USD).
I used to own one and it was perfect for making quick smoothies and cocktails.
If you like this pineapple mango smoothie recipe, please leave us a comment and rate the recipe card. You can also find us on Facebook, Pinterest, Twitter and Instagram searching for Berly's Kitchen!
Join our Facebook group for more recipes from Berly's Kitchen, our new site More Than Meat and Potatoes, and some of our blogger friends!
Pineapple Mango Smoothie
Our Pineapple Mango Smoothie is made with coconut milk, pineapple, and mango. Tropical flavors that whisk you away to sandy beaches with warm ocean breezes.
Ingredients
1 Cup Pineapple, (frozen)
1 Cup Mango, (frozen)
14 Ounces Coconut Milk, (one (1) 13.66 Ounce can)
2 Tablespoons Honey, (optional)
1 Teaspoon Turmeric
Instructions
Place all ingredients in a blender. Blend until smooth.
Pour into two (2) twelve (12) ounce glasses and enjoy.
Notes
The calories listed are an approximation based on the ingredients and a serving size of one (1) twelve (12) ounce smoothie. Actual calories will vary. The drinks can be stored in a sealed container in your fridge for about twenty-four (24) hours.
Recommended Products
As an Amazon Associate and member of other affiliate programs, I earn from qualifying purchases.
Nutrition Information:
Yield:

2
Serving Size:

12 Ounces
Amount Per Serving:
Calories:

549
Total Fat:

42g
Saturated Fat:

37g
Unsaturated Fat:

0g
Sodium:

28mg
Carbohydrates:

46g
Fiber:

2g
Sugar:

36g
Protein:

5g
Looking for other smoothie recipes?