Broccoli bacon salad is full of fresh ingredients like broccoli florets, red onions, sunflower seeds, walnuts, and bacon and tossed with homemade dressing.
When most people hear the word "salad," they probably think of a big bowl of lettuce, some shredded carrots, maybe some diced tomatoes, sliced cucumbers, croutons, and a drizzle of salad dressing.
That's the kind of salad I grew up eating. Lettuce, carrots, toss in some white onions, and a healthy does of ranch dressing.
It wasn't until I got older that I grew to love a good Caesar salad complete with crisp romaine lettuce, shaved Parmesan cheese, homemade croutons, and homemade Caesar dressing.
From there I started to branch out to shaved brussel sprouts salad, crunchy Asian salad, and this broccoli bacon salad.
This salad is full of broccoli florets, crunchy walnuts and sunflower seeds, salty bacon, red onions, and sweet dried cranberries. Then it's tossed in a tangy sweet mayonnaise dressing.
It's easy to prepare, and makes a great side dish or full meal.
How to make broccoli bacon salad:
First, start by prepping your ingredients. I can't emphasize enough the importance prepping everything in advance.
It makes the cooking process so much smoother and cuts down the likelihood of mistakes in the kitchen, and it makes the recipe move much more quickly.
If you don't have bacon cooked, go head and do that, too. Otherwise, jump right in.
Next, begin making your salad dressing. Start with a medium bowl, and combine the mayonnaise, sugar, vinegar, salt and pepper.
Set the dressing in the refrigerator until you're ready to dress the salad.
Place the broccoli florets in a large mixing bowl. Then add the walnuts, onions, sunflower seeds, cranberries, and bacon.
When you're ready to serve the salad, pour the dressing over the ingredients, and toss to combine. Make sure to stir well, because the dressing has a tendency to sink to the bottom of the bowl.
Serve the broccoli bacon salad immediately, or store it in the refrigerator in a sealed container for up to 3 days.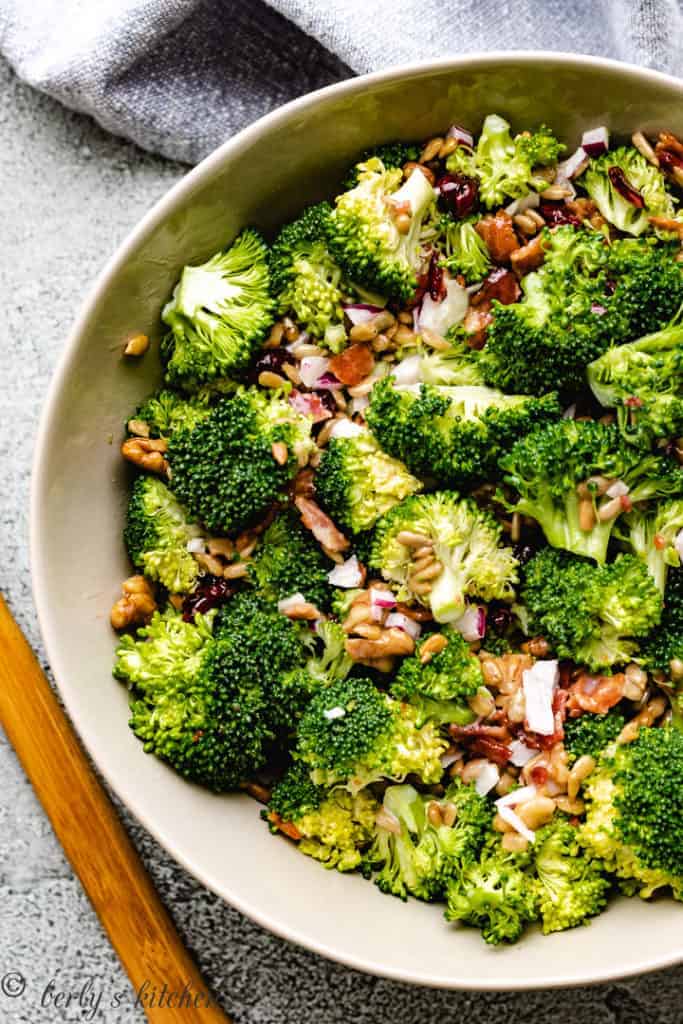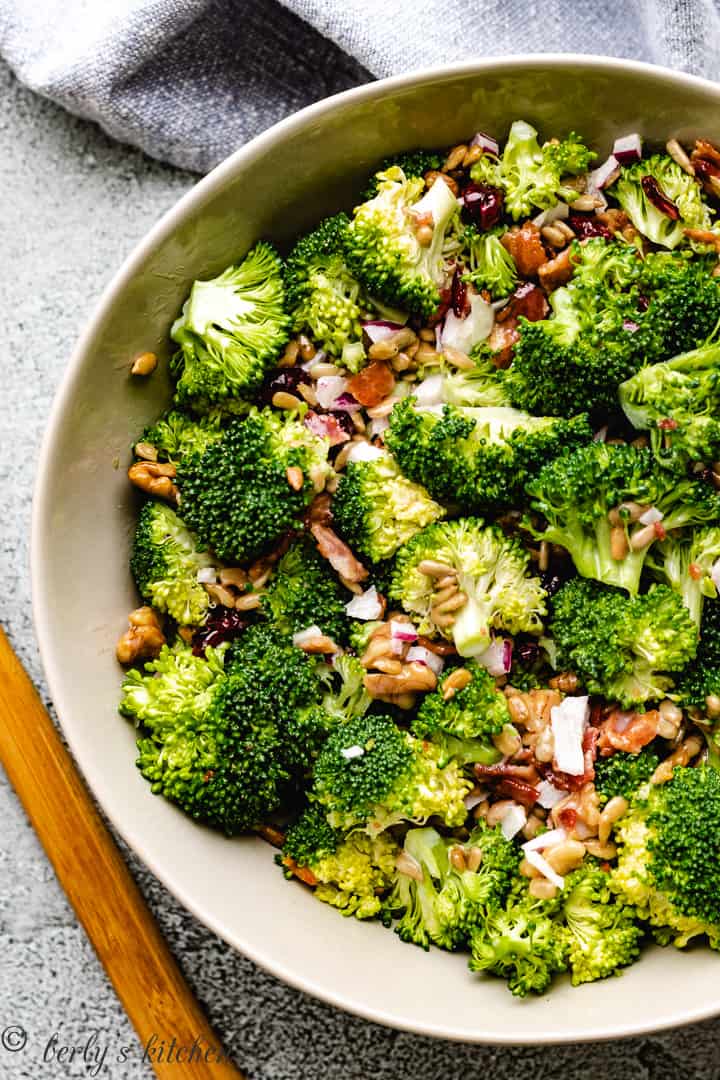 Don't forget to check out our Broccoli Bacon Salad web story!
If you like this recipe, please leave us a comment and rate the recipe card. You can also find us on Facebook, Pinterest, Twitter and Instagram searching for Berly's Kitchen!
Join our Facebook group for more recipes from Berly's Kitchen, our new site More Than Meat and Potatoes, and some of our blogger friends!