A no-fuss cherry bars recipe featuring sweet cherry pie filling sitting atop a rich, buttery crust and topped with an indulgent almond icing.
It's Friday and that means the weekend is finally upon us. Why not make something special tomorrow?
Our cherry bars recipe has all the flavor of a homemade cherry cobbler with half the effort. The trick is using semi-homemade ingredients to create this decadent, sweet treat.
Imagine a slightly sweetened crust, topped with cherries and almond icing. Sounds pretty great to me.
In fact, this is one of my favorite dessert recipes in 2019 and I look forward to Kim making it again later on this month. Hopefully, you'll like it as much as we do.
Now, shall we get started cooking?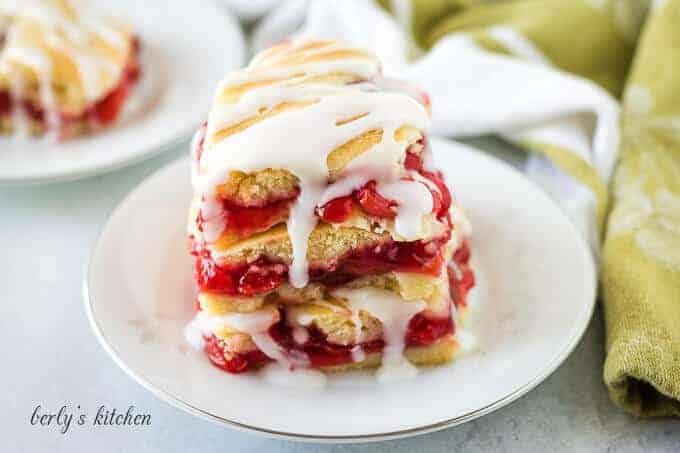 Cherry Bars Recipe Instructions:
First, you want to start with the crust. You know what that means, measuring out all of your ingredients and grabbing your hand mixer or stand mixer.
Next, preheat your oven to 350 degrees F. and grease a fifteen (15) by ten (10) inch jelly roll pan. No jelly roll pan, no problem.
Use a nine (9) by thirteen (13) inch baking dish. Just be aware that it may change the cook time and you will not get as many servings.
Keep an eye on it while it bakes.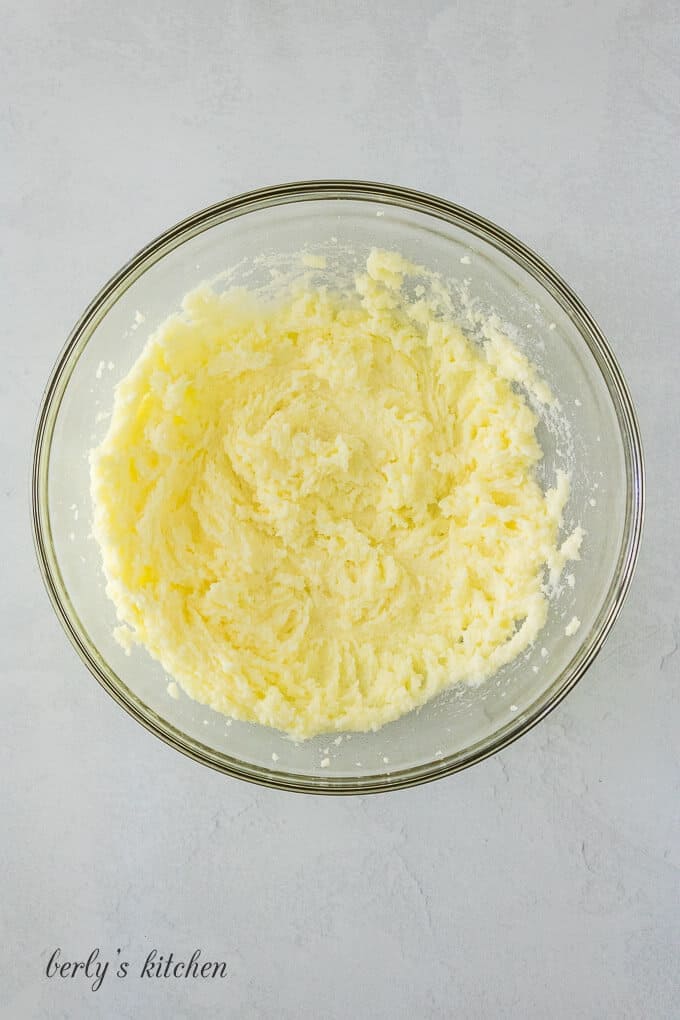 Next, add the butter, salt, and sugar to the bowl. After that, whip the mixture until it's light and fluffy.
Take a look at the photo above. Once whipped, the butter should be light yellow in color. When your butter looks like ours, it's time to move on to the next step.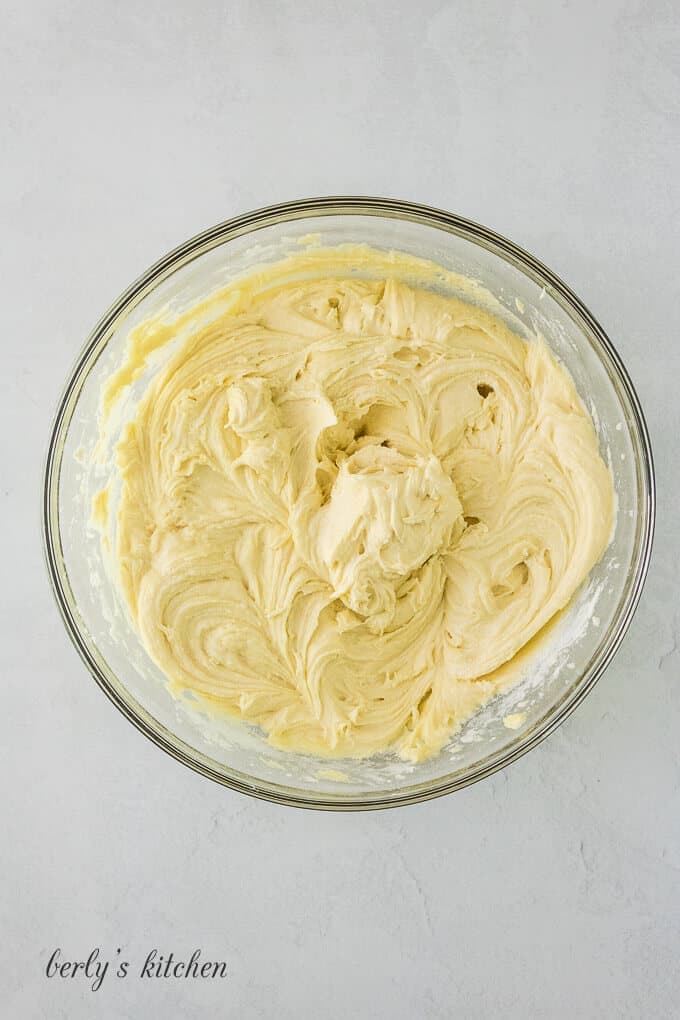 Now, mix in the eggs, vanilla, and almond extract. After that, slowly mix in the flour.
At this point, you should have smooth, velvety batter.
Then, spread about two-thirds (2/3) of the batter out onto the pan. Afterward, spread the cherry pie filling on top of the batter.
Be sure to leave about an inch of the crust uncovered around the edges. Use the picture below as a reference.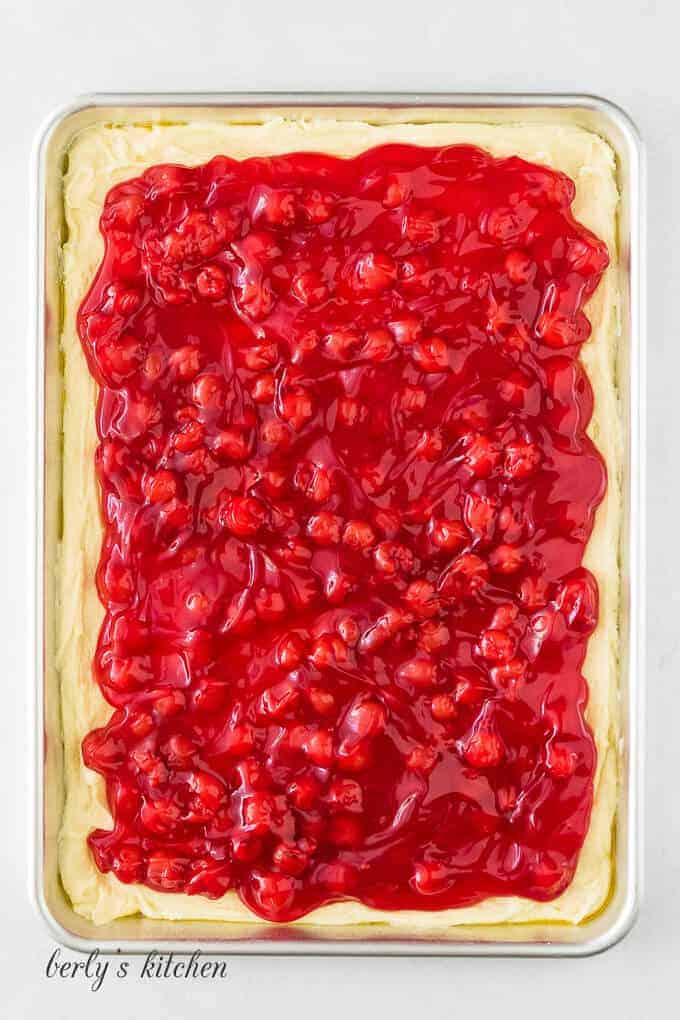 Take the remaining batter and drop spoonfuls of it over the cherries. But, this time, don't spread it out.
You want your cherry bars recipe to look like ours in the photo below.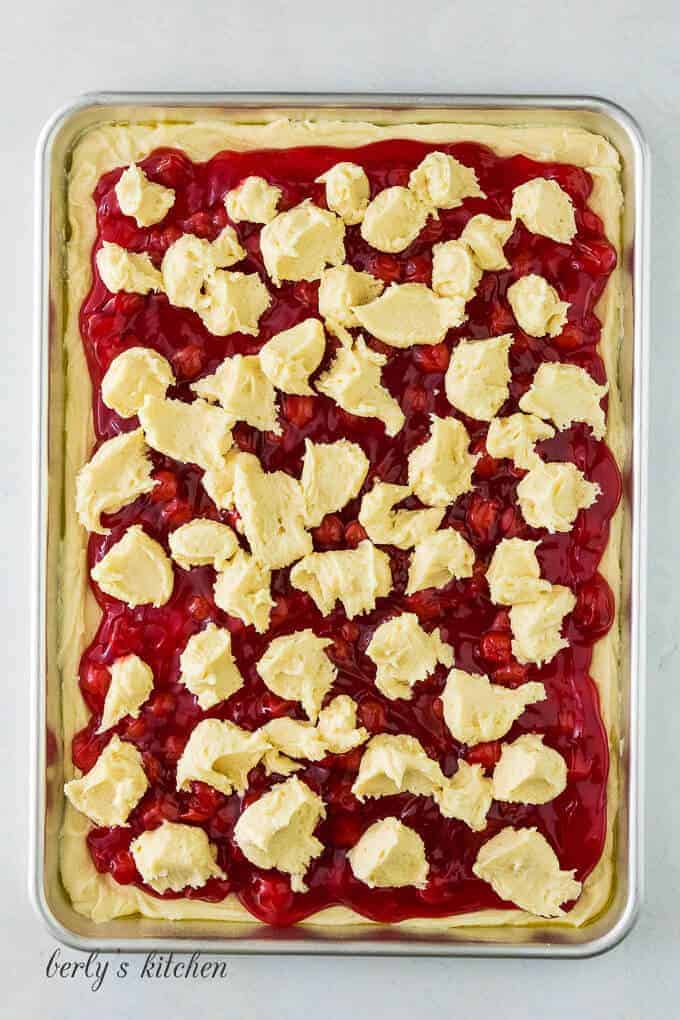 All that's left to do is bake them for about thirty-five (35) to forty (40) minutes or until they're golden brown.
Remove them from the oven and let them cool on a rack. The bars are done, now it's time to work on the almond icing.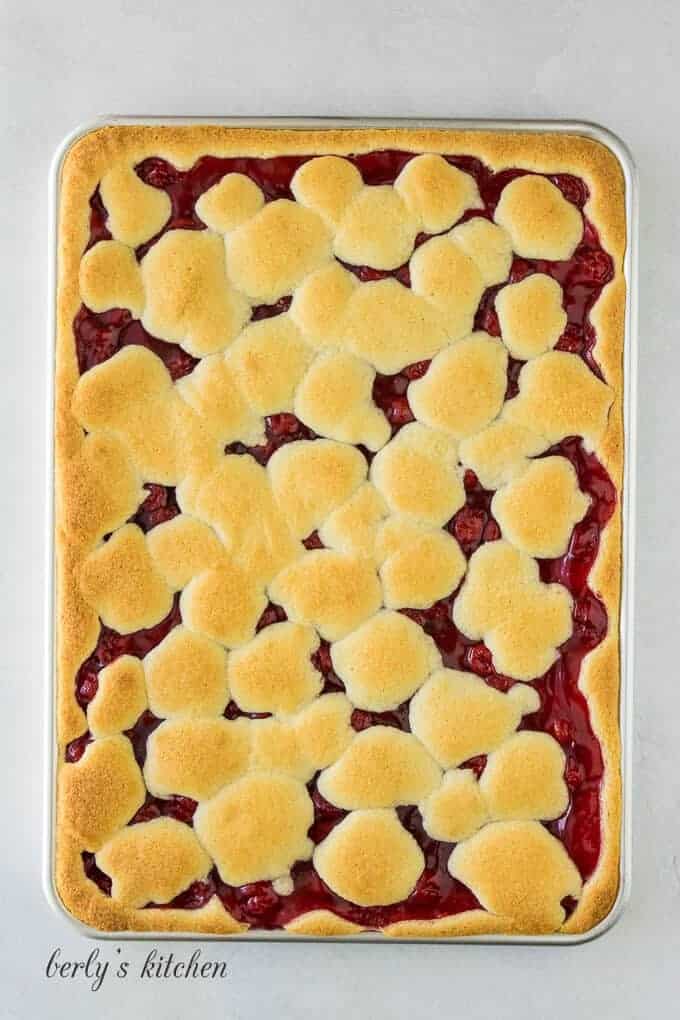 In a small mixing bowl, using a whisk, combine the powdered sugar, almond extract, and milk.
That mixture will create a creamy icing that you can drizzle over the cherry pie bars once they've cooled.
That's it, your dessert is done. Kim and I hope you enjoy the recipe and wish you all the best 🙂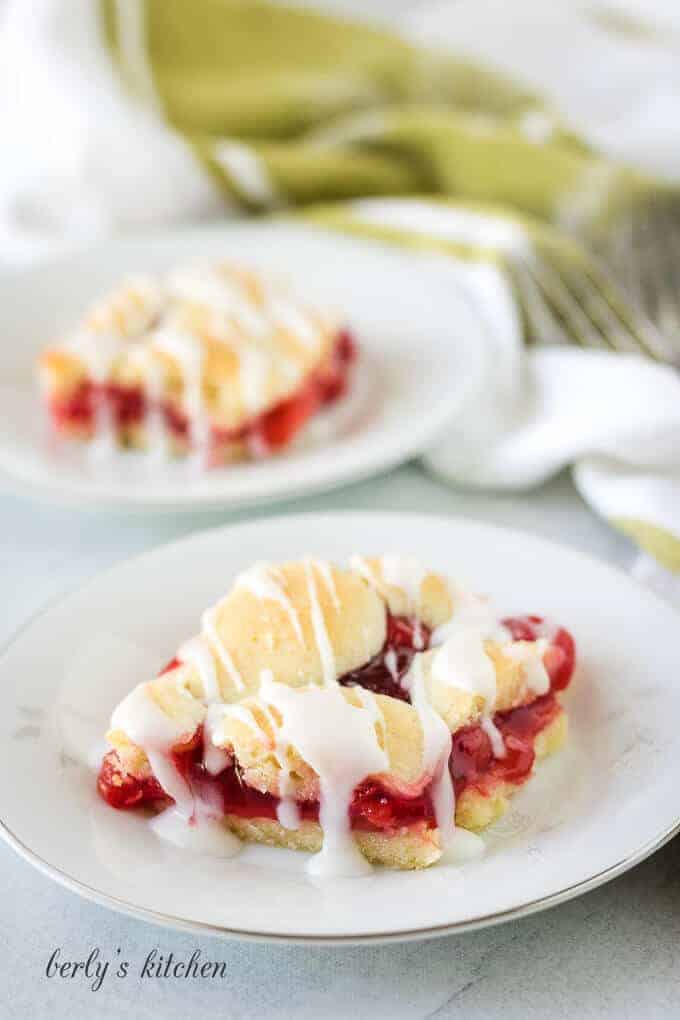 Cherry Bars Recipe Tips:
Cherry bars aren't the only variety of bars you can make using this recipe. For example, if you prefer apple pie filling, then use that instead.
Perhaps you'd rather have blueberry bars, then use blueberry pie filling. The point is, if there's a pie filling flavor you'd rather eat, then try it out.
You don't have to use a canned pie filling. Simply add one (2) pounds of fresh fruit, (washed, peeled, de-seeded, and cut into bite sized pieces) to a large saucepan.
Then add about half (1/2) of a cup a water, a pinch of salt, half (1/2) of a cup sugar, and four (4) to five (5) tablespoons of cornstarch. Bring the mixture to a boil while stirring.
Once it reaches the thickness of pie filling, turn off the heat and let it come room temperature. Now, you have your own homemade, "pie filling," for the recipe.
Be aware that this dessert does contain processed foods and the food coloring found in the filling will stain your counters and dish towels. Just something to keep in mind.
Other Dessert Recipes You May Love:
Yield: 35 Servings
Cherry Bars Recipe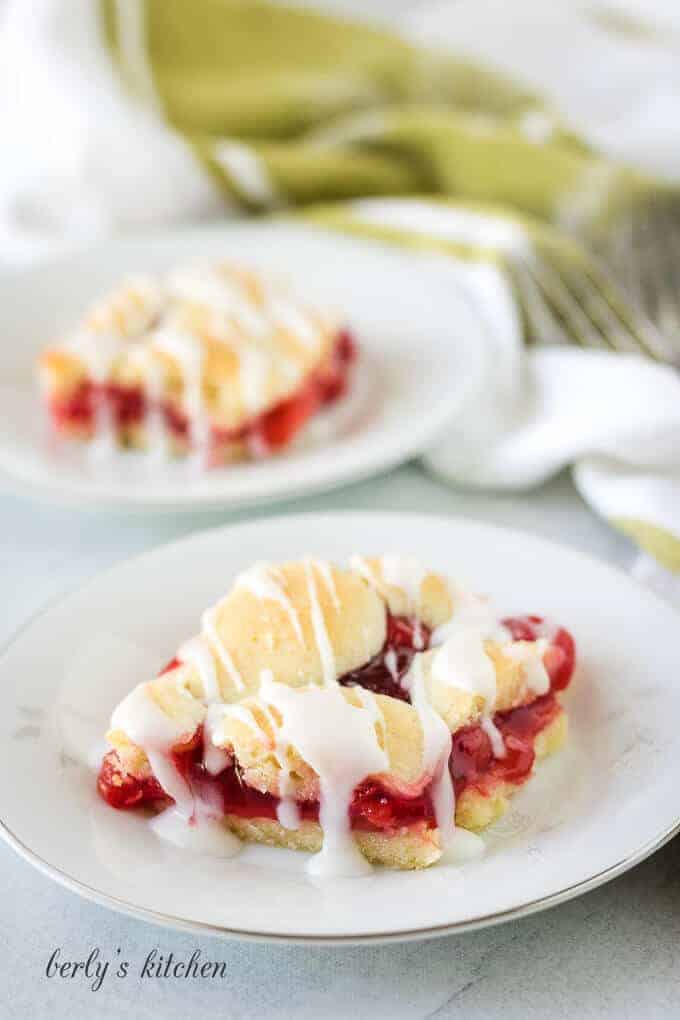 A no-fuss cherry bars recipe featuring sweet cherry pie filling sitting atop a rich, buttery crust and topped with an indulgent almond icing.
Total Time
1 hour
50 minutes
Ingredients
Cherry Bars
1 Cup Unsalted Butter, (two ((2)) sticks, softened)
2 Cups Granulated Sugar
1/2 Teaspoon Salt
4 Large Eggs
2 Teaspoons Vanilla Extract
1 Tablespoon Almond Extract
3 Cups All-Purpose Flour
42 Ounces Cherry Pie Filling, (two ((2)) cans)
Almond Glaze (icing)
1 Cup Powdered Sugar
1/2 Teaspoon Almond Extract
2 1/2 Tablespoons Milk, (or heavy cream)
Instructions
Cherry Bars
Preheat the oven to 350 degrees F., and grease a 15 x 10-inch jelly roll sheet.
Using a hand mixer or stand mixer, beat the butter, sugar, and salt on low speed until light and fluffy (about 2-3 minutes).
Add the eggs, vanilla, and almond extract. Continue to mix on low speed until combined.
Slowly add the flour, and mix until combined.
Spoon about 3 cups (approximately ⅔) the batter onto the prepared jelly roll sheet. Use a spatula to spread the batter evenly across the jelly roll sheet.
Top the batter with both cans of cherry pie filling. Spread to the pie filling evenly, leaving about ½ inch - 1 inch of batter uncovered around the edges.
Place teaspoon-sized drops of the remaining batter over the cherry pie filling.
Bake for 35-40 minutes or until the bars are golden bar. Allow the bars to cool completely in the pan.
Almond Glaze (icing)
In a small bowl, combine the powdered sugar, almond extract, and milk. For a thinner glaze, add an additional 1 to 2 teaspoons of milk.
Use a plastic bag with a corner cut off or a spoon to drizzle the glaze over the cooled cherry bars.
Cut and serve. The bars will keep for 3-4 days in an airtight container at room temperature or up to 5 days in the refrigerator.
Notes
The calories listed are an approximation based on the ingredients and a serving size of one (1) small cherry bar (about one ((1)) by one ((1)) inch). Actual calories will vary.
Recommended Products
As an Amazon Associate and member of other affiliate programs, I earn from qualifying purchases.
Nutrition Information:
Yield:
35
Serving Size:
1 Ounce
Amount Per Serving:
Calories:

194
Total Fat:

6g
Saturated Fat:

4g
Unsaturated Fat:

0g
Cholesterol:

38mg
Sodium:

96mg
Carbohydrates:

33g
Fiber:

1g
Sugar:

15g
Protein:

2g