Strawberry blueberry fruit parfaits with layers of fresh fruit, granola, and whipped cream. It's the perfect dessert for all those Summer berries!
This post was originally published back in December of 2016. Initially, it was meant to be a romantic dessert option.
You know, one glass, two spoons, you get the idea. However, that really didn't catch people's attention.
So, we've decided to redo the whole post. Including, updated photos and instructions.
While I still think of it as a dessert to be shared with someone, I feel like it will do better if it's presented in a different a light.
For this publication, I want everyone to see it as a way to use up those extra Summer berries. Let's face it, you got to do something with that giant carton of strawberries.
Why not make strawberry blueberry fruit parfaits and top them with whipped cream? Speaking of which, let's get started!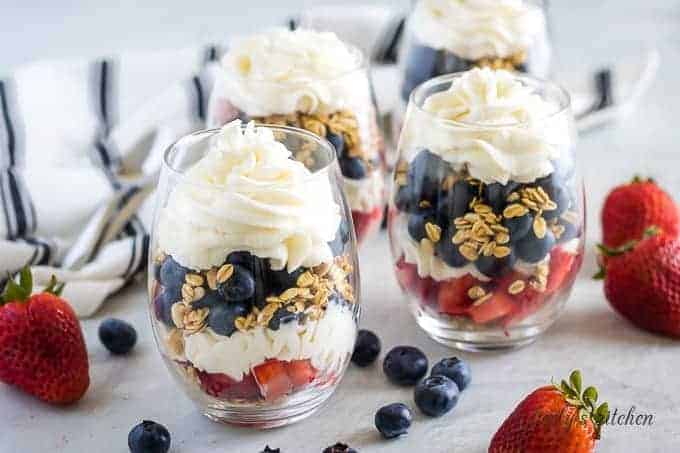 Instructions for Strawberry Blueberry Fruit Parfaits:
To begin, start by preparing your whipped cream. Now, we like homemade versions, as evidenced by the fact we have three (3) different recipes on our site.
If you're not using homemade, then you can skip this step altogether. In a large mixing bowl (using a hand mixer or whisk) or stand mixer, combine the heavy cream, vanilla extract, and powdered sugar.
Whip the ingredients for about two (2) minutes, or until you see stiff peaks. Set it aside.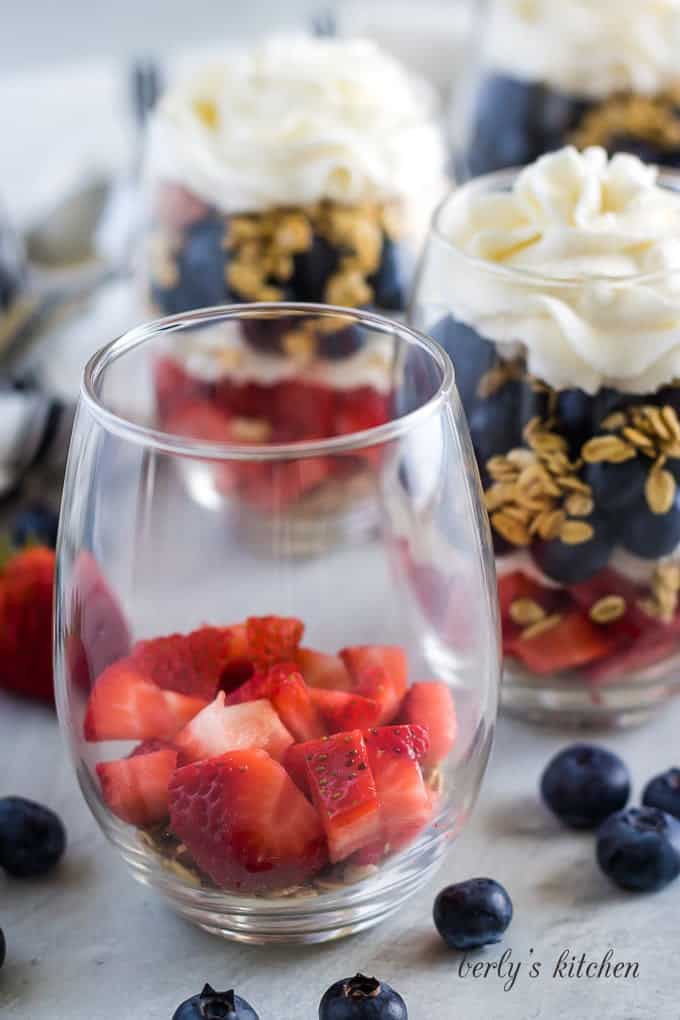 After that, wash your blueberries and strawberries and pat them dry. Chop the strawberries into bite-sized pieces.
Then, grab your glass and add some of the granola. That will be the first layer. The second layer consists of chopped strawberries.
Keep in mind you're making 4 parfaits. So go slow and try to portion out the ingredients accordingly. Use our pictures as references.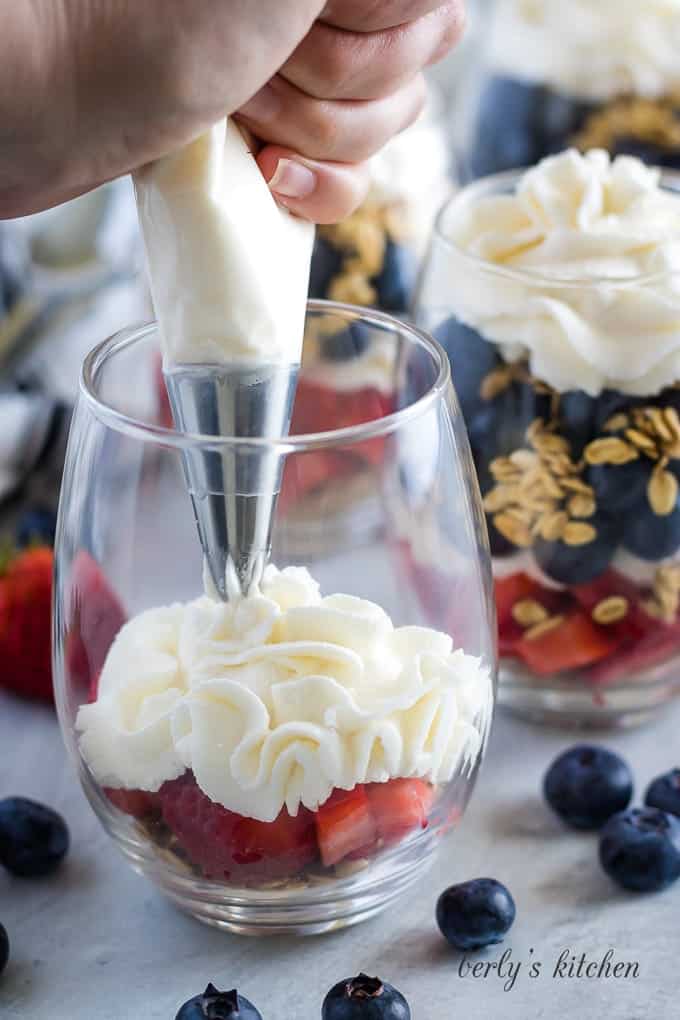 At this point, you can top the strawberries with the third layer, the whipped cream. Kim used a piping bag, but it's not necessary for the recipe.
A spoon works just fine. Onward to layer four.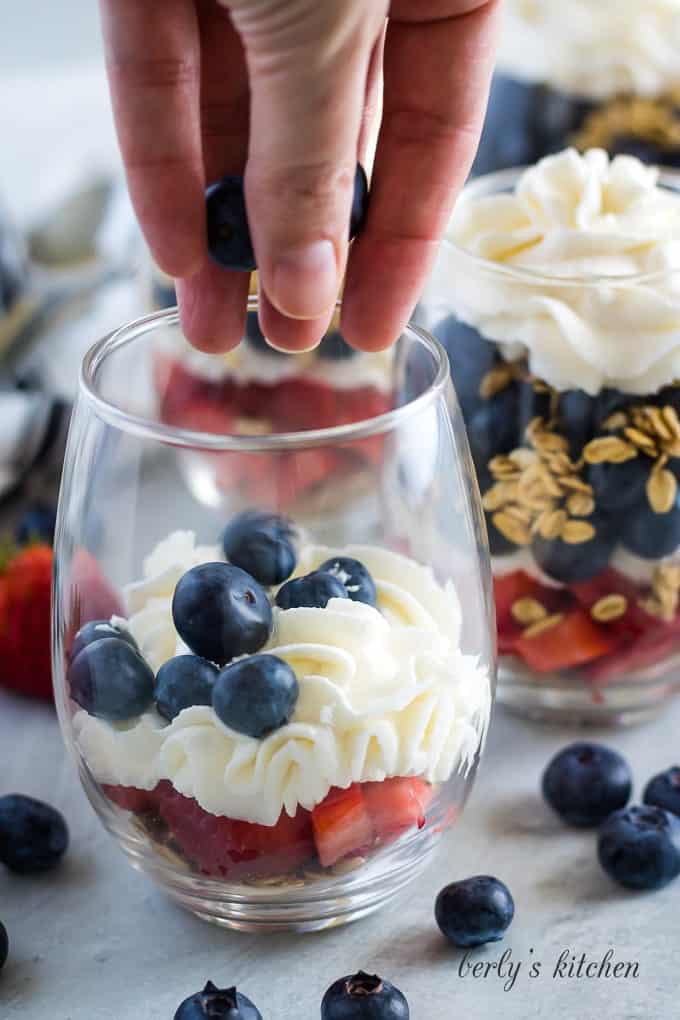 Sprinkle in some fresh blueberries. That brings us to layer five, more granola!
Again, don't go crazy, you need to ensure you have enough to do this three (3) more times. Take a look at the photo below to see an approximate amount.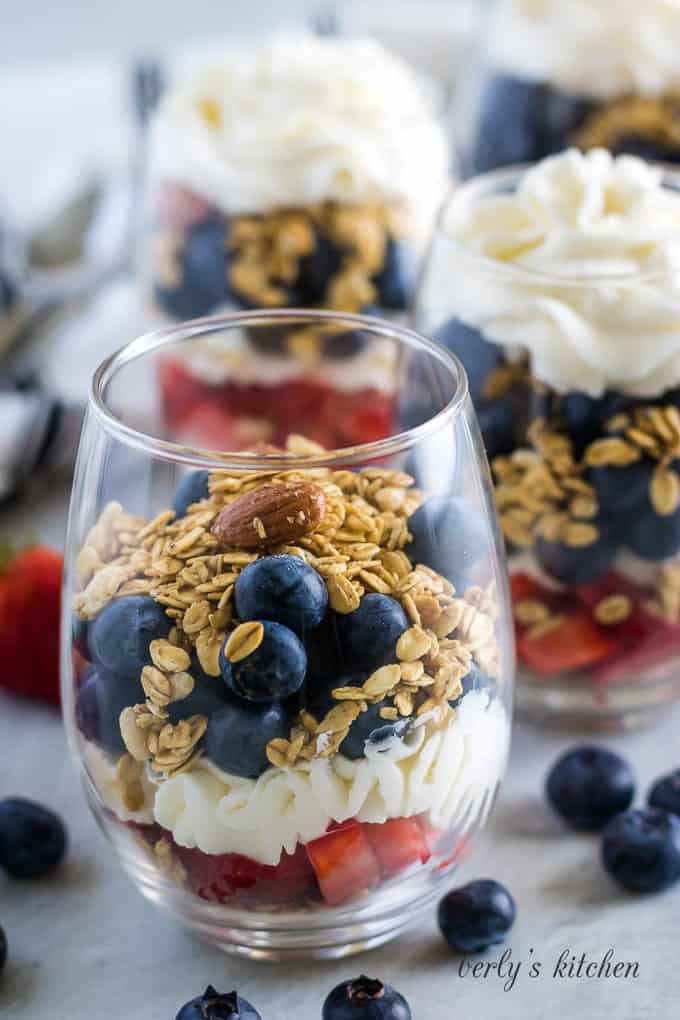 Afterward, once you've sprinkled on your crunchy granola, it's time for the final layer.
More light and fluffy whipped cream. That's it, the strawberry blueberry fruit parfaits are done!
As always, Kim and I hope you enjoy this recipe. It should be a simple dessert to put together for your family and friends. In closing Kim and I wish everyone all the best 🙂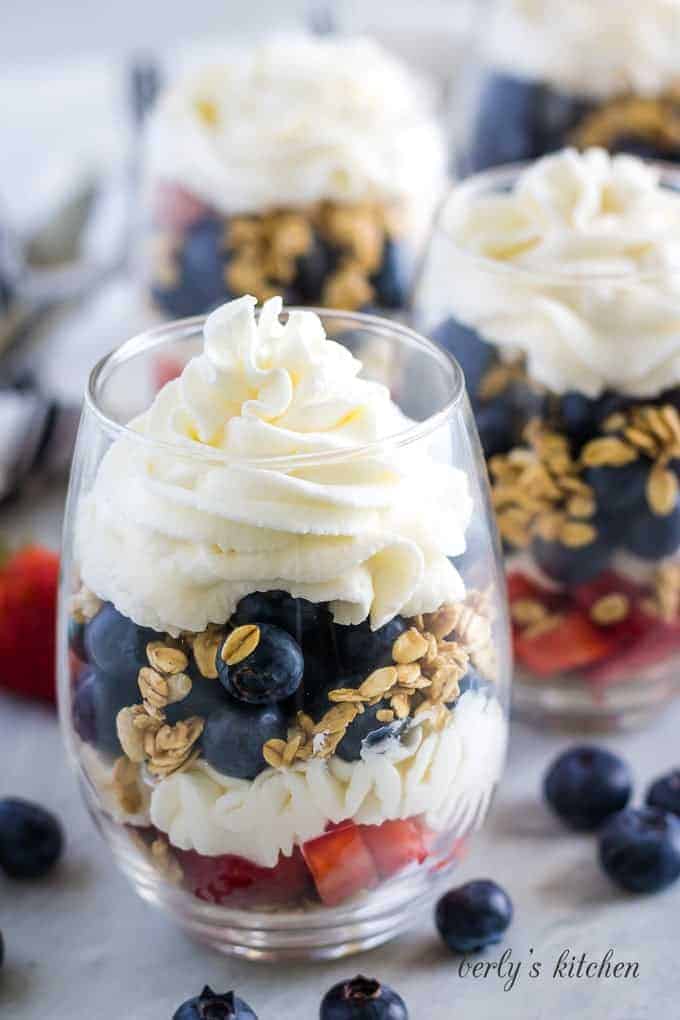 Fruit Parfait Tips:
What is a parfait made of? Usually, they are made with fruit and yogurt. If you'd feel better using yogurt instead of whipped cream, feel free to do so. With that being said, I make no claims that it's a, "healthy alternative." I suppose it could add extra protein and reduce the sugar content. Of course, that depends on how many grams of sugar are in your favorite yogurt. Check the label, then compare it to our nutritional facts.
Will granola get soggy in a parfait? Sure, it will over time. But, that depends on how you layer the dessert.
We assume, the closer the granola is to a liquid product, the quicker it will get soggy.
Can parfaits be made ahead of time? Absolutely, but I recommend no more than a day or so in advance. Why? Because, if left uncovered in your fridge, they could absorb some other, less than desirable, "flavors." For example, I wouldn't store them (uncovered) in fridge with leftover fish…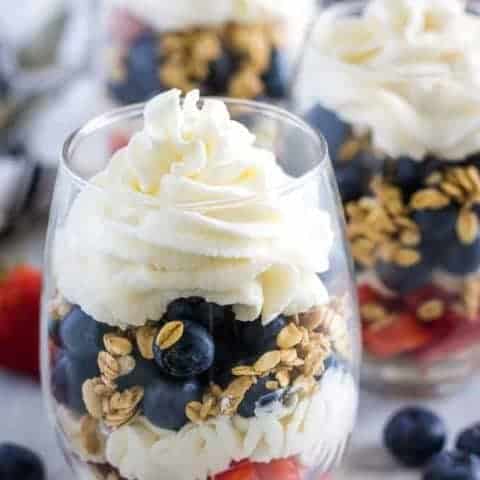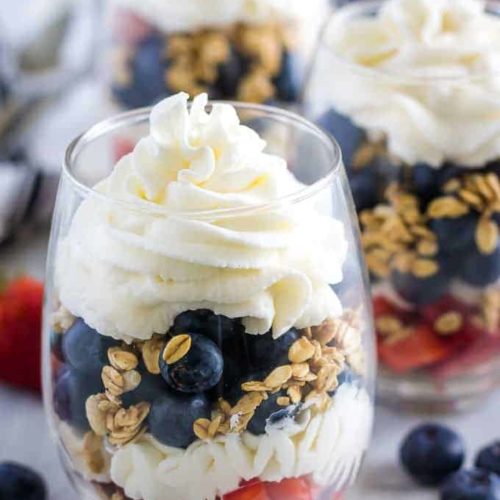 Strawberry Blueberry Fruit Parfaits
Strawberry blueberry fruit parfaits with layers of fresh fruit, granola, and whipped cream. It's the perfect dessert for all those Summer berries!
Ingredients
12 Ounces Heavy Cream
1/2 Teaspoon Vanilla Extract
1/4 Cup Powdered Sugar
12 Ounces Blueberries, (fresh)
12 Ounces Strawberries,, (fresh, chopped)
6 Ounces Granola
Instructions
Combine heavy cream, powdered sugar, vanilla in mixing bowl or blender and whip or blend for about two (2) minutes or until cream becomes stiff.
Wash all the berries and then pat dry with paper towel and chop strawberries into bite sized pieces.
In a glass add a tablespoon or so of granola, add a layer of strawberries, then whipped cream, after that blueberries, more granola, and finally whipped cream again. If needed, repeat alternating layers over and over until glass is full
You can store them in your fridge for about two (2) days.
Notes
The calories listed are an approximation based on the ingredients and a serving size of one (1) parfait. Actual calories will vary. The fruit parfaits can be stored in your fridge for about two (2) days. It should be noted, longer storage may result in absorbing other flavors from your fridge. Just an F.Y.I.
Recommended Products
As an Amazon Associate and member of other affiliate programs, I earn from qualifying purchases.
Nutrition Information:
Yield:

4
Serving Size:

1 Parfait
Amount Per Serving:
Calories:

598
Total Fat:

40g
Saturated Fat:

21g
Unsaturated Fat:

0g
Cholesterol:

117mg
Sodium:

48mg
Carbohydrates:

57g
Fiber:

6g
Sugar:

29g
Protein:

8g