Tender noodles tossed with cheddar cheese, peas, crunchy veggies, and a creamy mayonnaise dressing. It's the only macaroni salad recipe you'll ever need!
The creamy dressing, crunchy vegetables, and tender noodles come together to create a delicious side dish that few people can ignore.
If you follow our blog and have a pressure cooker, then you're probably aware of our Instant Pot macaroni salad recipe and our Instant Pot potato salad recipe.
Needless to say, this version of macaroni salad has been in the works for quite awhile. In fact, the only real differences involve the preparation methods.
One day we may get around to doing a stove top potato salad, too! So, without further adieu, let's get started!
How to make macaroni salad?
First, start by preparing the pasta noodles and thaw out the frozen peas.
Also, go ahead and hard boil, peel, and dice the eggs.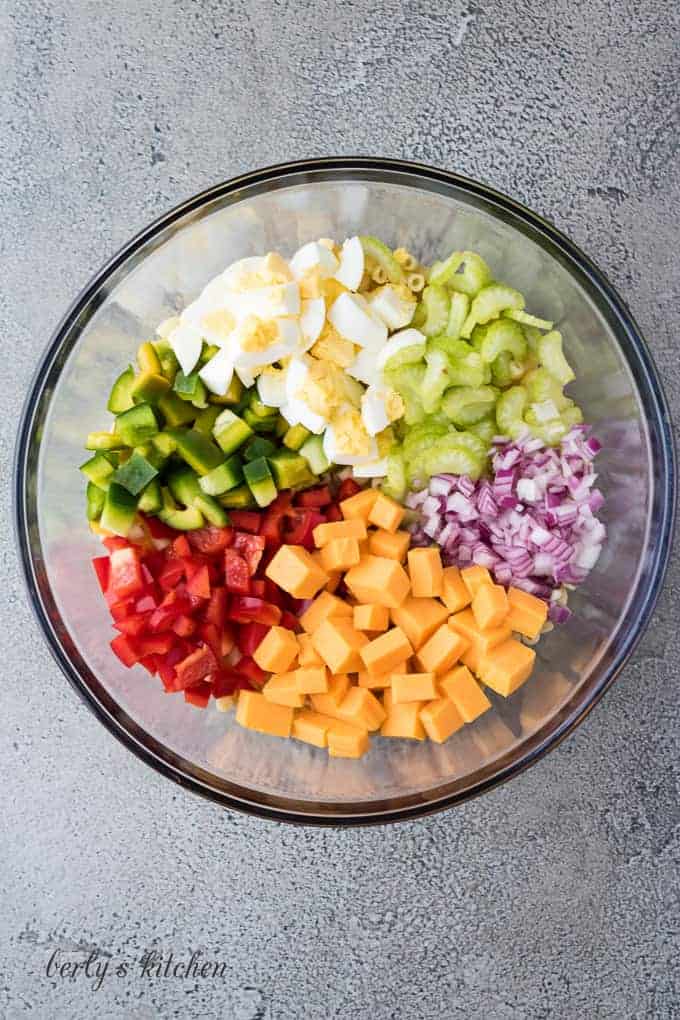 Next, when the macaroni noodles are done, drain them, rinse them in cold water, and drain them again. After that, slice the celery, dice the onions, peppers, and cube the cheese.
Then, grab a large mixing bowl and toss in the diced eggs, macaroni pasta, thawed peas, green and red peppers, sliced celery, cubed cheddar cheese, and onions. Set it aside.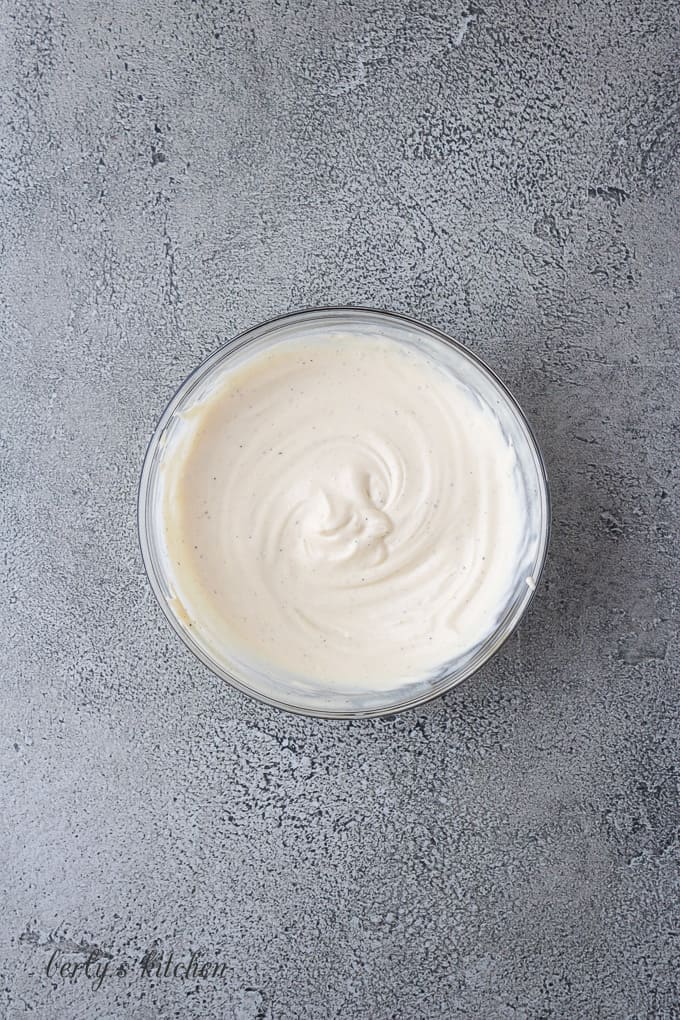 Afterward, grab a small mixing bowl and use a whisk to combine the mayonnaise, apple cider vinegar, and Dijon mustard.
Now, I recommend taste testing the dressing before mixing in the salt and pepper. That way, you can decide whether or not you want the extra salt.
With that being said, I'd still add the pepper either way.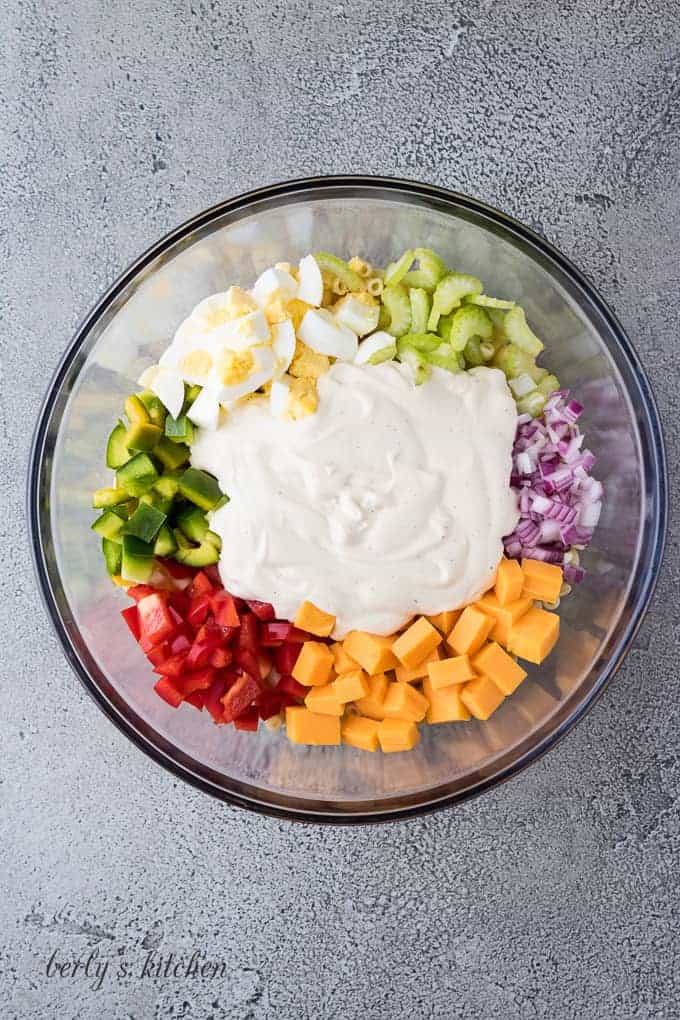 Last, pour the dressing over the macaroni noodles and veggies. Use a wooden spoon to toss everything together.
The finished macaroni salad recipe will need to be stored in your fridge, in a sealed container. It will last for up to three (3) days.
That's it, the pasta salad is done! Kim and I hope you enjoy the dish and we wish you all the best 🙂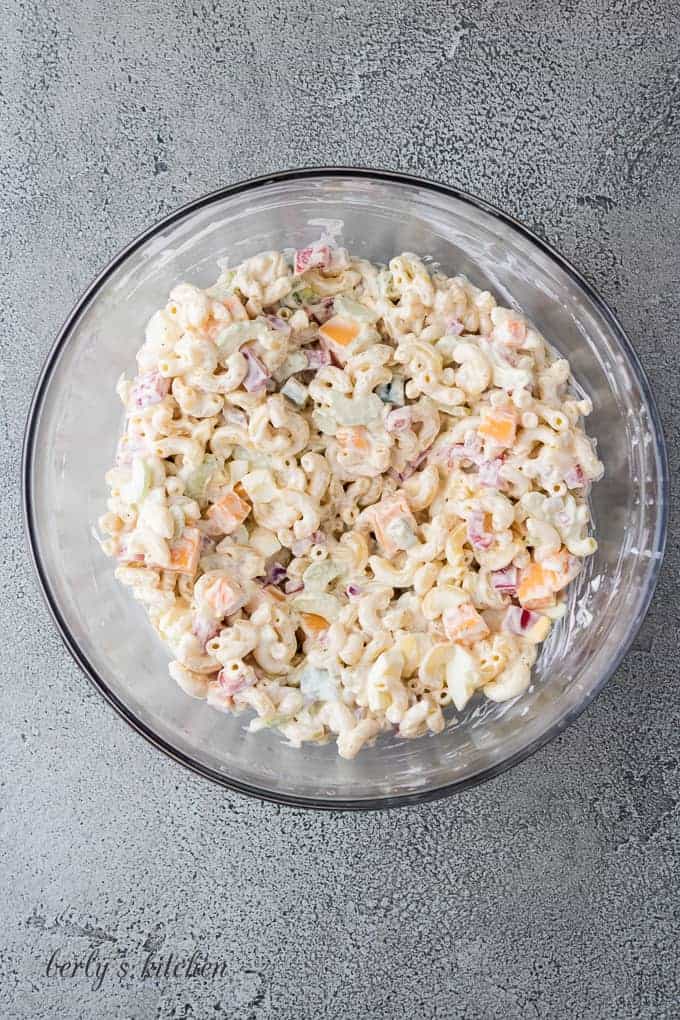 Macaroni Salad Recipe Tips:
To cut down on the time, simply hard boil the eggs while boiling the pasta. The cook times are similar, so as long as you have two (2) pans, it shouldn't be an issue.
This dish must remain refrigerated! Our recipe uses mayonnaise in the dressing, letting it sit on the counter is not a good idea.
You don't have to use macaroni noodles if you'd prefer another pasta noodle, then go for it.
What goes in macaroni salad?
Bacon
Peas
Diced Ham
Red Onions
Green Onions
Italian Dressing instead of a mayonnaise dressing
Purple Onions
Diced Salami
Pepperoncinis
If you like our easy macaroni salad recipe, please leave us a comment and rate the recipe card. You can also find us on Facebook, Pinterest, Twitter and Instagram searching for Berly's Kitchen!
Easy Macaroni Salad Recipe
Tender noodles tossed with cheddar cheese, peas, crunchy veggies, and a creamy mayonnaise dressing. It's the only macaroni salad recipe you'll ever need!
Ingredients
Macaroni Salad Ingredients
8 Ounces Elbow Noodles, (macaroni noodles cooked per box instructions)
1 Cup Frozen Peas, (thawed out)
1/3 Cup Purple Onion, (or red, diced)
3/4 Cup Red Bell Pepper, (diced)
3/4 Cup Green Bell Pepper, (diced)
3/4 Cup Cheddar Cheese, (sharp, cubed)
1/2 Cup Celery, (thinly sliced)
2 Large Eggs, (hard boiled, peeled, diced)
Mayonnaise Dressing
1 Cup Mayonnaise
2 Tablespoons Apple Cider Vinegar
1 Tablespoon Dijon Mustard
1/4 Teaspoon Salt, (or to taste)
1/4 Teaspoon Ground Black pepper, (or to taste)
Instructions
Cook the noodles according to package directions, rinse with cool water, and drain. Set aside. While the pasta cooks, boil the eggs.
In a large bowl combine the peas, onions, red and green bell pepper, cheddar cheese, celery, and eggs. Add the cooked pasta noodles, and toss to combine. Set aside.
In a small bowl, combine mayonnaise, apple cider vinegar, Dijon mustard, salt and pepper. Add the dressing to the large bowl of ingredients, and toss to combine.
Serve cold. Save any leftovers in the refrigerator for up to 3 days.
Notes
The calories listed are an approximation based on the ingredients and a serving size of about half (1/2) a cup of the finished macaroni salad recipe. Actual calories will vary.
*Save some of the dressing to freshen the salad if there will be leftovers*
Recommended Products
As an Amazon Associate and member of other affiliate programs, I earn from qualifying purchases.
Nutrition Information:
Yield:

12
Serving Size:

0.5 Cup
Amount Per Serving:
Calories:

257
Total Fat:

18g
Saturated Fat:

4g
Unsaturated Fat:

0g
Cholesterol:

50mg
Sodium:

245mg
Carbohydrates:

18g
Fiber:

2g
Sugar:

3g
Protein:

7g