If you are looking for an easy holiday recipe that will wow your guests, look no further than this English Toffee recipe! This sweet and nutty treat is simple to make and sure to be a hit with everyone!
One of my favorite things to make around the holiday season is English Toffee. It's so easy to make, and it tastes delicious! I used to be so intimidated by the thought of making such a complicated-looking dessert, but this English Toffee Recipe recipe isn't too difficult.
English toffee is a type of toffee that is made with sugar, butter, and nuts. It has a nutty, caramel flavor and is commonly served as a dessert or snack.
It's great for gifting during the holidays since everyone loves getting a homemade sweet treat like peppermint bark, peppermint cupcakes, saltine cracker candy, or bourbon caramel fudge!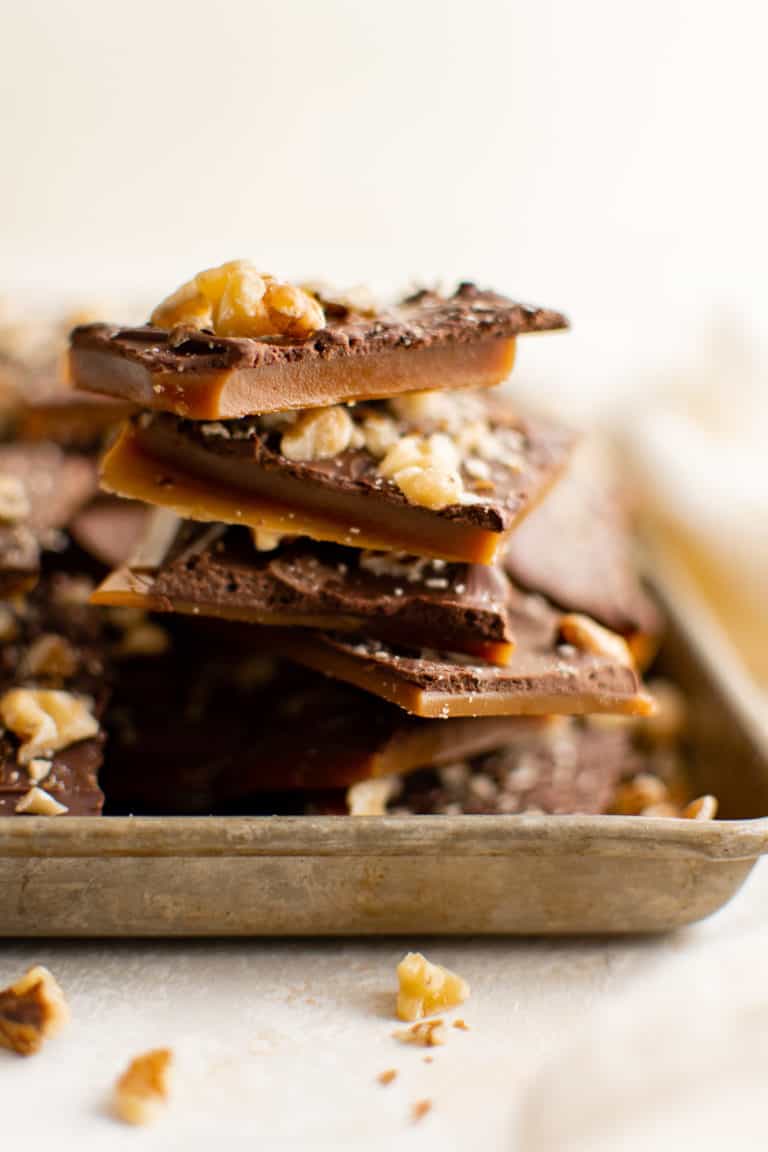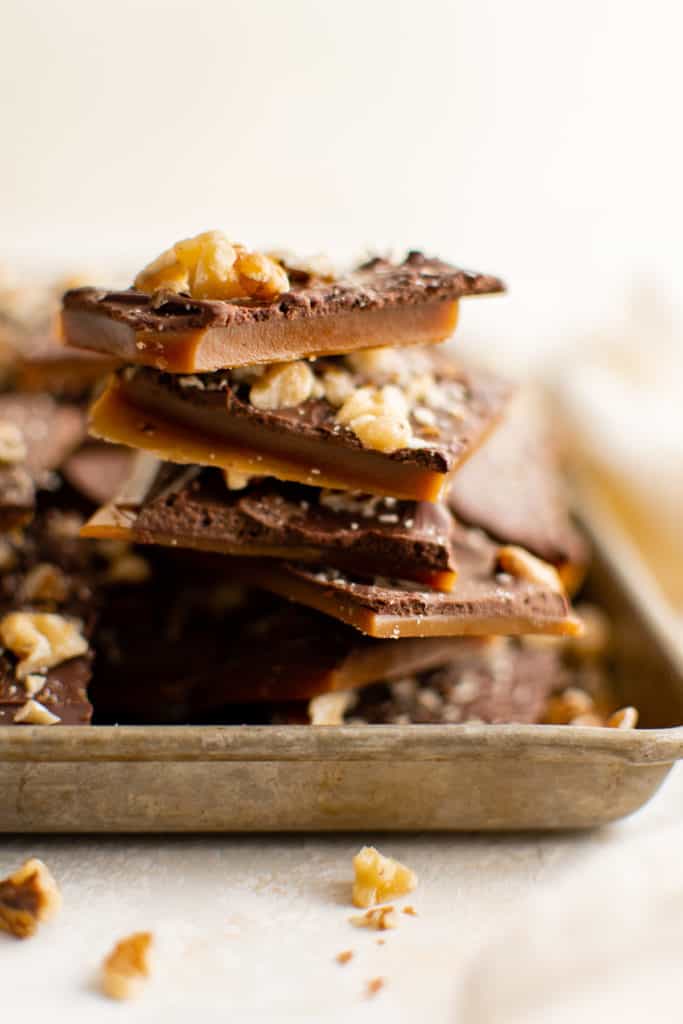 How To Make Homemade English Toffee
Prepare the sheet pan: Grease a sheet pan with butter or cooking spray. Set aside.
Make the caramel: Add butter, water, sugar, salt, and vanilla to a pot over low medium heat making sure to stir to combine. Bring the mixture to a boil and continue to stir constantly to keep it from burning.
Caramelize the sugar: The toffee will start to brown and pull away from the pan as it caramelizes. Continue to stir until it turns a dark amber color. If you are using a candy thermometer, you want the mixture to come up to 290°F so it sets properly.
Add toffee to sheet pan: Once the toffee is ready, remove it from the heat and pour it onto the greased sheet pan and smooth into an even layer. Let it cool completely.
Melt the chocolate: While the toffee is cooling, add the chocolate to a microwave-safe bowl and microwave in 15-second intervals stirring each time until the chocolate is smooth and melted.
Assemble the toffee: After the toffee cools, pour the chocolate over top and smooth it out with a rubber spatula. While the chocolate is still warm, add nuts and press into the chocolate.
Chill the toffee: Add the sheet pan to the fridge to allow the toffee to set for at least 30 minutes before breaking into pieces and serving.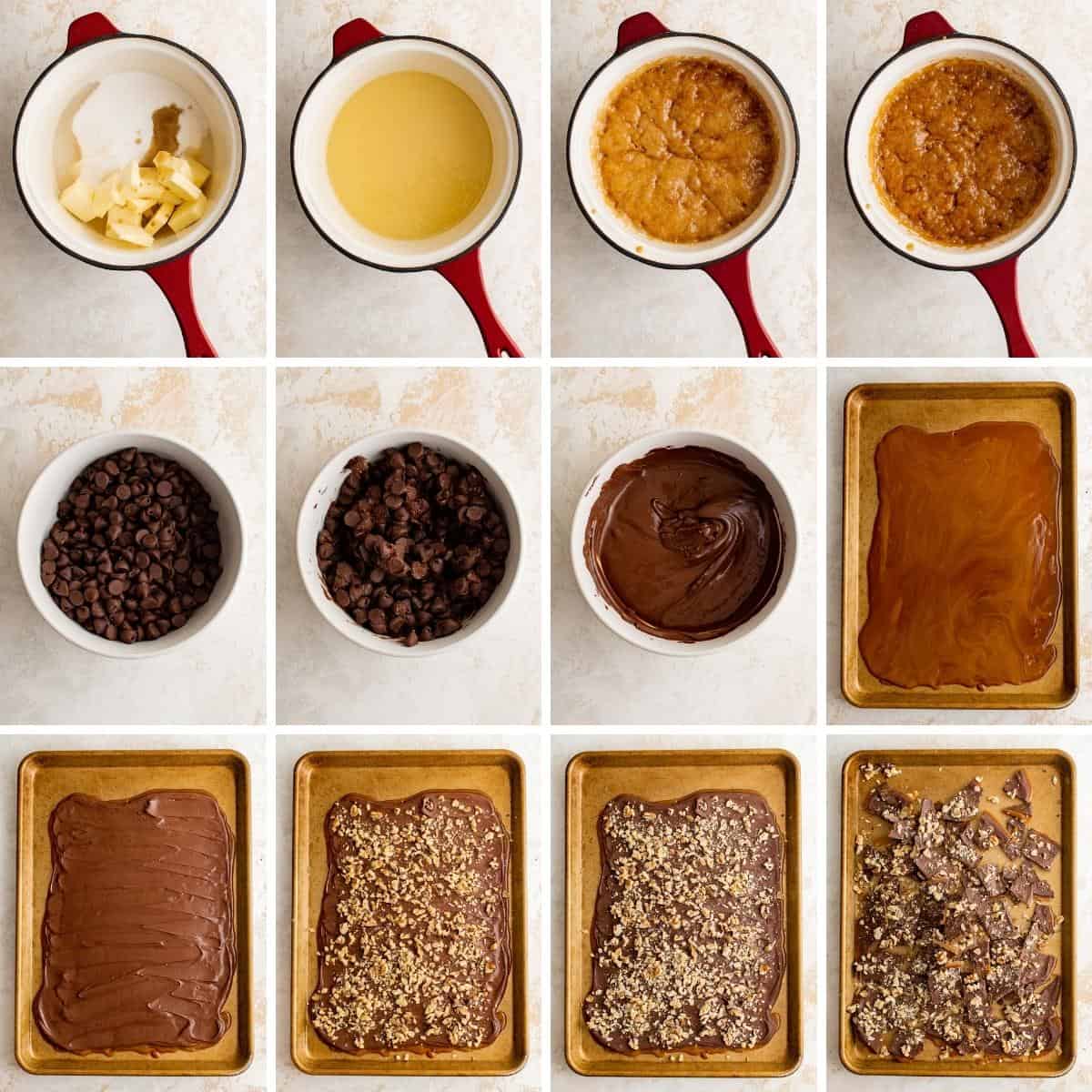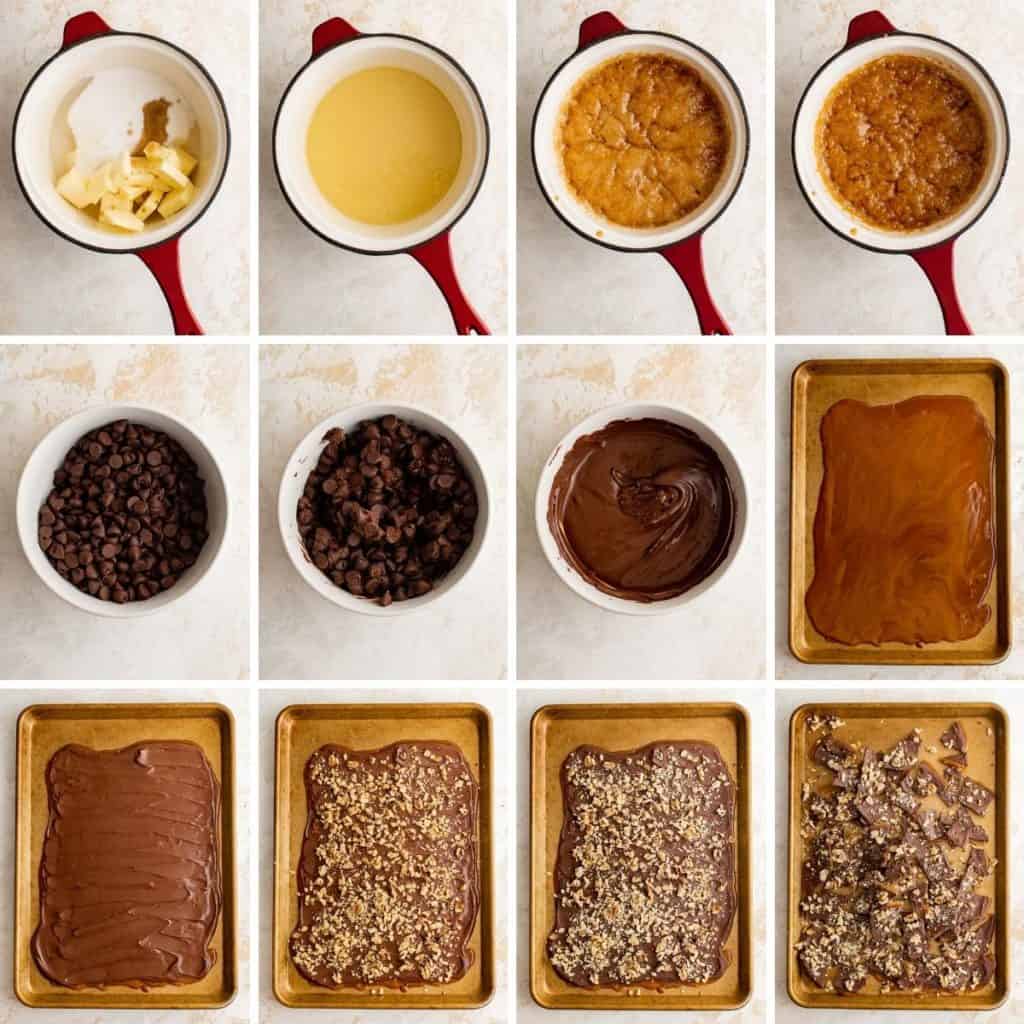 Recipe Tips
Cooking toffee moves fast, so it's best to be prepped and ready. Prep the sheet pan first by adding a thin coat of butter or cooking spray. Have everything you need within reach and ready to use.
Make sure the sugar and butter are at room temperature before beginning to make the toffee. This will help them to combine more easily.
If this is your first time making toffee, it helps to have a candy thermometer to be sure the toffee is at the right temperature. The mixture needs to come up to at least 300°F to ensure it sets properly as it cools.
Do not allow the toffee to cook for too long, or it will become hard and brittle.
Allow the toffee to cool completely before breaking into pieces. If you try to break it while it is still warm, it will not be as smooth. Make sure the sheet pan will fit in your fridge before cooling.
Serve the toffee on a platter or in individual bowls. It can be enjoyed as is or topped with whipped cream, ice cream, or chocolate sauce.
Variations
Change up the nuts: You can use one nut or any combination of cashews, hazelnuts, walnuts, or pecans.
Add coffee: Add a deep and rich coffee flavor to the toffee by adding an ⅛ of a teaspoon of dark roast espresso powder to the chocolate.
Decorate for the occasion: English toffee can be made any time of the year. Sprinkle the top with colorful candy decorations to match the occasion.
Change up the chocolate: We used dark chocolate in this recipe, but feel free to use semi-sweet, bittersweet, or even white chocolate.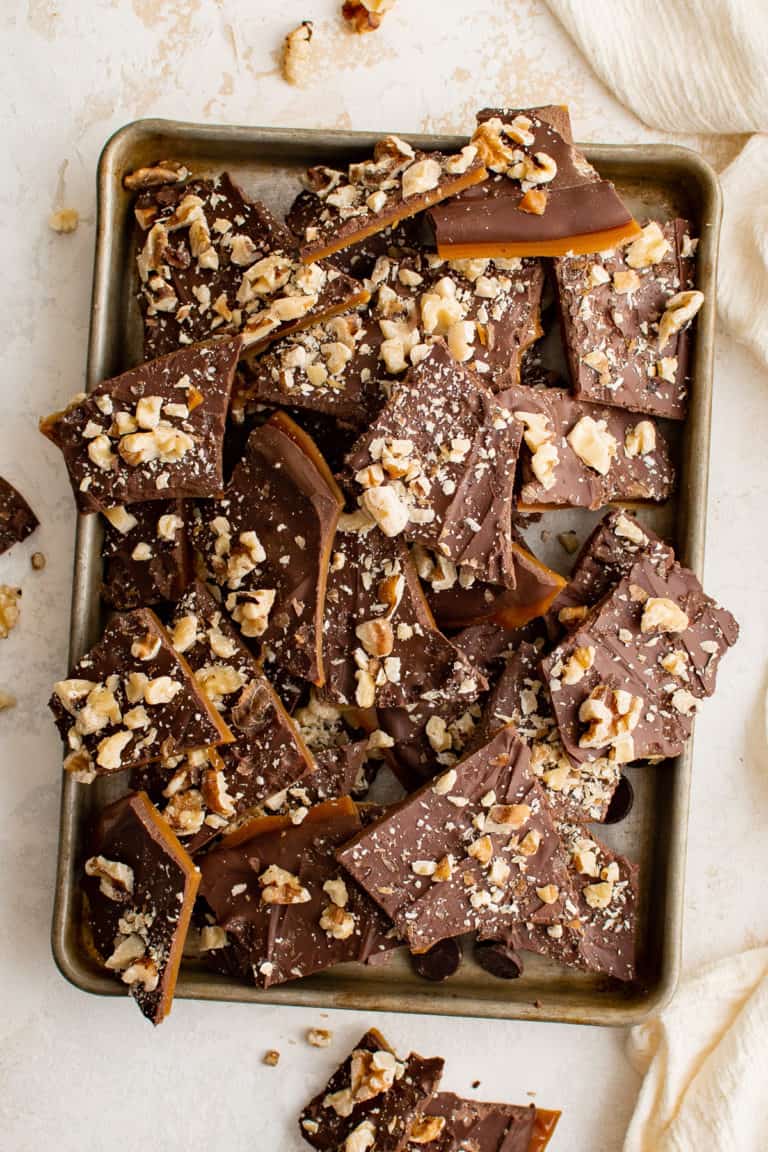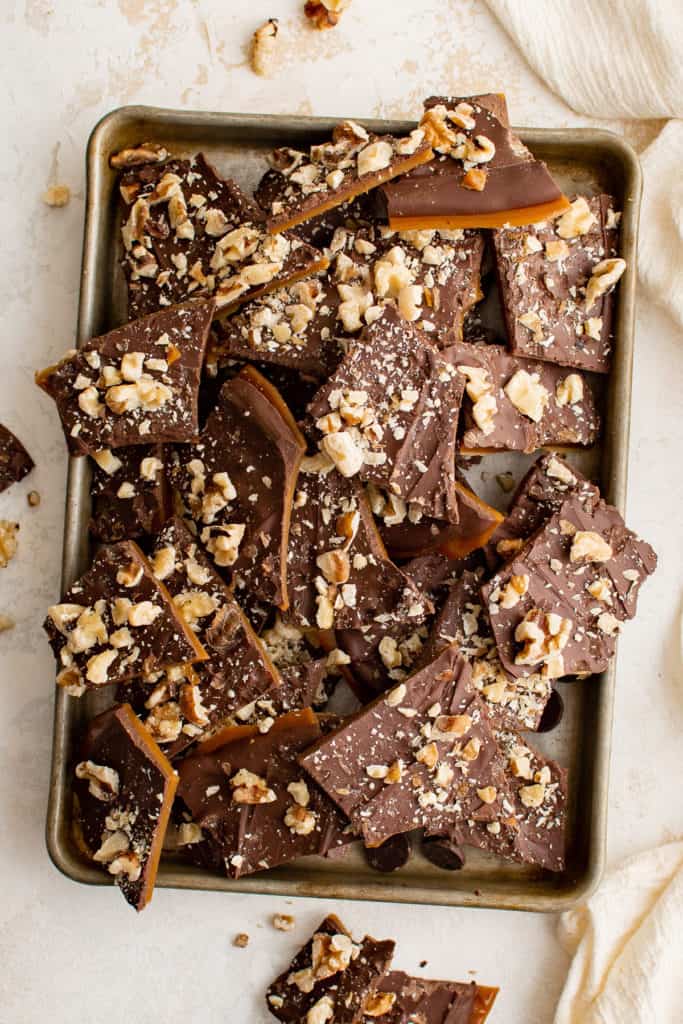 Is it possible to make English toffee without a thermometer?
Yes, it is possible to make English toffee without a thermometer by using a visual guide. While stirring the toffee consistently, it will begin to pull away from the sides of the pan slightly, turn a darker amber color (it shouldn't be burned or smell burned).
There will be small puffs of smoke of steam or smoke coming from the caramelized sugar. At this point, remove the pan from heat. Pour the toffee onto the prepared pan, and smooth it out into an even layer.
Can you make English toffee with brown sugar?
You can make toffee with brown sugar, but it will not be as crispy as toffee made with white sugar as brown sugar contains more moisture.
Storing and Freezing
Storing: Store English toffee in an airtight container in a cool, dry place. It will keep for about 2 weeks.
Freezing: English toffee can be stored in the freezer for up to six months when stored in an airtight container or sealed bag.
Recipe Card with Ingredient Amounts and Instructions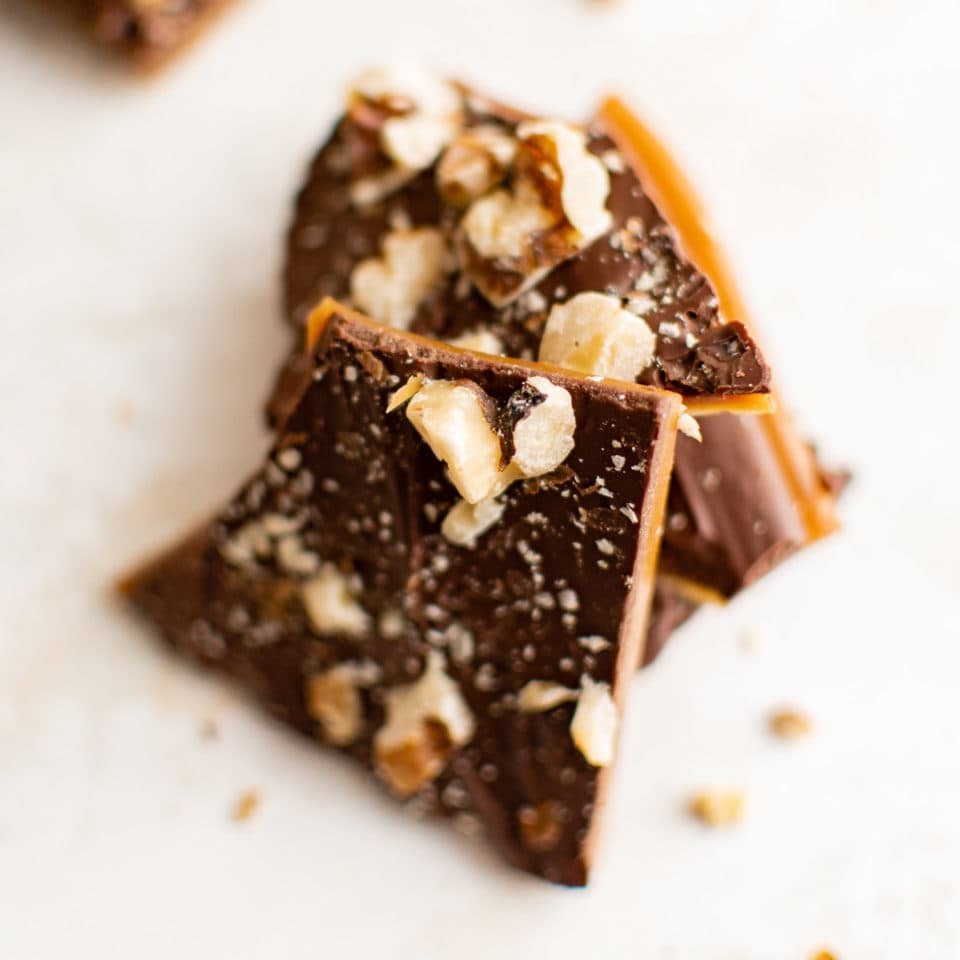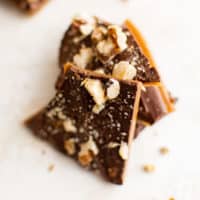 Ingredients
Toffee
1 ¼

cups

granulated sugar

1

cup

unsalted butter

,

cut into cubes (at room temperature)

3

tablespoons

water

,

lukewarm

1

teaspoon

pure vanilla extract

½

teaspoon

kosher salt
Topping
10

ounces

chocolate chips

,

any variety

1

cup

walnuts

,

chopped
Instructions
Prepare a large baking sheet, by greasing it with butter or spraying with cooking spray. Set aside.

In a medium saucepan over low-medium heat, melt the sugar, butter, water, vanilla, and salt. Stir constantly to ensure the sugar doesn't burn.

1 ¼ cups granulated sugar

1 cup unsalted butter

3 tablespoons water

1 teaspoon pure vanilla extract

½ teaspoon kosher salt

The mixture will come to a boil and begin to foam. As the toffee cooks, it will begin to have streaks of amber brown throughout and pull away from the sides of the pan, about 20 minutes.

Once the candy turns dark amber in color and releases small puffs of smoke (if using a thermometer, if should read 290°F), remove from heat and pour onto the prepared baking sheet. Allow the mixture to cool completely.

Place the chocolate chips into a microwave-safe bowl and heat, stirring every 15 seconds until all chips are melted and smooth.

10 ounces chocolate chips

Pour melted chocolate over cooled toffee, and smooth into an even layer. Sprinkle with nuts, and lightly press them into chocolate.

Place the toffee in the refrigerator about 30 minutes to set. Break the toffee into pieces, and enjoy!

See post for storage options.
Notes
*The calories listed are an approximation based on the ingredients in the recipe card and a serving size of 1 ounce of English toffee. Actual calories will vary.
*For more information, tips, and answers to frequently asked questions, please refer to the post.
*Photos courtesy of Karla Rae Photography.
*Disclaimer: This method involves working with boiling, melted sugar. Please make sure you have ample time to complete the recipe without rushing and that children and pets are away from the area. Sugar burns can be severe, so it's best to be proactive to reduce the possibility of accidents.*
Nutrition
Serving:
1
ounce
|
Calories:
200
kcal
|
Carbohydrates:
19
g
|
Protein:
1
g
|
Fat:
14
g
|
Saturated Fat:
7
g
|
Polyunsaturated Fat:
3
g
|
Monounsaturated Fat:
2
g
|
Trans Fat:
0.3
g
|
Cholesterol:
22
mg
|
Sodium:
118
mg
|
Potassium:
24
mg
|
Fiber:
1
g
|
Sugar:
18
g
|
Vitamin A:
264
IU
|
Vitamin C:
0.1
mg
|
Calcium:
21
mg
|
Iron:
0.3
mg
Don't Lose This Recipe!
Save it on Pinterest! Follow us at @berlyskitchen!