*This post may contain affiliate links. As Amazon Associates we earn from qualifying purchases.
Instant Pot Zuppa Toscana is the perfect blend of potatoes, sausage, kale, bacon, and a touch of heavy cream. This copycat recipe is full of hearty ingredients and easy to make in your pressure cooker.
Whether you call this Instant Pot Zuppa Toscana or sausage and potato soup, this copycat recipe is one of the most popular soup recipes I see each Fall and Winter.
It usually falls right up there with Instant Pot broccoli cheese soup, Instant Pot chicken noodle soup, and Instant Pot vegetable soup.
It's easy to see why. Olive Garden made this soup a classic when they begin offering as a Soup, Salad, and Breadsticks menu option well over a decade ago.
People have been recreating the recipe at home for years. We've decided to make our version in the Instant Pot that way it cooks slightly faster than on the stove top.
This recipe is also versatile, so you can play around with the ingredients and add or omit whatever you like.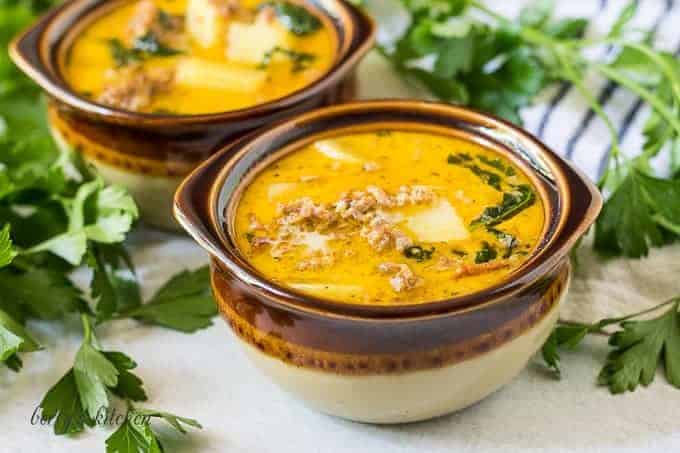 Is this soup the classic version?
Nope. This version is the Americanized version made popular by Olive Garden. It's also our version, so it's definitely not "traditional" or "authentic" by any stretch of the imagination.
According to some online resources, the original recipe from Italy consisted of cannellini beans, potatoes, celery, carrots, zucchini, tomatoes, kale, rigatino or pancetta (Italian bacon) and olive oil.
There was no heavy cream, and many times home cooks added whatever they had handy.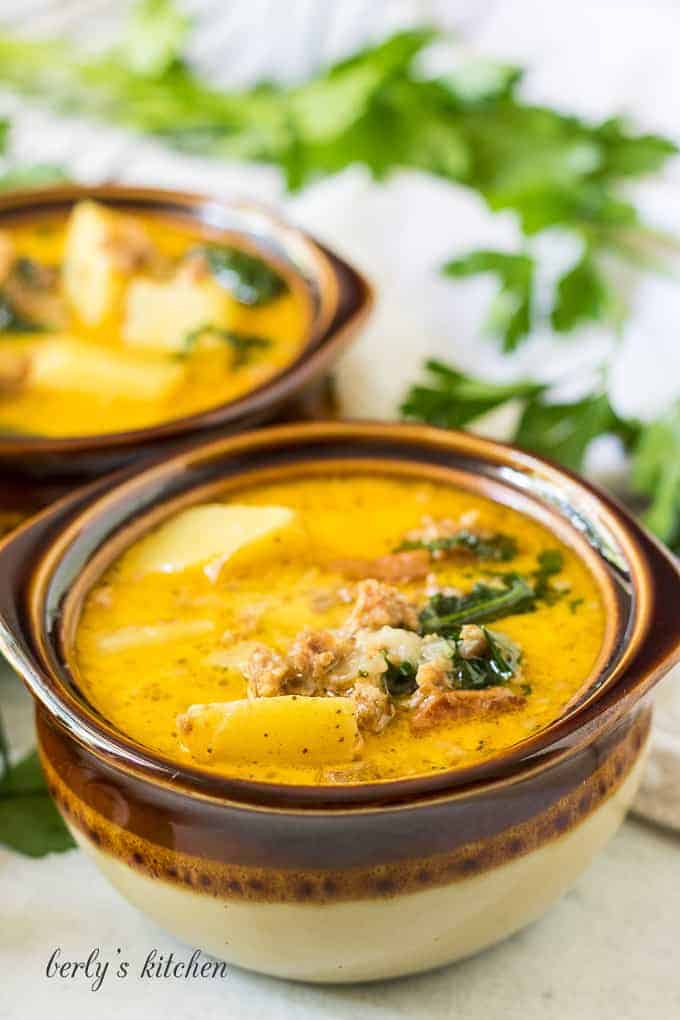 How to make Instant Pot Zuppa Toscana Soup?
Let me say a couple of things before we get started on the recipe. We've developed this recipe so it's all cooked in the Instant Pot.
However, you could easy cook the bacon on the stove top or in an air fryer while the sausage cooks in the Instant Pot. It's up to you.
Additionally, I like to add the heavy cream before pressurizing the pot. I know this scares a lot of people due to the concern of the cream curdling.
If that is a worry, hold off on adding the heavy cream until after the cooking process.
Toss it in along with the kale, and everything will be good! Now, that those things are out of the way. Let's make some Zuppa Toscana!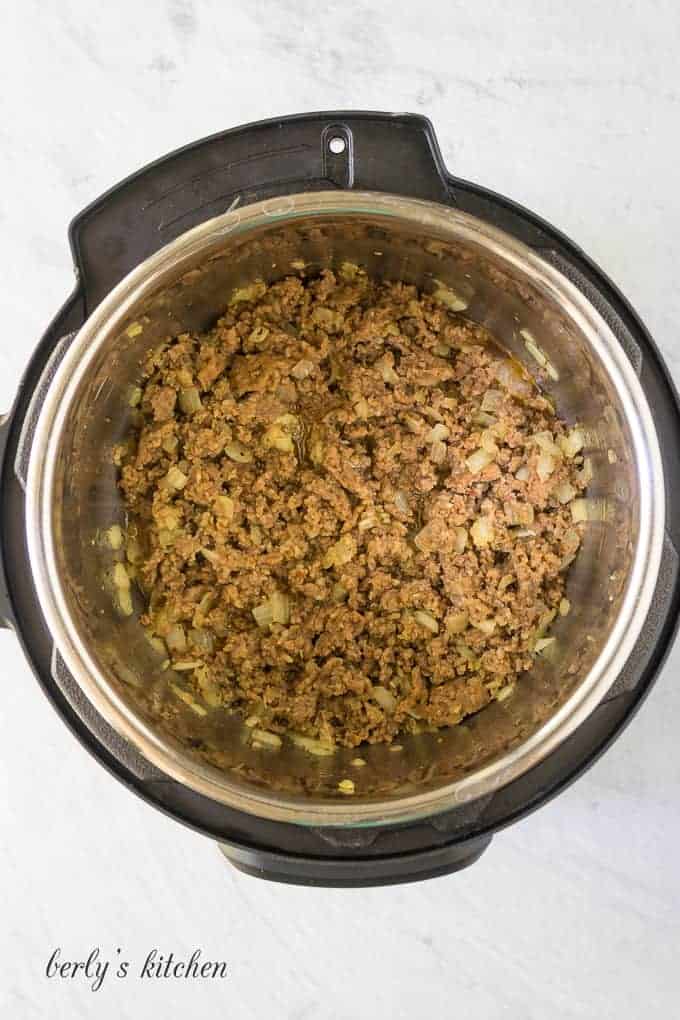 Prep: First, I recommend dicing your meat and vegetables and mincing the garlic. It might also be a good idea to measure out all your ingredients.
Saute: After that, put the liner into the pressure cooker and saute the chopped bacon until it's crispy. Then, pull the bacon out of the liner and set it aside.
Next, toss in the onions, Italian seasonings, and sausage. Break up the sausage while it cooks. Once it's done, add the garlic and let it cook for a minute or so.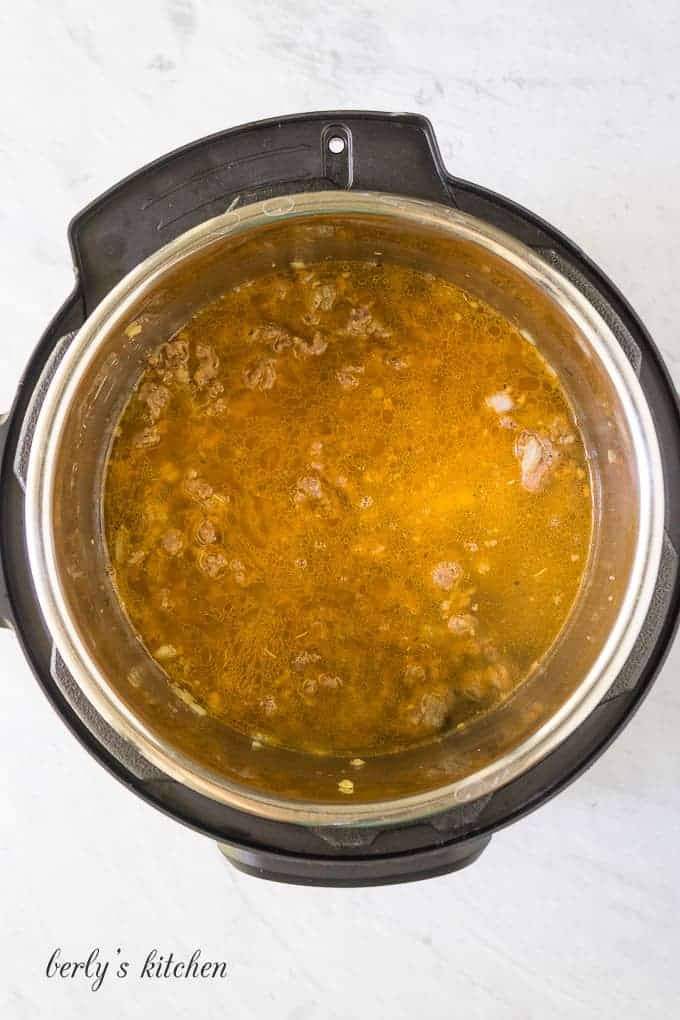 Deglaze: Add the broth to mixture and use it to deglaze the pan. Scrape off any food that has stick to the bottom of the liner.
Now, turn off the cooker. Afterward, pour in the heavy cream and toss in the cooked bacon and raw potatoes.
Pressure Cook: Seal the machine and set the valve to, "sealed," as well. Press the manual or high pressure cook button and set the timer for five (5) minutes.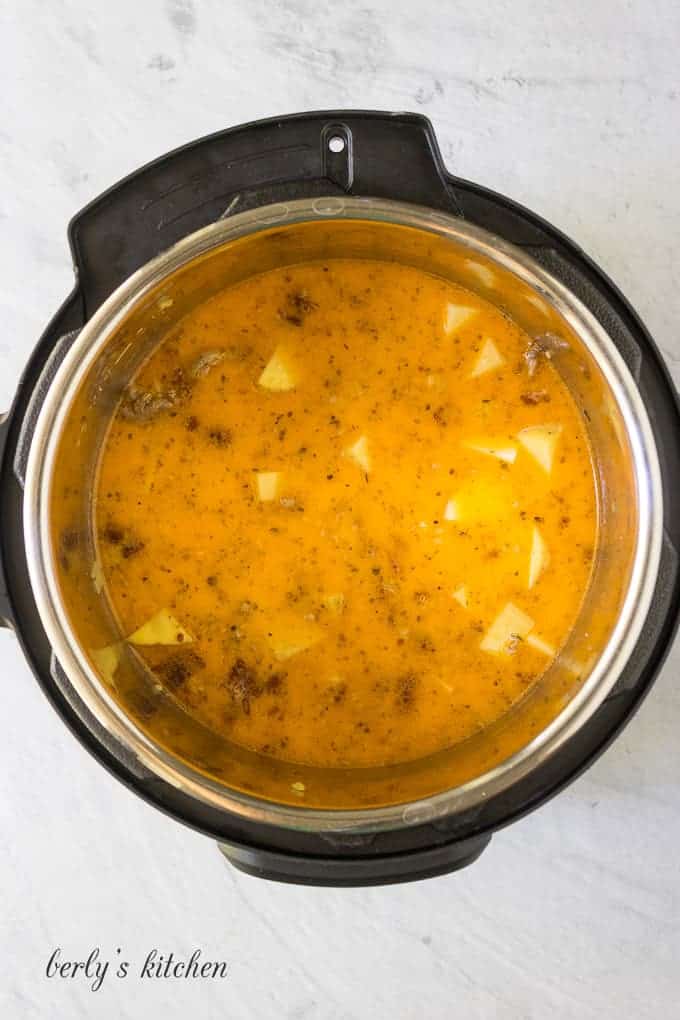 Natural Release: Then, when the timer goes off, allow the machine to complete a ten (10) minute natural release.
The longer natural release simply ensures your sausage and potato soup is done. At this point, you can carefully open the valve to release any remaining pressure.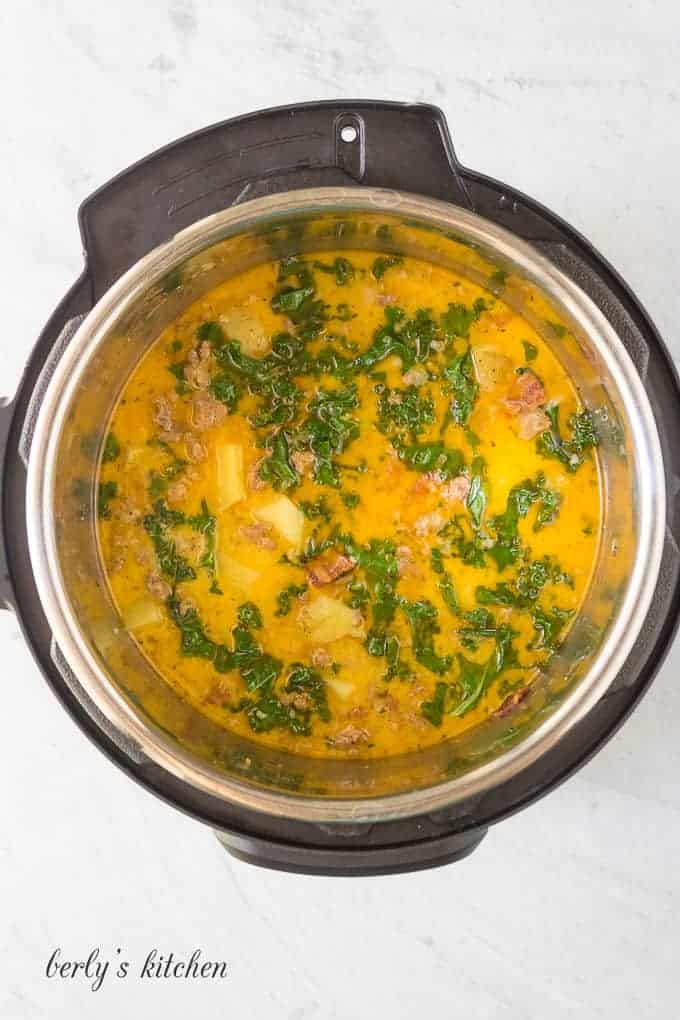 Add Remaining Ingredients: Last, stir in the fresh, chopped kale and place the lid back on the machine for about six (6) minutes. It will soften the kale a little before serving.
Serve: That's it, remove the lid, stir the sausage and potato soup and serve. Kim and I hope you enjoy the Zuppa Toscana recipe and wish you all the best 🙂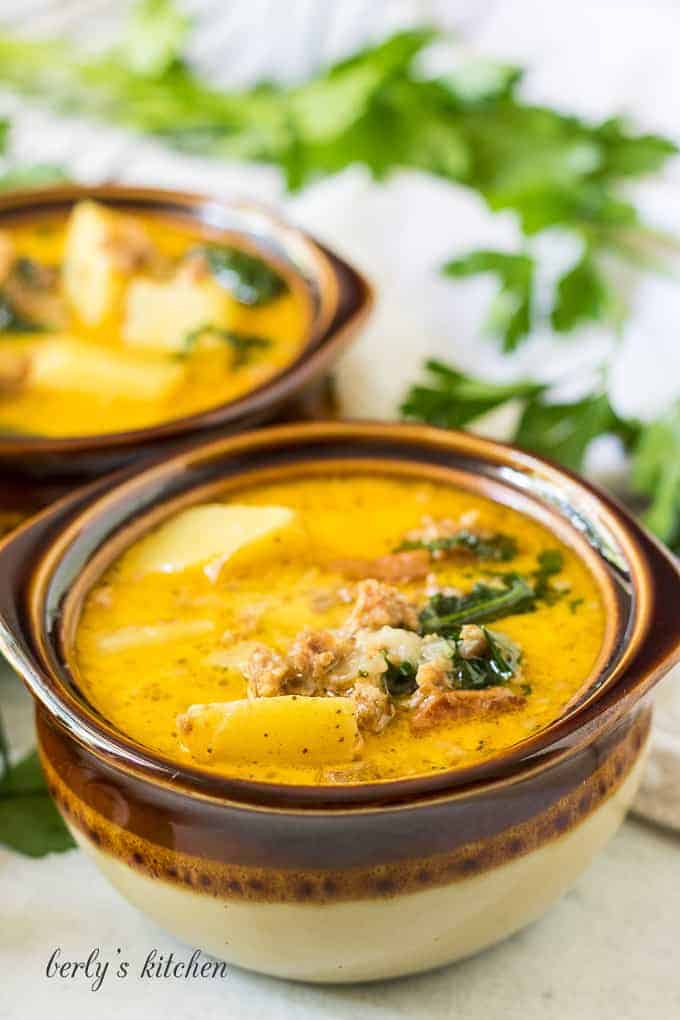 Can you freeze Zuppa Toscana soup?
Unfortunately, we do not recommend freezing this soup. The heavy cream has a tendency to separate and the potatoes do not hold their texture very well.
They can become grainy and mushy when reheated. The soup should be stored in the refrigerator in an airtight container and consumed within 3 to 4 days.
What's the difference between Zuppa Toscana and potato soup?
Our Instant Pot Potato Soup with Bacon is similar to this recipe, but there are a few key differences. Like this sausage and potato soup, our potato soup also has heavy cream, potatoes, and bacon.
However, the potato soup does not contain sausage, kale, or Italian seasoning.
In fact, this is true with most baked potato soup or loaded potato soups. Their flavor profile varies quite a bit from sausage and potato soup.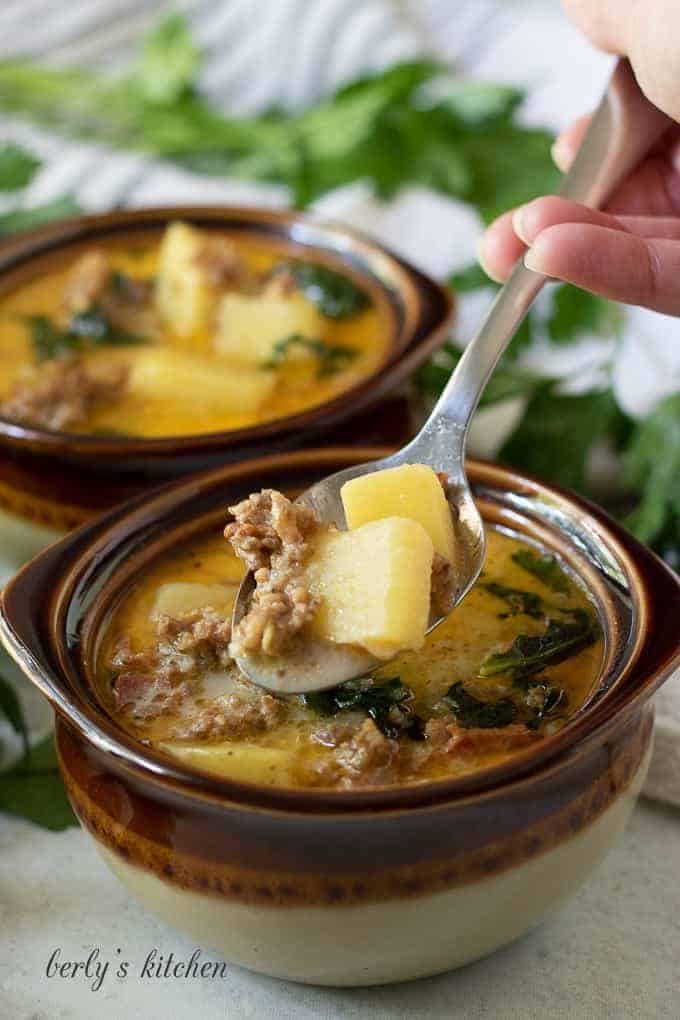 If you like our Instant Pot zuppa toscana recipe, please leave us a comment and rate the recipe card. You can also find us on Facebook, Pinterest, Twitter and Instagram searching for Berly's Kitchen!
Join our Facebook group for more recipes from Berly's Kitchen, our new site More Than Meat and Potatoes, and some of our blogger friends!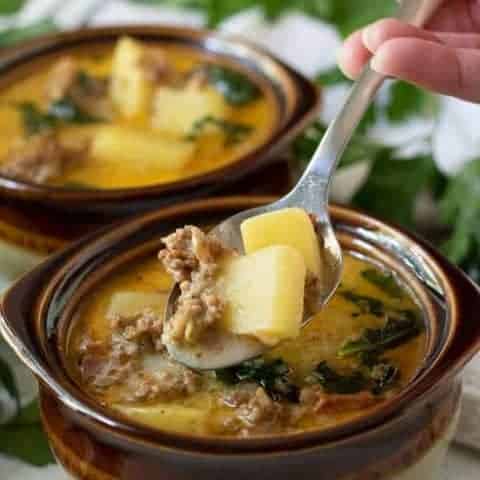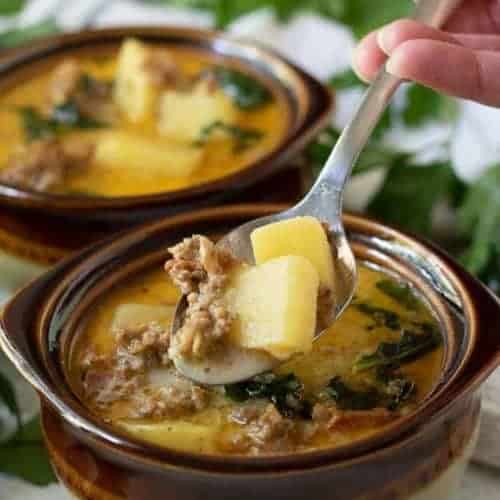 Instant Pot Zuppa Toscana Recipe
Come to Pressure and Natural Release:
20 minutes
Instant Pot Zuppa Toscana is the perfect blend of potatoes, sausage, kale, bacon, and a touch of heavy cream. This copycat recipe is full of hearty ingredients and easy to make in your pressure cooker.
Ingredients
4 Pieces Bacon, (chopped)
1 Lb. Italian Sausage, (mild or hot)
1 Cup White Onion, (diced)
1 Teaspoon Italian Seasoning
3 Large Garlic Cloves, (minced)
1 Lb. Russet Potatoes, (cut into quarter ((1/4)) inch cubes)
3 Cups Chicken Broth, (low sodium)
3/4 Cup Heavy Cream
2 Cups Kale, (about half ((1/2)) a bunch, chopped)
Instructions
Turn on the Instant Pot using the Saute function. When the liner is hot, add the chopped bacon. Cook until the bacon is cooked through, then remove from the liner. Set aside.
Next, add the sausage, onions, and oregano. Break the sausage up into pieces, and cook until there is no pink remaining. Add the garlic, and cook for another minute.
Pour in the broth, and scrape the bottom with a wooden spoon to remove any bits of stuck food (this will help prevent a burn notice). Turn off the Instant Pot.
Now, pour in the heavy cream, and stir to combine with the broth. Add the potatoes and cooked bacon, then close the lid. Set the valve to sealing, and press the manual (pressure cook) button. Adjust the time to 5 minutes.
After the time is up, allow a 10 minute natural release before opening the valve to release any remaining pressure.
Carefully remove the lid, add the chopped kale, and stir to combine. Place the lid back on the Instant Pot, and allow the heat to soften the kale for 5-7 minutes. Remove the lid and serve.
Notes
*The calories listed are an approximation based on the ingredients and a serving size of about one (1) cup of the zuppa toscana soup. Actual calories will vary.
*Please see post for more in-depth information about ingredients, substitutions, freezing/storage, and preparation information.
Recommended Products
As an Amazon Associate and member of other affiliate programs, I earn from qualifying purchases.
Nutrition Information:
Yield:

8
Serving Size:

1 Cup
Amount Per Serving:
Calories:

353
Total Fat:

31g
Saturated Fat:

13g
Unsaturated Fat:

0g
Cholesterol:

81mg
Sodium:

831mg
Carbohydrates:

12g
Fiber:

2g
Sugar:

1g
Protein:

13g
Looking for more Instant Pot soup recipes?