This Easy Mai Tai Recipe is a bit of a variation on the classic, but will make you feel like you're on a white, sandy beach nonetheless! Take a trip to the tropics with the warm flavors of white and dark rum, sweet pineapple juice, hints of citrus, and a dash of nutty spice. Shake and pour over ice, garnish with delicious fresh fruit, and sip your way to paradise!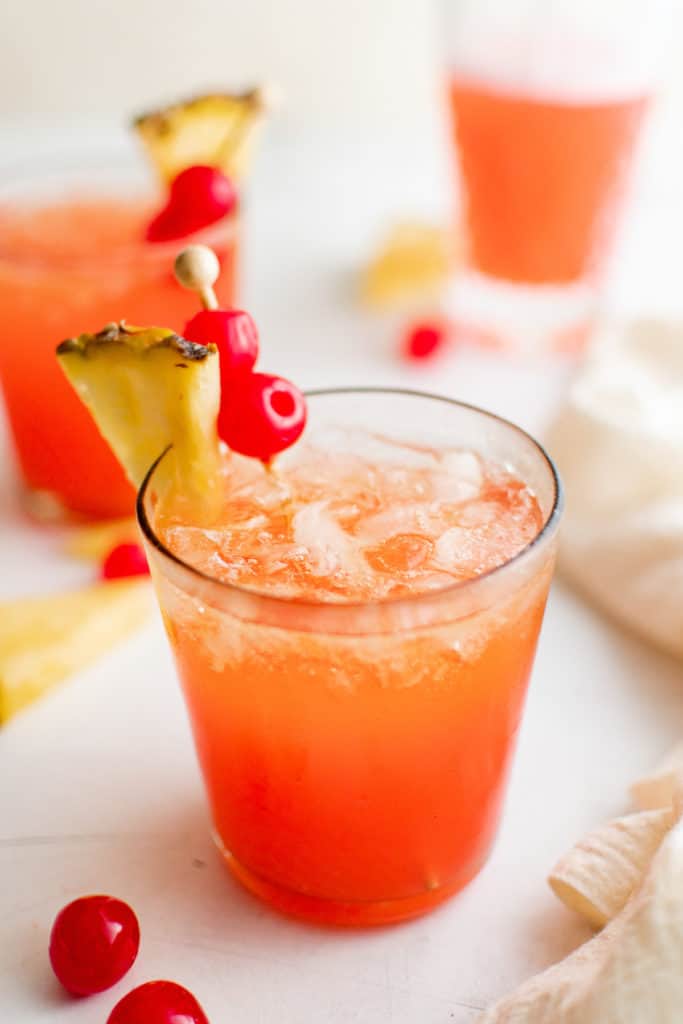 What's a Mai Tai Drink?
Mai Tais are typically associated with far away beaches, tourists in resort wear, and palm trees as far as the eye can see. While they are popular in tiki bars around the world, the drink is rumored to actually have been created right in the U.S. Oakland, California to be exact.
In 1944 Victor Bergeron (owner of Trader Vic's) is credited with creating the cocktail to showcase the Jamaican rum he had received. This drink became incredibly popular in the 40s and 50s and has had many variations over the years.
One time while on vacation, I ordered a couple of drinks at our resort. One was a Hurricane and the other was a Mai Tai. The Hurricane was a little watered down and on the bland side and the Mai Tai was heavy on the orange flavor. The orange was very overpowering and unappealing, so for this recipe we opted for a combination of pineapple and grenadine instead of orange.
Ours resembles the more popularized sweet versions, making it a bit sweeter than Vic's original, and it has even more tropical flavor. One round and you'll feel like your backyard is the only resort you'll need this summer.
How to Make a Mai Tai
Fill a cocktail shaker with ice and add the white rum, pineapple juice, orgeat syrup, grenadine, lime juice, and triple sec.
Give everything a vigorous shake to combine all the ingredients.
Add crushed ice to your favorite fun glass and strain the cocktail into it. Pour the shot of dark rum over top.
Garnish with a small slice of pineapple, a lime wedge, and maraschino cherries. Cheers!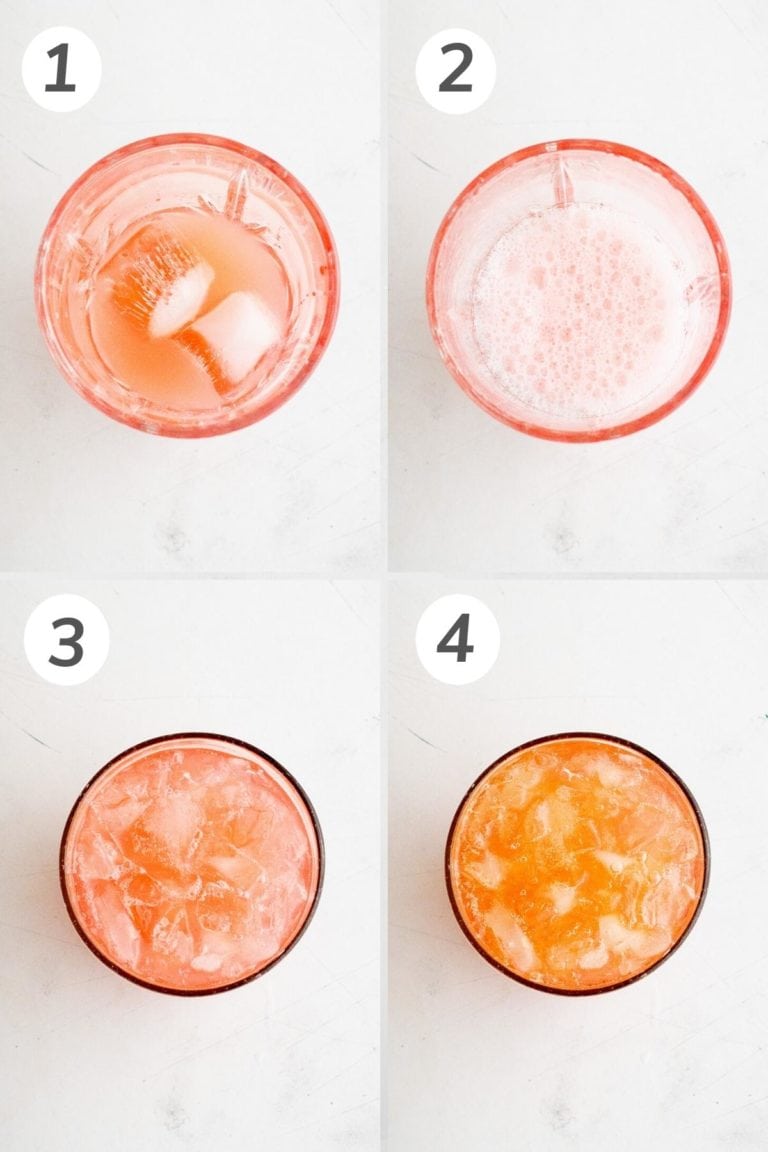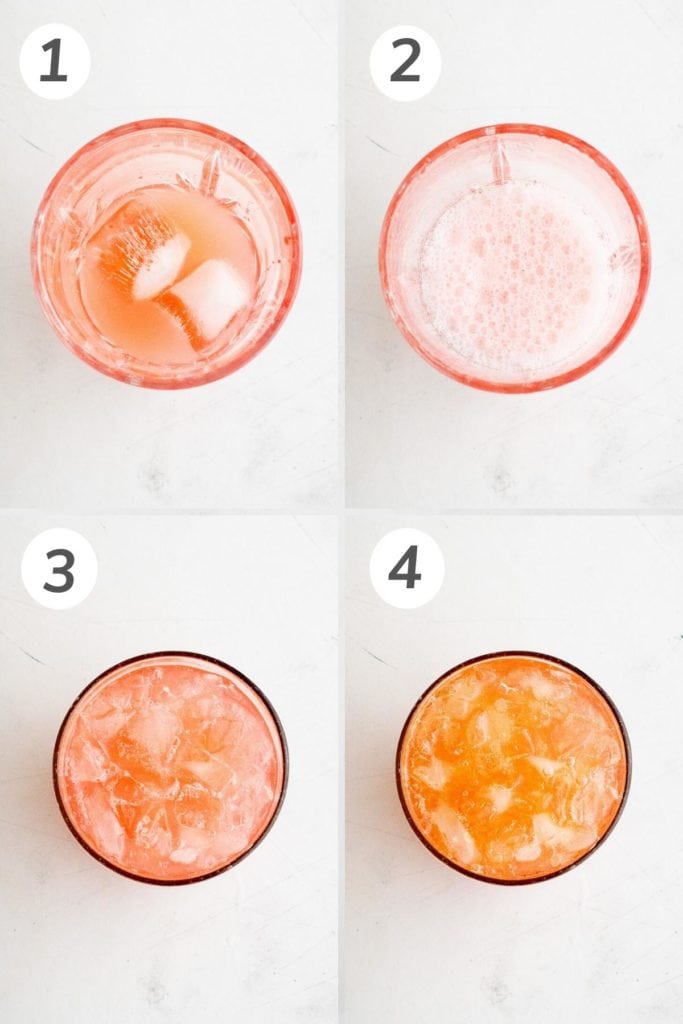 Mai Tai Tips and Variations:
The pineapple juice and grenadine are non-traditional ingredients when it comes to a classic Mai Tai cocktail. They add an extra layer of flavor and pinkish orange color but you can absolutely leave them out if you prefer.
For a stronger drink, blend white and gold rum as the base and float the dark rum on top as instructed. It becomes dangerously deceptive in flavor but original Mai Tai's were created to show off the flavors in the different types of rum, so why not make a blend!
Coconut rum can be used for a flavored version.
This easy Mai Tai recipe makes one cocktail, however you can easily make larger batches for parties or groups. Keep all the ratios of the ingredients the same, just increase the amount of each!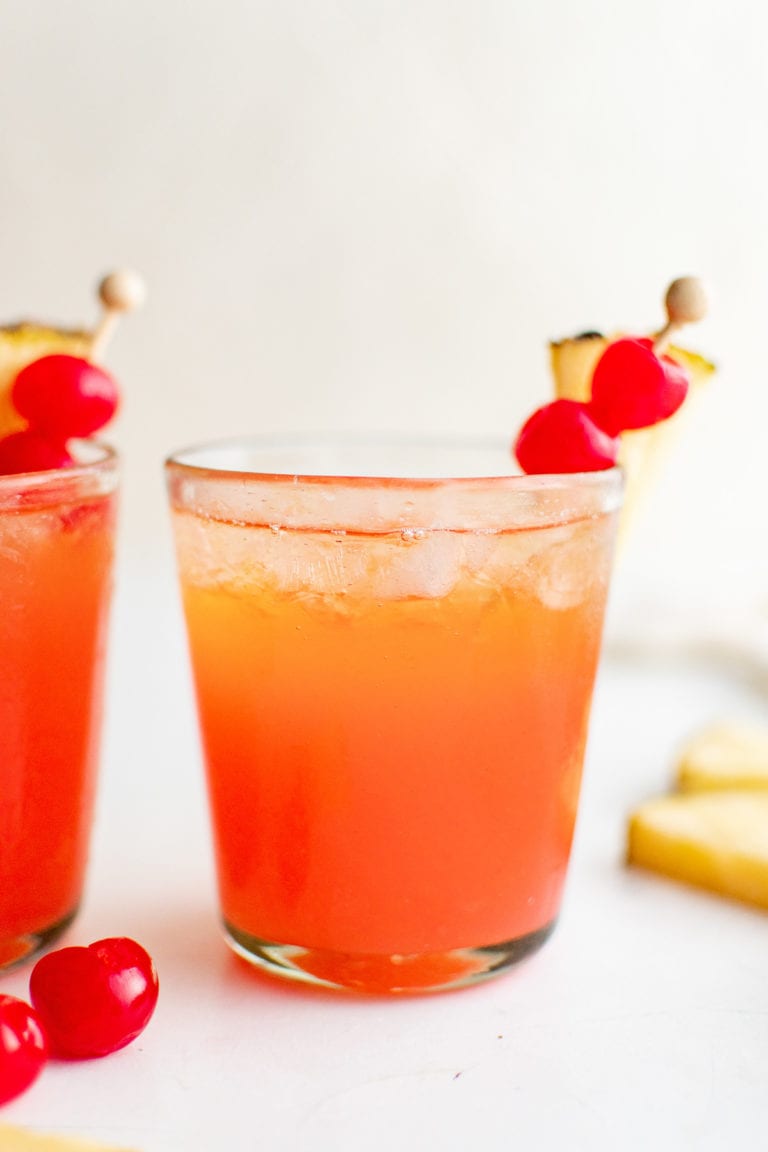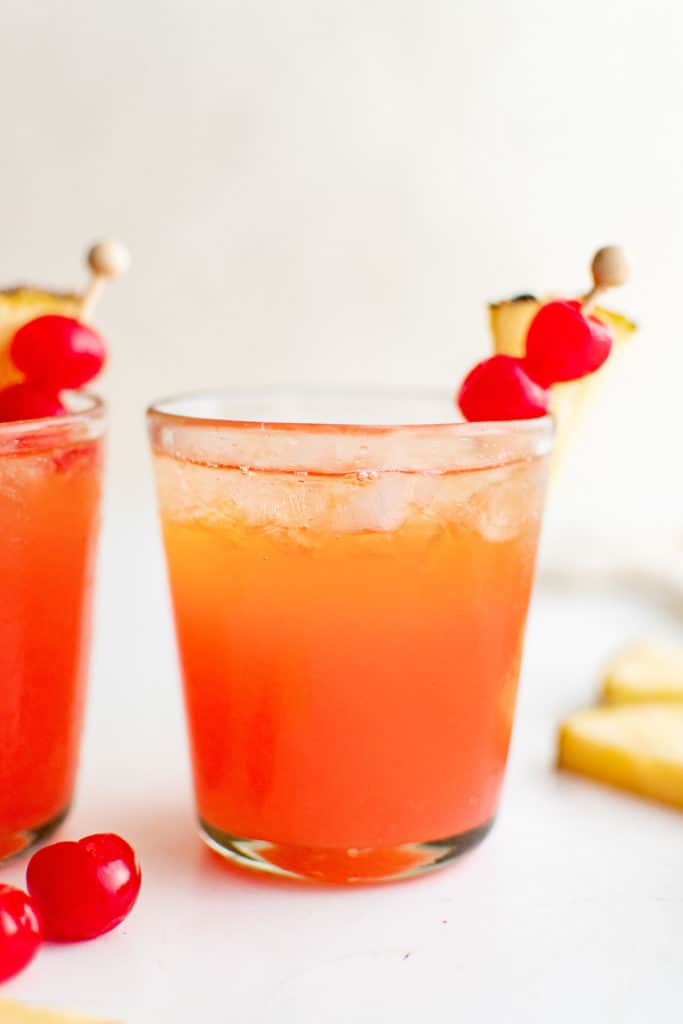 What is orgeat syrup and where can I buy it?
Orgeat syrup is a bottled, non-alcoholic syrup made from almonds, sugar, and flower water (usually rose water or orange water). The syrup has a sweet flavor and is used primarily for tropical drinks such as a Mai Tai. Look for orgeat syrup at your favorite liquor store or online. It should be in the area of the store next to the mixers, grenadine, and simple syrup.
What can I use in place of orgeat syrup?
Swap our the orgeat syrup with amaretto liqueur or almond syrup. If you opt for the amaretto liqueur, you'll lose the floral essence but retain some the sweetness and almond flavor. The almond syrup will also lack floral flavor, but they're normally sweet and less expensive than liqueurs.
Another option is to make homemade orgeat syrup so you can control the amounts of the ingredients.
Can you use orange juice in this cocktail?
Our easy mai tai recipe omits the orange juice in favor of pineapple juice and grenadine. However, it's a simple switch if you'd rather have orange juice. Either add an ounce of orange juice in addition to the pineapple juice or use the orange juice in place of the pineapple juice.
What are the ingredients for the original Mai Tai?
The original Mai Tai recipe doesn't contain many of the fruit juices, grenadine, or simple syrups typically found in tiki drinks. All of those ingredients add sweetness, flavor, and color to tropical cocktails. The original version is not the sweet drink many are accustomed to enjoying at their favorite resort.
The original contains the following ingredients:
Golden or Amber Rum (aged rum): this rum doesn't contain any spices or flavorings.
Lime Juice: freshly squeezed (yes, technically a fruit juice but just enough to add tartness).
Orgeat Syrup: adds a slight almond flavor and a touch of sweetness.
Orange liqueur: use either curaçao, Grand Marnier, or Cointreau to add orange flavor to the cocktail.
Dark Rum: used to float over the top of the cocktail just prior to serving.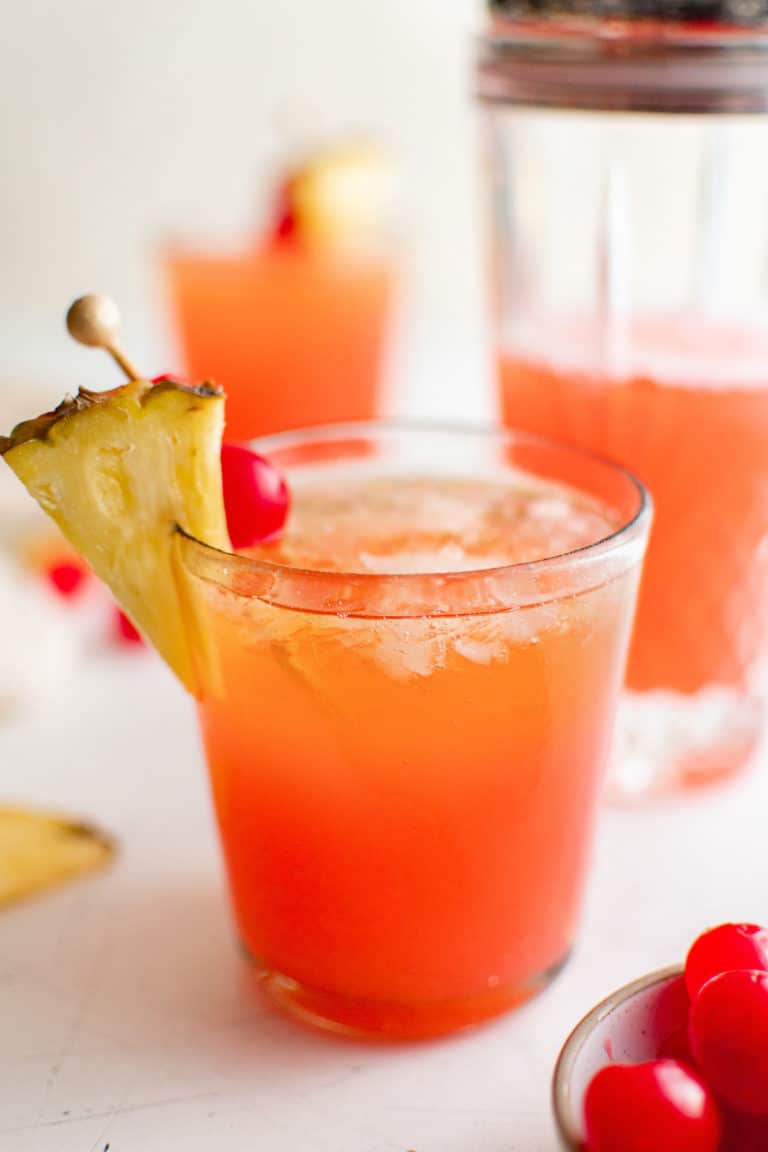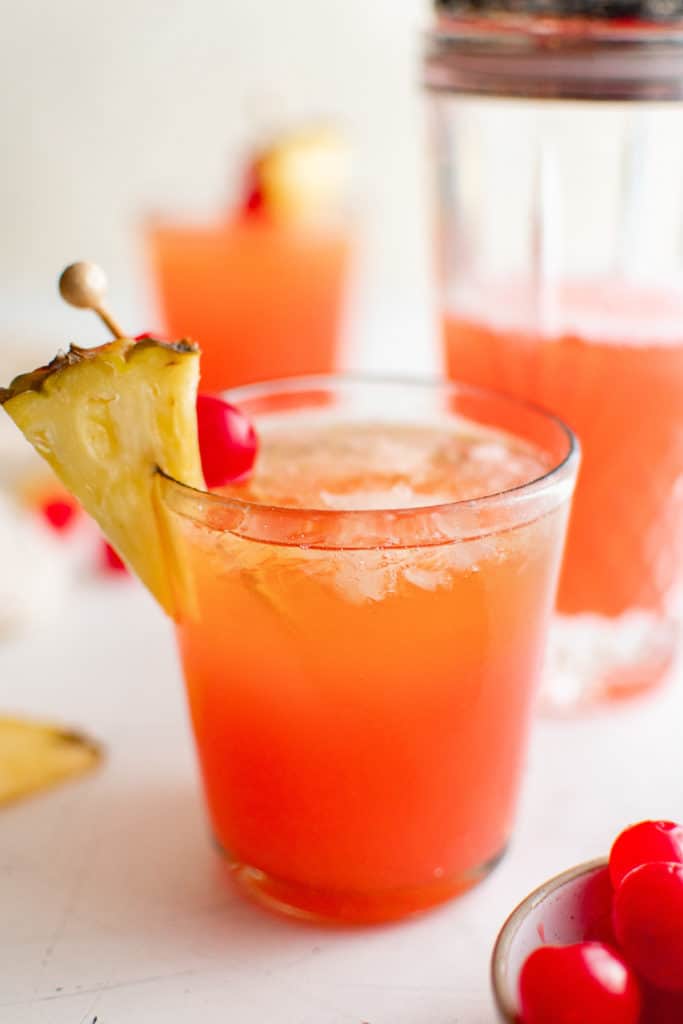 Storage:
Storage: This recipe is best to be made and enjoyed immediately. We don't recommend storing.
Recipe Card with Ingredient Amounts and Instructions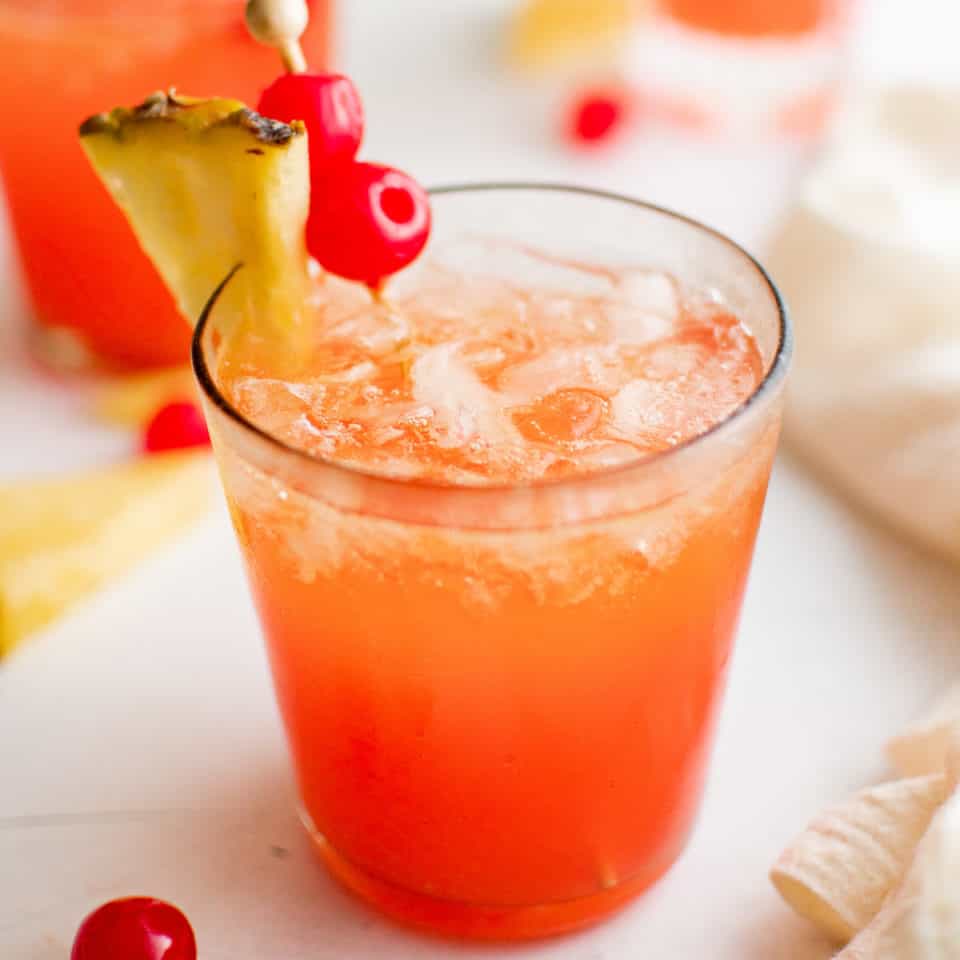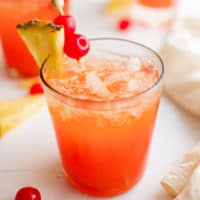 Ingredients
2

ounces

white rum

1

ounce

pineapple juice

,

optional

1

ounce

orgeat syrup

½

ounce

grenadine

,

optional

½

ounce

freshly squeezed lime juice

½

ounce

triple sec

,

or orange curacao

1

ounce

dark rum
Instructions
Add ice to a cocktail shaker. Then, pour in all the ingredients except the dark rum.

2 ounces white rum

1 ounce pineapple juice

1 ounce orgeat syrup

½ ounce grenadine

½ ounce freshly squeezed lime juice

½ ounce triple sec

Shake vigorously to combine the ingredients.

Add some crushed ice to a glass, and strain in the cocktail. Float the dark rum on top.

Garnish with small, thinly sliced pineapple, lime slices and maraschino cherries.
Notes
*The calories listed are an approximation based on the ingredients in the recipe card and a serving size of 1 (8 ounce) cocktail. Actual calories will vary.
*For more information, tips, and answers to frequently asked questions, please refer to the post.
*Photos courtesy of Karla Rae Photography.
Nutrition
Serving:
1
drink
|
Calories:
373
kcal
|
Carbohydrates:
40
g
|
Protein:
0.2
g
|
Fat:
0.1
g
|
Saturated Fat:
0.02
g
|
Polyunsaturated Fat:
0.02
g
|
Sodium:
23
mg
|
Potassium:
81
mg
|
Fiber:
0.1
g
|
Sugar:
35
g
|
Vitamin A:
9
IU
|
Vitamin C:
7
mg
|
Calcium:
10
mg
|
Iron:
1
mg
Don't Lose This Recipe!
Save it on Pinterest! Follow us at @berlyskitchen!