This Grenadine Syrup is so much better than the store-bought stuff! It's a simple, 3-ingredient recipe with vibrant pomegranate flavor and the perfect amount of sweetness. Add it to cocktails, mocktails, sparkling water, lemonade, you name it!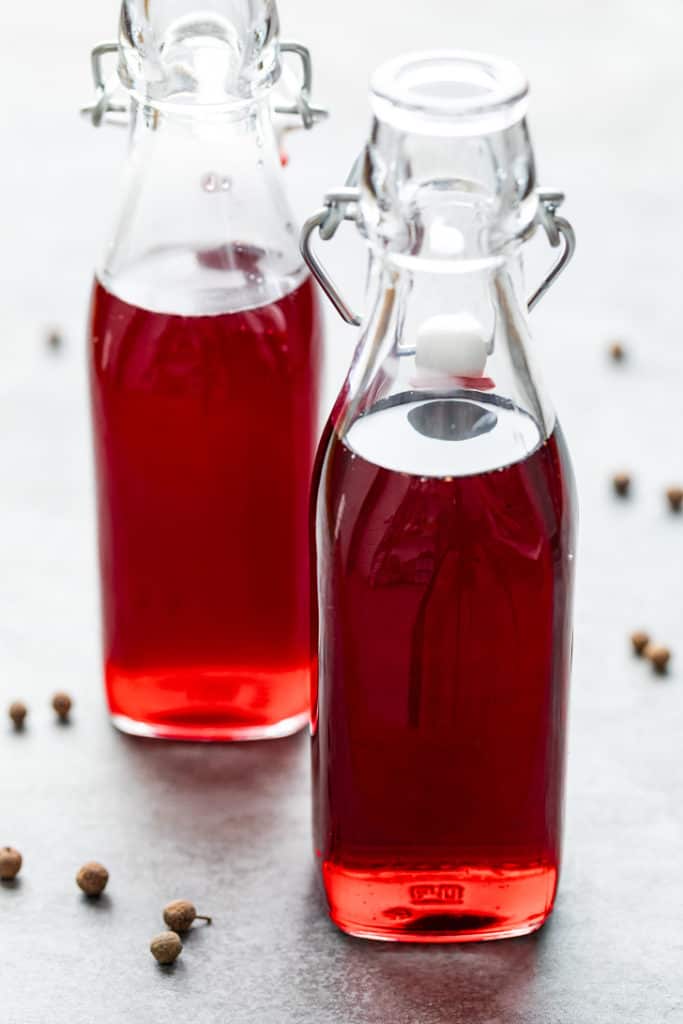 Easy Grenadine Cocktail Syrup
We've all heard of grenadine syrup...you know, the classic flavoring for a Shirley Temple or Dirty Shirley, among other cocktails and mocktails! You may have bought some in a bottle at the store, but did you know that it's super easy to make your own grenadine syrup right at home?
Now, before we get into it, let's clear up one common misconception. Grenadine is not cherry! The word grenadine actually comes from the French word "grenade", which means pomegranate. So grenadine syrup actually has a delicious pomegranate flavor!
This homemade grenadine syrup recipe features real pomegranate juice, sugar, and allspice berries. It's the perfect balance of sweet and fruity with a little bit of warmth.
Since this delicious syrup is made right at home, you don't need to worry about artificial flavors or artificial colors. Plus, the flavor really is just so much better than store-bought grenadine!
What is Grenadine Syrup Made Of?
Granulated Sugar: For the perfect amount of sweetness.
Fresh Pomegranate Juice: I recommend a high-quality pomegranate juice for the best flavor.
Allspice Berries: Be sure to lightly crush the allspice berries before adding them to the syrup. This helps release all that flavor!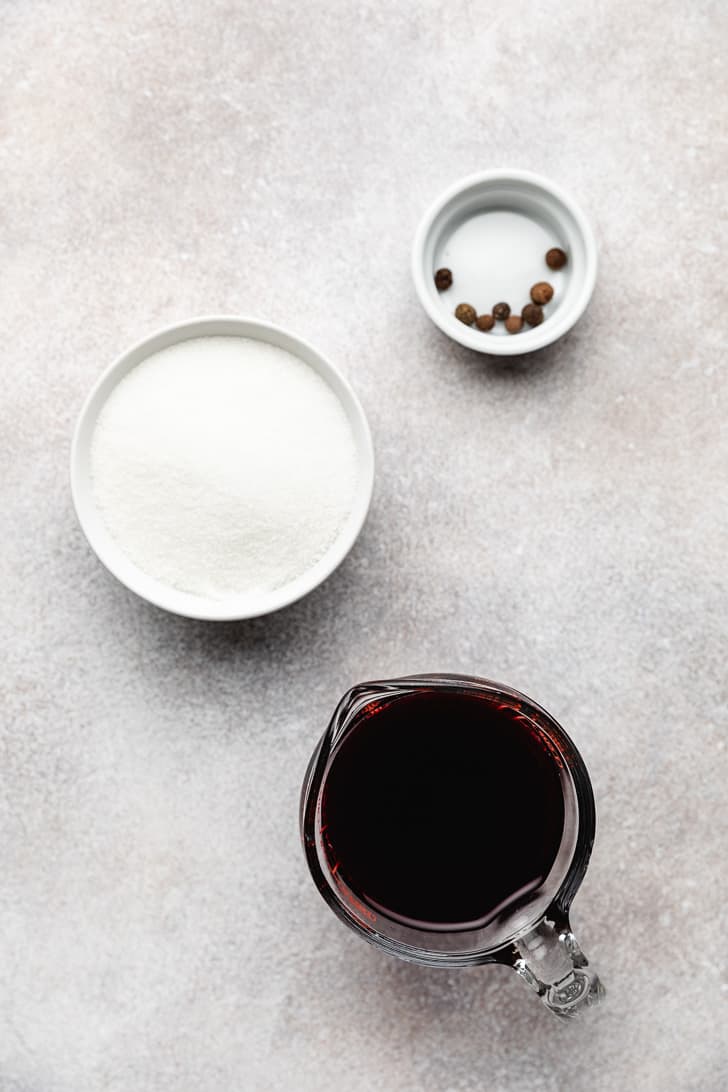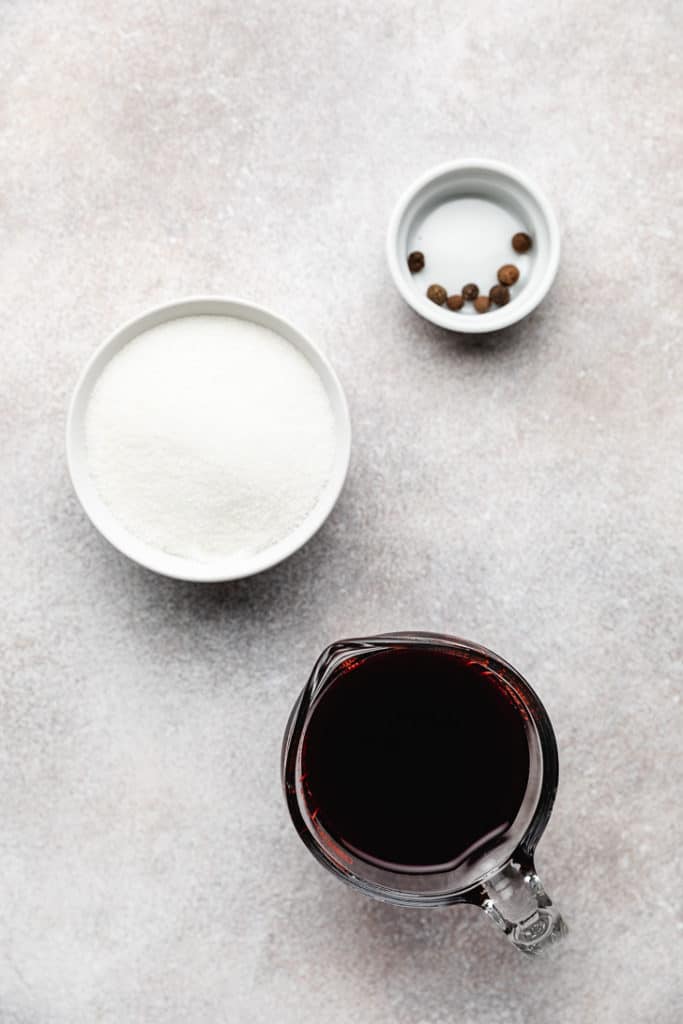 How to Make Grenadine Syrup
This homemade grenadine recipe is so delicious and takes next to no time to whip up!
Here's a quick summary of the recipe. The full instructions and ingredient amounts are in the recipe card further down the page.
In a small saucepan, heat sugar, pomegranate juice, and allspice over medium heat. Whisk and heat until the sugar is dissolved. Remove from the heat and cool completely.
Pour the mixture through a strainer into an airtight container, then serve as desired or store in the fridge.
Variations
I love a classic grenadine syrup, but here are a couple of ways you can change this syrup to suit your tastes!
Lemon
Lemon tastes sweet and slightly tart, but lemon juice cuts through the sweetness in the best way! This is a great option for spring and summer cocktails with lighter flavors.
1 cup sugar.
1 cup pomegranate juice.
1-2 teaspoons lemon juice (added after the syrup cools).
Orange Flower Water + Pomegranate Molasses
This variation tastes sweet, a little tart, and deliciously vibrant. It's probably the closest to the bottled stuff, but without the synthetic flavor. It works great as a year-round grenadine for cocktails or mocktails!
1 cup sugar.
1 cup pomegranate juice.
1 tablespoon pomegranate molasses* (added after the syrup cools).
½-1 teaspoon orange blossom water (added after the syrup cools).
*Pomegranate molasses/pomegranate syrup is juice that's been cooked down into a thick, molasses-like liquid. It's slightly sweet but more tart and tangy! It can be purchased online, at some health food stores, and some specialty food stores.
Tips and Notes
Don't let the mixture boil. You want to heat it enough that the sugar dissolves, but not so much that it boils. Boiling can burn the syrup or break down the flavor.
Use unsweetened pomegranate juice. Make sure you're using pure pomegranate juice; not anything with added sweeteners. Real ingredients are best.
Scale the recipe as needed. This recipe can be used to make about 28 drinks (with 1 tablespoon of syrup per drink). If you need more or less, feel free to adjust the amounts as you like!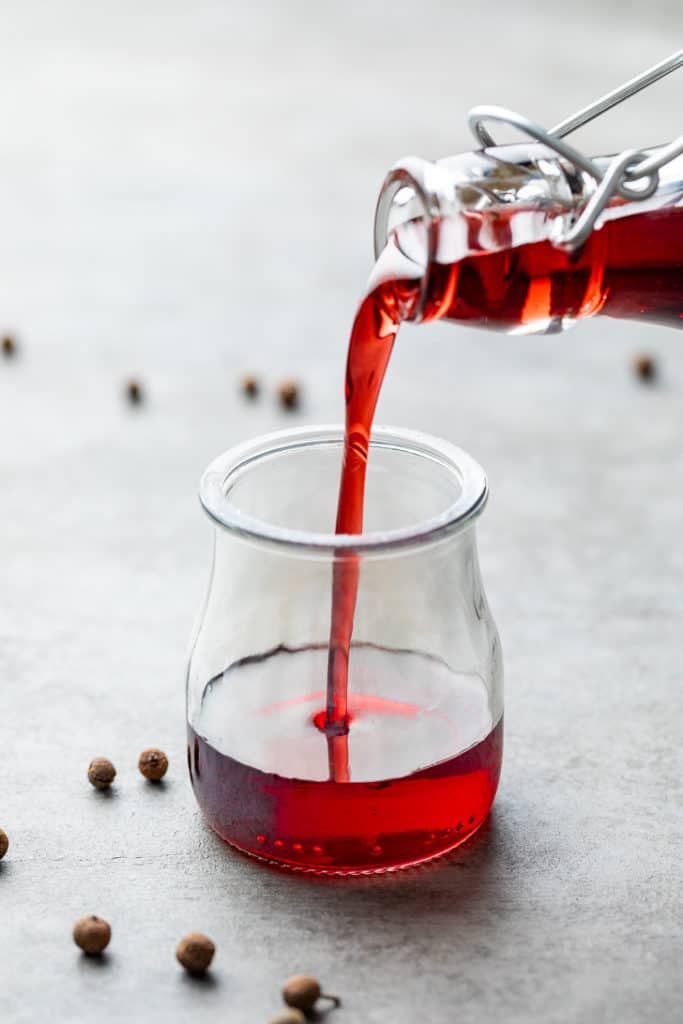 Serving Suggestions
Turns out, there are tons of ways you can enjoy this homemade grenadine syrup: drink recipes, desserts, breakfast, you name it. Here are a few ideas:
Storage
Refrigerator: Homemade grenadine syrup can be stored in an airtight container or sealed jar in the fridge for up to 1 month.
Freezer: I don't recommend freezing this syrup. The freshness doesn't hold up well when thawed.
What is the Purpose of Grenadine?
The purpose of grenadine is both to sweeten and add delicious fruity flavor.
It can be used in cocktails, mocktails, lemonade, iced tea, or as a drizzle for ice cream, pancakes, you name it!
What Percent Alcohol is Grenadine Syrup?
Zero! Grenadine syrup is used to sweeten and flavor alcoholic beverages, but doesn't actually contain any alcohol itself.
That's great news if you're just looking for a sweet and fruity, pomegranate-flavored mocktail!
More Simple Syrup Recipes to Try
Recipe Card with Ingredient Amounts and Instructions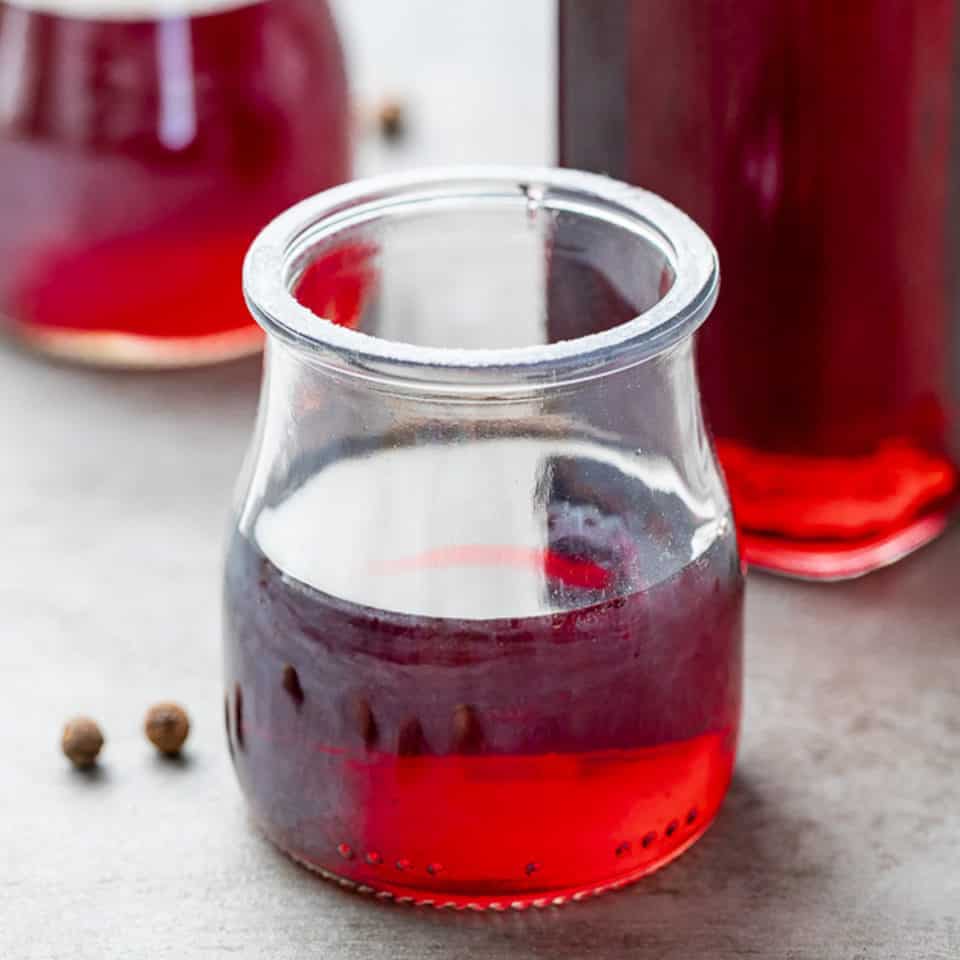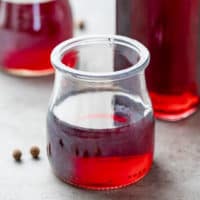 Ingredients
1

cup

granulated sugar

1

cup

unsweetened 100% pomegranate juice

8

allspice berries

,

lightly crushed
Instructions
Heat the sugar, pomegranate juice, and allspice in a small saucepan over medium heat. Whisk often until the sugar dissolves completely, about 5 minutes. Don't let the mixture come to a boil.

1 cup granulated sugar

1 cup unsweetened 100% pomegranate juice

8 allspice berries

Remove from heat and allow to cool, about 30 minutes.

Pour through a strainer into an airtight container.

Scroll up and see the post for tips, FAQs, and storage recommendations.
Notes
*The calories listed are an approximation based on the ingredients in the recipe card and a serving size of 1 tablespoon. Actual calories will vary.
*For more information, tips, and answers to frequently asked questions, please refer to the post.
Nutrition
Serving:
1
tablespoon
|
Calories:
32
kcal
|
Carbohydrates:
8
g
|
Protein:
0.01
g
|
Fat:
0.1
g
|
Saturated Fat:
0.01
g
|
Polyunsaturated Fat:
0.005
g
|
Monounsaturated Fat:
0.01
g
|
Sodium:
1
mg
|
Potassium:
19
mg
|
Fiber:
0.02
g
|
Sugar:
8
g
|
Vitamin A:
0.2
IU
|
Vitamin C:
0.02
mg
|
Calcium:
1
mg
|
Iron:
0.01
mg
Don't Lose This Recipe!
Save it on Pinterest! Follow us at @berlyskitchen!