Tequila and grapefruit juice take center stage in our paloma cocktail recipe. Learn how to make this classic drink in only two simple steps!
Let's face it, Kim and I love our grown-up drink recipes. We've been making homemade cocktails together for over 16 years.
In fact, we have over 20 different cocktail recipes on our site. One of my personal favorites is our simple margarita recipe and Kim loves our raspberry martini.
But, let's focus on today's tequila grapefruit drink recipe. If you're wondering what's in a paloma cocktail?
Now, you already know two of the ingredients, but you may not know the rest. Well, we also used club soda, simple syrup, and fresh squeezed lime juice.
When just the right amount of those ingredients are combined with grapefruit juice and tequila you get a crisp, refreshing homemade paloma drink!
Similar our lemonade tequila drink or henny colada; it's perfect for warm days. So, now that you know what's in a paloma, shall we start tending bar?
How to make a Paloma cocktail recipe?
First off, if you want your drink to look like ours, then slice up half a lime. Take one of those circles and use to it to coat the rim of your glass in lime juice.
After that, carefully dip the rim of the glass into coarse salt. Fill the glass half-full with ice.
Okay, once the glass is filled with ice, pour in the grapefruit juice. Next, add the simple syrup and lime juice.
Go ahead and stir all three of the ingredients together to combine them.
Afterward, pour in the tequila and club soda. Now, at this point, you have two options, leave it as is or stir.
I will leave that up to you. Personally, I would stir the tequila and grapefruit soda, but that's just a personal preference.
Last, garnish the cocktail with a lime slice or lime wedge. That's it, your paloma cocktail recipe is done!
Oh, on a side note, you should know that homemade grapefruit soda consists of grapefruit juice, club soda, and simple syrup.
Now you know how to make grapefruit soda anytime you want! Try making some of it or our raspberry Italian soda on those hot, Summer days.
What's the difference between coarse salt and table salt?
There are a quite a few differences between the two products. But for the sake of time, I'll only explain the difference in regards to the recipe.
So, you need to use coarse salt for your mixed drinks because table salt is too fine and will melt on the rim of the glass.
Who invented the Paloma cocktail?
According to an article titled In Praise of La Paloma, Mexico's Preferred Tequila Drink a bartender by the name of Evan Harrison was the first one to publish the recipe in a pamphlet called, "Popular Cocktails of the Rio Grande."
Other cocktail recipes you may love:
Don't forget to follow us on FACEBOOK and PINTEREST to see our newest recipes! You can also find us on Facebook, Pinterest, Twitter, and Instagram searching for Berly's Kitchen!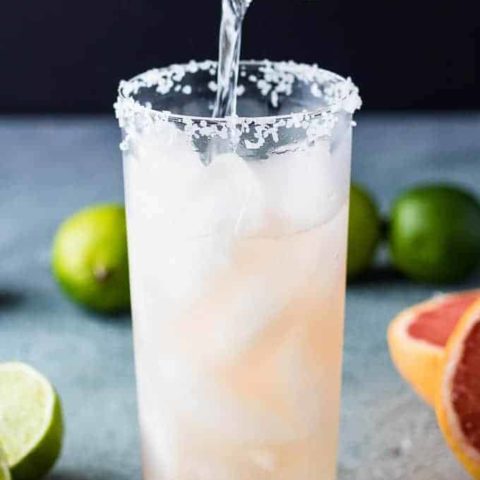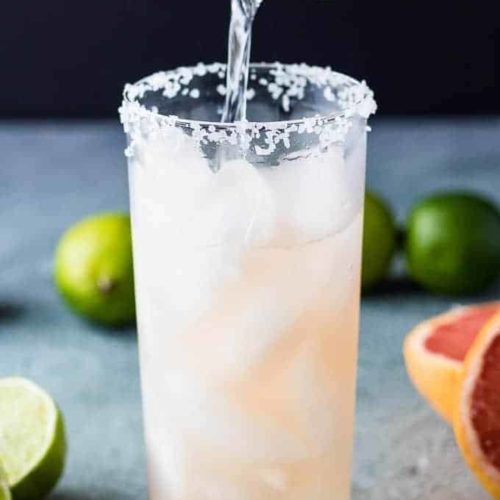 Paloma Cocktail Recipe
Tequila and grapefruit juice take center stage in our paloma cocktail recipe. Learn how to make this classic drink in only two simple steps!
Ingredients
2 Ounces Grapefruit Juice, (fresh squeezed)
1 Ounce Lime Juice, (fresh squeezed)
2 Ounces Club Soda
2 Ounces Tequila
Instructions
Squeeze a lime wedge around the rim of a cocktail or highball glass, then dip the glass in coarse salt. Fill the glass with ice.
Pour in the grapefruit juice, simple syrup, and lime juice. Stir to combine. Top off with club soda and tequila. Stir again. Garnish with a lime slice. Serve cold
Notes
The calories listed are an approximation based on the ingredients and a serving size of about 8 ounces of the tequila grapefruit drink. Actual calories will vary.
**You can substitute 6 ounces of grapefruit soda for the grapefruit juice, simple syrup, and club soda.
**The lime slice and coarse salt are optional garnishes and not included in the calorie count.
**To sweeten the beverage, consider adding more simple syrup.
Recommended Products
As an Amazon Associate and member of other affiliate programs, I earn from qualifying purchases.
Nutrition Information:
Yield:

1
Serving Size:

8 Ounces
Amount Per Serving:
Calories:

317
Total Fat:

1g
Unsaturated Fat:

0g
Sodium:

47mg
Carbohydrates:

50g
Sugar:

48g
Protein:

1g