Strawberry Paloma is a twist on the traditional paloma. It's full of fresh strawberries, honey, ginger beer, grapefruit soda, and tequila.
We love fruit flavored cocktails of all kinds. A well-made paloma recipe is amazing, but we also enjoy a good strawberry mimosa, blueberry mojito, salty dog, and raspberry martini.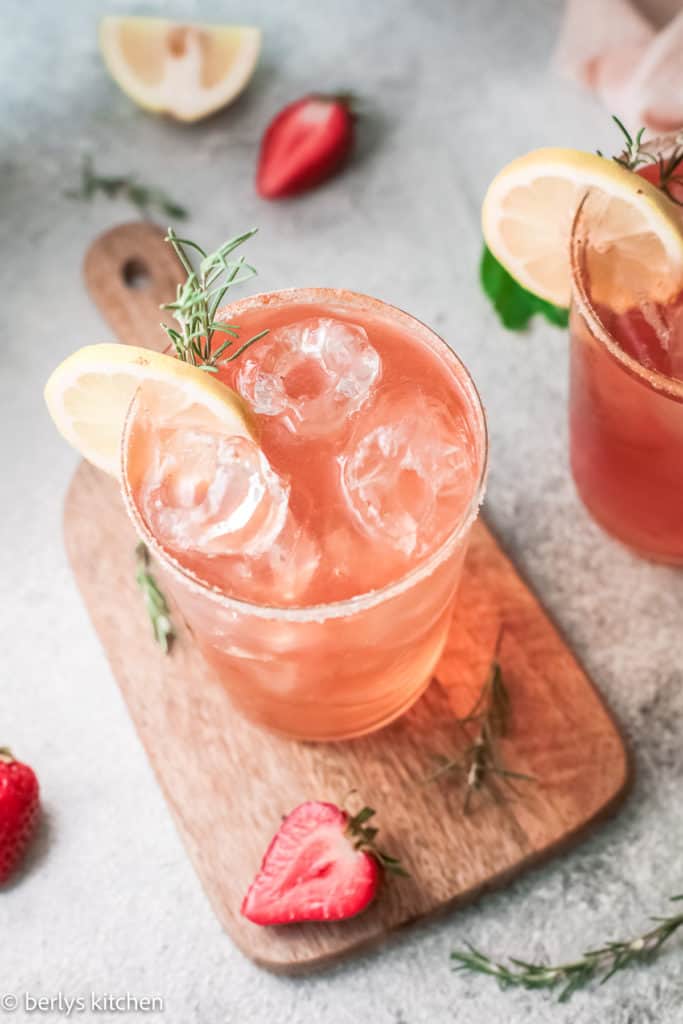 Strawberry Paloma Recipe:
Summer is the perfect time of year for ice cold drinks. Whether it's a boozy drink or one without alcohol, nothing beats a chilled drink on a hot day. I'm a fan of a good cocktail every now and then, but I like to change things up.
Our strawberry paloma recipe is a fun twist on the classic paloma. It's chock full of fresh strawberry flavor with plenty of sweetness from honey and two kinds of soda. Add your favorite brand of tequila, and you're in business! The ingredients are easy to adjust, so you can make it exactly the way you like it.
Strawberry Paloma Ingredients:
Fresh Strawberries: Fresh is the way to go here! Seasonal, sweet strawberries give this cocktail the best flavor.
Honey: We love this cocktail with honey, especially local flavored honey like wildflower.
Ginger Beer: Slightly spicy due to ginger but also slightly sweet and a little carbonated, too. It's perfect for this cocktail.
Grapefruit Soda: Grapefruit flavor but with the sweetness of soda.
Tequila: Gold or silver tequila makes a smooth addition to this cocktail. Your choice!
Ice: Have plenty of ice handy, because you'll want to serve this paloma cold.
How to Make a Strawberry Paloma:
Place strawberries in a cocktail shaker and muddle until they are broken down into a pulp.
Add honey, ginger beer, grapefruit soda, and tequila.
Swirl gently to mix.
Strain into glasses over ice.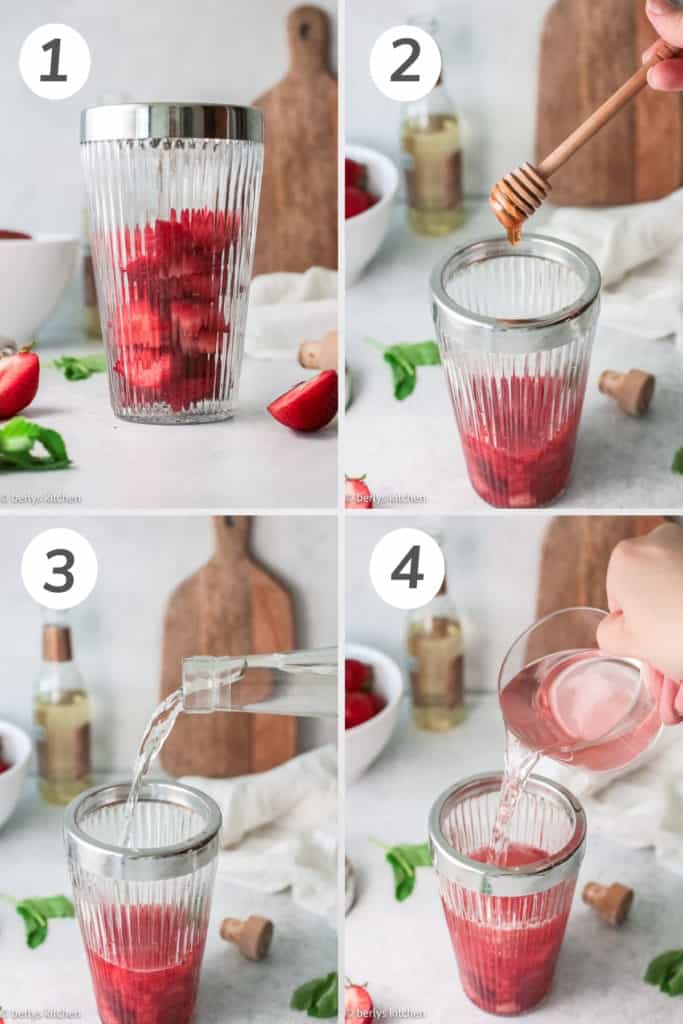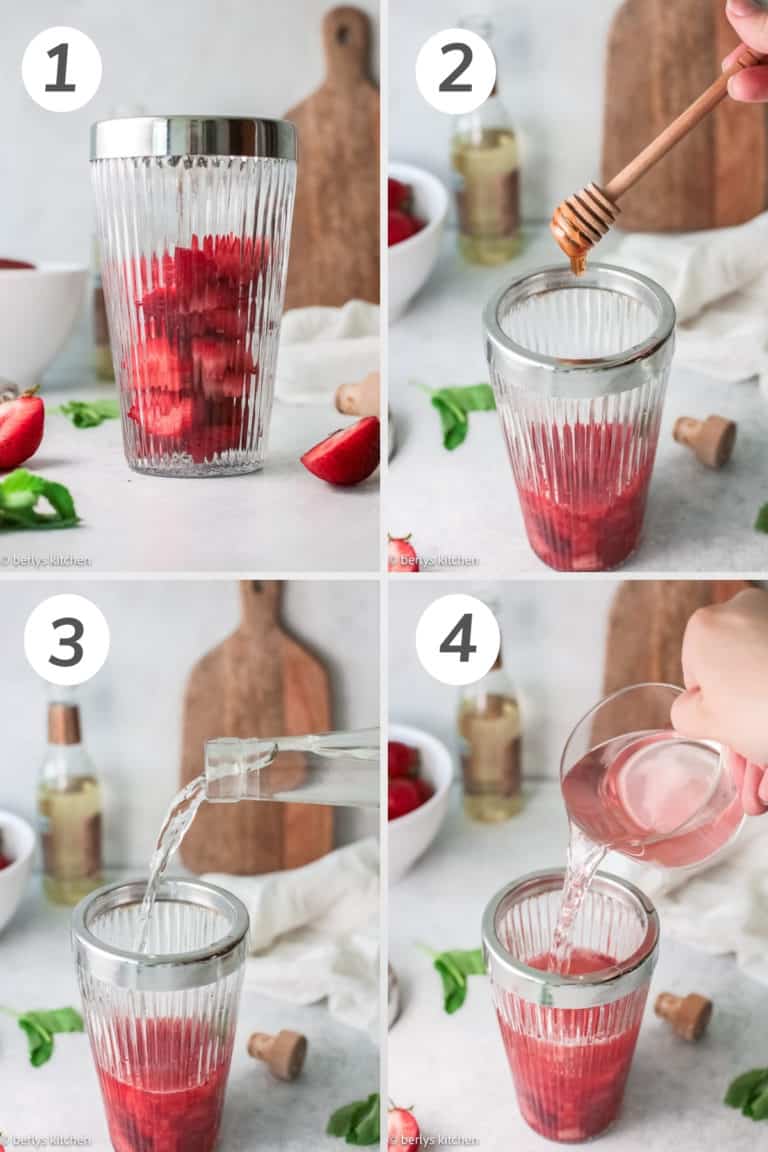 Paloma Variations and Tips:
Strawberries: Taste the strawberries before getting started, so you know how sweet they are. Then adjust the honey accordingly. Use the strawberries sliced, diced, or whole. Whatever works for you!
Sweetener: Honey is a great option in this drink, but granulated sugar, coconut sugar, agave nectar or even stevia would work. If using sugar, add it with the strawberries and muddle the two together to help break down the fruit.
Ginger Beer: Ok, so my son describes ginger beer as "spicy." It's not spicy like a habanero "spicy," but it does have a bit of a bite from the fresh ginger. Many ginger beers are non-alcoholic, so you won't be adding any extra booze to the paloma by using ginger beer. It will be a nice flavor and some carbonation. If you're concerned about the potential spiciness, use a good quality ginger ale instead.
Grapefruit Soda: This can be swapped out with fresh grapefruit juice. It will be more tart than soda, so adjust the honey accordingly.
Tequila: Use whatever kind of tequila you prefer, either silver or gold will work.
Swirl Don't Shake: After you've placed all the ingredients in the drink shaker, gently swirl it to mix the ingredients. If it's shaken, the soda will fizz up and make a huge mess.
Garnish: Use fresh strawberries, mint, rosemary, lemon, lime, a honey rim dipped in salt or decorating sugar.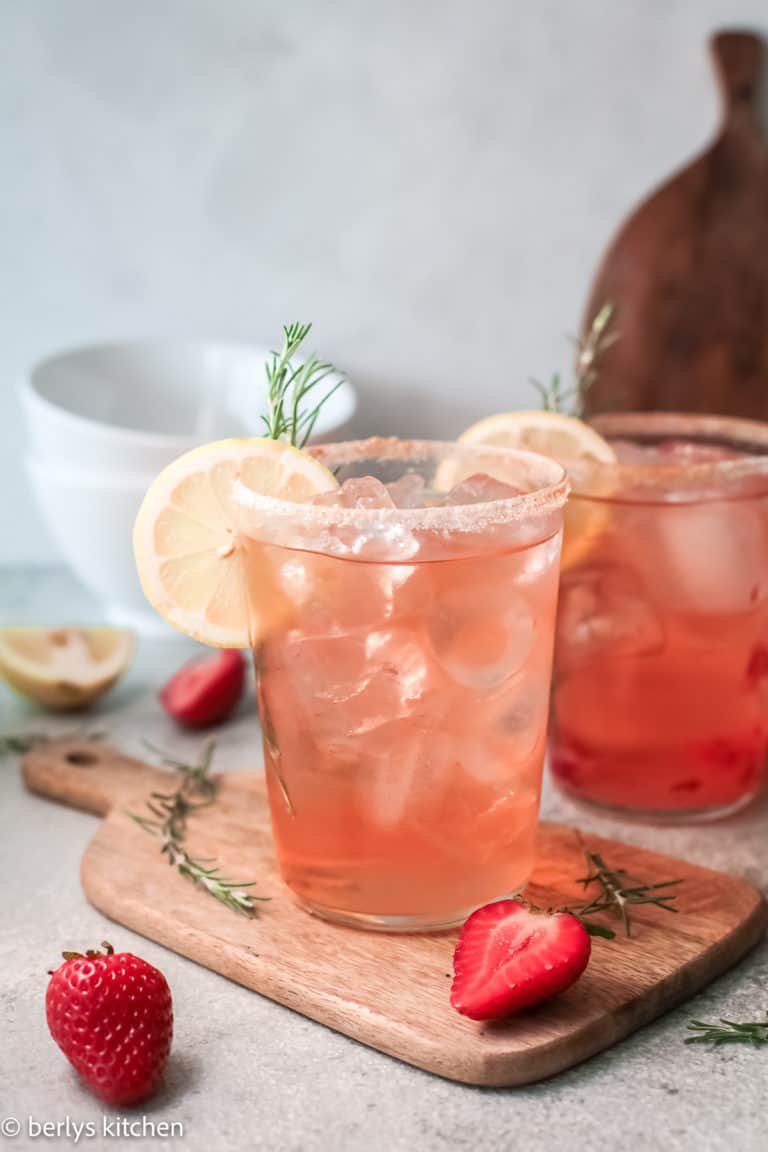 Storage Recommendations:
Room Temperature: We don't recommend leaving this strawberry paloma at room temperature for too long; otherwise, the ice will melt and water down the drink.
Refrigerator: If you need to pop the strawberry paloma in the fridge for couple of minutes to keep it cold, that should be fine. We don't recommend keeping it in the refrigerator very long, since it should be enjoyed immediately.
Freezer: We don't recommend freezing the paloma.
Yield: Approximately 4 Cups
Strawberry Paloma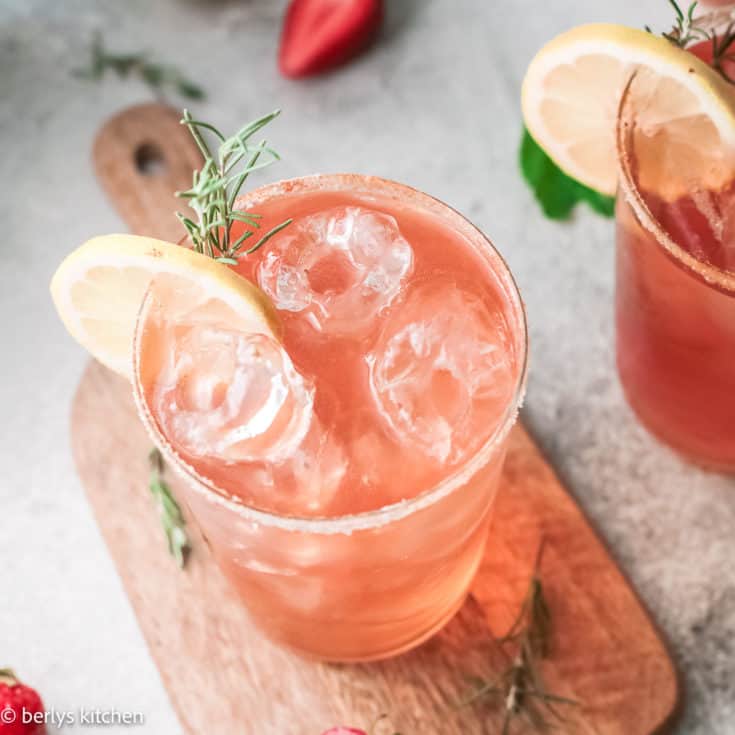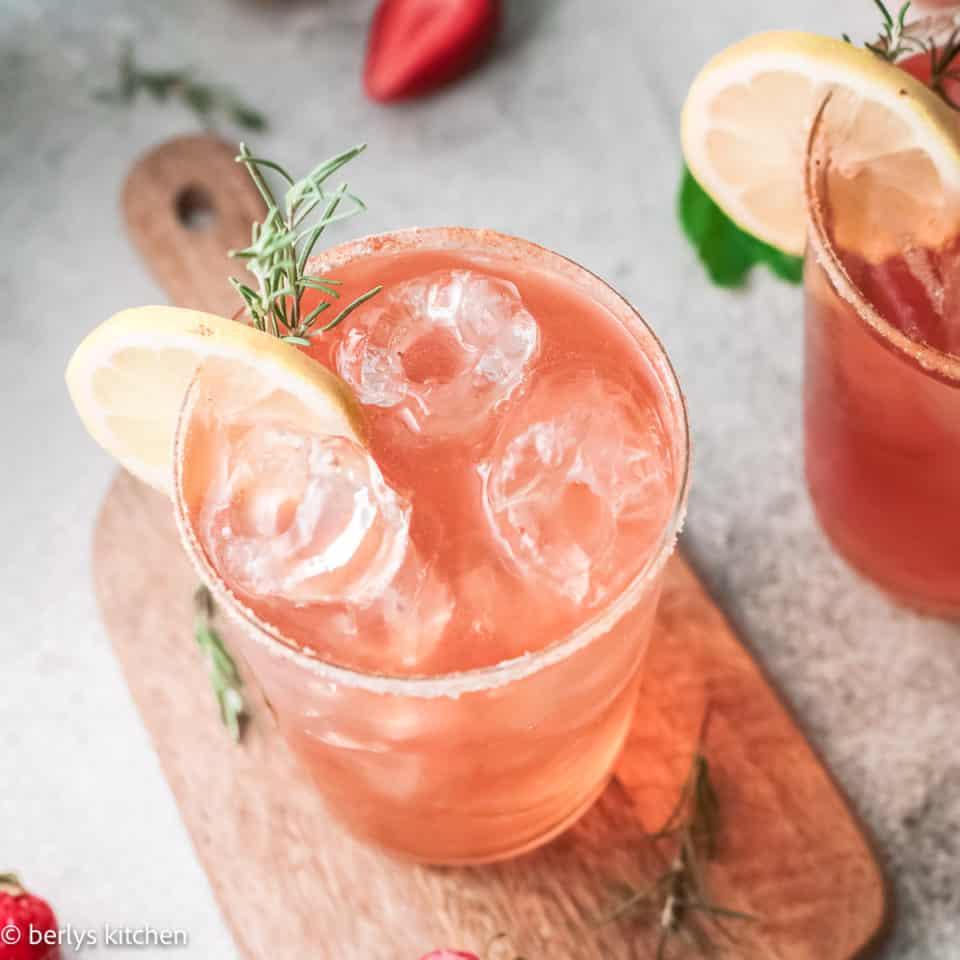 Strawberry Paloma is a twist on the traditional paloma. It's full of fresh strawberries, honey, ginger beer, grapefruit soda, and tequila.
Ingredients
1 ½ Cups Fresh Strawberries
¼ Cup Honey, adjust to taste *See Note
1 ½ Cup Grapefruit Juice or Soda
1 Cup Ginger Beer or Ginger-flavored Soda, plus extra to top off drinks
½ Cup Tequila
2 Cups ice
Instructions
Place strawberries into a drink shaker and muddle to a pulp.
Add honey, grapefruit soda, tequila, and ginger beer.
Gently swirl to combine, and strain into glasses over ice.
Garnish if desired. Serve chilled.
Notes
*The calories listed are an approximation based on the ingredients in the recipe card and a serving size of approximately 1 (8-ounce) glass. Actual calories will vary.
*For more information, tips, and answers to frequently asked questions, please refer to the post.
*Adjust the amount of honey depending on the ingredients used. More honey is needed for ingredients like fresh grapefruit juice and ginger beer. Less honey is needed for ginger ale and grapefruit soda.
*Recipe and photos courtesy of Ana Fernandez.
Recommended Products
As an Amazon Associate and member of other affiliate programs, I earn from qualifying purchases.
Nutrition Information:
Yield:
4
Serving Size:
8 ounces
Amount Per Serving:
Calories:

345
Total Fat:

1g
Saturated Fat:

0g
Trans Fat:

0g
Unsaturated Fat:

0g
Cholesterol:

0mg
Sodium:

15mg
Carbohydrates:

76g
Fiber:

1g
Sugar:

64g
Protein:

1g
*The calories are an estimate and are based on the ingredients and serving size listed. The calories can vary depending on the brand of product purchased.