This Old Fashioned Recipe makes a smooth, slightly sweet cocktail with hints of orange. It's the perfect after dinner drink.
Looking for dinner recipes to enjoy before your cocktail? Try our Instant Pot Pork Chops with Mushroom Gravy or Old Fashioned Beef Stroganoff!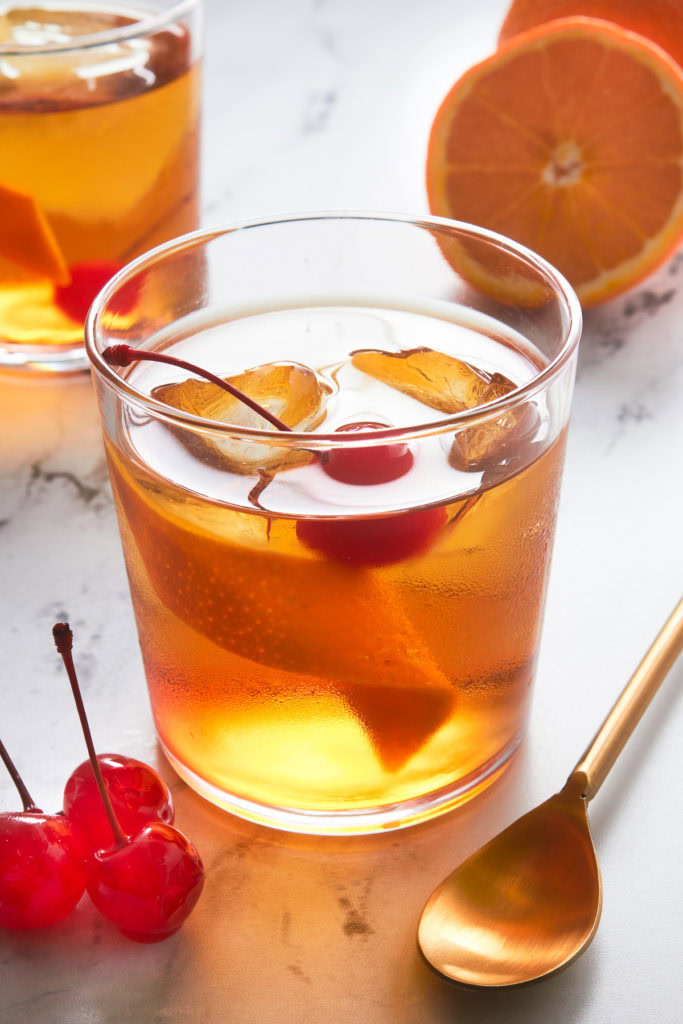 Easy Old Fashioned Cocktail
I'm sure we've all heard of the old-fashioned. It's one of the oldest cocktails in the world! However, its popularity soared in the U.S. during prohibition.
Why? Well, when alcohol was criminalized, bars and speakeasies had to find other ways to acquire alcohol. The problem was that the home distilled, pure grain alcohol did not taste good.
So, to hide the not-so-great flavor, bartenders started making old-fashioned cocktails. Distilled liquor mixed together with sugar and citrus to make the booze more drinkable.
Now, we get to use good liquor and add the other ingredients too!
What's in an Old Fashioned?
The list of old-fashioned ingredients is so minimal! Just a few things needed to become your own bartender.
Ice - Use large ice cubes. Since they're bigger, they won't melt and dilute the drink as you sip.
Angostura Bitters - Adds the perfect spicy flavor to take your cocktail up a notch.
Whiskey - Anything goes. Just grab one you like the flavor of and one you can afford!
Simple Syrup - You can easily make simple syrup by mixing together equal parts sugar and water over medium heat on the stove. Another great option for sweetener is maple syrup.
Garnishes - Old-fashioned cocktails are often finished off with an orange peel or slice and maraschino or cocktail cherries. You can also use lemon peel if preferred.
Best Bourbon for an Old Fashioned
Just use your favorite! There are so many great bourbon whiskey options for an old-fashioned cocktail, so you can't really go wrong. See the FAQs below for a list of ideas!
How to Make an Old Fashioned
Our old fashioned recipe comes together in a total of 5 minutes! Here's how:
Place a large ice cube into a serving glass, then pour in bitters, simple syrup, and whiskey. Gently stir until the glass is cold.
Squeeze and twist an orange peel over the cup to release the oil, then add it into the glass.
Garnish with a cherry and sip away.
Tips
Keep these tips in mind as you put together your old fashioned drink!
Use large ice cubes. The bigger ice cubes not only look nice, but they melt more slowly so they won't dilute the cocktail as quickly.
Stir gently. You want to combine everything and chill the drink without melting the ice cube too much.
Serve right away. Once your drink is assembled, it's best enjoyed immediately.
Use simple syrup. You can use a sugar cube, but simple syrup is already smooth since you dissolve the sugar in water to make it. Plus, you can make extra and just have it on hand for other cocktails you want to make.
Adjust to your tastes. The great thing about making cocktails is you can customize to your liking. Adjust the recipe as needed until it's just the way you like it!
Storage
No need to store! This cocktail is best enjoyed immediately.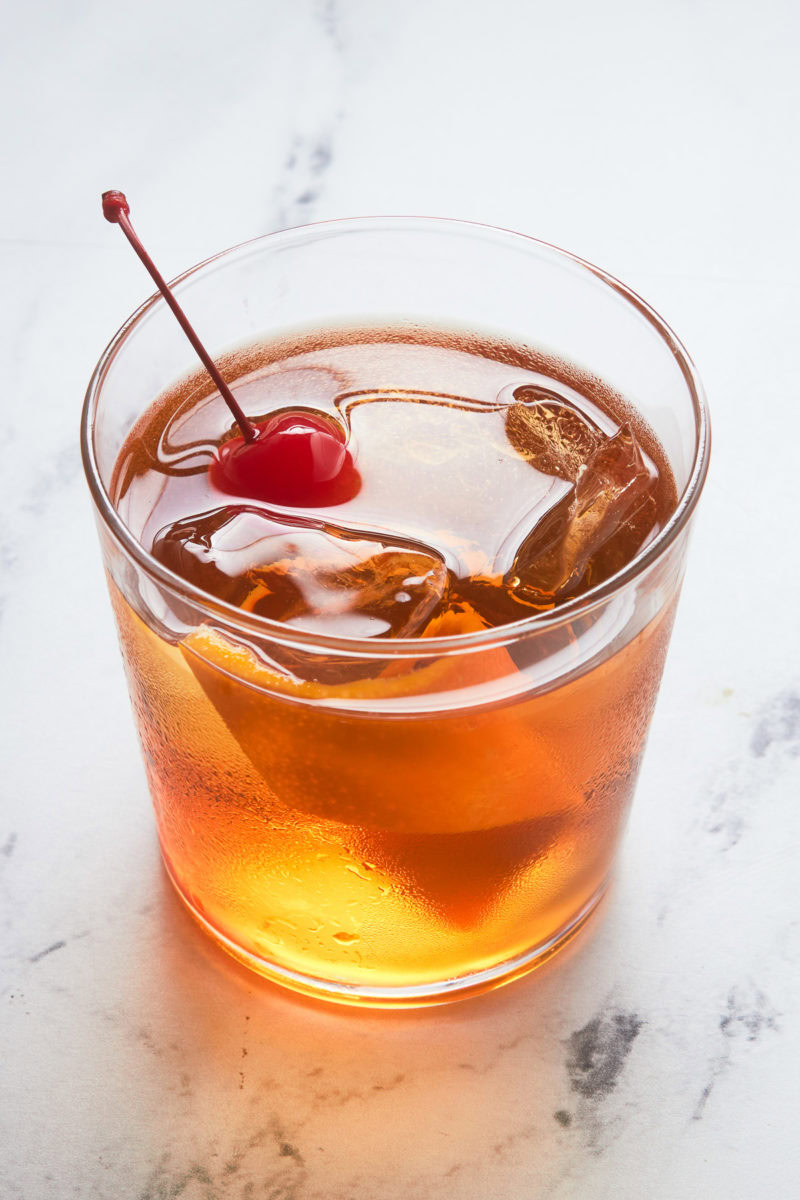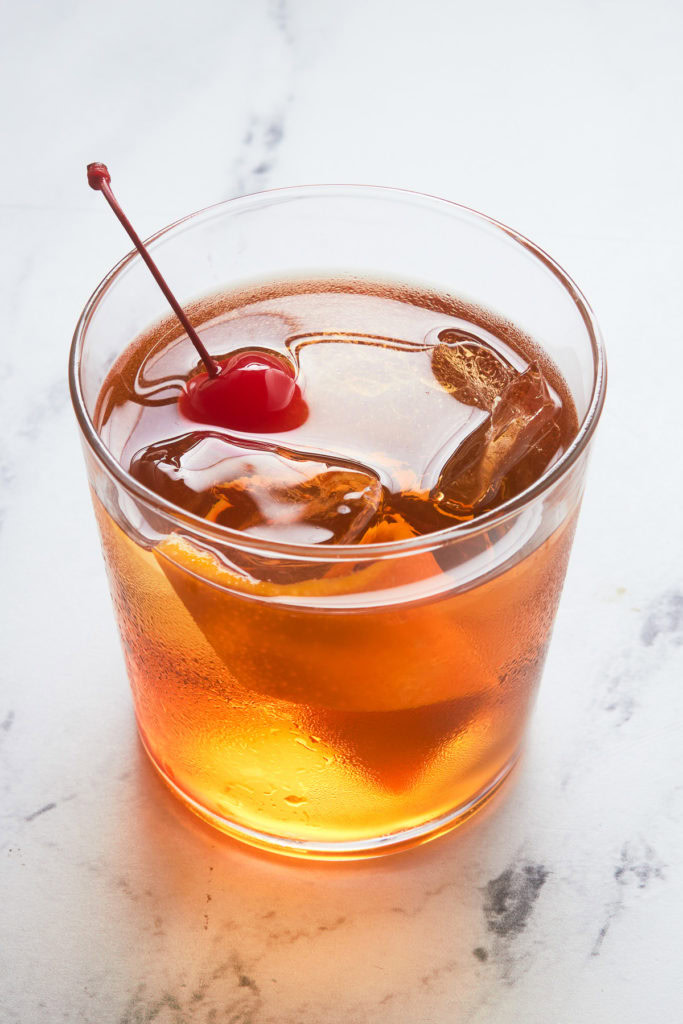 What is a Classic Old-Fashioned?
A traditional old-fashioned is made with a combination of ice, sugar, angostura bitters, whiskey, lemon or orange peels, and a cherry on top for garnish.
How Did it Get the Name Old Fashioned?
In the 1800's, you would order what is now known as the old-fashioned as an "old-fashioned style cocktail" or "in the old fashioned way". From there, it shortened to the old fashioned!
Can I Use a Sugar Cube Instead of Simple Syrup?
Absolutely. I like to use simple syrup, because the sugar is already dissolved, but if you'd rather use a sugar cube that works great too.
Simply add the sugar cube into your serving glass, top it with a splash of water or club soda, then add some bitters. Stir everything together to make sure the sugar dissolves, then finish your drink with the bourbon or whiskey and garnishes.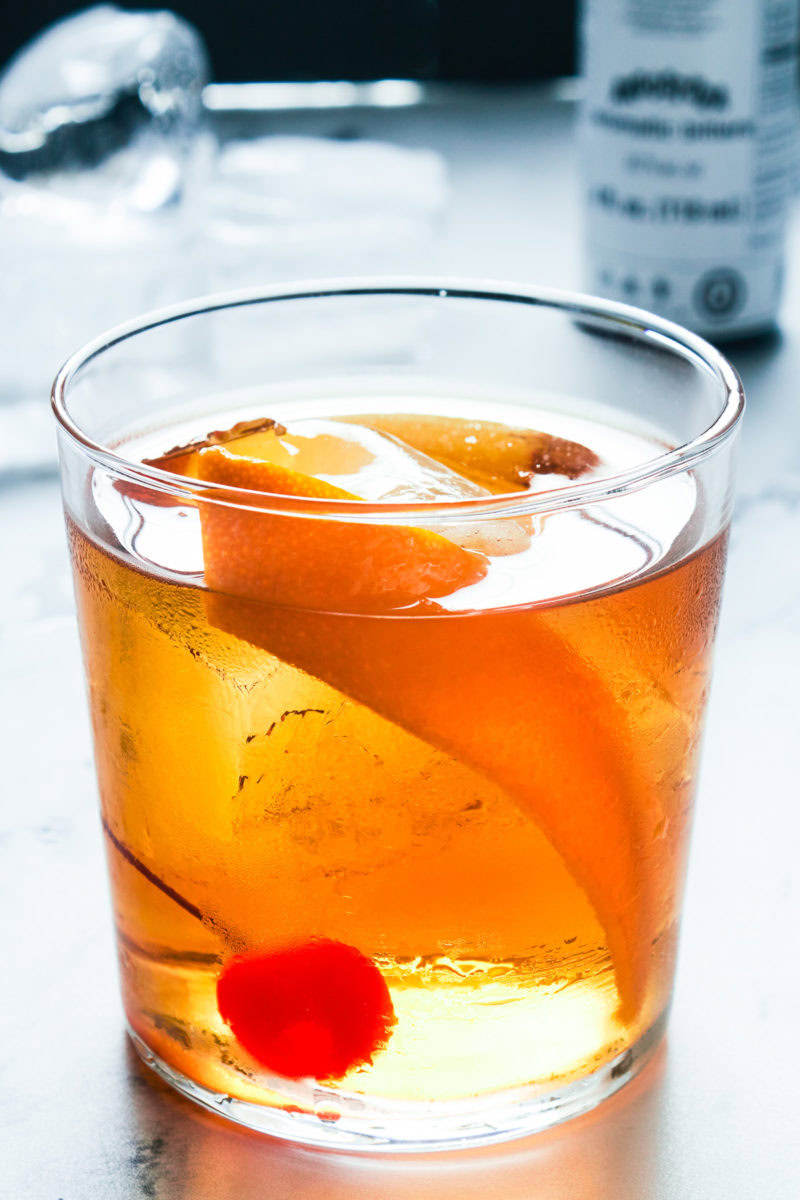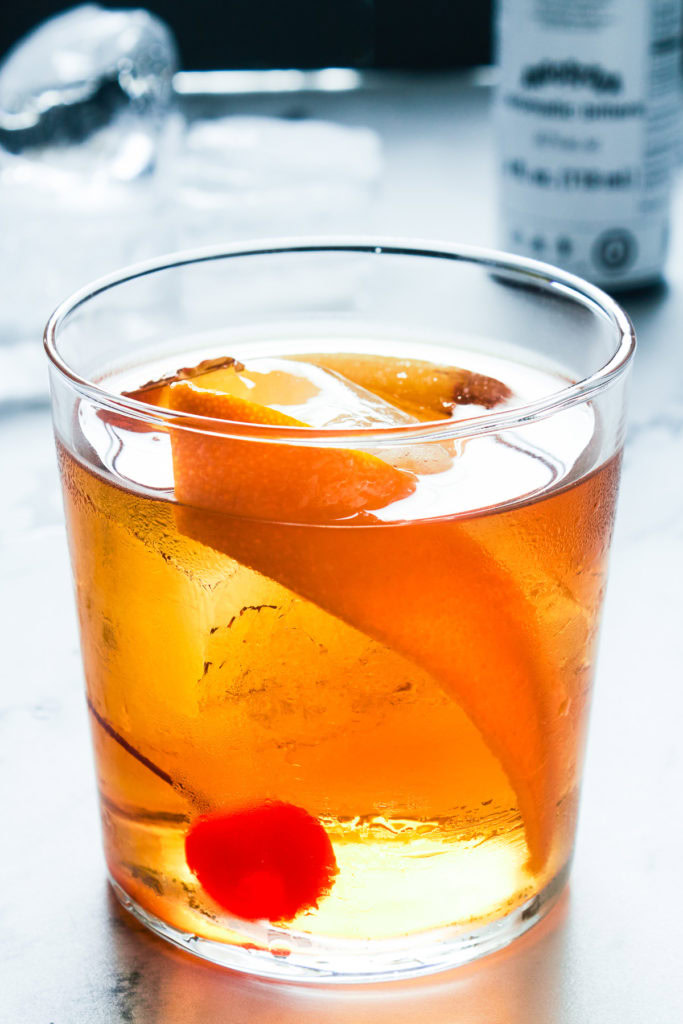 Can I Use a Mixing Glass for This Recipe?
You totally can, but it's not necessary. One of the best parts about this recipe is that the cocktail is mixed up right in the serving glass. The fewer dishes you need to wash, the sooner you can sip away at your drink!
What Bourbon or Whiskey Should I Use to Make an Old Fashioned Recipe?
Whatever your favorite is! Here are a few great options:
Four Roses.
Jack Daniels.
Knob Creek.
Woodford Reserve.
Larceny.
Jim Beam Black.
Wild Turkey 101.
Elijah Craig Small Batch 1789.
Jim Beam Orange.
Rittenhouse Rye.
Old Grandad 114.
Bulleit Rye.
Eagle Rare.
Redemption Bourbon.
Whistle Pig.
Evan Williams Bonded White Label.
Makers Mark.
What is the Recommended Proof or Alcohol by Volume for this Cocktail?
In general, a good old-fashioned cocktail will be 80 proof. In other words, it has about 40% alcohol by volume (ABV).
What is the Difference Between Whiskey and Bourbon?
The difference is that bourbon is a type of whiskey, while whiskey is more of an umbrella term.
Bourbon is specifically American-made whiskey that is made with 51% corn. Whiskey can be made anywhere and can consist of any combination of grains such as rye, wheat, corn, and barley.
More Cocktail Recipes to Try
Love a good cocktail recipe? Here are a few more of my favorites!
Recipe Card with Ingredient Amounts and Instructions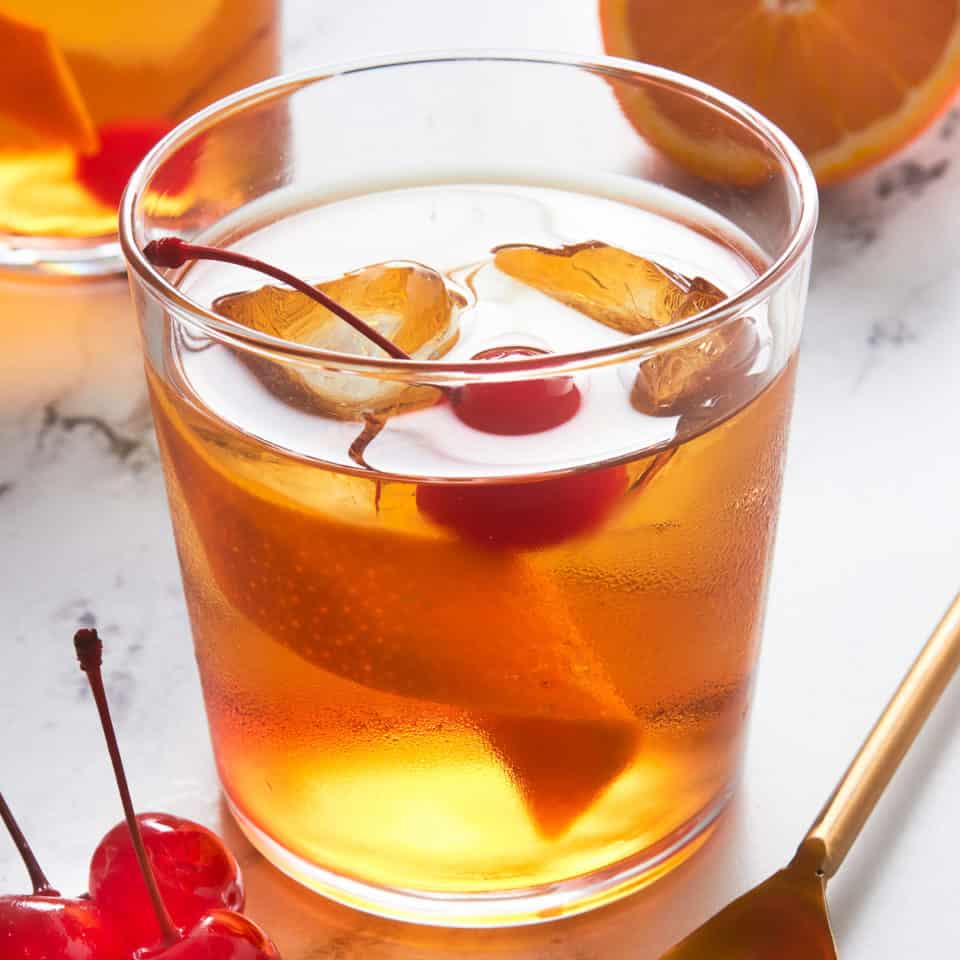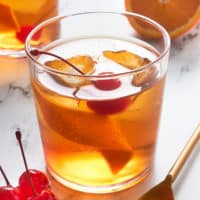 Ingredients
1

large ice cube

3

dashes

Angostura bitters

½

teaspoon

simple syrup

2

ounces

whiskey

Orange peel or slice

Maraschino cherry

,

for garnish
Instructions
Place a large ice cube into an old-fashioned glass then add the angostura bitters, simple syrup, and whiskey.

1 large ice cube

3 dashes Angostura bitters

½ teaspoon simple syrup

2 ounces whiskey

Gently stir the ingredients until the glass is chilled and the whiskey is well combined, about 30 seconds.

Squeeze the oil out of an orange peel, twist it over the glass and then place it into the glass.

Add in a cocktail cherry or a Maraschino cherry and enjoy! See post for tips and frequently asked questions.
Notes
*The calories listed are an approximation based on the ingredients in the recipe card and a serving size of 1 cocktail. Actual calories will vary.
*For more information, tips, and answers to frequently asked questions, please refer to the post.
Nutrition
Serving:
1
drink
|
Calories:
165
kcal
|
Carbohydrates:
4
g
|
Sodium:
2
mg
|
Potassium:
3
mg
|
Sugar:
3
g
|
Calcium:
0.5
mg
|
Iron:
0.1
mg
Don't Lose This Recipe!
Save it on Pinterest! Follow us at @berlyskitchen!