This whiskey sour recipe is our version of the classic cocktail. Whiskey mixed with fresh lemon juice and simple syrup is a combination you're sure to love!
Today is Wednesday and we've got a cocktail that will get you over that weekday hump.
Let's face it, most of us need a good drink from time to time. So, why waste that opportunity on a low quality mixer?
Just like our paloma cocktail recipe and bourbon smash, this whiskey sour only uses a few simple ingredients to create a grown-up beverage that's sweet, sour, and stout.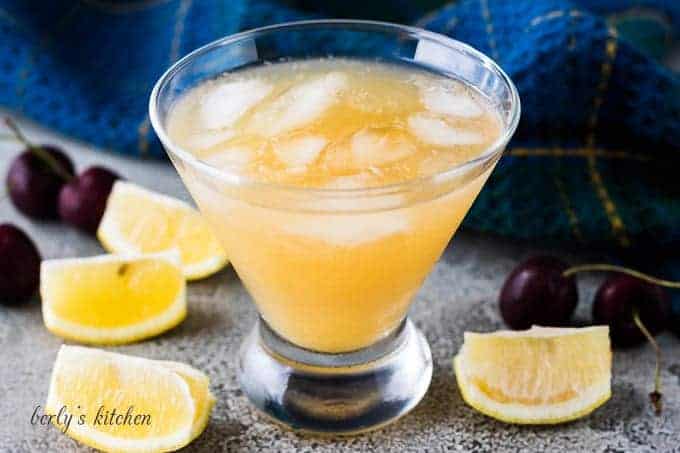 How to make a whiskey sour?
First, slice your lemon in half and juice it. If you don't have a juicer, take a look at my tips.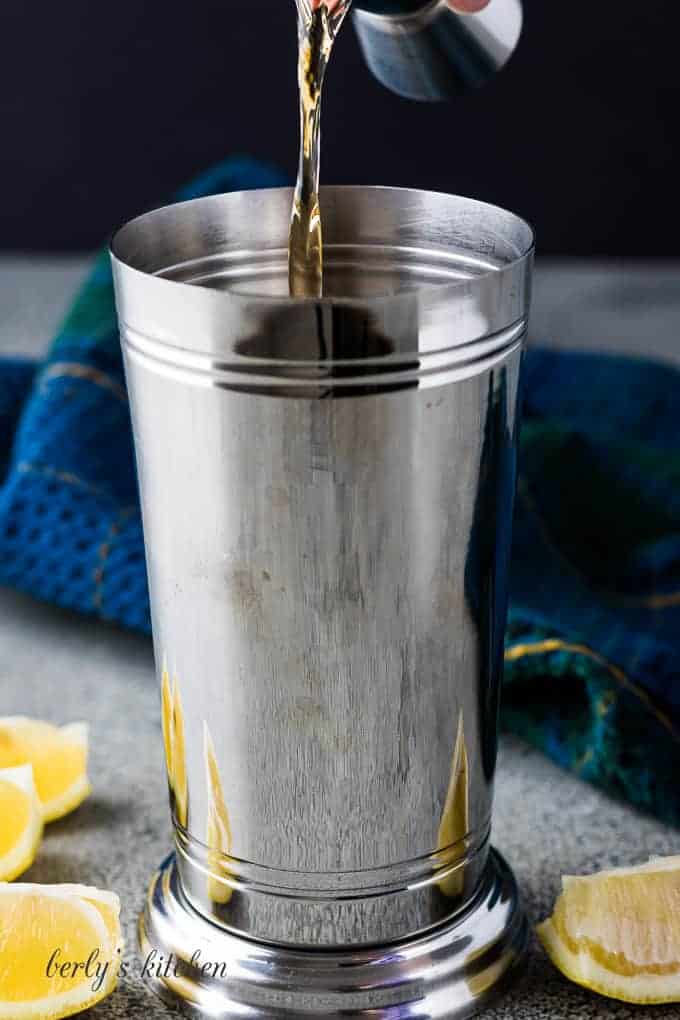 Next, grab your shaker and fill it about half full with ice from your freezer.
Then, add the whisky, lemon juice, and simple syrup. Place the lid on the shaker and start shaking the cocktail for about five (5) to seven (7) seconds.
Last, pour the whiskey sour into the glass and garnish it with a maraschino cherry or lemon wedge.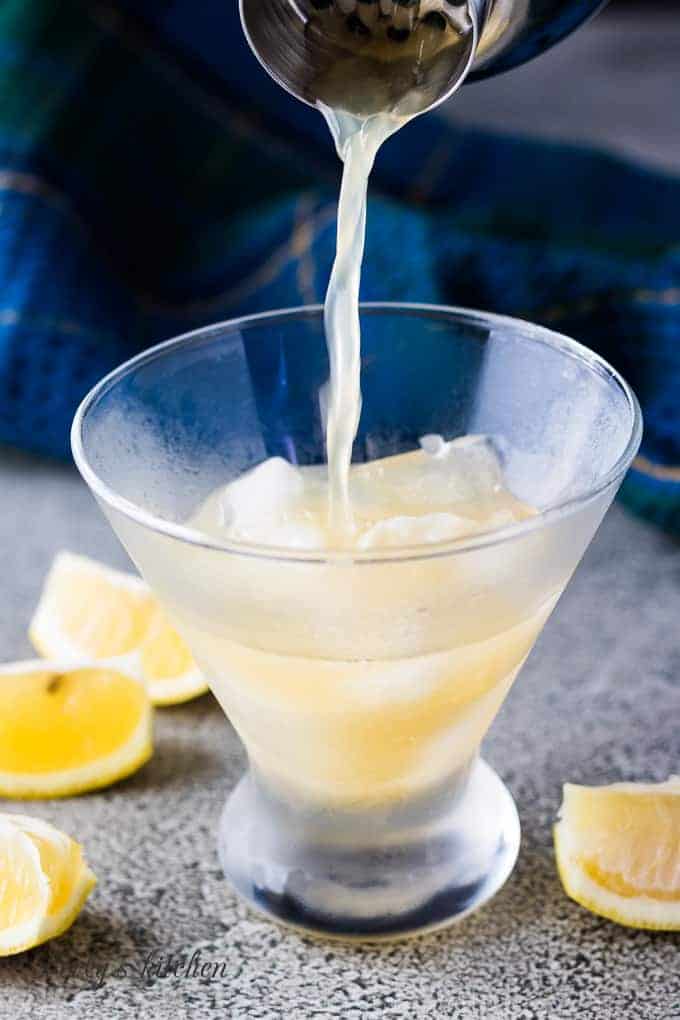 We were out of maraschino cherries, so we add fresh one's to the pictures for nice splash of color.
That's it your cocktail is done! Kim and I hope you enjoy the drink responsibly and wish you all the best 🙂
Recipe Tips:
Don't have a juicer? Well, you don't need one for citrus fruit(s) like grapefruit, lemons, and oranges. Simply slice them in half and use your fingers as a strainer.
When you squeeze the citrus, cup your free hand (palm up) over the bowl and squeeze the fruit with your other hand. The seeds will catch between your fingers while the juice seeps through. Just make sure to wash your hands first.
One way to make a simple syrup is to grab a bowl, add the powdered sugar, then whisk it with hot tap water. Powdered sugar is fragile enough to melt in tap water if it's hot enough. Bingo, simple syrup without turning on the stove!
No shaker cup, no problem. All you need to do is mix the drink, in a plastic cup, using a spoon. I know it's not the same mixing technique, but it works in a pinch when making martinis and other mixed drinks.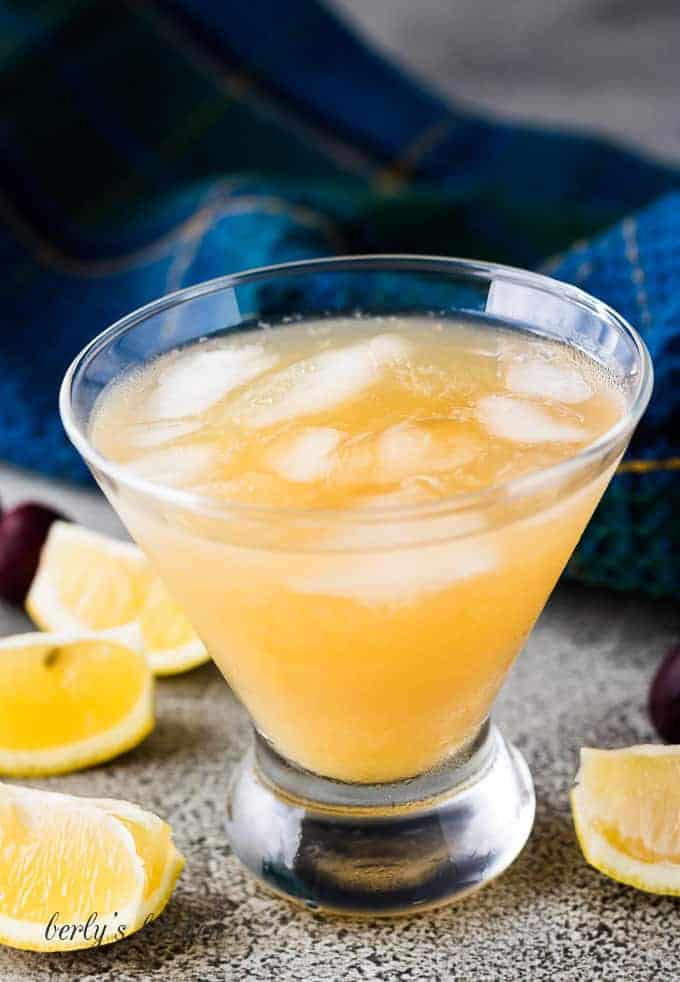 If you like our whiskey sour recipe, please leave us a comment and rate the recipe card. You can also find us on Facebook, Pinterest, Twitter and Instagram searching for Berly's Kitchen!
Yield: 1 Serving
Whiskey Sour Recipe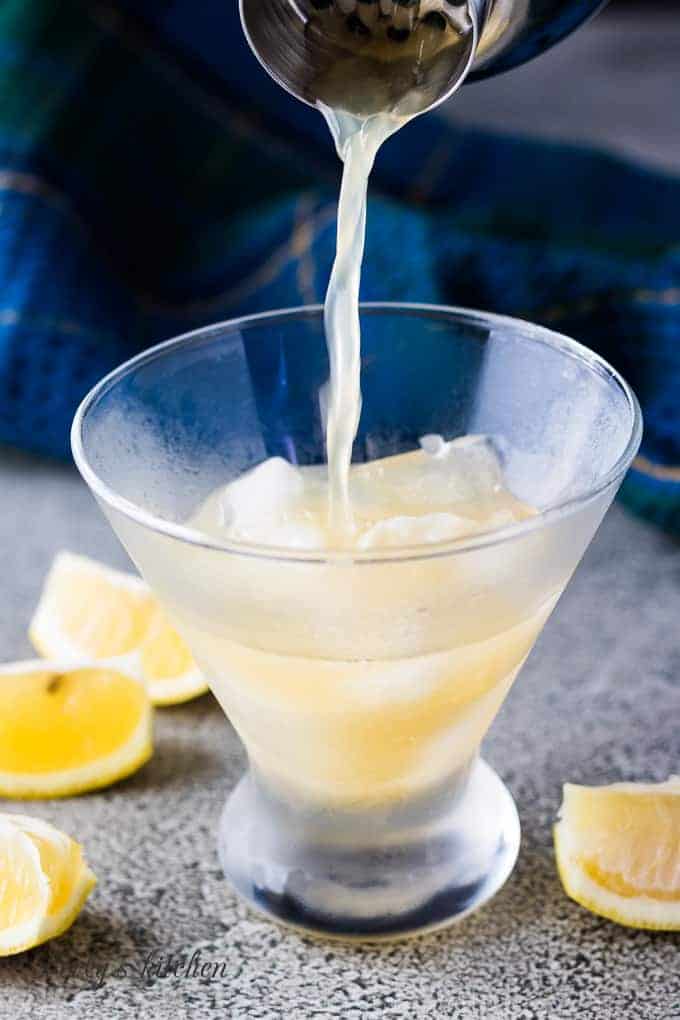 This whiskey sour recipe is our version of the classic cocktail. Whiskey mixed with fresh lemon juice and simple syrup is a combination you're sure to love!
Ingredients
Simple Syrup
1/2 Cup Water
1/2 Cup Powdered Sugar
Whiskey Sour
1/2 Cup Ice
2 Ounces Whiskey
1 Ounce Lemon Juice, (fresh squeezed)
Instructions
Simple Syrup
Standard Method: Combine the water and powdered sugar in a saucepan over high heat. Heat and stir until the sugar is completely dissolved. Remove from heat, and place in a heat-safe container in the refrigerator until ready to use.
Alternate method: In a mixing bowl, combine powdered sugar and hot tap water. Stir until sugar has dissolved. Store in heat safe container in your fridge until ready to use.
Whiskey Sour
Combine the whiskey, lemon juice, and simple syrup in a drink shaker with ice. Shake to combine, and pour into a rocks glass over ice. Garnish with a lemon or orange twist and a cherry.
Notes
The calories listed are an approximation based on the whiskey sour ingredients and a serving size of one (1), four (4) ounce cocktail. Additionally, it does NOT include the lemon wedges and fresh cherries seen in the photos as garnish. Actual calories will vary. Please drink responsibly!
Recommended Products
As an Amazon Associate and member of other affiliate programs, I earn from qualifying purchases.
Nutrition Information:
Yield:
1
Serving Size:
4 Ounces
Amount Per Serving:
Calories:

224
Total Fat:

1g
Saturated Fat:

1g
Unsaturated Fat:

0g
Sodium:

17mg
Carbohydrates:

23g
Sugar:

22g
Protein:

1g