Want a family friendly breakfast recipe? Then take a look at these sweet and savory pancake and sausage breakfast tacos. They're easy to make and delicious!
Christmas Day is just a few weeks away and every year we have the same tradition. Either Kim or I will wake up early and cook breakfast for the rest of the family.
She usually makes cinnamon rolls or some sort of sweet pastry. On the other hand, I tend to prepare a meal heavy in meat and potatoes.
For this year, we wanted to combine the two flavor preferences into one hand-held dish. Enter our pancakes and sausage breakfast tacos.
They're loaded with things both Kim and I enjoy like pancakes and sausage and eggs. I shouldn't be surprised, restaurants have been doing this kind of thing for years.
Now, I won't say ours are restaurant quality pancakes, sausage, and eggs, but they're a great way to satisfy that craving at home. Kim and I hope you enjoy them as much as we do; let's get cooking!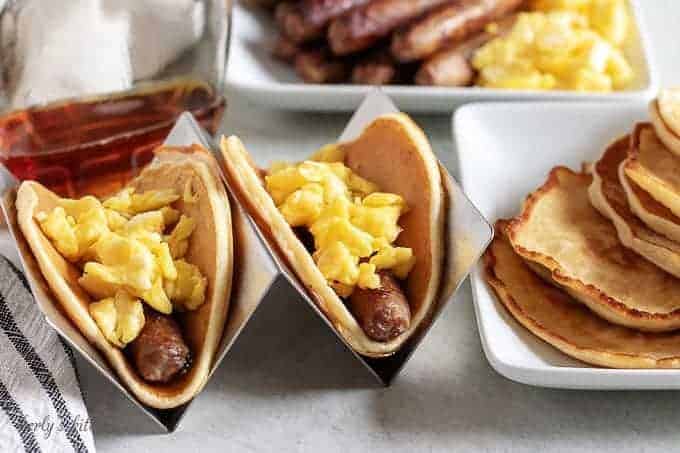 How to Make Sausage and Egg Breakfast Tacos
First, gather up all your ingredients and set them close by for easy access. Go ahead and cook the sausage links over medium-low heat until they are cooked all the way through.
Eating raw pork is not how you want to start your day. Set them aside, as they are, don't chop them or anything.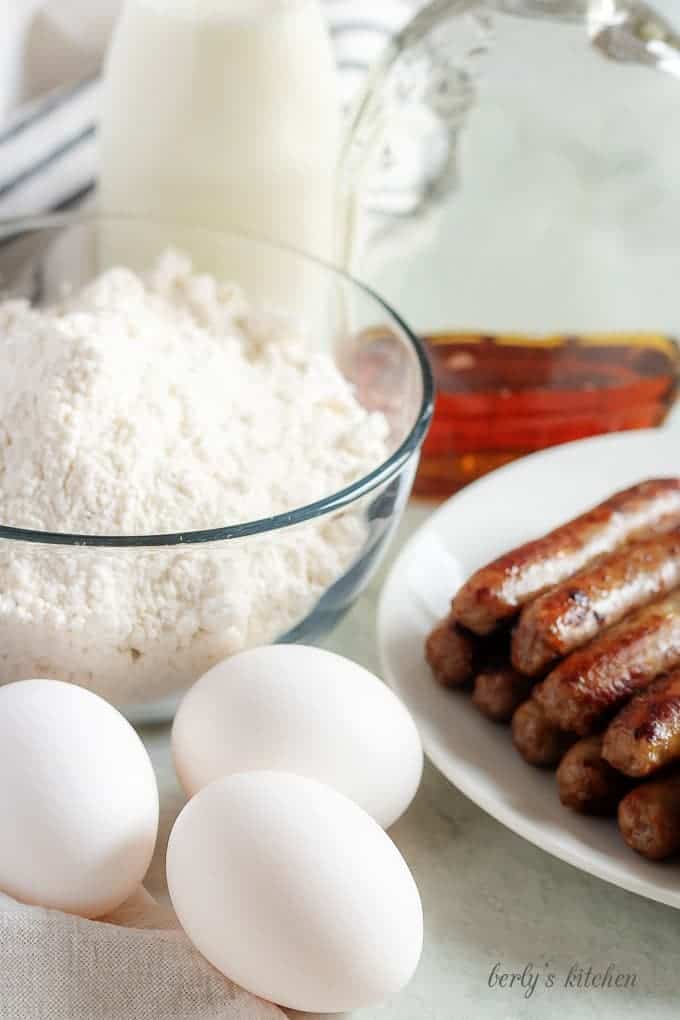 Next, mix up the pancake batter and start making the cakes. The batter might be a little thick, so use some extra milk or water (1/4-cup at a time) to thin it out.
Remember, you're not going for thick and fluffy pancakes, you want them thin, like a tortilla. Additionally, we used 1/8-cup measuring cup to portion out the batter into small cakes.
After that, scramble the 4 eggs over medium heat. It doesn't seem like a lot of eggs, but we only used about 1-tablespoon per taco.
You may want more filling than that, if so, add another egg or two and scramble it up.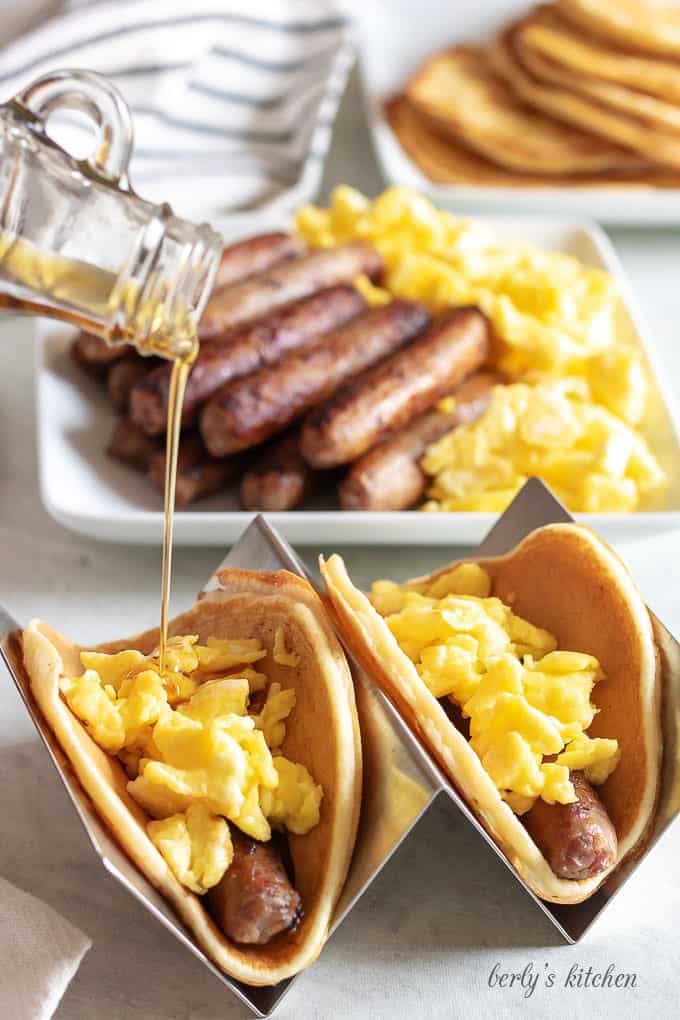 Last, assemble the breakfast tacos by placing one sausage link into a pancake. Top the link with a tablespoon or two of the scrambled eggs and drizzle it with a about 1-teaspoon of maple syrup.
Fold it up and serve it, that's it, you're done. As you can tell from the instructions, it's a pretty simple dish to put together.
To be honest, I wish we would have started making sausage and egg breakfast tacos years ago when our son was just a toddler.
Like most small children, he loved hand-held foods and this would have been perfect. Oh well, as long as someone else's kiddo enjoys it, that's enough for me.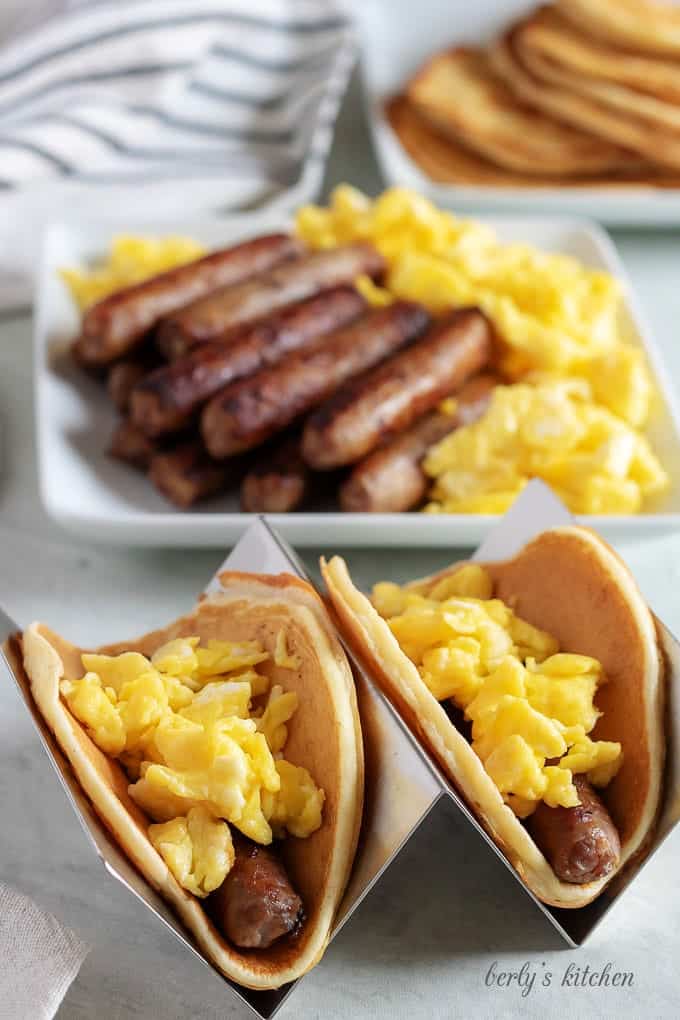 Tips for Breakfast Tacos:
For this recipe, you're basically making flap-jacks small enough to fit the sausage links. In order to make this happen, use about 1/8-cup of pancake batter on each pancake. Unfortunately, you will have some batter left over.
If you'd rather not use a pre-made pancake mix, then try using our homemade pancakes recipe. Just remember to add about 1/2-cup of milk to the original recipe to thin out the final mixture.
Sausage is not for everyone, so feel free to substitute it out with bacon, Canadian bacon, or even ham. Also, instead of using maple syrup, honey also works really well as a topping to the breakfast tacos.
Oh, a quick note, if you don't have time Christmas morning to make these, they try making breakfast burritos the night before, freeze them, then heat them up for a quick morning meal.
Other breakfast recipes you may enjoy: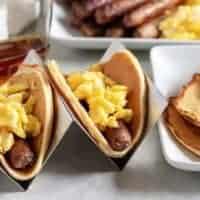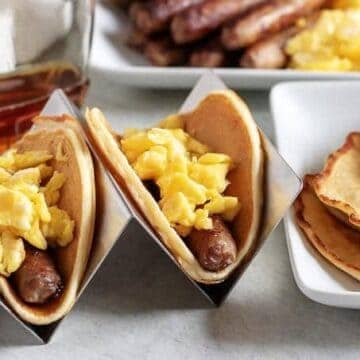 Pancakes and Sausage Breakfast Tacos
Print
Save
Saved!
Pin
I earn a commission from Amazon and Instacart from qualifying purchases.
Ingredients
2

cups

Pancake Mix

(we used Bisquick)

2

Large Eggs

1 1/3

cups

Milk

(we used whole)

14

Links Sausage

4

Large Eggs

(scrambled)

1/2

Cup

maple syrup

(we used pure)
Instructions
Cook the sausage links over medium-low heat until they cooked all the way Cook the sausage links over low-medium heat until they are cooked all the way through. Leave them in link form with the casings intact.

Mix the pancake batter and cook the pancakes. It's best to make the batter a little thinner than normal pancake batter. These pancakes don't need to be thick and fluffy. Instead, they should be thin enough to fold.

Scramble the eggs. Four eggs was plenty for our breakfast tacos, but you may need more or less depending on how many eggs are added to each taco.

Assemble the tacos by placing a sausage link in the center of a pancake. Top the sausage with a couple tablespoons of scrambled eggs. Then add a ½ tablespoon – 1 tablespoon of maple syrup. Fold the pancake in half to form a taco and enjoy!
Notes
The calories listed are an approximation based on the ingredients and a serving size of 2 tacos per serving with 1/2-tsp. of maple syrup per taco. Actual calories will vary. Due to the eggs drying out, I would not recommend storing any leftovers.
Nutrition
Serving:
2
Tacos
|
Calories:
346
kcal
|
Carbohydrates:
30
g
|
Protein:
16
g
|
Fat:
17
g
|
Saturated Fat:
5
g
|
Cholesterol:
217
mg
|
Sodium:
597
mg
|
Sugar:
16
g