This Rosemary Sea Salt Focaccia Bread Recipe is a wonderfully dense, oven-baked flatbread. Its dimples cradle the earthy flavors of rosemary, sea salt, and olive oil.
Well, hello there weekend! We meet again. This weekend has been super busy, like normal, but so much fun.
John, Kale, and I went to Disney Springs to meet up with a friend of mine I haven't seen in over 18 years. She and her family were visiting Orlando, so we decided to get together for a bit.
We had a blast, ate some great food, and even got a little sunburned. I love traveling. Especially when it involves trying new foods and getting ideas for new recipes.
In the meantime, let me tell you about one of my favorite bread recipes. That's not entirely accurate.
I have LOTS of "favorite" bread recipes. There's banana bread, Parmesan rosemary pull-apart bread, and our homemade pizza dough to name a few.
I should probably clarify and say this recipe is one of my favorite flatbreads. It's Rosemary Sea Salt Focaccia to be exact, and it is wonderful!
Are you ready to learn how to make this dense, chewy, flavorful flatbread? Great! Keep reading to find out how.
Focaccia Bread Recipe Instructions:
Prep the Yeast:
First, combine warm water, yeast, and sugar in a small bowl and stir to combine. Last, set the mixture aside and it to become foamy and light brown in color.
This process usually takes about ten minutes. Generally, I heat the water in the microwave first.
If it burns my finger, I know it is too hot for the yeast.
Make the Dough:
First, add the flour, salt, olive oil (three tablespoons), and yeast mixture to the bowl of a stand mixer.
Next, using a dough hook, mix the ingredients on low speed for one minute then increase the speed to medium for five to six minutes. The dough should be soft but slightly sticky.
Then, grease a 9 x 13-inch baking dish and drizzle one to two tablespoons of olive oil in the bottom.
Now, scoop the dough into the baking dish and smooth into an even layer. I like to spray a silicone spatula with cooking spray and gently press the dough into the pan.
Last, cover with a clean kitchen towel. Place in a warm, draft-free area until the dough has doubled in size. Usually, this takes about an hour.
Assembly:
Once the dough has risen, preheat the oven to 375 degrees.
Afterward, use your index finger to make small indentations or dimples in the top of the dough.
Sprinkle the dough with fresh rosemary, sea salt, and drizzle with additional olive oil.
Bake the Focaccia Bread Recipe:
Place the baking dish in the oven and bake for 25 to 30 minutes or until golden brown.
Remove the dish from the oven and put the bread on a cooling rack. Allow the bread to cool completely before cutting.
Serve the bread and enjoy!
Focaccia Bread Recipe Tips:
If you are in a time crunch or impatient, like me, you can preheat your oven to its lowest temp. Mine is 170 degrees.
Turn the oven off and place the baking dish and dough in the warm oven. This process will help the dough rise faster.
If you choose to do this, I highly recommend brushing the top of the dough with a light layer of olive oil to prevent drying.
The water for the yeast mixture needs to be warm to the touch but not hot. Using water that is too hot will kill the yeast and cause it not to activate.
We like to serve our focaccia bread recipe with a side of Italian seasoning infused olive oil. You can make a simple olive oil dipping sauce by sprinkling sea salt and seasonings in a small bowl, then drizzling extra virgin olive oil over the seasonings.
If you like this recipe, please leave us a comment and rate the recipe card. You can also find us on Facebook, Pinterest, Twitter and Instagram searching for Berly's Kitchen!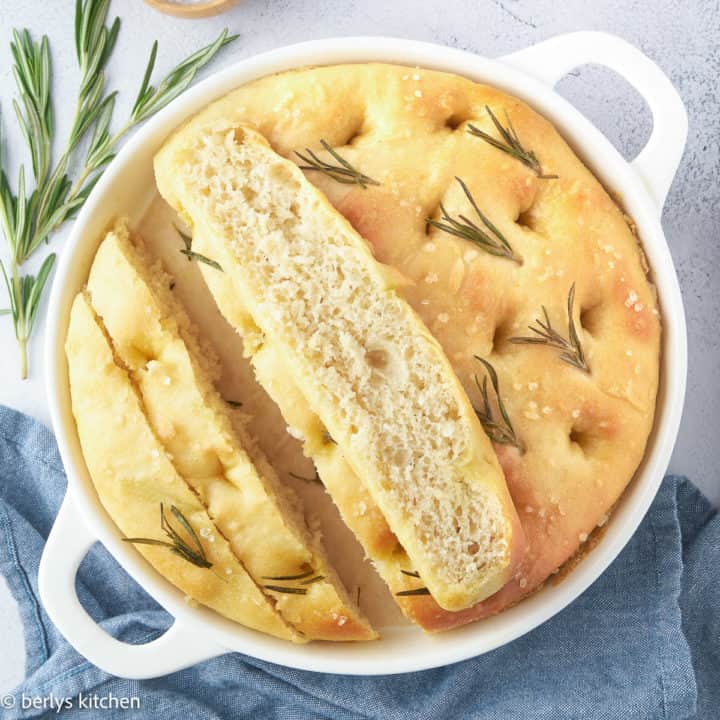 Focaccia Bread
Total Time:
2 hours
47 minutes
Ingredients
1 cup warm water
2 teaspoons granulated sugar
2 ¼ teaspoons active yeast (1 standard packet)
3 cups all-purpose flour, plus more if needed
1 ½ teaspoons of salt
5 tablespoons olive oil, divided
4 or 5 fresh rosemary sprigs
Flaky sea salt, to sprinkle over the top
Instructions
Place the water, yeast, and sugar in a small bowl. Stir it briefly, then let it set undisturbed for about 10 minutes. The mixture will begin to look foamy, frothy, and tan in color. It should be quite bubbly when it's activated and ready to use.
In the bowl of a stand mixer, add the yeast mixture, flour, salt, and 1 tablespoon of olive oil. Using a dough hook attachment, mix on low speed for 2-4 minutes until the dough is cohesive and begins to pull away from the sides of the bowl. The dough should feel slightly sticky and tacky. If it's too sticky and wet, add additional flour a couple of tablespoons at a time until it's just barely sticky to the touch.
Remove the dough from the bowl, and shape it into a ball. Transfer the dough to a lightly greased bowl, and cover it with plastic wrap or a kitchen towel. Allow the dough to proof and double in size, about 1 hour.
Brush a 10-inch round baking dish, 9 x 9-inch baking dish, or 9 x 13-inch baking dish (focaccia will be thin with this size) with 2 tablespoons of olive oil.
After the dough doubles in size, punch down the dough, and use your hand to deflate it. Fold the dough over onto itself a couple of times, then turn the dough onto a lightly floured surface. Roll it out into the desired shape until the dough is about ½ -inch thick.
Transfer the dough to the prepared baking, and cover with a large piece of greased plastic wrap. Allow the dough to double in size a second time, about 45-60 minutes.
While the dough is proofing, preheat the oven to 350°F.
After the dough has doubled in size a second time, use your fingertips to press divots into the surface of the dough. Use a pastry brush to spread the remaining 2 tablespoons of olive oil over the dough. Place pieces of fresh rosemary over the top of the bread and sprinkle with flaky sea salt.
Bake for 20-22 minutes until lightly browned. Allow the bread to cool completely before slicing.
See post for storage recommendations.
Notes
*The calories listed are an approximation based on the ingredients in the recipe card and a serving size of 1 slice of bread. Actual calories will vary.
*For more information, tips, and answers to frequently asked questions, please refer to the post.
Recommended Products
As an Amazon Associate and member of other affiliate programs, I earn from qualifying purchases.
Nutrition Information:
Yield:

10
Serving Size:

1 slice
Amount Per Serving:
Calories:

203
Total Fat:

7g
Saturated Fat:

1g
Trans Fat:

0g
Unsaturated Fat:

6g
Cholesterol:

0mg
Sodium:

378mg
Carbohydrates:

30g
Fiber:

1g
Sugar:

1g
Protein:

4g
*The calories are an estimate and are based on the ingredients and serving size listed. The calories can vary depending on the brand of product purchased.