Create a semi-homemade treat for that special someone this Valentine's Day! Try our strawberry champagne cupcakes with a champagne buttercream frosting.
Valentine's Day is just a few weeks away and I am excited to share it with Kim. We've been together for almost twenty (20) years.
It's funny how time flies and the years get away from you. However, I still try to do something special for her every year.
This year, we decided to share one of our favorite strawberry cupcake recipes. Kim used champagne to take ordinary cupcakes to the next level!
So, shall we get started?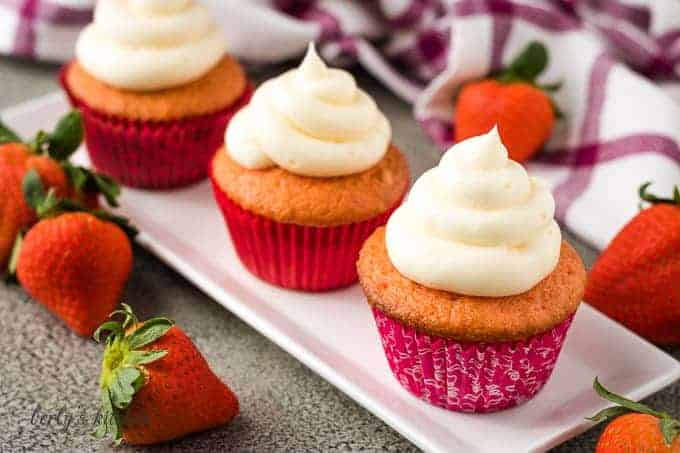 How to make strawberry champagne cupcakes?
First, start by preheating your oven to 350 degrees F. and lining two (2) muffin tins with decorative liners.
Also, remove your butter from the fridge. It needs to soften for the frosting.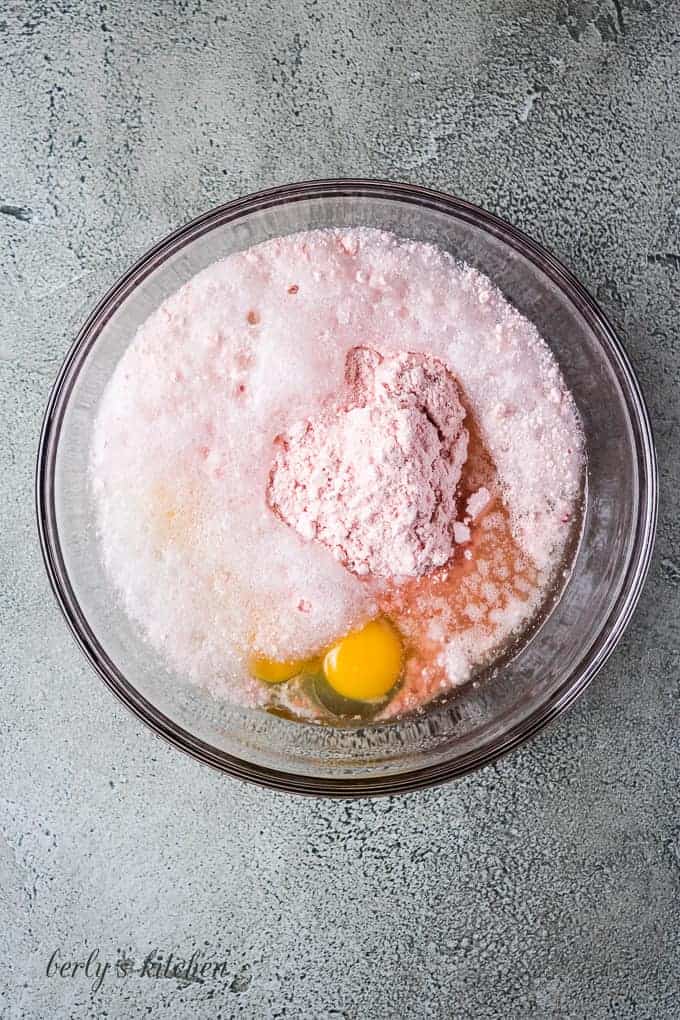 After that, grab a mixing bowl and add the cake mix, cracked eggs, champagne, and oil.
Next, a use a hand mixer or whisk to combine the ingredients.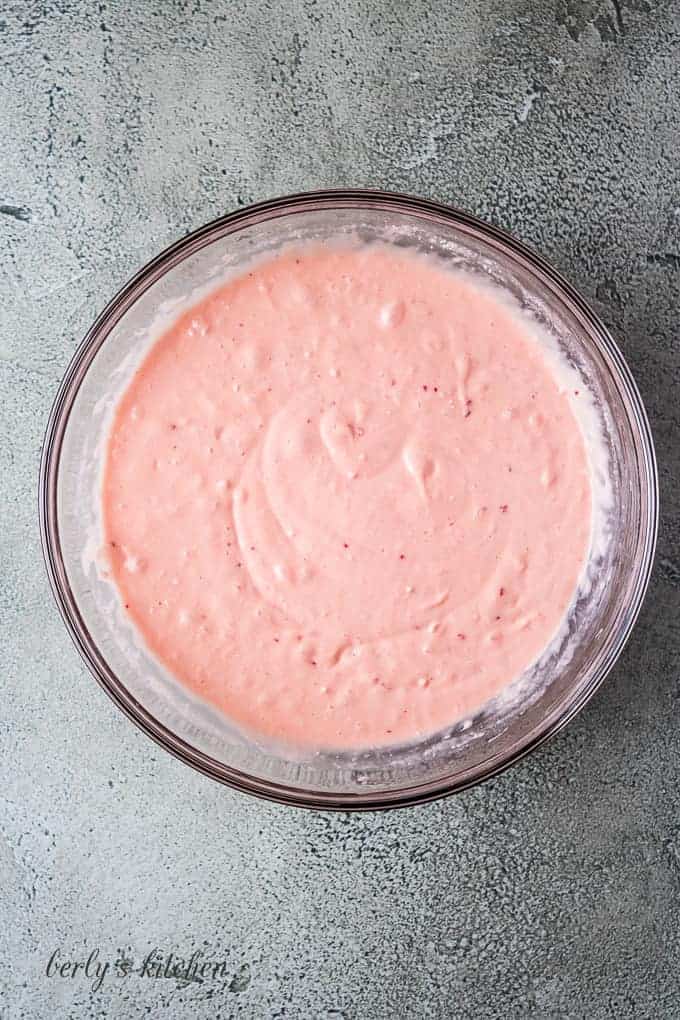 Now, once the cupcake batter is ready, transfer it to the liners. Only fill the liners to the halfway point. Use the photos as a guide.
I recommend using a measuring cup for that step because it makes things a little easier.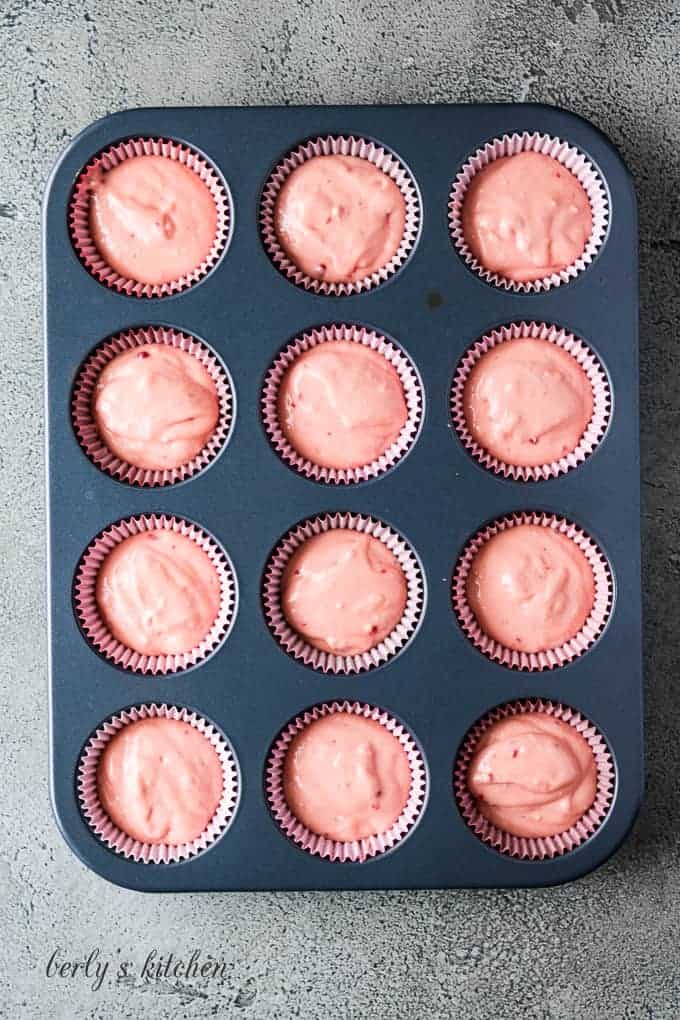 Then, place the cupcakes into the oven to cook for about seventeen (17) minutes or until they pass the "toothpick," test.
That means when you poke one in the center with a toothpick, it should come out clean.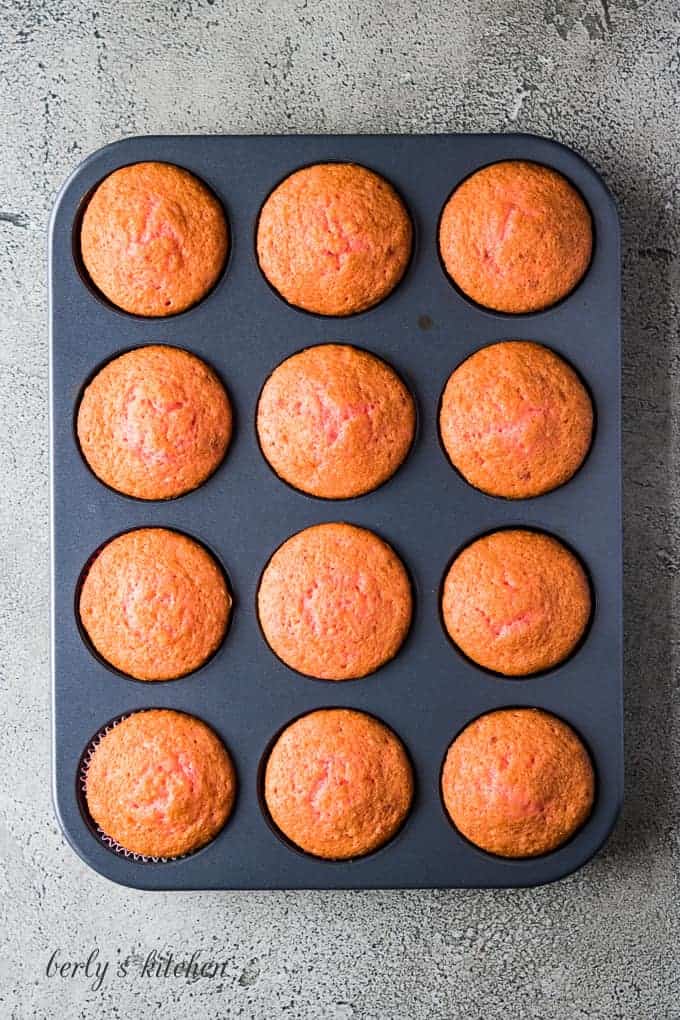 So, when the cupcakes are done, set them aside to cool for at least thirty (30) minutes.
How to make champagne frosting?
First, grab a large mixing bowl and add the powdered sugar, softened butter, vanilla extract, and three (3) tablespoons of the champagne.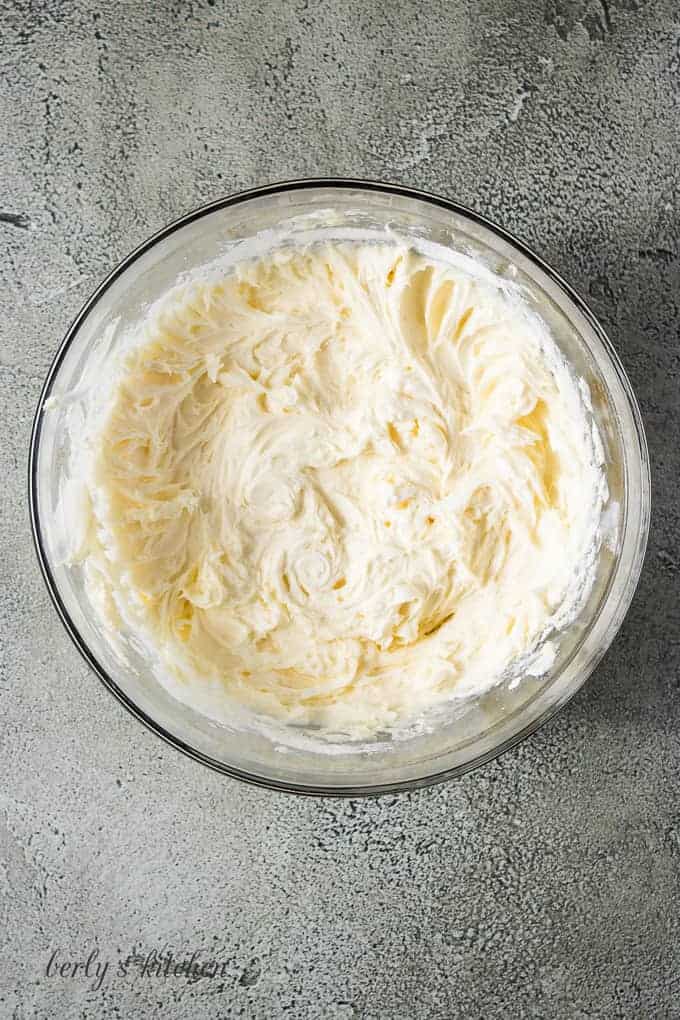 Next, blend the ingredients. You may need to add a little more of the champagne if the frosting is too thick.
That's why the recipe says three (3) to four (4) tablespoons.
Last, once the cupcakes have cooled, use a rubber spatula or piping bag (with tip) to decorate the strawberry cupcakes.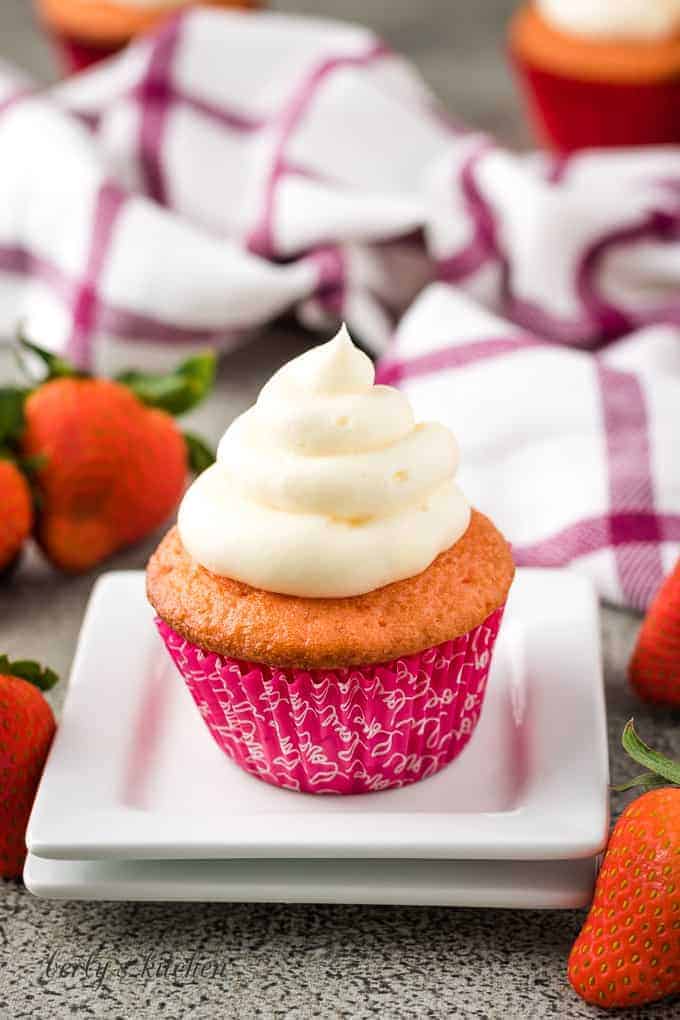 That's it, your strawberry champagne cupcakes are done! Kim and I hope you enjoy the recipe and wish you all the best 🙂
Other Strawberry Desserts to Try This Summer:
If you like our strawberry champagne cupcakes recipe, please leave us a comment and rate the recipe card. You can also find us on Facebook, Pinterest, Twitter and Instagram searching for Berly's Kitchen!
Yield: 18 Servings
Strawberry Champagne Cupcakes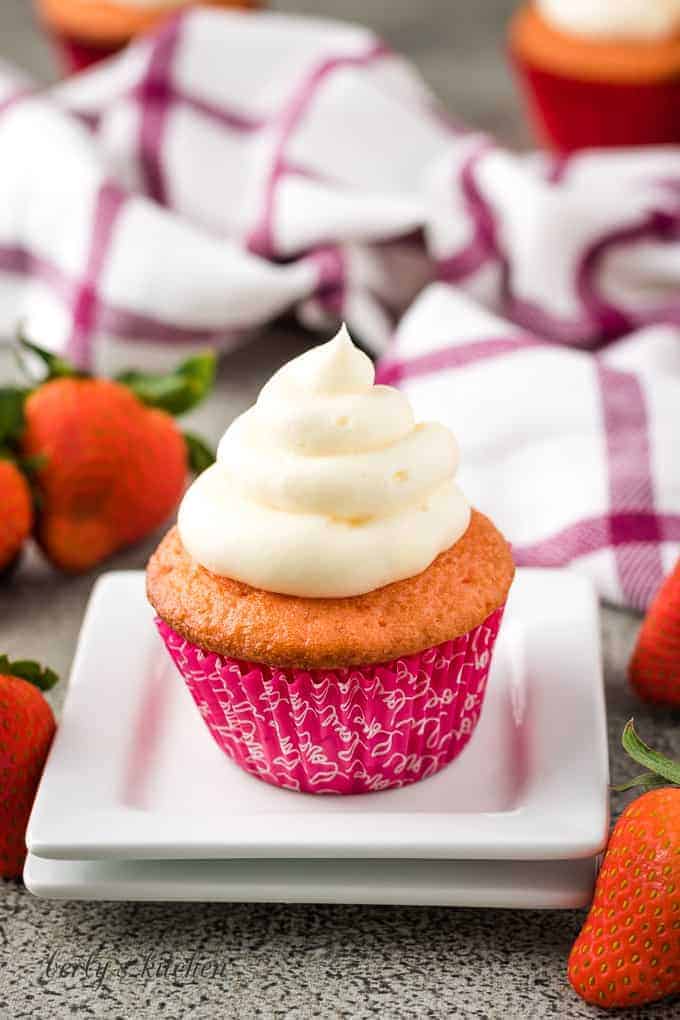 Create a semi-homemade treat for that special someone this Valentine's Day! Try our strawberry champagne cupcakes with a champagne buttercream frosting.
Total Time
1 hour
5 minutes
Ingredients
Strawberry Cupcakes
15.25 Ounce Strawberry Cake Mix, (any brand of choice)
3 Large Eggs
1/4 Cup Oil, (vegetable or canola)
3/4 Cup Champagne, (any brand of choice)
Champagne Buttercream Frosting
4 1/2 Cups Powdered Sugar, (or confectioner's sugar)
1 Cup Unsalted Butter, (two ((2)) sticks, softened)
3 1/2 Tablespoons Champagne, (three to four tablespoons ((3-4)) depending)
1 Teaspoon Vanilla Extract
Instructions
Cupcakes
Preheat the oven to 350 degrees and line two muffin pans with cupcake liners.
Using a hand or stand mixer, combine the cake mix, eggs, oil, and champagne on low speed just until blended, then increase the speed to medium for 2 minutes.
Use a scoop or measuring cup to pour ¼ cup of batter into each muffin well (only fill each half the way full). Bake for 16 - 18 minutes then transfer to a wire rack to cool completely before frosting.
Frosting
Using a hand mixer or stand mixer, cream the butter and sugar together. Add 1 to 2 tablespoons of champagne and the vanilla. Continue to mix and add additional champagne to thin out the consistency if needed.
Use a piping bag and tip or a spatula to apply the frosting to the cooled cupcakes.
Store cupcakes in the refrigerator for up to 3 days.
Notes
The calories listed are an approximation based on the ingredients and a serving size of one (1) finished cupcake with frosting. Actual calories will vary.
**For the frosting start with three (3) tablespoons of champagne and add more if the frosting is too thick.
**If you're using a piping bag to decorate the cupcakes then you may want to make a double batch of the frosting.
Recommended Products
As an Amazon Associate and member of other affiliate programs, I earn from qualifying purchases.
Nutrition Information:
Yield:
18
Serving Size:
1 Cupcake
Amount Per Serving:
Calories:

356
Total Fat:

16g
Saturated Fat:

8g
Unsaturated Fat:

0g
Cholesterol:

62mg
Sodium:

267mg
Carbohydrates:

50g
Sugar:

41g
Protein:

2g