The Works Cheeseburger Pizza is a simple to prepare recipe loaded with all the fixings, including lettuce, tomatoes, pickles, and onions.
The Works Cheeseburger Pizza is an easy recipe that fuses two of my favorite dishes; hamburgers and pizza!
It comes fully loaded with all the fixings of a traditional restaurant burger.
This concoction has tons of flavor and is perfect for a quick weekend dinner.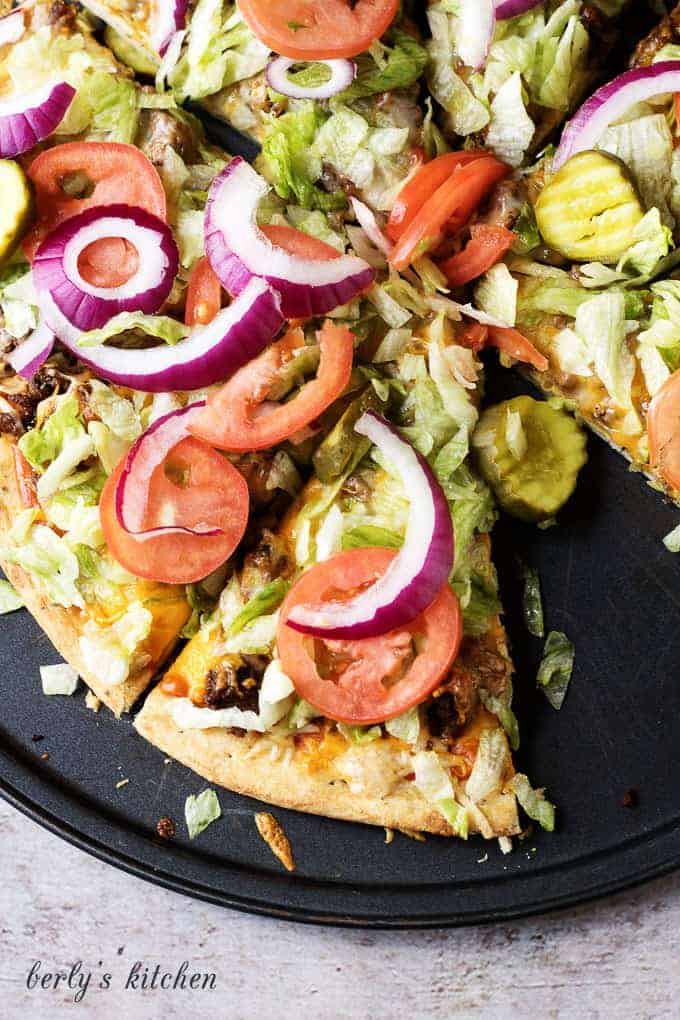 Looking for an appetizer to serve with this pizza? Then try our pepperoni rolls recipe!
The best part about our cheeseburger pizza is definitely the taste.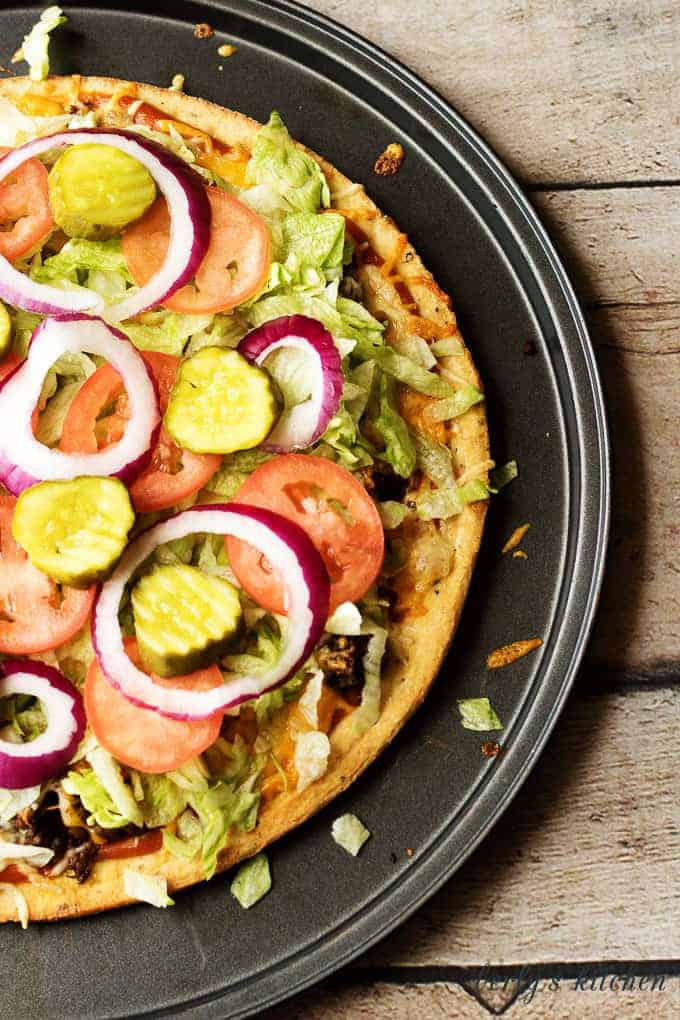 We used a blend of ketchup and yellow mustard as the sauce.
When you take a bite, the sauce is what hits your taste buds first.
The sweetness of the ketchup balances well with the tart flavor of the mustard.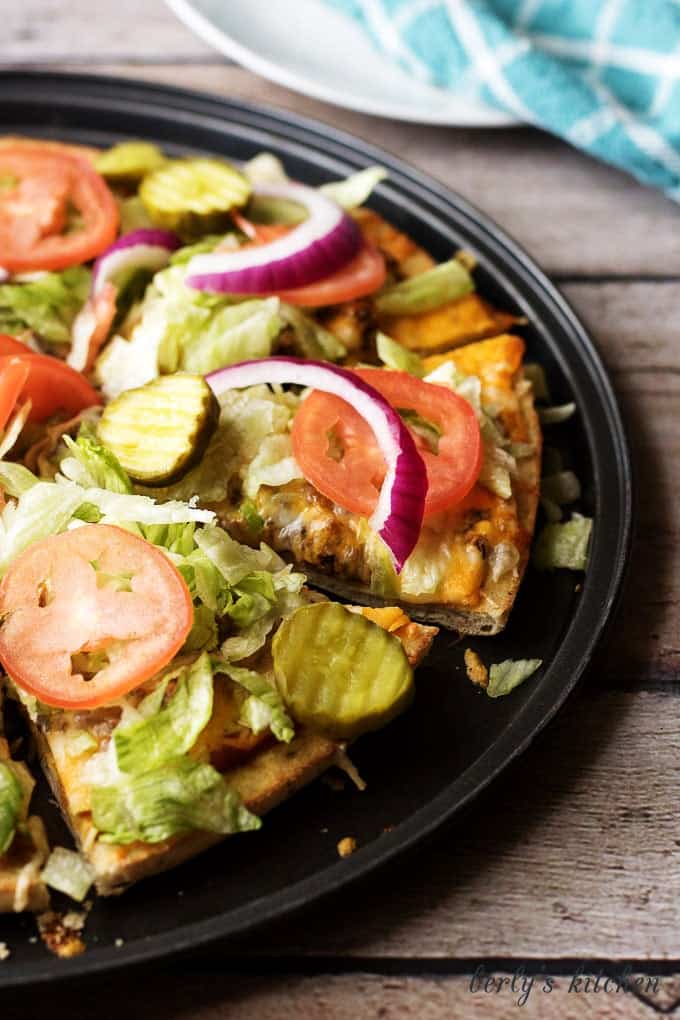 Another aspect of the cheeseburger pizza that we love is the hamburger meat.
The dish uses 85/15 ground beef, so there is just enough fat content to keep the meat rich and savory.
The Italian seasoning blend and Seasoned salt work in harmony to enhance the overall burger and pizza fusion.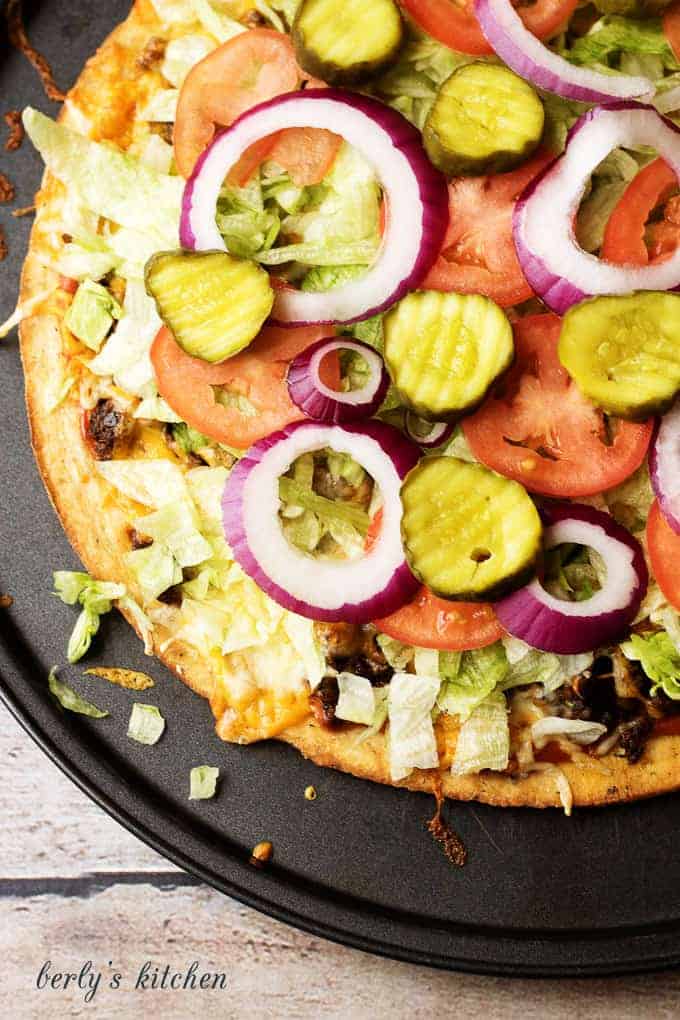 Fresh vegetables add another layer of texture to the cheeseburger pizza.
You have the chewy crust on the bottom and the satisfying crunch of lettuce, onions, pickles, and tomatoes.
I doubt you will find another pizza like this one at your local pizza parlor.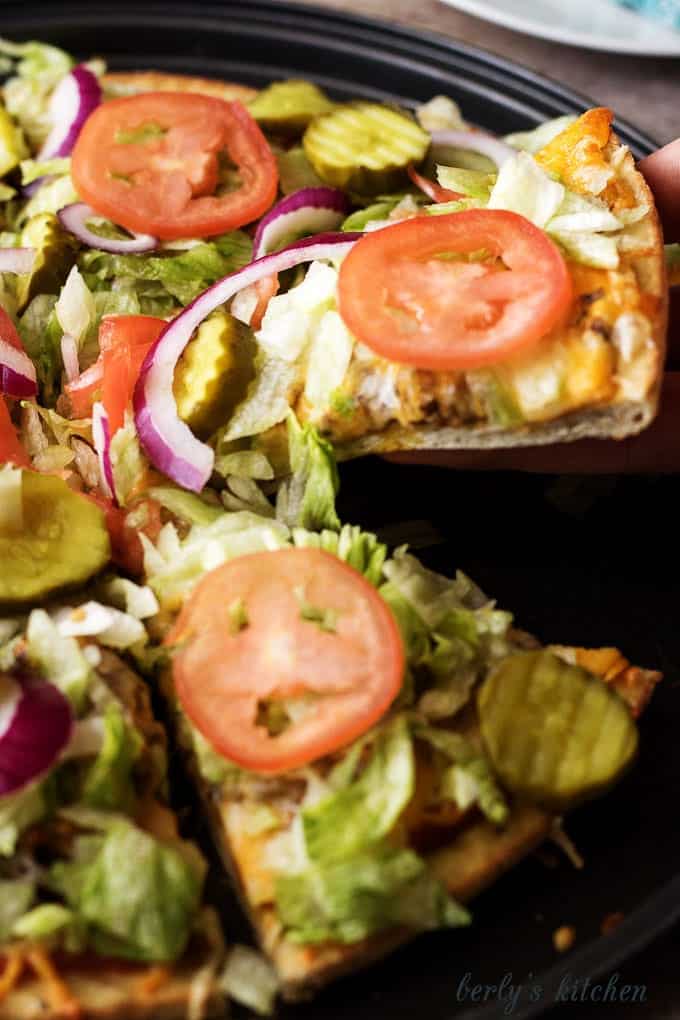 All in all, this has to be one of my favorite pizzas to make at home. Especially, if you use our pizza dough recipe, it's chewy and delicious!
The simplicity of the meal makes it a great dinner option for pizza night. Clocking in at less than an hour to prepare, it's almost as fast as delivery.
I hope you decide to try this recipe out for yourself. As always, I wish you a long life, love everlasting, and a full belly!
Love pizza? Then check out our new easy Margherita pizza recipe!
If you like this recipe, please leave us a comment and rate the recipe card. You can also find us on Facebook, Pinterest, Twitter and Instagram searching for Berly's Kitchen!
Join our Facebook group for more recipes from Berly's Kitchen, our new site More Than Meat and Potatoes, and some of our blogger friends!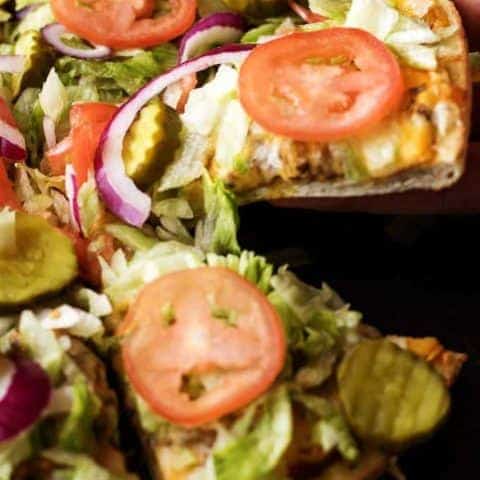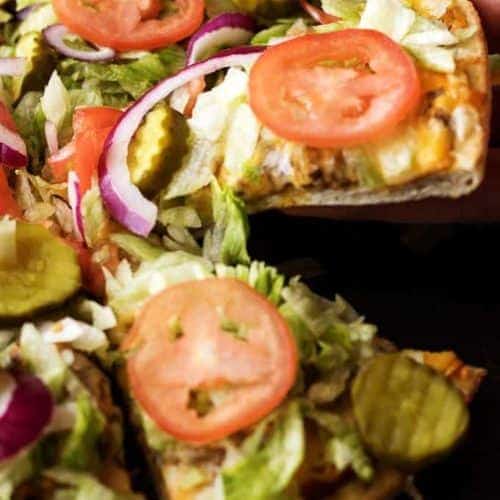 The Works Cheeseburger Pizza
The Works Cheeseburger Pizza is a simple to prepare recipe loaded with all the fixings, including lettuce, tomatoes, pickles, and onions.
Ingredients
1 12" Pre-made Pizza Crust
8 Ounces Ground Beef, (cooked)
1 Tablespoon Italian Seasoning Blend
1 1/2 Teaspoons Seasoned Salt
1/8 Cup Yellow Mustard, (Heinz is fine)
1/4 Cup Tomato Ketchup, (Heinz is fine)
4 Ounces Mozzarella Cheese, (shredded)
4 Ounces Medium Cheddar Cheese
1 Cup Iceberg Lettuce, (shredded)
1 Small Beefsteak or Vine Ripened Tomato, (sliced)
8-10 Small Pickle Slices
1/4 Small Red or Purple Onion, (sliced)
Instructions
First, preheat your oven to the listed degree setting on the pizza crust instructions. Our oven was preheated to 400 degrees F.
Next, in a medium skillet, combine the ground beef with the seasoned salt and Italian seasoning blend. Cook the mixture over medium-high for 10 to 12 minutes or until the meat is thoroughly browned.
After that, drain any excess oil off the hamburger meat. You can also use a paper towel to pat the meat dry.
While the beef cooks, combine the ketchup and mustard in a small bowl. Mix them together to create your cheeseburger pizza sauce. You can also shred both the cheeses into separate bowls and set them aside.
Now, place the pizza crust on a non-stick pizza pan and evenly spread the sauce over the crust. However, be sure to leave about 1/2 in of crust un-sauced around the edge of the pizza.
Then, begin adding your toppings in this order; hamburger meat, mozzarella cheese, and cheddar cheese.
Afterward, place the pizza in the oven to bake for about 10 minutes or until all the cheese has melted.
As the pizza cooks, shred the lettuce, slice the onions and tomatoes, and slice the pickles into slices if you used a whole pickle.
Once the pizza has cooked, remove it from the oven and top it with the lettuce, onions, pickles, and tomatoes. You can now cut into eight equal slices and serv it.
Notes
The calorie count listed is only an estimation based on the listed ingredients. Each serving consists of two slices of cheeseburger pizza. All of the vegetable toppings are to be added after the pizza cooks.
Recommended Products
As an Amazon Associate and member of other affiliate programs, I earn from qualifying purchases.
Nutrition Information:
Yield:

4
Serving Size:

1 grams
Amount Per Serving:
Calories:

372
Total Fat:

27g
Saturated Fat:

14g
Unsaturated Fat:

0g
Cholesterol:

92mg
Sodium:

1509mg
Carbohydrates:

7g
Fiber:

1g
Sugar:

4g
Protein:

23g