*This post may contain affiliate links. As Amazon Associates we earn from qualifying purchases.
Simple chocolate cupcakes made from a cake mix and decorated with orange cream cheese frosting make a quick and tasty Halloween treat.
Halloween is almost upon us and honestly, I'm glad it will be over soon.
Don't get me wrong, enjoy the holiday if you like it; however, it's just not for me. I love Thanksgiving and Christmas for obvious reasons.
With that being said, Kim and I have been trying to share some tame Halloween worthy dishes for our readers; like these Nutter Butter mummy cookies.
Today's chocolate cupcakes are one of those recipes. Kim used Devil's Food Cake mix but added a few extra ingredients to give it a more homemade taste.
Additionally, she made a orange flavored cream cheese frosting. The food coloring was added just to give these chocolate cupcakes a Halloween appearance.
I'm sure you'll notice there's nothing really spooky or gory about this dessert. If you're looking those things, then you came to the wrong place.
On the other hand, if you're seeking a simple orange and black cupcake recipe for a school function or relaxing party, then these beauties fit that bill perfectly. How about we get cooking?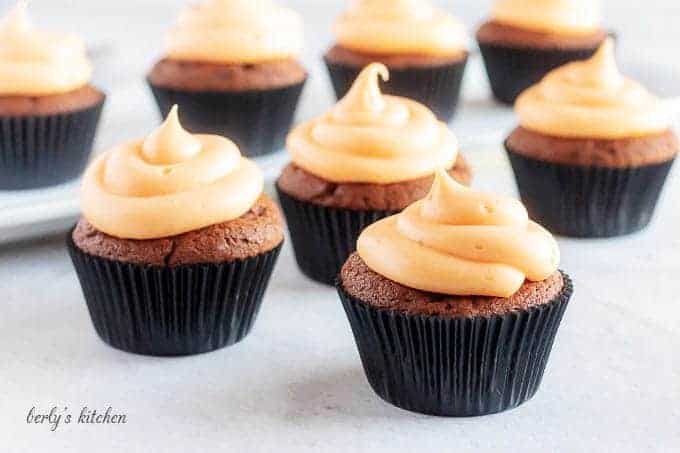 Chocolate Cupcakes Instructions:
First, begin by removing the cream cheese and butter from your fridge. It needs time to soften.
It's a good idea to set aside a little of your morning coffee. Also, go ahead and preheat your oven to 350° F. and line two cupcake pans with cupcake liners.
Feel free to use any color you like for this recipe. Next, using a hand mixer and large mixing bowl or a stand mixer, combine the cake mix, eggs, pudding mix, sour cream, vegetable oil, water, cooled coffee, and vanilla extract.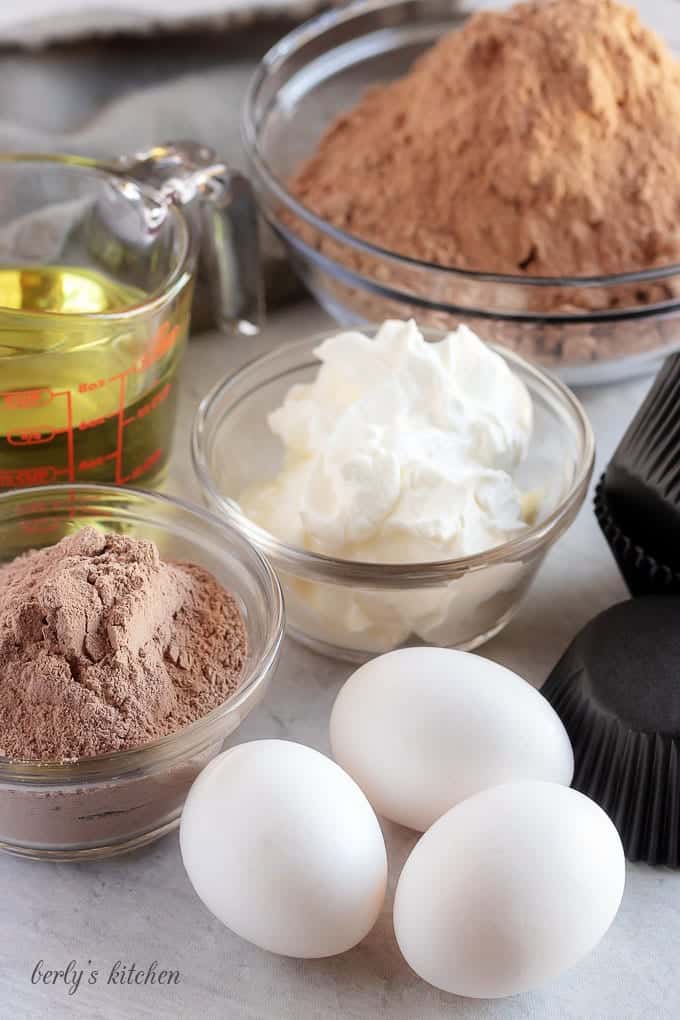 After that, mix the ingredients on a low speed until everything is well-combined. Once the batter is mixed, kick up the mixer to medium speed for about 2-minutes to make the batter light and fluffy.
Then, use a scoop or measuring cup to fill each liner about half-full with batter. Usually, we use a 1/4-cup measuring cup and that does the job.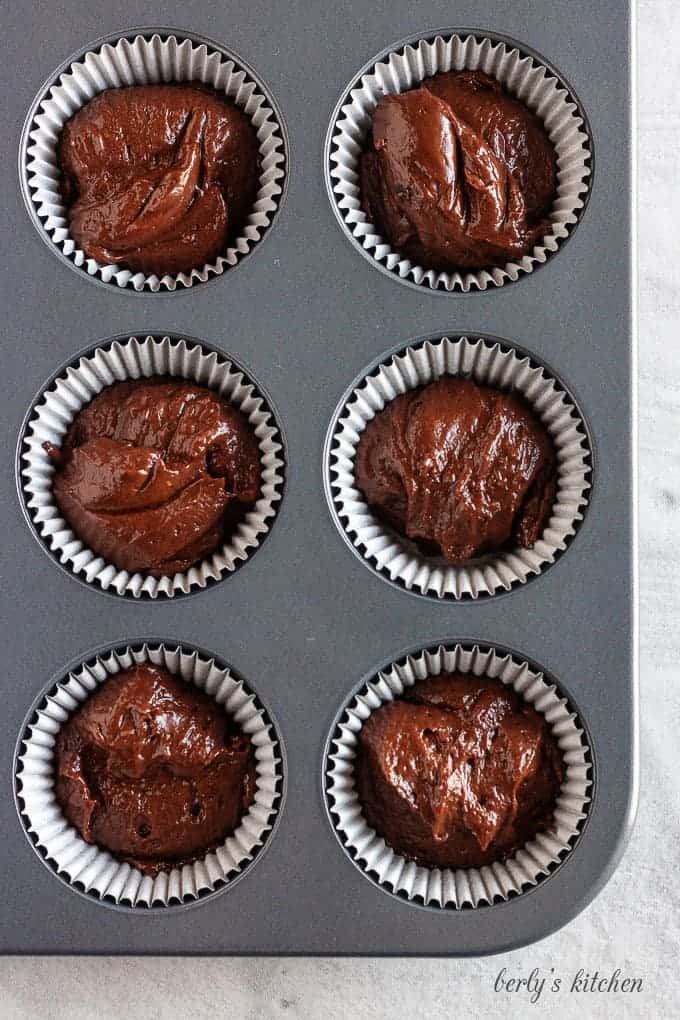 Last, bake the chocolate cupcakes for 18-22 minutes or until they are done. Now, remove them from the oven and place them on a cooling rack to cool for at least 30 minutes.
If the cupcakes are too warm when you try to frost them, the frosting will melt and make a frightful mess.
Frosting Instructions:
Once again, in a large mixing bowl with a hand mixer or a stand mixer, combine the softened cream cheese, softened butter, orange juice, orange zest, vanilla extract, powdered sugar, and the food coloring.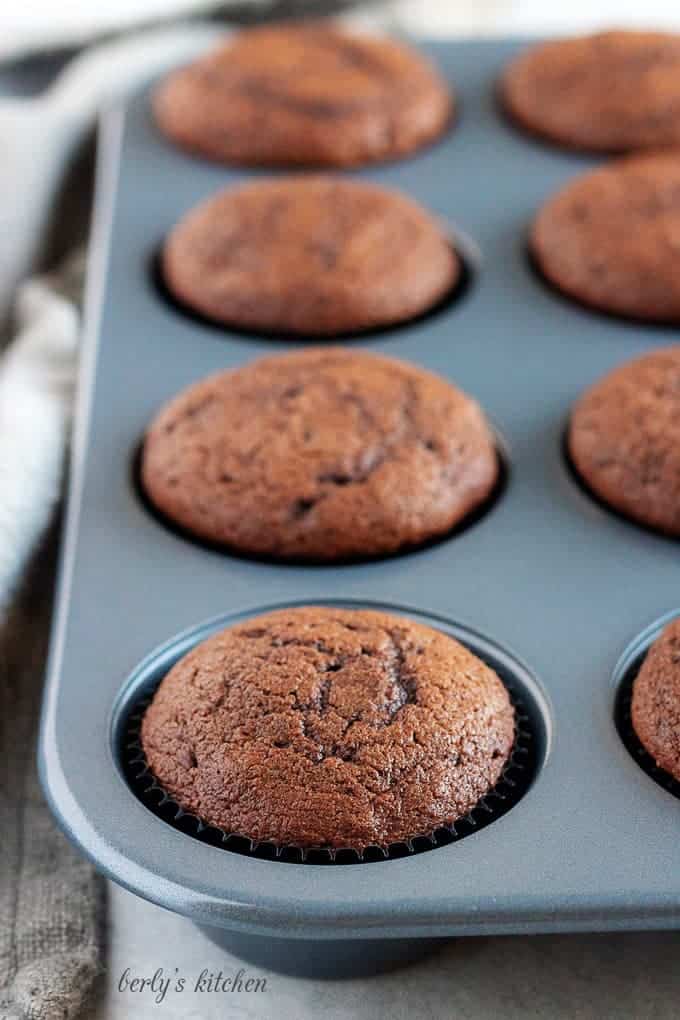 Afterward, carefully blend the ingredients, making sure that everything is well-combined. Be sure to break up all those clumps of powdered sugar.
Last, use a pastry bag or a cupcake decorator to top each chocolate cupcake with delicious orange flavored frosting.
You can now serve the dessert or store it in a sealed container in your fridge for up to 3-days.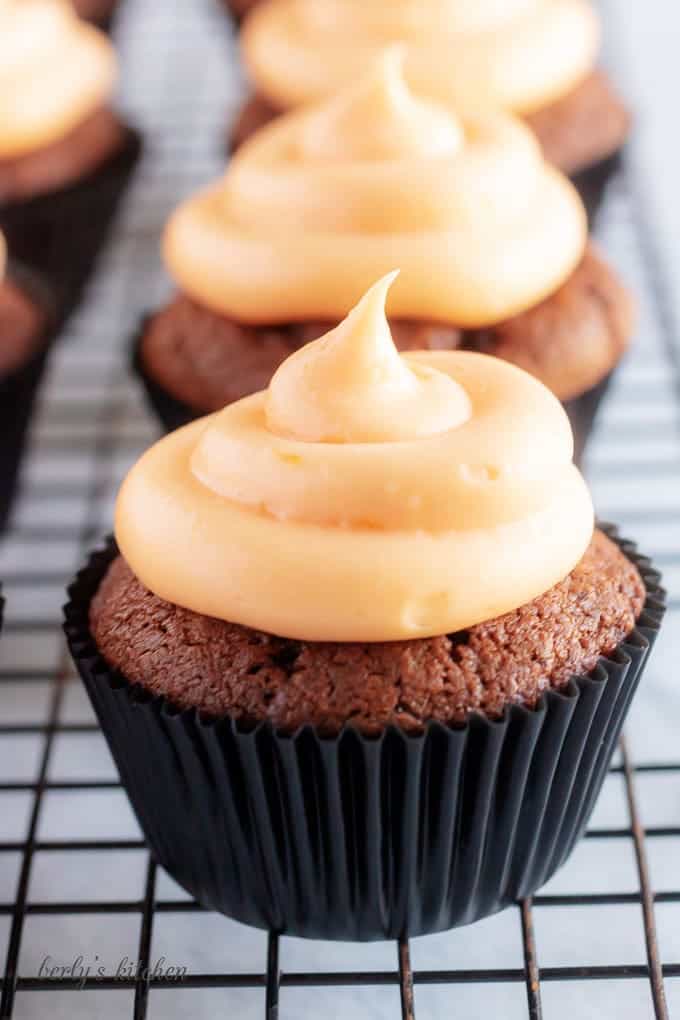 Recipe Tips:
In order to keep your frosting from melting you must allow the chocolate cupcakes time to cool completely. For us, that only took 30-minutes.
However, I keep our house like an ice-box, so the time may differ for you. If you find yourself staring at finished frosting but the cupcakes are still warm, simply pop them into the fridge for about 10-minutes.
Furthermore, don't be afraid to put the frosting into the fridge as well. It may firm up a bit, but it's better than having it melt during the frosting step.
Depending on how much frosting you use on each cupcake, you may have some left-over. There's always the option of filling a few of the cupcakes for an extra surprise for some guests.
On the other hand, you could grab a bowl of pretzels or butter cookies and serve the extra frosting as a dip.
These chocolate cupcakes rise quite a bit during the cooking process, so don't over-fill the liners. Stick to the "half-full," rule.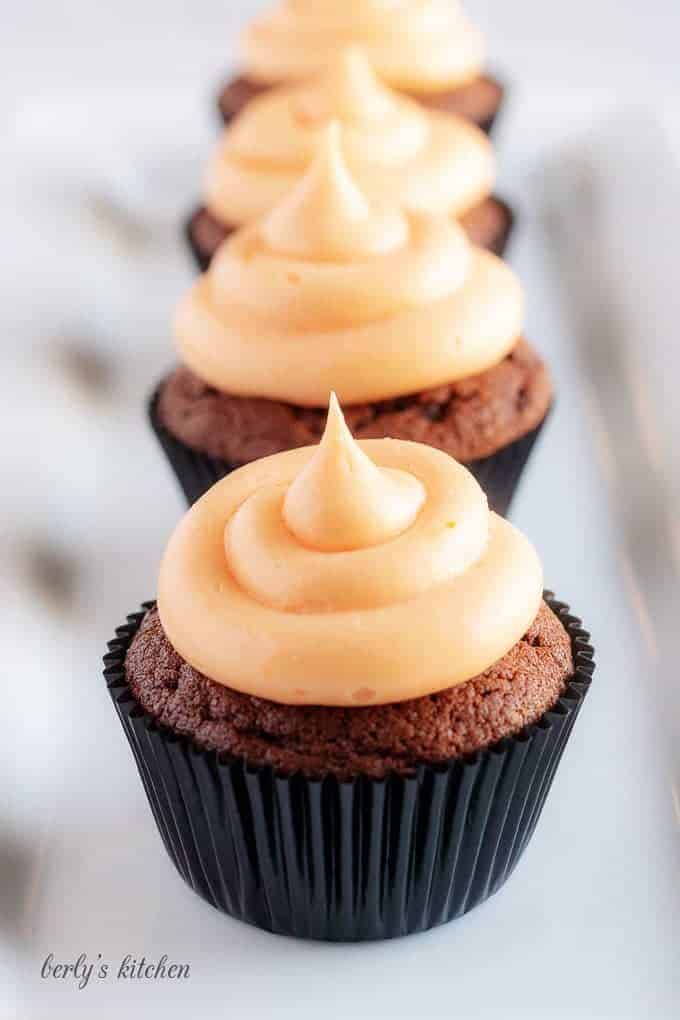 If you like this recipe, please leave us a comment and rate the recipe card. You can also find us on Facebook, Pinterest, Twitter and Instagram searching for Berly's Kitchen!
Join our Facebook group for more recipes from Berly's Kitchen, our new site More Than Meat and Potatoes, and some of our blogger friends!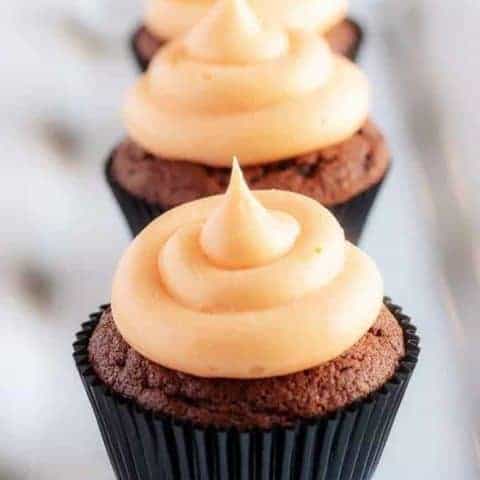 Chocolate Cupcakes with Orange Cream Cheese Frosting
Total Time:
1 hour
5 minutes
Simple chocolate cupcakes made from a cake mix and decorated with orange cream cheese frosting make a quick and tasty Halloween treat.
Ingredients
Cupcakes
1 (15.25 Ounce) Box of Devil's Food Cake Mix
3 Large Eggs
1 3.4 Ounce Box of Chocolate Pudding
3/4 Cup Sour Cream
3/4 Cup Vegetable Oil
1/4 Cup Water
1/4 Cup Coffee, (cooled)
1 Tablespoon Vanilla Extract
Cream Cheese
2 8 Ounce Packs Cream Cheese, (softened)
1/2 Cup Unsalted Butter, (softened)
3 Tablespoons Orange juice
2 Teaspoons Orange Zest
1 Teaspoon Vanilla Extract
8 Cups Powdered Sugar
1/2 Teaspoon Orange Food Coloring
Instructions
Cupcakes
First, preheat oven to 350 degrees F. and line two cupcake pans with liners.
Next, in a large bowl or stand mixer, combine cake mix, eggs, pudding mix, sour cream, veggie oil, water, coffee, and vanilla.
Now, mix on low until well-blended, then increase speed to medium for 2-minutes.
Then, use a scoop or measuring cup to pour 1/4-cup of batter into each liner (spread out batter to fill each one half full).
Last, bake the cupcakes for 18-22 minutes or until done. Remove them from the oven, place on a cooling to cool for at least 30-minutes.
Cream Cheese Frosting
First, in a large bowl, combine the cream cheese, butter, orange juice, orange zest, powdered sugar, food coloring, and vanilla.
Next, mix until well-combined, making sure all the ingredients are incorporated.
Last, top the cooled cupcakes with frosting and serve.
Notes
The calories listed are an approximation based on the ingredients and a serving size of one cupcake. Actual calories will vary. The cupcakes can be stored in a sealed container, in your fridge, for up to 3-days.
Recommended Products
As an Amazon Associate and member of other affiliate programs, I earn from qualifying purchases.
Nutrition Information:
Yield:

24
Serving Size:

1 Cupcake
Amount Per Serving:
Calories:

416
Total Fat:

21g
Saturated Fat:

13g
Unsaturated Fat:

0g
Cholesterol:

57mg
Sodium:

259mg
Carbohydrates:

54g
Sugar:

47g
Protein:

3g
Looking for other Halloween treats?
These adorable Nutter Butter mummy cookies are so easy to make. All you need are some candy decorations, frosting, and white chocolate!
Need for a festive Halloween themed party mix that isn't going to gross out some of the party goers? Then take a look at our simple, sweet, snack mix.
Our caramel corn popcorn is the prefect recipe to satisfy your craving for a salty, sweet snack. Be sure to give it a try and see how tasty popcorn can be!