A savory beer cheese soup flavored with pale ale, sharp cheddar and pepper cheeses along with bacon, jalapenos, paprika, and garlic.
With cooler temperature just around the corner, Kim and I figured it was time for more soup recipes.
Today, we're sharing Kim's mouthwatering beer cheese soup. All the flavor beer cheese dip, in a soup!
I'm a huge fan of pub grub and I'm telling you, this has restaurant quality flavor and texture.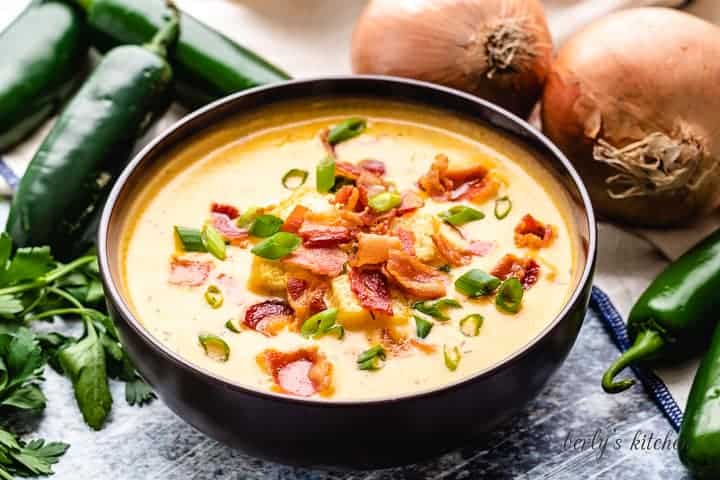 Now, this is a homemade soup, so it takes a little extra time and effort. However, it's definitely worth it.
So, consider making this recipe on your next day off. That way, you have time to enjoy the process.
Without further delay, let's get started!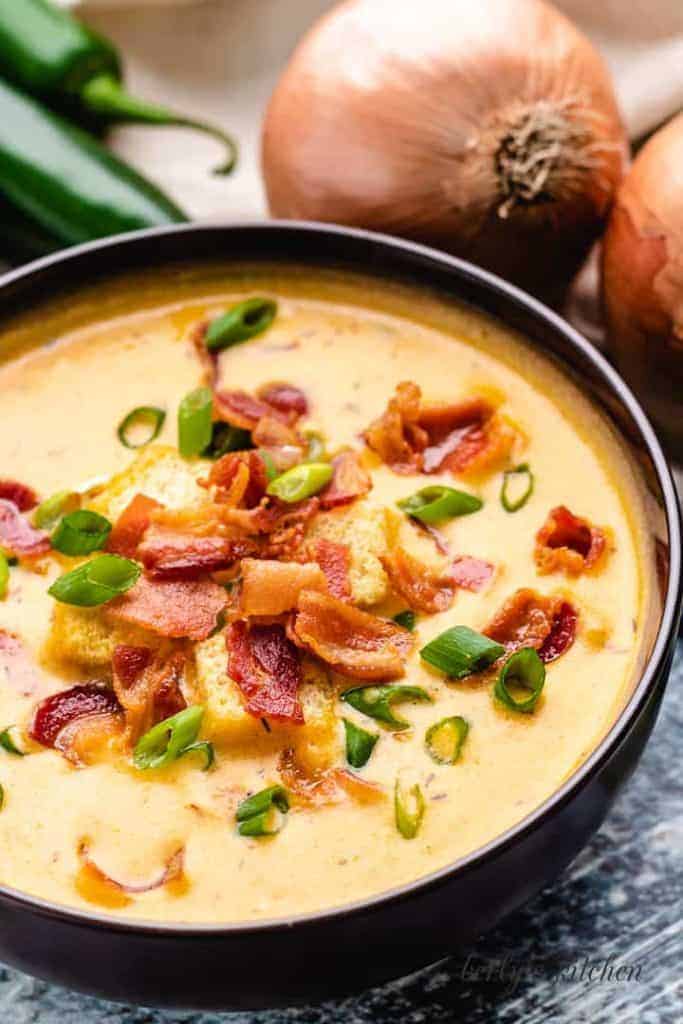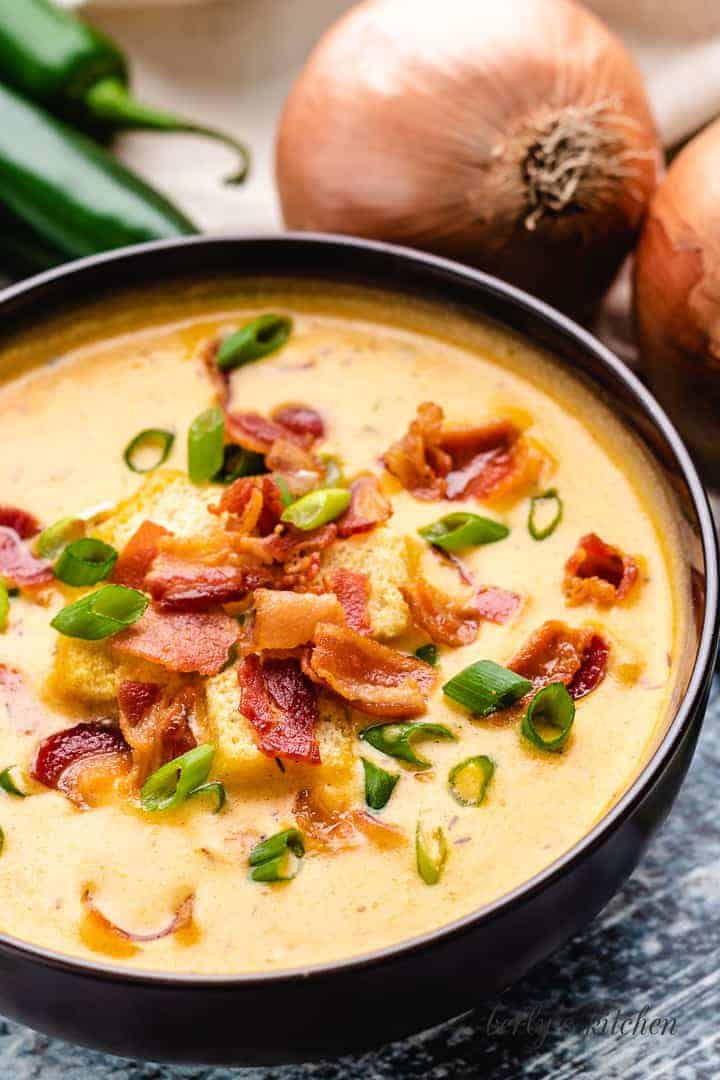 How to make beer cheese soup from scratch?
First, start by prepping the vegetables. You know, mince the garlic, chop the onions and jalapeno, etc.
Afterward, place a large stockpot or deep saucepan over medium heat. Cook the bacon until it's crispy and done.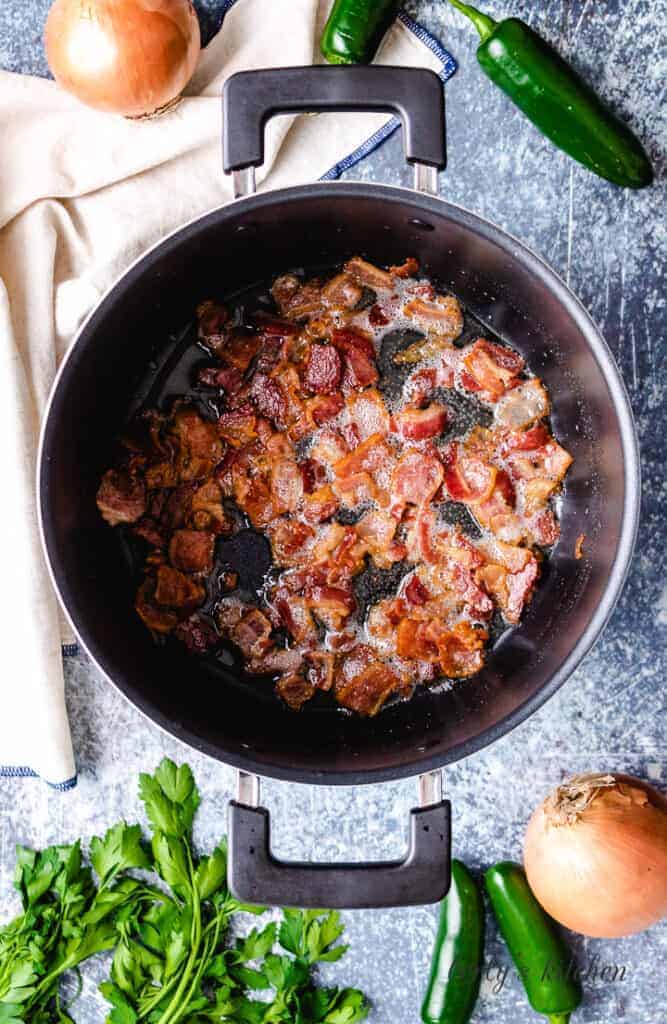 Transfer the bacon to a plate (lined with a paper towel) to drain. Crumble it, once it cools.
Also, drain most of the grease from the pot. Leave about 2-tablespoons in the pan.
Next, sauté the jalapeno and onions for about 4-minutes. After that, sprinkle in the minced garlic, paprika, and thyme.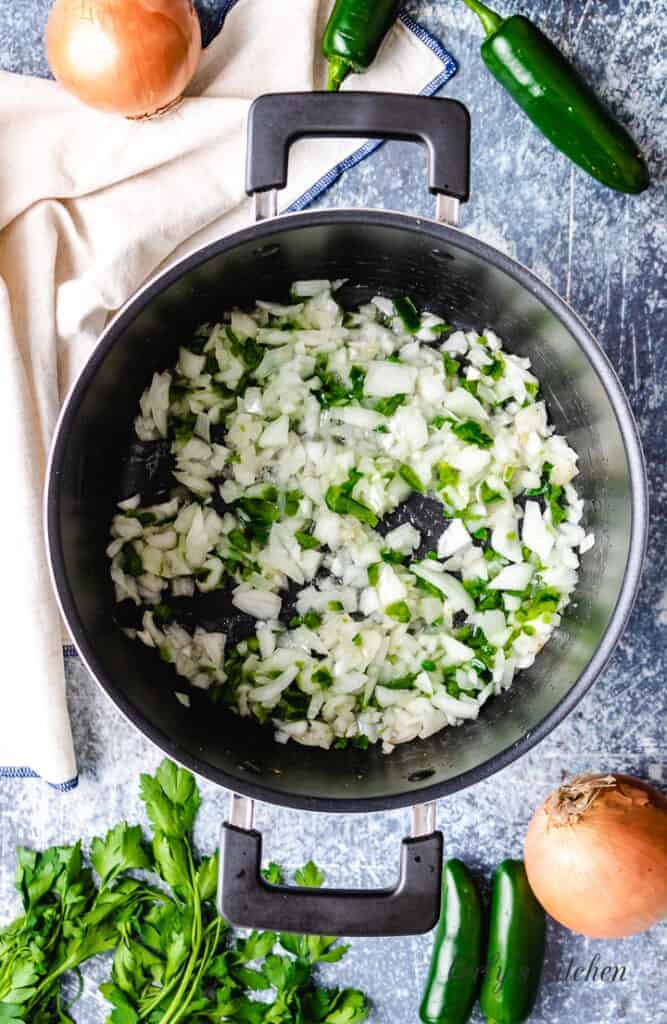 Let everything cook for about 30-seconds, reduce the heat to low, and add in the butter.
Once the butter has melted, sprinkle in the flour. Stir the mixture as it cooks for another 2-3 minutes.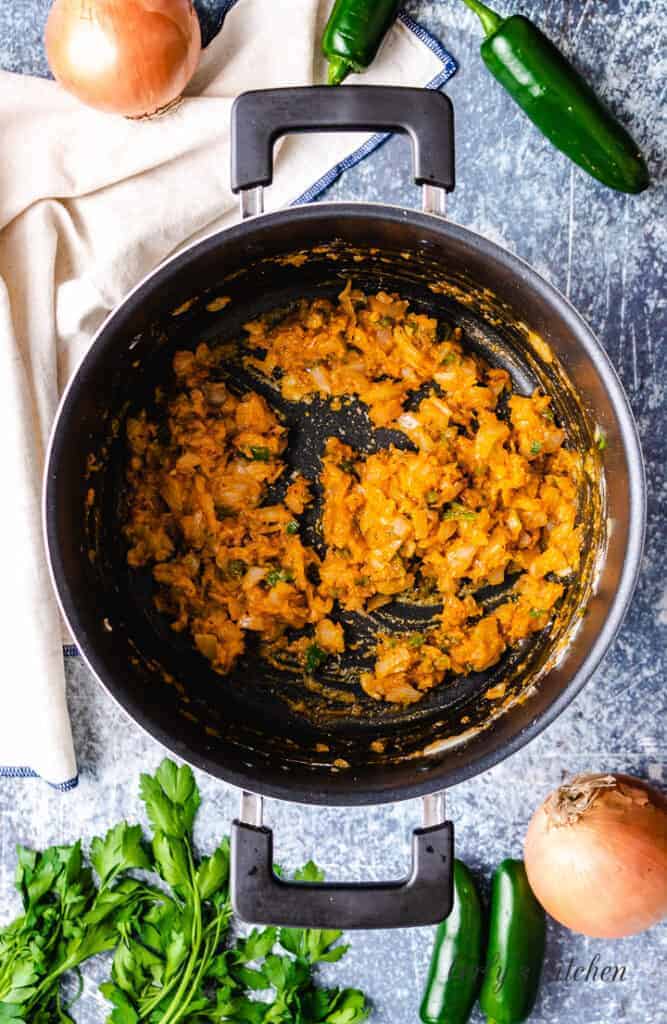 Carefully, pour in the ale and stir it into the flour mixture. Increase the heat to low-medium and let the soup come to a simmer.
Then, as the soup thickens, pour in the heavy cream and chicken broth. Again, stir the ingredients together.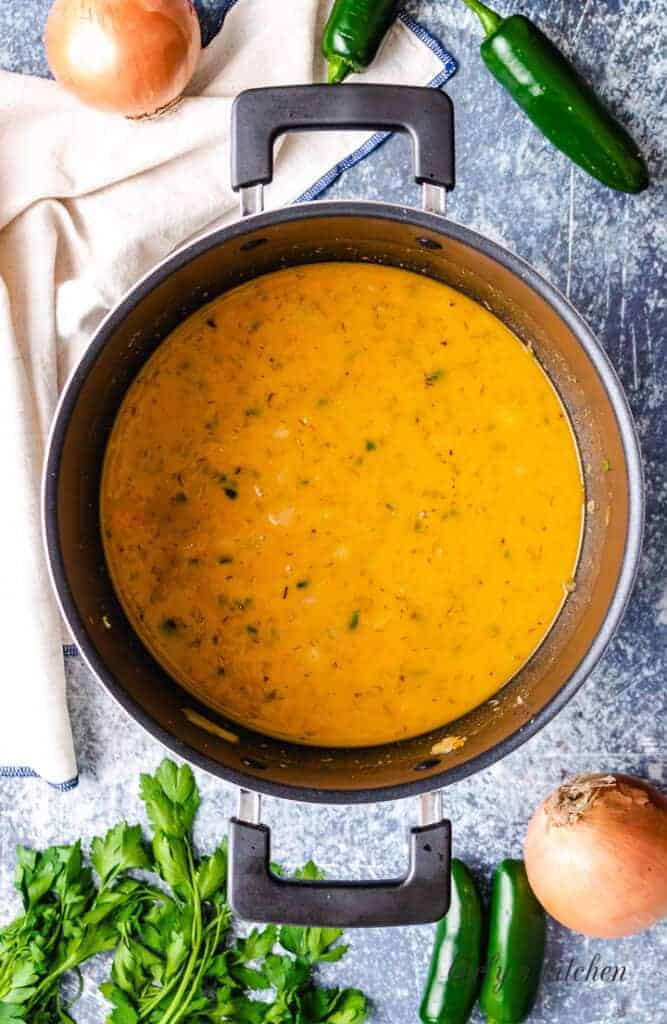 When the soup begins to steam, stir in the cheeses. I recommend only adding a handful of cheese at a time.
Now, when both cheeses have been incorporated, dump in half of the crumbled bacon. You'll use the other half as a garnish.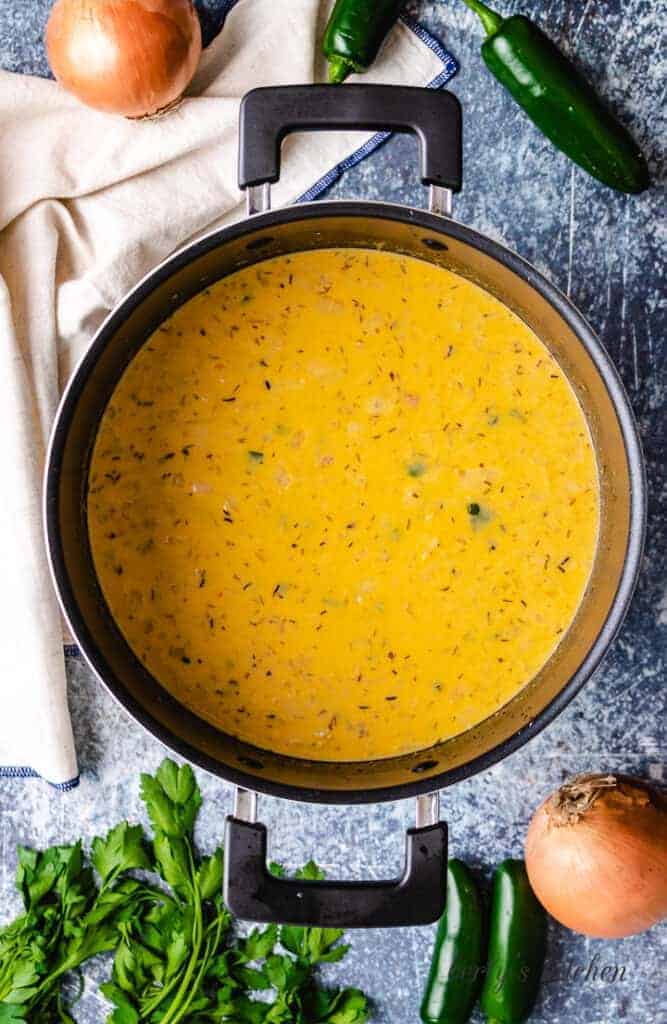 Additionally, go ahead and do a taste test and add salt and pepper if needed.
Last, let the soup cook until it reaches your desired thickness, then turn off the heat and serve it with remaining bacon on top.
That's it, your beer cheese soup recipe is done! Kim and I hope you enjoy it and wish you all the best 🙂
In closing, I recommend serving this soup with our garlic cheddar biscuits. It's such a tasty combination!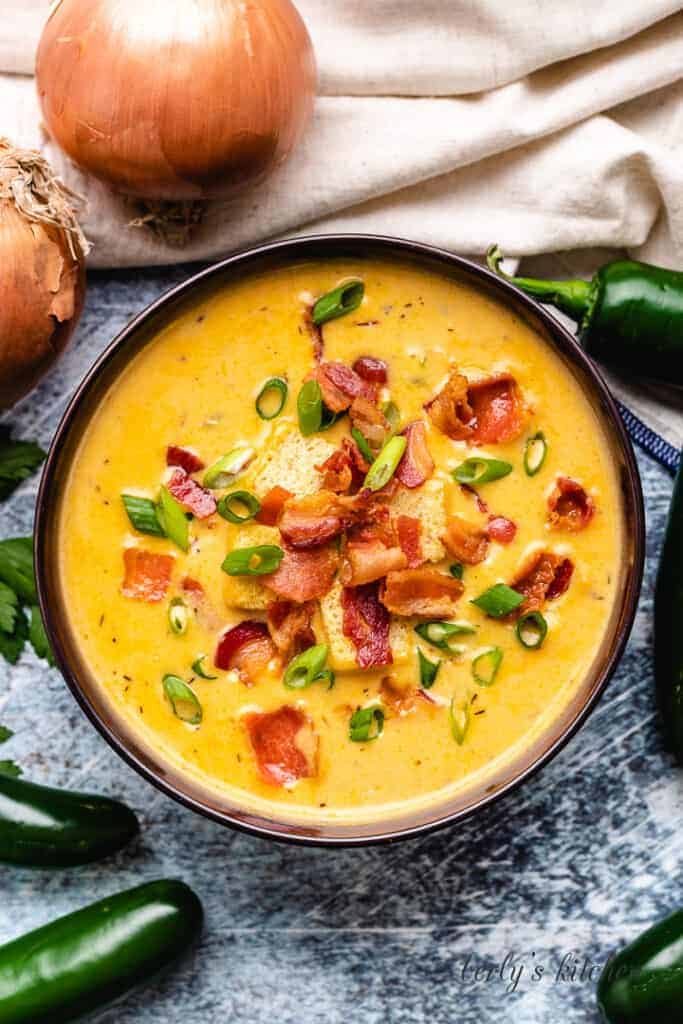 Recipe Tips:
The thickening agent in this recipe is the flour and butter mixture (roux). Your using the roux to thicken the chicken broth and heavy cream. The important thing to remember is to avoid letting the soup come to a boil. Otherwise, the cream may separate and that can ruin a soup.
If you're unsure about what kind of ale, beer, or lager to use; here's a best practice. Don't cook with an alcohol you wouldn't drink. In other words, use a beer (lager or ale) that you enjoy drinking.
On the other hand, if you don't care for alcohol but want to try this soup, then use a non-alcoholic beer found at your local grocery store. Another option is simply use extra chicken stock for the beer step. With that being, the finished product will not be a beer cheese soup, it will be cheese soup.
Reheating a cream based soup can be tricky. I always recommend heating it on the stove-top, over low heat, with a dash of extra cream or milk. Just to make it doesn't separate while reheating.
Can you freeze beer cheese soup? Yes, you can and when properly stored in your freezer, it should last for about 2-months.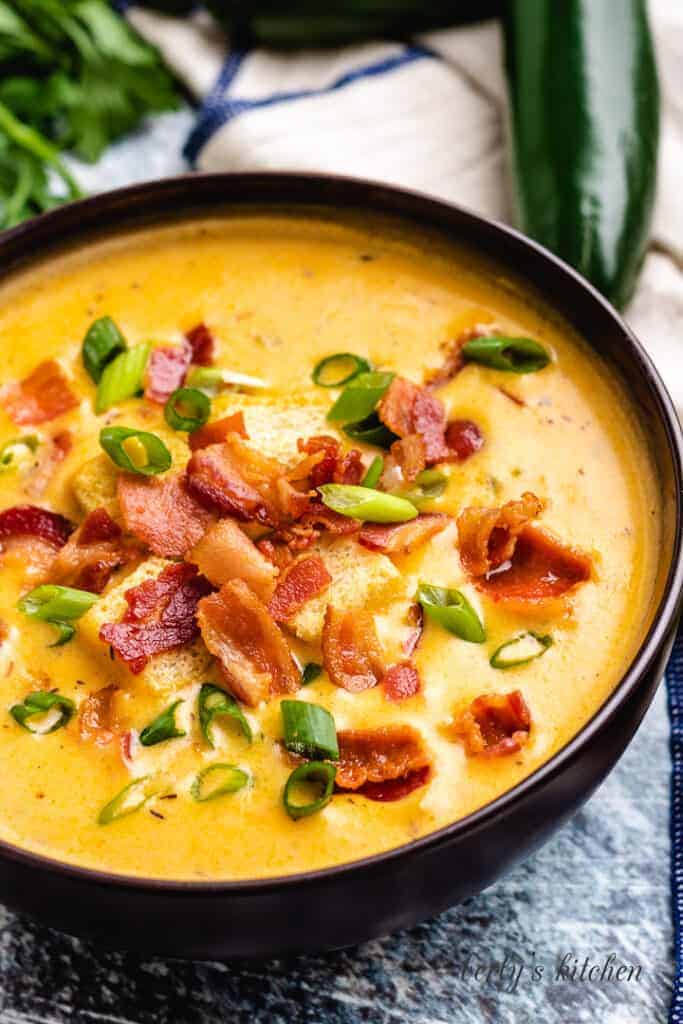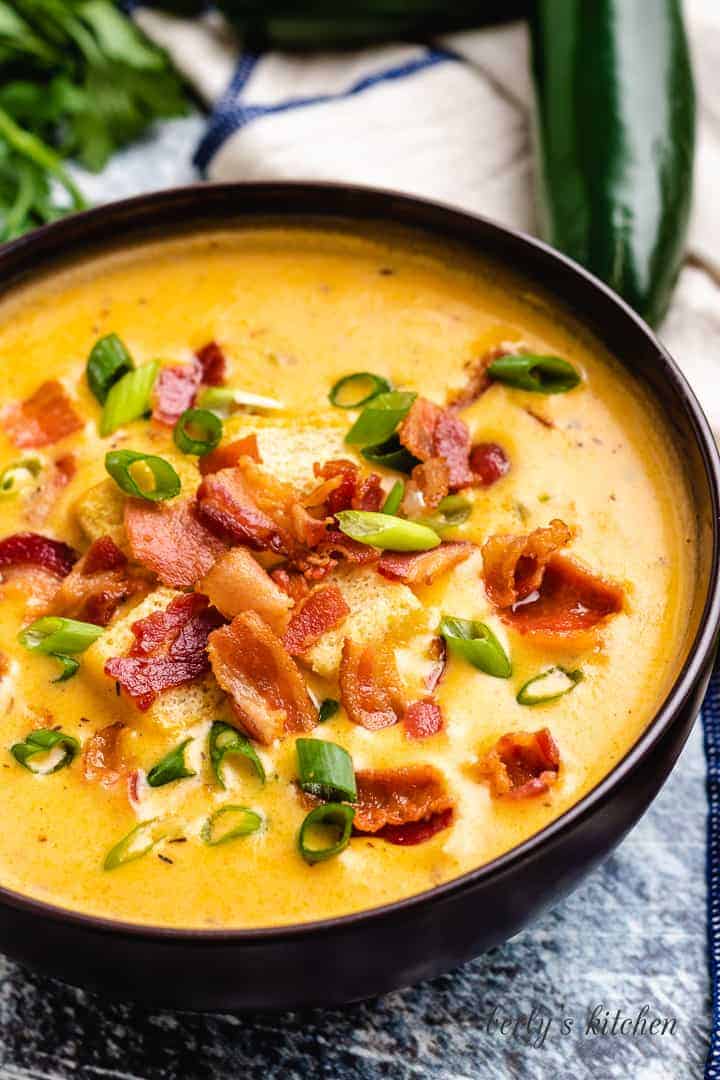 Don't forget to follow us on FACEBOOK and PINTEREST to see our newest recipes! You can also find us on Facebook, Pinterest, Twitter, and Instagram searching for Berly's Kitchen!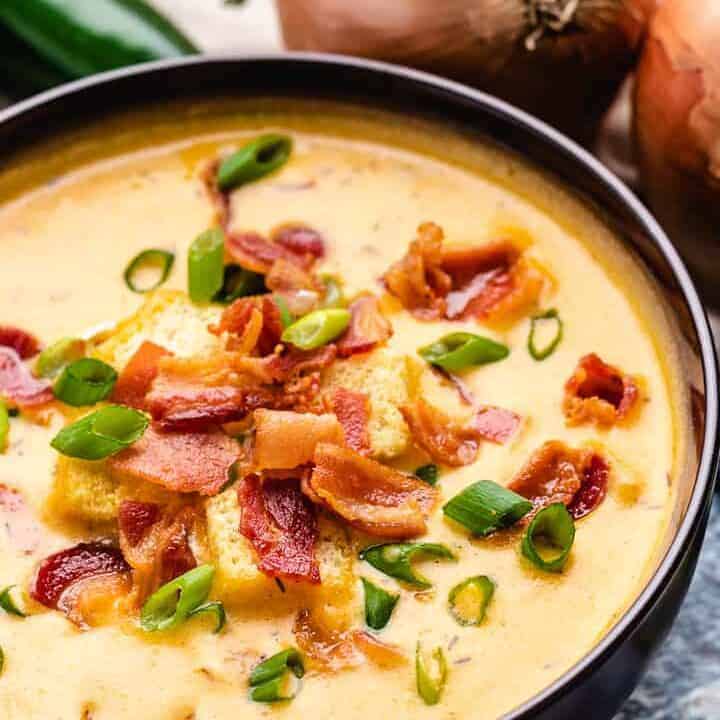 Beer Cheese Soup
A savory beer cheese soup flavored with pale ale, sharp cheddar and pepper cheeses along with bacon, jalapenos, paprika, and garlic.
Ingredients
½ Pound Bacon, cut into ½ inch pieces
1 Cup White Onion, finely chopped (about 1 medium onion)
½ Cup Jalapeno, seeded and membranes removed (about 1 medium jalapeno)
1 Tablespoon Garlic, minced or pressed (about 2 large garlic cloves)
1 Teaspoon Dried Thyme
½ Teaspoon Paprika
4 Tablespoons Unsalted Butter
4 Tablespoons All-Purpose Flour
12 Ounces Bottle Ale or Lager
2 Cups Chicken Broth
1 Cup Heavy Cream
8 Ounces Sharp Cheddar Cheese, shredded
4 Ounces Pepperjack, shredded
Salt and Pepper, to taste
Instructions
Heat a large soup pot or saucepan over medium heat. Cook the bacon until crispy, about 8 to 10 minutes. Use a slotted spoon to transfer the cooked bacon to a paper towel lined plate. Drain all by 2 to 3 tablespoons of bacon grease from the pan.
Add the onion and jalapeno. Cook for 3 to 5 minutes or until the vegetables begin to soften. Next, add the garlic, thyme, and paprika. Continue to cook for another 30 seconds to 1 minute.
Reduce the heat to low, and add the butter. Stir until the butter is completely melted. Sprinkle the flour over the vegetables. Continue to stir for 2 to 3 minutes until the flour is incorporated. Pour in the beer, and stir until combined. Increase the heat slightly to low - medium, but do not boil.
After the beer thickens, pour in the chicken broth and heavy cream. Stir to combine. When the liquid begins to steam slightly, add the cheese a little at a time, stirring between each additional. Once all the cheese is added, add half of the cooked bacon, and salt and pepper to taste. Continue to stir until over low heat until the soup reaches the desired thickness.
Garnish with the remaining bacon, croutons, chives, green onions, parsley, or chopped jalapeno. Store any leftovers in the refrigerator for up to 3 days.
Notes
The calories listed are an approximation based on the ingredients in the recipe card and a serving size of about 1-cup of the beer cheese soup. Actual calories will vary. For more information and tips, please refer to the post.
Recommended Products
As an Amazon Associate and member of other affiliate programs, I earn from qualifying purchases.
Nutrition Information:
Yield:

6
Serving Size:

1-Cup
Amount Per Serving:
Calories:

632
Total Fat:

48g
Saturated Fat:

26g
Trans Fat:

1g
Unsaturated Fat:

19g
Cholesterol:

142mg
Sodium:

1256mg
Carbohydrates:

16g
Fiber:

1g
Sugar:

4g
Protein:

26g
*The calories are an estimate and are based on the ingredients and serving size listed. The calories can vary depending on the brand of product purchased.