Our Pineapple Upside Down Cake Drink is a layered cocktail that combines pineapple juice, amaretto, whipped cream-flavored vodka, and grenadine for a sweet summertime mixed drink. It's a great way to enjoy the delicious taste of a pineapple upside down cake without having to bake!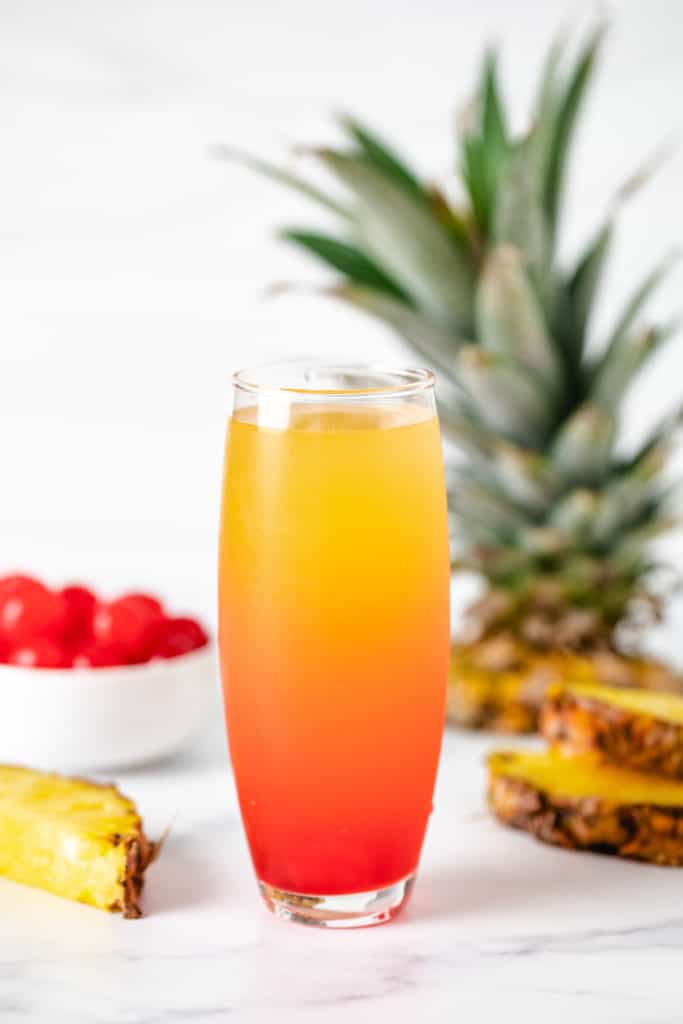 Looking for an easy summer drink? Try our Pineapple Upside Down Cake Cocktail! This beach drink not only looks pretty, but it couldn't be easier to make.
Mix the whipped cream vodka, amaretto liqueur, and pineapple juice then layer it with sweet grenadine for a beautiful ombré effect. Don't forget the maraschino cherries which are signature in a pineapple upside down cake.
What's a Pineapple Upside Down Cocktail Made Of?
This cocktail is in the family of layered cocktails which are prepared by carefully layering ingredients for a multicolored look. This drink looks similar to the Malibu Sunset but without orange juice and rum.
Our pineapple cake drink uses 5 ingredients if you count the cherries!
Pineapple Juice
Whipped Cream Flavored Vodka (vanilla vodka works as a substitute)
Amaretto
Grenadine
Maraschino Cherries
How to Make the Layers in a Pineapple Cake Drink:
How do you layer a cocktail? Think about the density of the ingredients. The heavier or denser ingredients sink to the bottom of the glass while the lighter and less dense ingredients float to the top.
Scroll to the recipe card below for ingredient amounts and full instructions.
Add ice to a drink shaker. Then pour in the pineapple juice, vodka, and amaretto. Shake briefly to chill the liquid.
Drop a couple of maraschino cherries into a glass. Strain the pineapple and vodka mixture into the glass over the cherries.
Turn a spoon upside down and press it against the inside of the glass. Very slowly drizzle a small amount of grenadine onto the back of the spoon into the cocktail. You'll just need a splash or two to get a layered look. A little goes a long way, so be careful not to overdo it.
What kind of pineapple juice should you use?
This is preference on your part. Three types of pineapple juice come to mind and they all have pluses and minuses.
Canned Pineapple Juice: Canned pineapple juice is convenient and inexpensive. It's easy to find in most grocery stores, and you can store it in your pantry for up to six months (or up to its expiration date).
Jarred Pineapple Juice: Jarred pineapple juice has a shorter shelf life than canned, so be sure to check the expiration date before using it. This variety has a fresher, less metallic taste than canned juice.
Fresh Pineapple Juice: It's made with freshly cut pineapple, which makes it much more flavorful than any canned or jarred alternative. The downside is that it only lasts about 2 to 3 days.
A Little About Vodka:
Vodka is a popular spirit that has been around for centuries. It's made from fermented grains, fruits, or vegetables and is usually distilled multiple times to create a clear, flavorless alcohol. Vodka is enjoyed on its own or mixed in cocktails like this Pineapple Upside Down Cake Drink.
Vodka provides an ideal base for infusions. Infused vodkas are created by adding herbs and spices like peppercorns, jalapeños, habanero peppers, ginger root slices, and more to the vodka bottle of choice.
Vodka has an ABV (alcohol by volume) ranging from 35% to 50%, depending on the country and brand. In the United States, anything called vodka must have an ABV of at least 40%.
What other drinks can you make with vodka? We love this Pumpkin Martini in the fall, this Pineapple Martini during the summer, and this Frozen Mudslide pretty much any time of year! Make sure to choose a good quality vodka for a smoother tasting drink.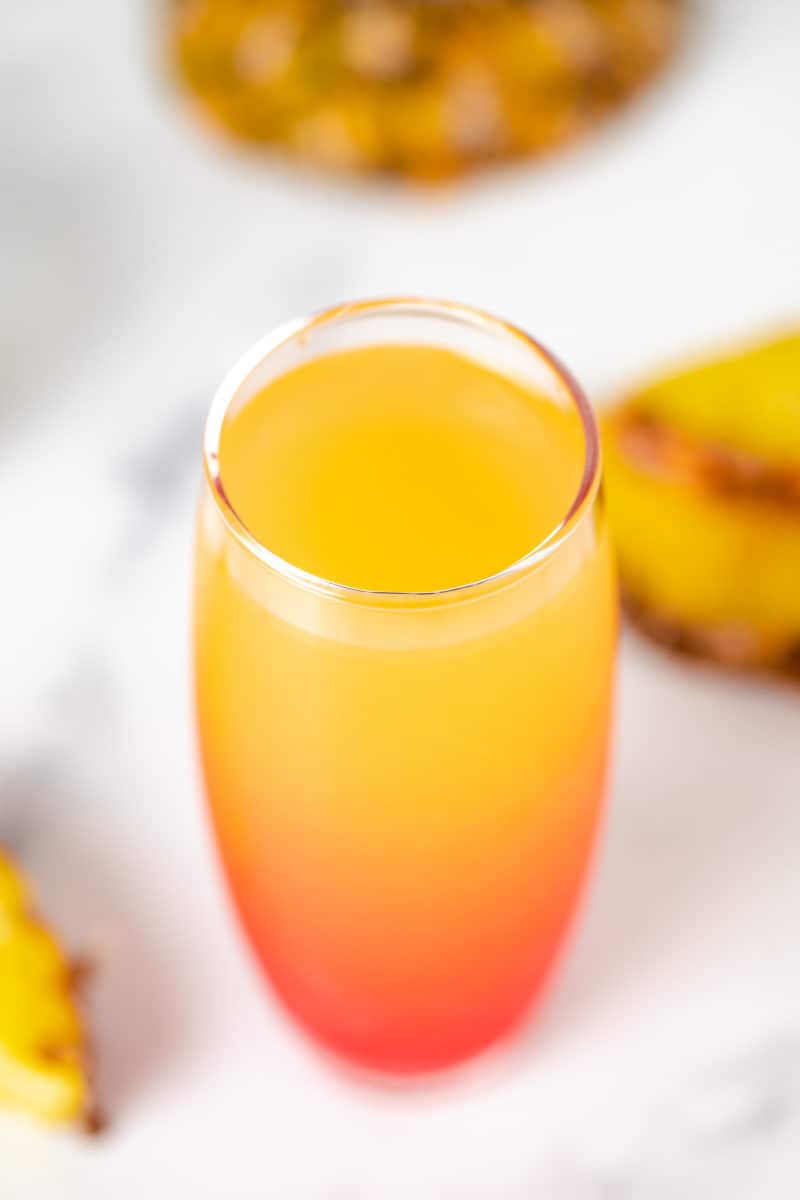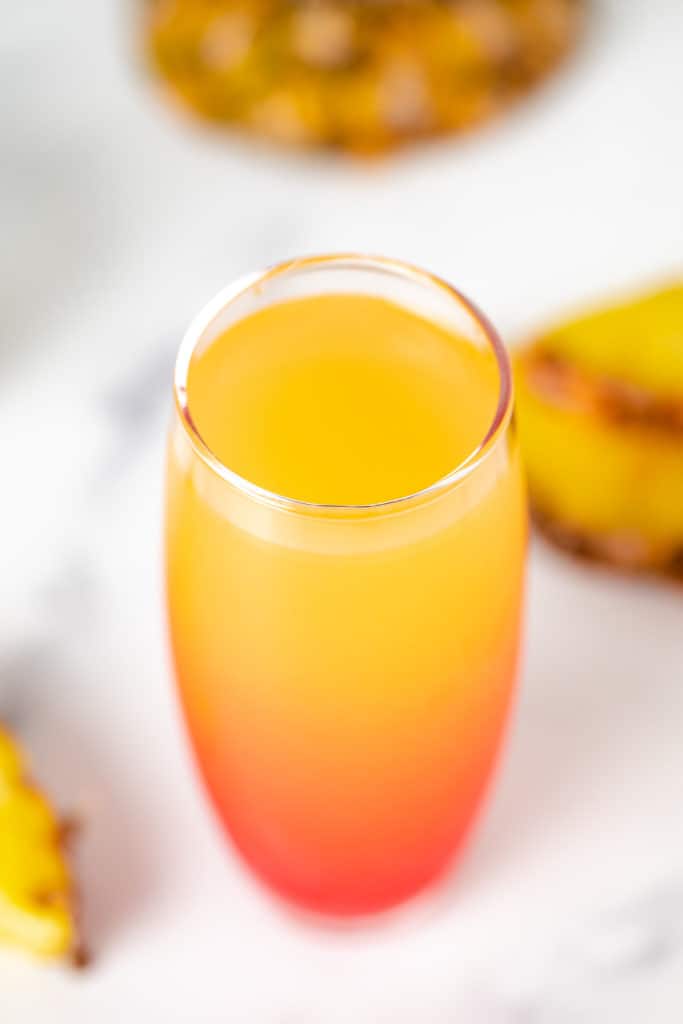 How to Serve this Drink:
Single Serving: Make the recipe as-is to enjoy a single serving cocktail.
Shots: Place a cherry into 4 to 5 (1 ounce) shot glasses. Divide the recipe evenly between the glasses and add a splash of grenadine to each. You'll have Pineapple Upside Down Cake Shots! Double the recipe if your shot glasses are larger.
Pitcher: To make this recipe for a crowd, grab a large pitcher. Add ice, 3 cups of pineapple juice, 1 cup of vodka, and ½ cup of amaretto liqueur. Stir to combine. Place cherries into each of the serving glasses, and pour in some of the cocktail mixture. Layer in grenadine using a spoon.
What can you use in place of vodka?
Try coconut rum, such as Malibu Coconut Rum, Blue Chair Bay, Cruzan, or Bacardi brand.
Other Cocktails You May Love:
Recipe Card with Ingredient Amounts and Instructions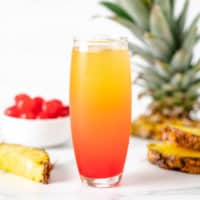 Ingredients
Ice

3

ounces

pineapple juice

2

ounces

whipped cream vodka

½

ounce

amaretto liqueur

1 to 2

maraschino cherries

2

teaspoons

grenadine

,

adjust to taste
Instructions
Place the ice in a drink shaker. Then pour in the pineapple juice, vodka, and amaretto. Shake briefly.

Ice

3 ounces pineapple juice

2 ounces whipped cream vodka

½ ounce amaretto liqueur

Drop 1 to 2 cherries into a cocktail glass, and pour the drink over the cherries.

1 to 2 maraschino cherries

Turn a spoon upside down and hold it against the inside of the glass. Carefully pour the grenadine over the spoon so it sinks to the bottom of the glass.

Add any garnishes you like. Enjoy!
Notes
*The calories listed are an approximation based on the ingredients in the recipe card and a serving size of 1 drink. Actual calories will vary.
*For more information, tips, and answers to frequently asked questions, please refer to the post.
Nutrition
Serving:
1
drink
|
Calories:
260
kcal
|
Carbohydrates:
26
g
|
Protein:
0.3
g
|
Fat:
0.2
g
|
Saturated Fat:
0.03
g
|
Polyunsaturated Fat:
0.1
g
|
Monounsaturated Fat:
0.01
g
|
Sodium:
7
mg
|
Potassium:
120
mg
|
Fiber:
0.3
g
|
Sugar:
21
g
|
Vitamin A:
7
IU
|
Vitamin C:
9
mg
|
Calcium:
15
mg
|
Iron:
0.3
mg
Don't Lose This Recipe!
Save it on Pinterest! Follow us at @berlyskitchen!