Create your own delicious Southwest chicken salad at home with our simple step-by-step recipe. Enjoy a spicy salad loaded with seasoned chicken and fresh veggies!
Usually, I tend to enjoy salads a lot more during the Spring and Summer months. However, a good salad is perfect anytime of the year.
Speaking of delicious salads, for today's post we're sharing our Southwest chicken salad.
As the name implies, it's loaded with Tex-Mex flavor and lots of crunchy,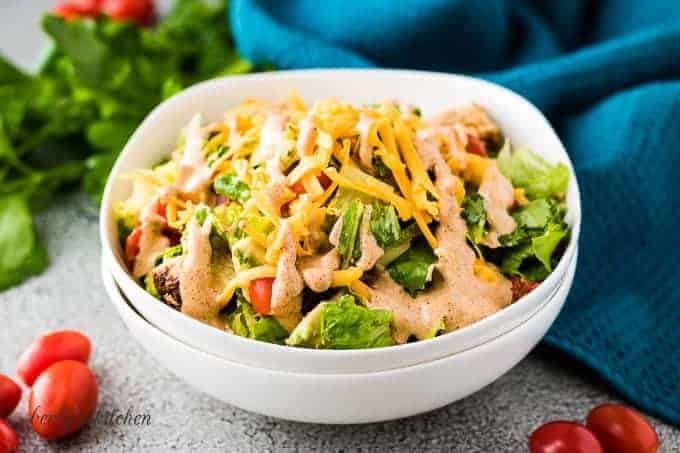 How to make a Southwest chicken salad?
First, start by heating a large skillet over medium heat. While the pan warms up, rinse and dry the chicken breasts.
Next, sprinkle the fajita seasoning over the breasts. Once the pan is warm, drizzle in the oil. After that, carefully lay the breasts into the pan.
I recommend using tongs to handle this step.
Then, let the chicken cook for at least six (6) minutes in each side. You'll know the chicken is done once the juices run clear.
Still, I would use a meat thermometer in thickest part of the meat to ensure the breasts are done. Now, while the chicken cooks, prep all your vegetables for the salad.
Chop the lettuce, dice the onion, cut the avocado, rinse and drain the beans and corn. You get the idea. Place the ingredients into a large bowl.
There should be plenty of time to do all of this because even when the meat is done cooking, it will need to rest for about ten (10) minutes before you chop it.
Afterward, place everything, except the dressing, into a large mixing bowl. Wash the tongs and use them to toss the salad.
Last, drizzle the Southwest dressing over the salad and serve.
That's it, your Southwest chicken salad recipe is done! Kim and I hope you enjoy the meal and we wish you all the best 🙂
Recipe Tips:
The thinner the chicken breast is cut, the faster it will cook. For example, if you use thin sliced cutlets, you would need to reduce the cook time for the chicken breast.
If you're not going to serve the whole salad right away, then hold off on adding the dressing. Otherwise, storing the chicken salad with the Southwest dressing added will cause the lettuce to wilt and become soggy in less than twenty-four (24) hours.
Feel free to change the salad dressing to any type you enjoy. Perhaps, you prefer spicy Ranch to Southwest varieties. Go for it! It's your salad, after all.
If you like this recipe, please leave us a comment and rate the recipe card. You can also find us on Facebook, Pinterest, Twitter and Instagram searching for Berly's Kitchen!
Join our Facebook group for more recipes from Berly's Kitchen, our new site More Than Meat and Potatoes, and some of our blogger friends!