Ginger Lemonade is a lightly sweetened drink full of fresh lemon flavor and ginger simple syrup. It's the perfect Summer drink and is perfect for your next BBQ!
Ginger lemonade is so easy to make and is a great option when you want an icy cold drink. It's great for picnics and goes perfect with Instant Pot Potato Salad, Italian Hoagie Dip, and Instant Pot Deviled Eggs.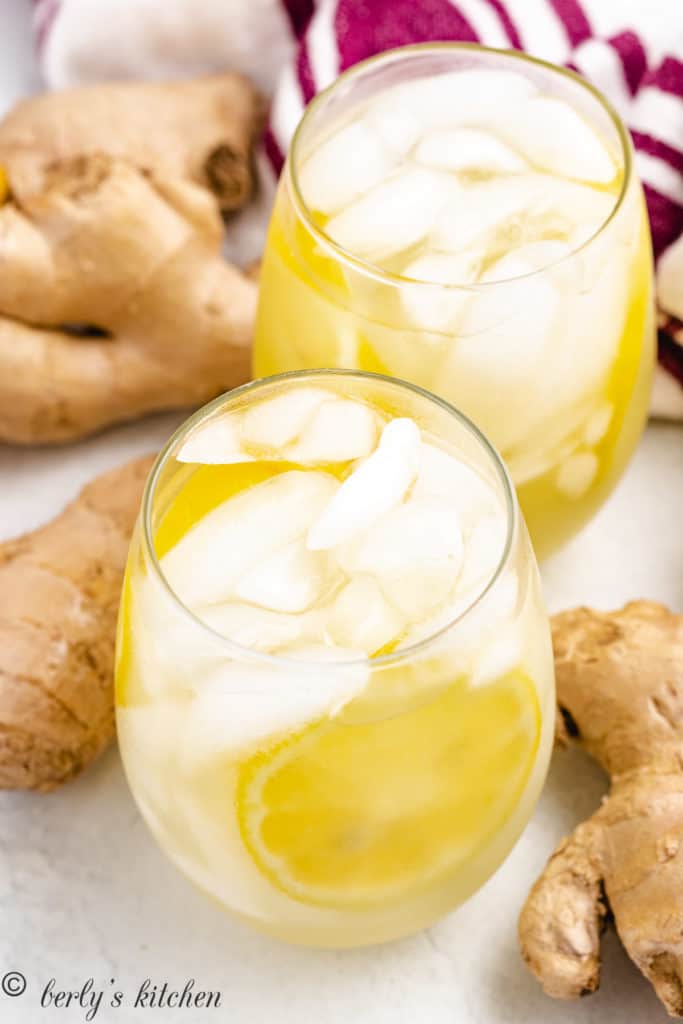 Ginger Lemonade Recipe:
Lemonade and summertime go hand-in-hand. A great glass of lemonade is like a sweet sunshine. It's pretty much perfect. But, have you ever tried ginger lemonade?
Take the perfect glass of chilled lemonade, and add ginger simple syrup to add a fun twist on the traditional flavor. Ginger has a bit of a spicy note, but it blends beautifully with sweet simple syrup and tart lemon. It's a unique drink option for picnics, BBQs, and potlucks! It's sweet, tart, and absolutely delicious.
Ginger Lemonade Ingredients:
Ginger Root: Real deal ginger root! Gives this lemonade a robust, fresh flavor.
Granulated Sugar: I love using granulated sugar for this lemonade. It's the perfect amount of sweetness, and it dissolves easily.
Water: Plenty of water to dilute down the lemon juice and simple syrup.
Freshly Squeezed Lemon Juice: Freshly squeezed lemon juice is the only way to go here! Bright, light, and full of fresh citrus flavor. It makes me think of Summer!
How to Make Ginger Lemonade:
Place sugar, ginger root, and water into a medium saucepan.
Heat over medium heat while stirring occasionally until the sugar is completely dissolved.
Continue to simmer for about 10 minutes, then remove from heat.
Allow the ginger simple syrup to cool for 30 minutes, then strain through a mesh sieve.
Refrigerate until ready to use.
Add ice, water, simple syrup, and freshly squeezed lemon juice to a large pitcher.
Stir to combine, and serve in individual glasses over ice.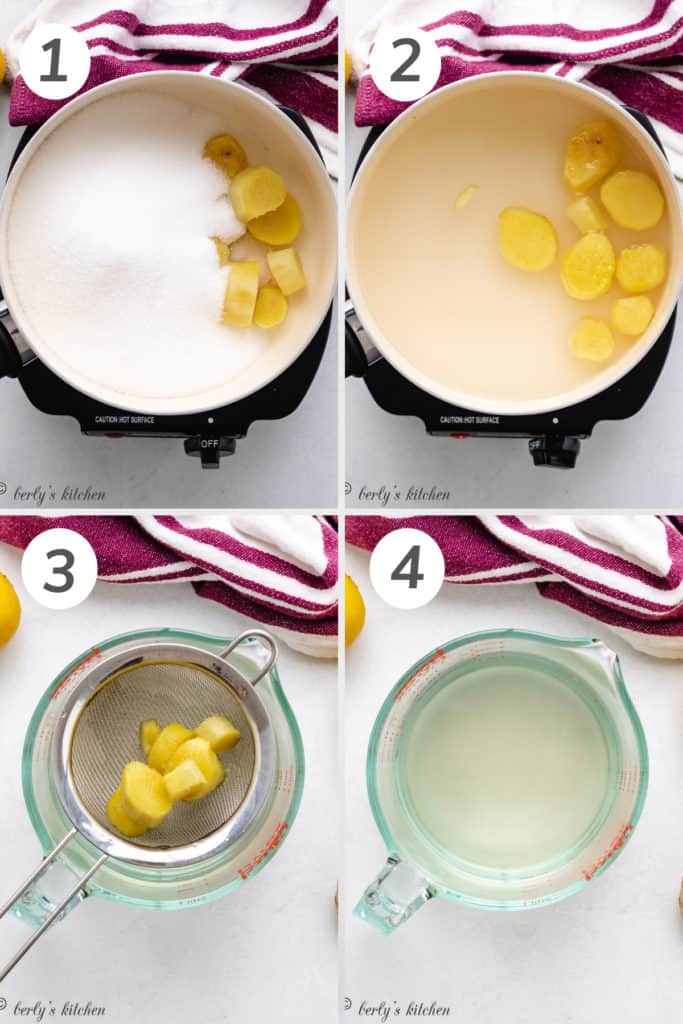 Tips and Variations for Ginger Lemonade:
Ginger Root: This is my favorite way to get real ginger flavor into this lemonade. Another option is to use frozen, crushed ginger. It comes in little push tabs and is found in the freezer section of some grocery stores. The drawback is that it takes quite a bit more frozen ginger to achieve the same level of ginger flavor than it does using fresh ginger root.
Sweetener: I really like using granulated sugar for this recipe, because it dissolves easily and sweetens well. However, honey, cane sugar, coconut sugar, and agave nectar are other good options. You may need to adjust the amounts to get the sweetness to your liking.
Lemon Juice: Please don't use concentrate or jarred lemon juice. Fresh is the way to go! It really makes this lemonade taste fresh and bright. I think the amount is just right. It's the perfect balance of sweet and tart. My husband prefers a little less lemon juice, so the lemonade is a bit sweeter. Make sure to adjust to your tastes.
Steep It!: After the sugar dissolves in the ginger simple syrup, I love to cook it at the lowest temperature possible for about 15 minutes or so. Then, I remove it from the heat, and allow it to set at room temperature for 1 to 2 hours. This gives the ginger root plenty of time to flavor the water, so it's nice and strong. If you don't want a super strong ginger flavor, there's no need to leave it nearly that long.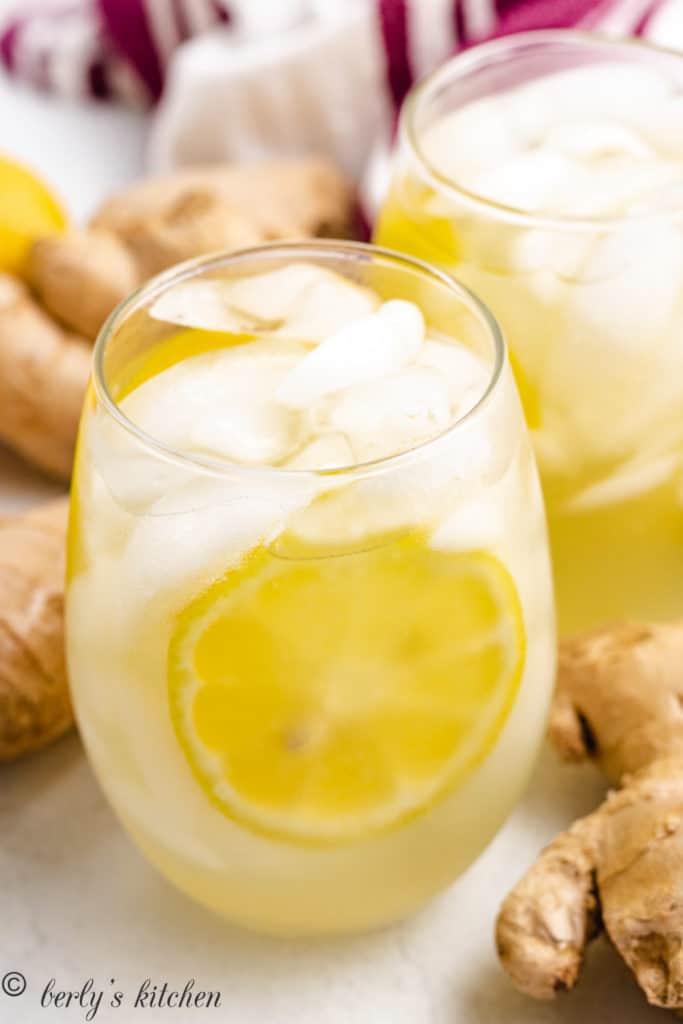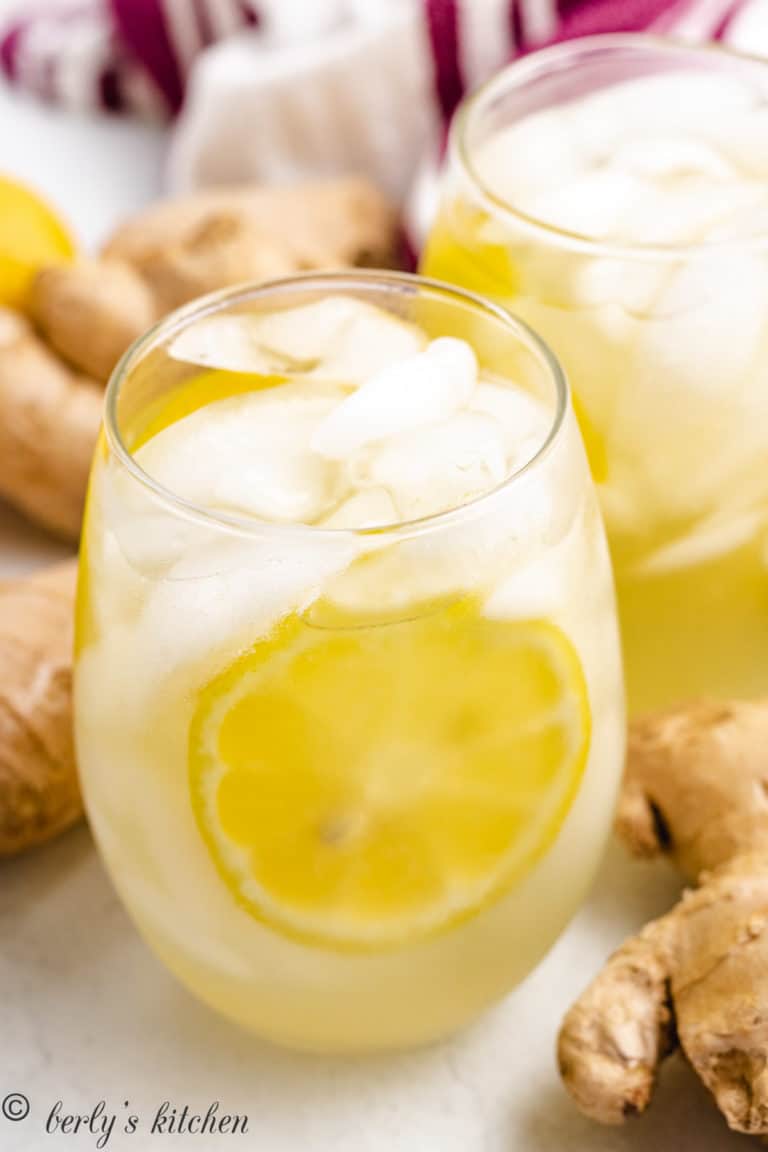 Storage Recommendations:
Room Temperature: Ginger lemonade can be left at room temperature, but we'd recommend not adding ice until you're ready to serve it. Otherwise, the ice will melt and water down the lemonade.
Refrigerator: If you have a full pitcher of lemonade or leftover lemonade, it's fine to pop it in the fridge for 3 to 4 days. However, I wouldn't add the ice until you're ready to serve it.
Freezer: We've never tried to freeze this lemonade, but I'm thinking it would work well if you poured it into ice cube trays. It would taste great as a frozen ginger lemonade slush. Just drop the ice cubes in a blender, and blend away!
Other drink recipes you may love:
Don't forget to check out our Ginger Lemonade web story!
Yield: About 64 Ounces
Easy Ginger Lemonade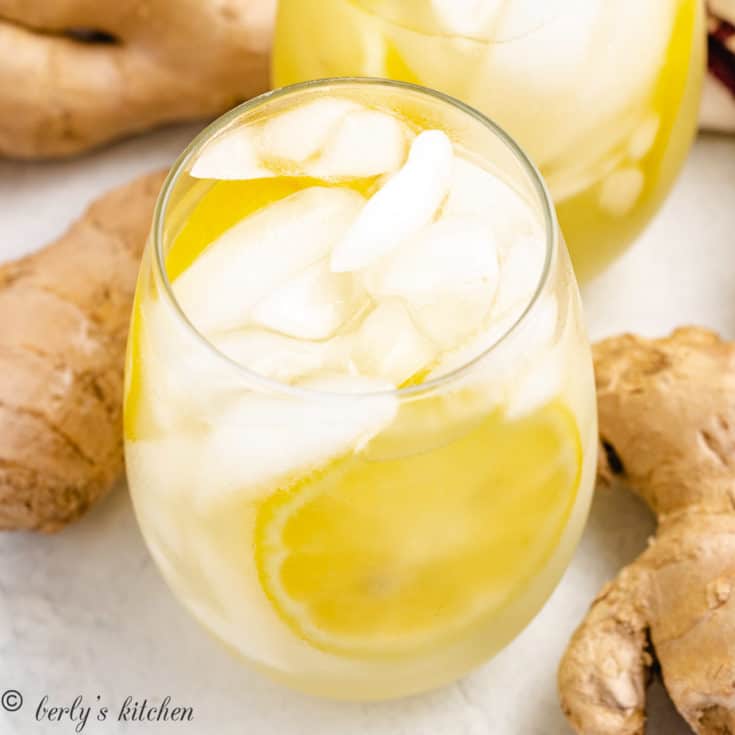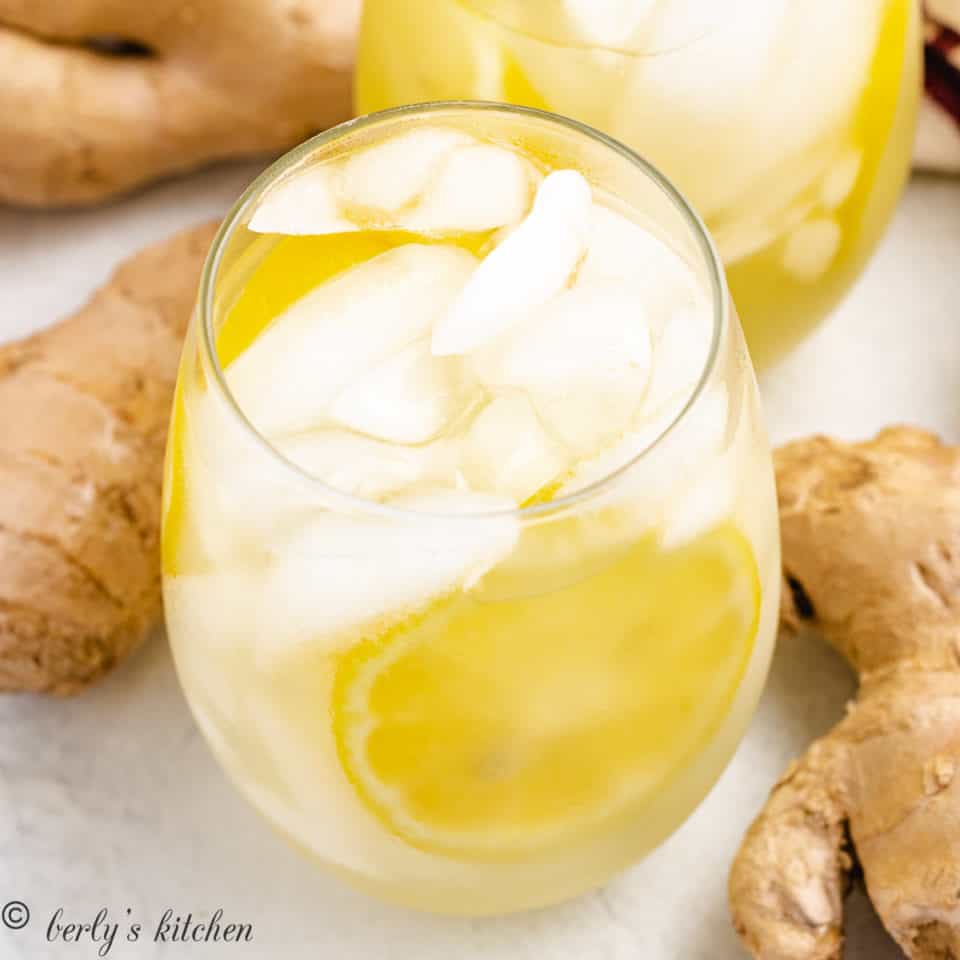 Ginger Lemonade is a lightly sweetened drink full of fresh lemon flavor and ginger simple syrup. It's the perfect Summer drink and is perfect for your next BBQ!
Ingredients
¼ Pound Ginger Root, peeled and cut into ½-inch thick slices
4 to 5 Cups Water, divided
1 ½ Cups Granulated Sugar
1 ½ Cups Freshly Squeezed Lemon Juice
Instructions
Place ginger root, sugar, and 1 ½ cups of water in a medium saucepan. Heat over medium heat, and stir occasionally until the sugar dissolves. Remove from heat, and allow the mixture to set for 30 minutes (or longer for a stronger flavor).
Strain the ginger simple syrup through a mesh sieve. Transfer the syrup to the refrigerator to cool or use immediately.
When ready to make the lemonade, place plenty of ice, slices of fresh lemonade, the remaining water, ginger simple syrup, and lemon juice in a large pitcher. Stir to combine the ingredients.
Pour into glasses over ice, and serve immediately. Garnish with lemon slices if desired.
Notes
*The calories listed are an approximation based on the ingredients in the recipe card and a serving size of 1 (8-ounce) cup of lemonade. Actual calories will vary.
*For more information, tips, and answers to frequently asked questions, please refer to the post.
Recommended Products
As an Amazon Associate and member of other affiliate programs, I earn from qualifying purchases.
Nutrition Information:
Yield:
8
Serving Size:
8 Ounces
Amount Per Serving:
Calories:

164
Total Fat:

0g
Saturated Fat:

0g
Trans Fat:

0g
Unsaturated Fat:

0g
Cholesterol:

0mg
Sodium:

37mg
Carbohydrates:

43g
Fiber:

1g
Sugar:

38g
Protein:

0g
*The calories are an estimate and are based on the ingredients and serving size listed. The calories can vary depending on the brand of product purchased.