This Breaded Fried Okra is a southern staple made in 20 minutes! Fresh okra pods are dipped in a mixture of buttermilk and savory spices, then coated in a light breading and fried to perfection.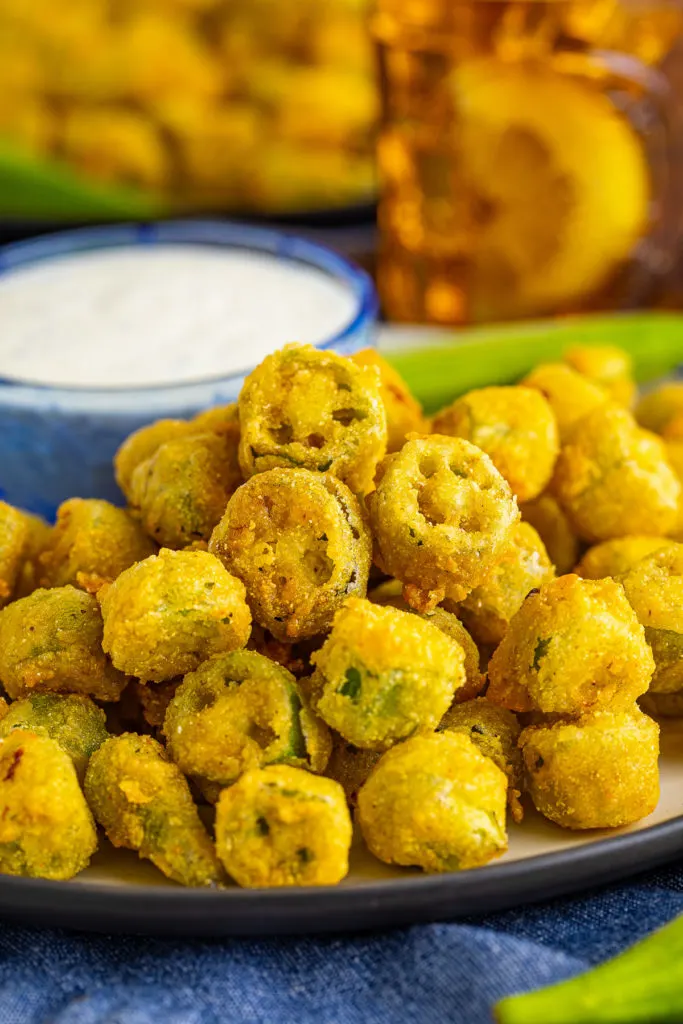 Easy Southern Fried Okra Recipe
Summer just isn't the same without at least one, two, three (and probably more) batches of breaded fried okra. I mean, it's so tasty, light, crispy, snack-able, and works great as an appetizer, snack, or side dish.
We love to fry this up and serve it with dinner, and it's the perfect side dish for a summer BBQ. It's a hit with everyone every single time!
What is Fried Okra Made Of?
​Our crispy fried okra recipe uses fresh okra pods and a handful of pantry staples. The result is okra covered with the best breading mixture and crispy coating around!
You'll find the exact measurements and full instructions in the recipe card near the bottom of the page.
Okra: I recommend using fresh okra pods for the best texture. In a pinch, frozen okra will work too. Just make sure you cut them into ½-inch slices.
Buttermilk: Buttermilk tenderizes the okra and helps the breading stick.
Seasonings: I like to add a little bit of garlic salt and black pepper to the buttermilk to infuse the okra with flavor.
Breading: Our breading is made with a combination of all-purpose flour, cornmeal, garlic salt, onion powder, sweet paprika, and ground black pepper.
Oil: I like to use peanut oil for its high smoke point and neutral smell. Vegetable oil and canola oil also work well.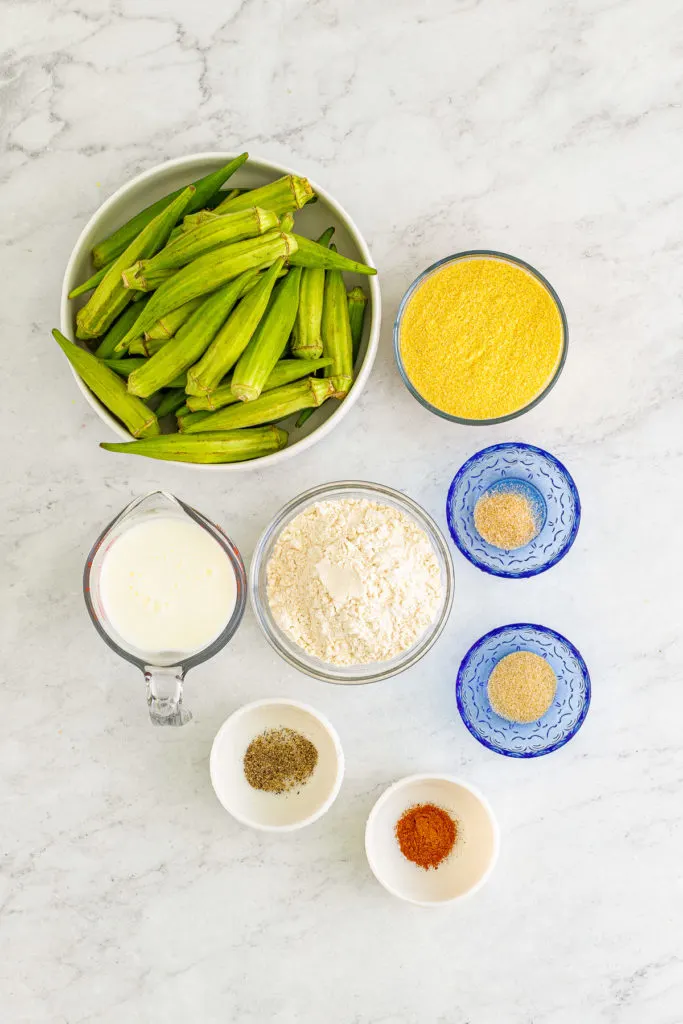 How to Make Breaded Fried Okra:
Scroll to the recipe card below for ingredient amounts and full instructions.
This tasty breaded okra is ready to enjoy in under 20 minutes!
Line a large baking sheet with paper towels then set it aside. Place another wire rack on a second baking sheet.
In a large bowl, combine the sliced okra pieces, buttermilk, garlic salt, and pepper. In a ziplock bag, combine flour, cornmeal, and seasonings. Close the top of the bag and mix well.
Working with ¼ cup of okra at a time, remove it from the buttermilk and let the excess buttermilk drip off. Place the pieces into the cornmeal mixture, close the bag, and toss around until well coated.
Place the prepared okra pieces onto a wire rack so they're easy to access for frying.
Heat the oil over medium-high heat in a large pan like a Dutch oven or deep cast iron skillet. Working in small batches, about 12 pieces of okra at a time, fry in the hot oil for 3-4 minutes or until golden brown and crispy.
Using a slotted spoon, remove the fried okra from the oil and drain on a wire rack set over a paper towel-lined baking sheet.
Tips and Notes
Check the oil temperature. It needs to be nice and hot to fry properly. Use a frying thermometer to check that it reaches a temperature of 375ºF before adding the okra in.
Use a heavy-bottomed pot with high sides. A heavier bottom distributes the heat more evenly while the higher sides gives the oil plenty of room to expand as it heats.
Fry in batches. Adding too much okra to the oil at once can cause the temperature to drop. If the oil isn't hot enough, the okra can become soggy rather than crispy.
Cool on a wire rack. After frying the okra, place it on a wire rack set on top of a paper-towel lined baking sheet. This allows the okra to stay nice and crispy as it cools.
Customize the seasonings. Feel free to adjust the spices you use according to your tastes. Try cajun, old bay, cayenne, or whatever you're in the mood for!
Storage
Refrigerator: Fried okra is best served immediately, but any leftovers you have can be stored in an airtight container in the fridge for up to 3 days.
Freezer: You can freeze the okra before or after frying. Either way, line it in a single layer on a baking sheet and flash freeze it until hardened.
Once it's fully frozen, transfer it to an airtight container and store. When you're ready to serve, there's no need to thaw.
Fry as directed, but keep in mind that frozen okra may take an additional minute or two to cook all the way through.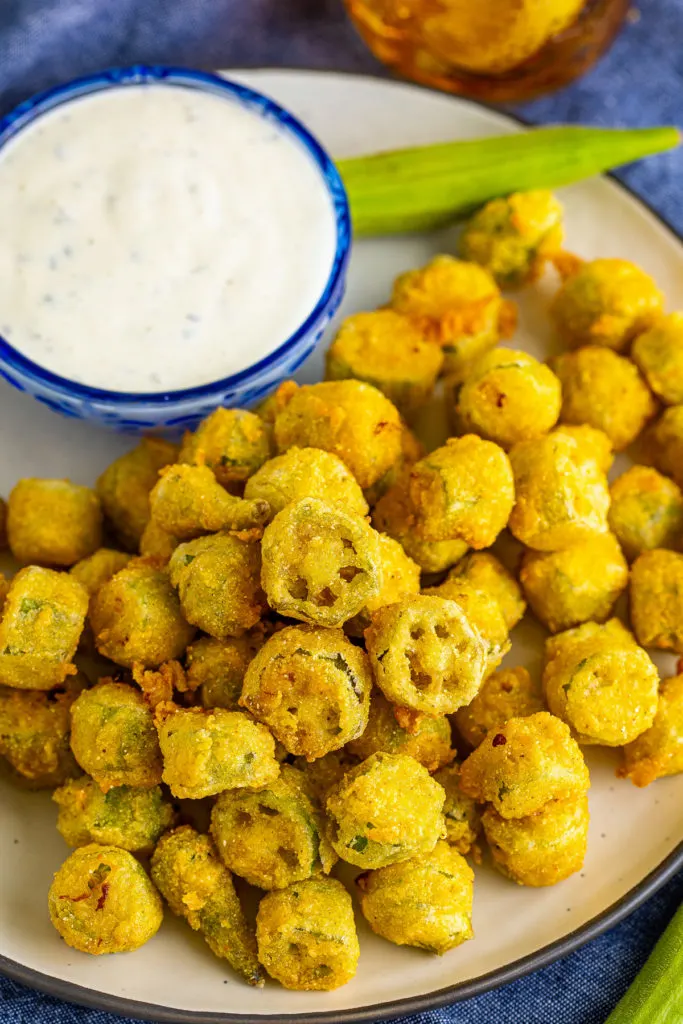 What's the Best Way to Reheat Fried Okra
To reheat already fried okra, I recommend baking it to maintain as much of the crisp as possible. Simply spread it out on a baking sheet and cook at 350ºF until heated through.
What Does Fried Okra Taste Like?
Okra itself has a subtly sweet, earthy, somewhat grassy flavor. Fried okra is the perfect balance of the okra flavor, plus the delicious flavors of the spices in the breading.
It's light, crispy, flavorful bites of perfection!
How Do You Fry Okra Without Slime?
While okra is delicious, it can sometimes become slimy because it contains something called "mucilage". It's totally fine to eat, but a slimy texture definitely isn't everyone's favorite.
Fortunately, cooking okra quickly at high heat helps reduce the risk of it feeling slimy. Which is exactly what we're doing with this fried okra.
The breading helps minimize the slime, then it's dropped in hot oil which gives it a light and crispy texture.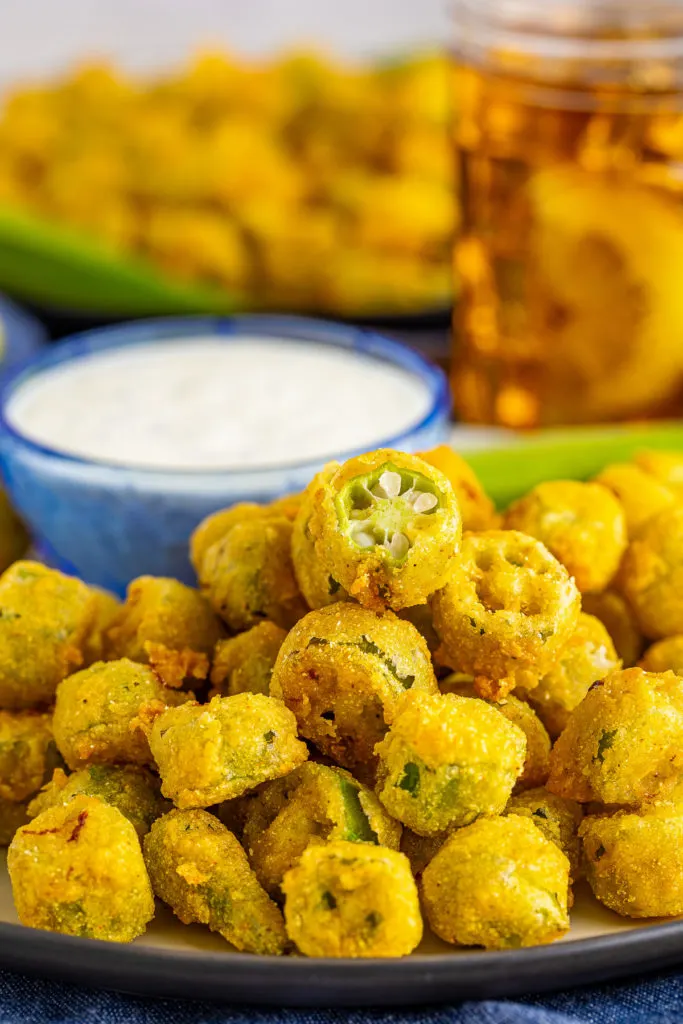 Is Fried Okra Good For You?
Fried okra is a veggie, but it's still a deep-fried veggie. So, I wouldn't classify it as a healthy food necessarily.
However, okra pods on their own are full of nutrients and antioxidants!
How Can You Make Breaded Fried Okra Crispy?
After you've fried the okra, remove it to a paper towel line baking sheet with a wire rack placed over the paper towels.
The excess oil drips off of the okra onto the paper towels. Since the okra isn't sitting directly on the paper towels, the breading doesn't get soggy.
More Southern Style Side Dish Recipes You'll Love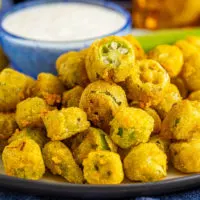 Southern Breaded Fried Okra (Easy to Make Recipe)
Print
Pin
I earn a commission from Amazon and Instacart from qualifying purchases.
Ingredients
For the Okra:
1

pound

fresh okra pods

,

cut into ½ slices

1

cup

buttermilk

1

teaspoon

garlic salt

½

teaspoon

ground black pepper
For the Breading:
¾

cup

all-purpose flour

¾

cup

cornmeal

2

teaspoons

garlic salt

½

teaspoon

onion powder

½

teaspoon

sweet paprika

¼

teaspoon

ground black pepper

Oil for frying
Instructions
To Make the Okra:
Place the okra pieces, buttermilk garlic salt, and pepper into a large bowl. Stir to combine.

1 pound fresh okra pods

1 cup buttermilk

1 teaspoon garlic salt

½ teaspoon ground black pepper
To Make the Breading:
Line a large baking sheet with paper towels then add a wire rack on top. Place a wire rack over a second baking sheet and set both aside.

Add the flour, cornmeal, garlic salt, onion powder, paprika, and pepper to a gallon-sized Ziploc bag. Close the top and mix the ingredients until well combined.

¾ cup all-purpose flour

¾ cup cornmeal

2 teaspoons garlic salt

½ teaspoon onion powder

½ teaspoon sweet paprika

¼ teaspoon ground black pepper

Work in batches and portion out about ¼ cup of the okra at a time. Let the excess buttermilk drip off, and place the pieces into the bag. Close the bag, and toss the okra around until it's well coated.

Remove the okra pieces one by one using tongs, and place them onto baking sheet lined only with the wire rack. Make sure to separate them, so they don't clump together. Repeat the process with the remaining okra.

Add cooking oil to a large, heavy bottomed pan with high sides. You need about 2-inches of high smoke point oil. Heat until the oil reaches 375°F.

Place about a dozen pieces of the okra into the oil at a time, and fry for 3-4 minutes or until it's browned to your liking. Remove with a slotted spoon and drain on the baking sheet with the wire rack and paper towels.

Repeat with the remaining okra.

Serve warm. Scroll up and see the post for tips, FAQs, and storage options.
Notes
*The calories listed are an approximation based on the ingredients in the recipe card and a serving size of

½

cup of okra. Actual calories will vary.
*For more information, tips, and answers to frequently asked questions, please refer to the post.
*Photos courtesy of This Silly Girl's Kitchen.
Nutrition
Serving:
0.5
cup
|
Calories:
184
kcal
|
Carbohydrates:
34
g
|
Protein:
6
g
|
Fat:
3
g
|
Saturated Fat:
1
g
|
Polyunsaturated Fat:
1
g
|
Monounsaturated Fat:
1
g
|
Cholesterol:
4
mg
|
Sodium:
1211
mg
|
Potassium:
367
mg
|
Fiber:
5
g
|
Sugar:
3
g
|
Vitamin A:
622
IU
|
Vitamin C:
18
mg
|
Calcium:
114
mg
|
Iron:
2
mg
Don't Lose This Recipe!
Save it on Pinterest! Follow us at @berlyskitchen!