A freshly brewed cinnamon coffee drink flavored with ground cinnamon, heavy cream, and brown sugar. It's the perfect start to a Fall day!
One of our favorite beverages is coffee. Always has been and probably always will be.
We have a handful of coffee drink recipes on the site already; like our iced white chocolate mocha or our butterscotch coffee.
For today, we're sharing a wonderful coffee drink for Fall. It's our simple cinnamon coffee.
Unlike other recipes that simply direct you to dump ground cinnamon into a coffee mug, we actual brew the coffee and cinnamon together.
It seems to create a smoother flavor with hints of cinnamon; instead of a mouthful of spicy coffee.
The recipe is easy to follow and creates a warm, comforting drink that will kickstart your day. Let's get started!
How do you make cinnamon coffee?
First, you need to prep the coffee itself. Grab your coffee maker and filter.
Pour 8-cups of water into the machine. Afterward, put the filter in place and add 1-cup of ground coffee.
Next, add in 1-teaspoon of ground cinnamon. Seal the machine and start the brewing process.
While the beverage brews, grab 4 (10-ounce) coffee mugs. Then, put 2-tablespoons of heavy cream into each mug.
After that, add 1-tablespoon of brown sugar to the heavy cream.
When the coffee is ready, pour 1-cup of the hot liquid into each mug. Stir everything together.
Last, add any toppings or garnishes you want and then serve the drink while it's hot.
That's it, the recipe is done! Kim and I hope you enjoy it and wish you all the best 🙂
Recipe Tips and FAQ's:
If you want your drink to look and taste like ours, then consider adding some extra toppings; like our bourbon whipped cream.
How much cinnamon should I put in my coffee?
That depends on your taste buds. I recommend starting with an 1/8-teaspoon of ground cinnamon per 8-ounce serving. Taste test the brewed mixture and increase the amount as needed.

Can I put cinnamon powder in my coffee?
I wouldn't recommend it! Not unless you enjoy, "burning," your mouth, taste buds, and nasal cavities. Cinnamon is a spice that contains capsaicin. You know, the stuff found in hot peppers and pepper spray. So, it's probably not a good idea to be dumping it into a hot beverage you're about to consume.

How do I dissolve cinnamon in coffee?
The best method to avoid ground cinnamon in your coffee is to brew it with the ground coffee granules. That way, the spice is heated and then filtered just like the coffee.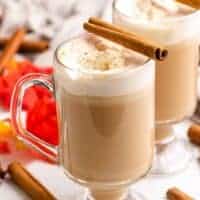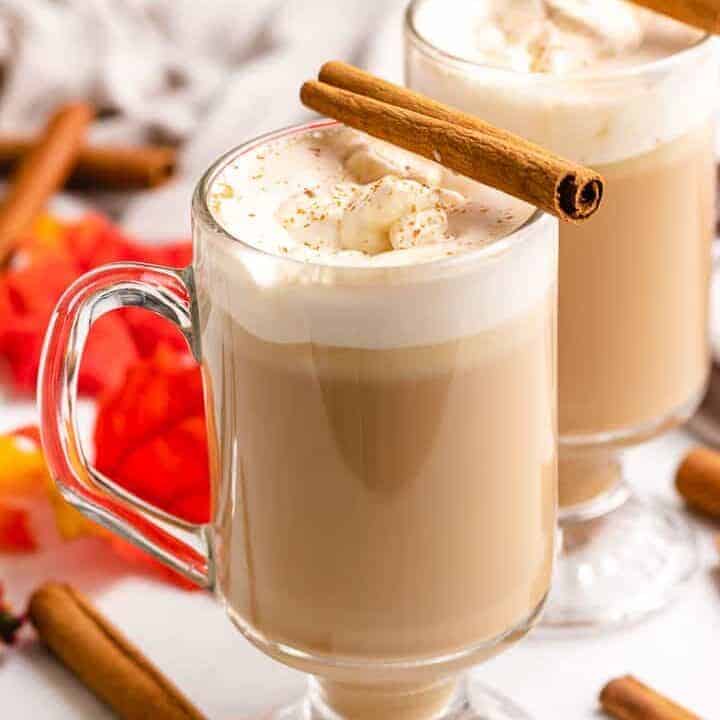 Cinnamon Coffee
Print
Save
Saved!
Pin
I earn a commission from Amazon and Instacart from qualifying purchases.
Ingredients
Optional Add-Ins and Garnish:
Heavy Cream

Half and Half

Milk

Coffee Creamer

Brown Sugar

Granulated Sugar

Whipped Topping

Bourbon Whipped Cream

ground cinnamon

Cinnamon Sticks
Instructions
Pour ground coffee and cinnamon into the paper liner of a coffee maker. Add 8 cups of water. The cinnamon will flavor the coffee as it brews.

Divide the heavy cream and brown sugar evenly into 4 large coffee mugs. Add the hot coffee, and stir to combine. Top with bourbon whipped cream and ground cinnamon cinnamon.

Serve immediately.
Notes
The calories listed are an approximation based on the ingredients in the recipe card and a serving size of 2-cups of the cinnamon coffee drink. Actual calories will vary. For more information and tips, please refer to the post.
Nutrition
Serving:
8
Ounces
|
Calories:
254
kcal
|
Carbohydrates:
19
g
|
Protein:
4
g
|
Fat:
16
g
|
Saturated Fat:
11
g
|
Polyunsaturated Fat:
5
g
|
Cholesterol:
49
mg
|
Sodium:
71
mg
|
Fiber:
1
g
|
Sugar:
14
g