Our slow cooker BBQ beef features tender, shredded beef flavored with a dry rub and slow cooked for up to 6 hours in your slow cooker.
If you follow our blog, then you know that for a while we lived in Florida. A lot of the condos and complexes we lived in banned grills and smokers.
As a result, I had to learn how to prepare BBQ beef and BBQ chicken without a grill.
I used a lot of cast iron griddles over the years to create savory burgers and grilled chicken.
Two examples of this type of cooking are my grilled pork chops recipe and easy homemade hamburgers. Most of the time we used the slow cooker for other types of dishes like slow cooker Philly cheesesteak or crockpot BBQ meatballs.
Using a seasoned cast iron griddle on the stove-top, with the right seasonings, creates a flavorful cut of meat similar to propane grilling.
Slow cookers can be used in place of smoking. By adding ingredients like liquid smoke, you can recreate that slow cooked flavor in your crock pot.
Need an example, take a look at my slow cooker pulled pork sandwich. It's perfect for making pulled pork without a smoker.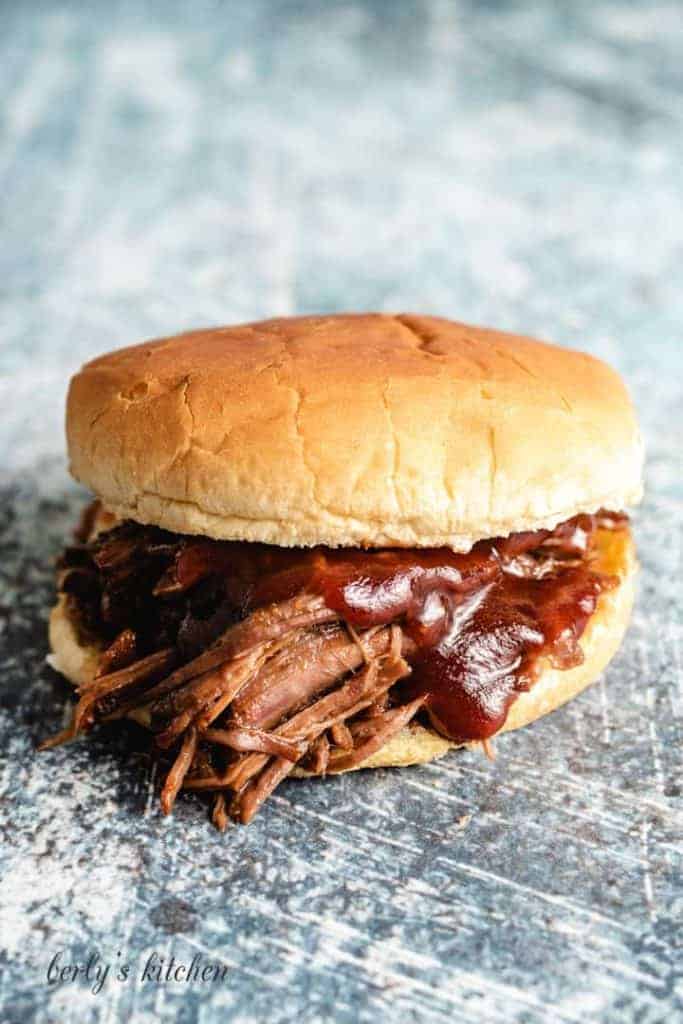 What cut of meat is used for BBQ beef?
That depends on your taste preferences. For shredded BBQ beef, like this slow cooker BBQ beef, then you would want to use a chuck roast.
For sliced BBQ beef, then a brisket works best. Either way, to keep the meat tender and juicy, then it has to be slow cooked.
The best method is a smoker; however, few people own the right equipment. However, you can use a slow cooker (crock pot) or your oven at a low temperature (less than 250°F.).
What cut of beef is best for shredding?
In my opinion, I feel chuck or bottom roast with good marbling (fat distribution) is best for shredding.
As the beef slow cooks, the fat will, "melt" and add a ton of flavor to the meat. Best of all, as it melts, the beef loosens up for shredding.
How to make Slow Cooker BBQ Beef?
First, gather all your ingredients. Be sure to get a roast with good fat distribution for flavor and ease of shredding.
After that, in a large measuring cup or mixing bowl, combine the BBQ sauce and beef broth.
Next, take the roast out of the package and apply the dry rub. In our house, we evenly coat all sides of the beef with the rub.
Now, place the meat into the slow cooker. For this recipe we used a 7-quart cooker for about 2.5 lbs. of beef.
Carefully, pour the BBQ sauce mixture into the cooker. I recommend pouring it down the side to avoid washing off the dry rub.
For the best results, set the appliance on low and let the BBQ beef slow cook for 5-6 hours. But, if needed, it can be cooked on high for 2-3 hours.
Just don't expect the shredded BBQ beef to be very tender. Slow cooking is always the best method when it comes to BBQ.
Then, once it's done, use tongs to remove the meat from the cooker. Afterward, start shredding the beef using two forks or tongs.
On the other hand, you could simply shred the beef in the cooker. It's up to you how you want to complete that step.
Last, return the beef back to the cooker and serve it with the juices and sauce it cooked in. This will keep the meat moist and juicy.
You can serve slow cooker BBQ beef as a sandwich or however you like. When it comes time to store leftovers, store the meat with the liquid from the slow cooker.
Doing so will keep it from drying out in your fridge. It can be stored in a sealed container, in your fridge, for up to 3 days.
That's it, your slow cooker BBQ beef recipe done! Kim and I hope you enjoy the shredded BBQ beef and wish you all the best 🙂
Looking for a recipe to make on your new grill? The check out our grilled BBQ chicken breast.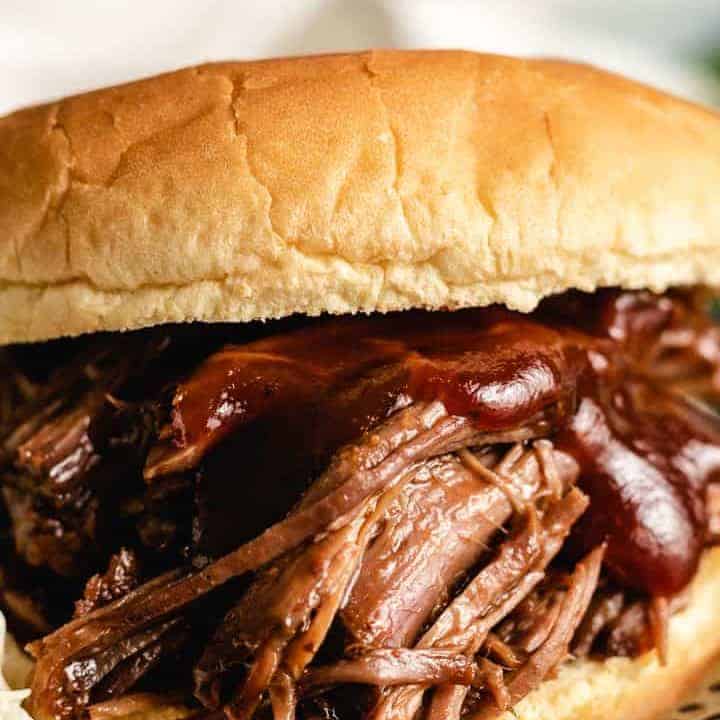 Slow Cooker BBQ Beef
Total Time:
6 hours
10 minutes
Our slow cooker BBQ beef features tender, shredded beef flavored with a dry rub and slow cooked for up to 6 hours in your slow cooker.
Ingredients
24 Ounces Beef Broth
18 Ounces Barbecue Sauce
2.25 Lbs Beef Roast, (chuck, top, or bottom)
1/3 Cup Dry Rub, (we used brown sugar and hickory flavor)
Instructions
In a medium bowl or large measuring cup, whisk together the beef broth and barbecue sauce. Set aside.
Sprinkle the dry rub evenly over the roast on all sides. Rub the seasonings in so they soak into the meat.
Place the roast into a 6 or 7 quart slow cooker. Pour the beef broth/barbecue sauce mixture around the roast. Cover and cook on low for 5 to 6 hours or high for 2 to 3 hours.
After the time is up, remove the lid and use tongs to remove the beef from the slow cooker. Shred the beef using two forks or a set of meat claws. Return the meat to the slow cooker or serve immediately.
The shredded beef can be served as-is with a side of coleslaw or baked beans, on a bun, or topped with extra barbecue sauce. Store any leftovers in the refrigerator covered in the juices from the slow cooker for up to 3 days.
Notes
The calories listed are an approximation based on the ingredients and a serving size of about 1/3 lb. of the shredded BBQ beef. Additionally, it does NOT include the buns, coleslaw, and garnishes seen in the photos. Actual calories will vary. Leftovers can be stored in a sealed container in your fridge for up to 3 days.
Recommended Products
As an Amazon Associate and member of other affiliate programs, I earn from qualifying purchases.
Nutrition Information:
Yield:

6
Serving Size:

5.3 Ounces
Amount Per Serving:
Calories:

370
Total Fat:

7g
Saturated Fat:

2g
Unsaturated Fat:

0g
Cholesterol:

97mg
Sodium:

3856mg
Carbohydrates:

38g
Fiber:

1g
Sugar:

28g
Protein:

39g