A recipe round-up featuring Memorial Day recipes from popular bloggers. From delicious classics to new twists, there's something for everyone!
Memorial Day is fast approaching and you know what that means, right? Lot's of grilling and delicious dishes!
For today, we're sharing a list of recipes from some well-known bloggers and foodies. Of course, it will have some of the classics like burgers and macaroni salad.
As well as, new twists on old favorites like our Ultimate BBQ Bacon burgers and from Gwynn at Swirls of Flavor, Bruschetta Burgers with Crispy Prosciutto!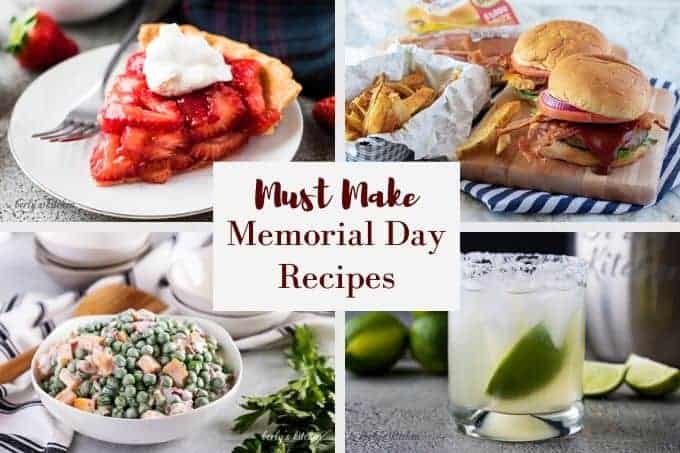 Now, the list will be broken into five categories; drinks, appetizers, main dishes, sides, and desserts. Each photo will have a short description and a link to the recipe.
So, shall we get started?
Drinks and Cocktails
You can't have a get together without drinks. Whether it be iced tea and sodas or cocktails and punches, you need something to wash down those tasty bites.
Appetizers
These appetizers are sure to be a crowd pleaser. There are dips, wings, and platters galore. Pick your favorite or make them all!
Main Dishes
Here you'll find all the classic Memorial Day recipes along with fresh, new ideas from some of the most creative foodies on the web!
Sides
Listed below are some must-have side dishes for any get together or large family meal. You'll find plenty of salads and sides to compliment those main dishes!
Desserts
Nothing tops off a great meal like a delicious dessert. Take a look at the list below to find a sweet and decadent dessert!
Kim and I hope you've enjoyed this list of Memorial Day Recipes. Although we included over 50 recipes, these bloggers have tons of other tasty dishes on their sites.
I encourage you to click around and checkout the other offerings on each food blog. From traditional meals to keto and vegan, there's bound to be something for you!