A growing list of the tastiest Thanksgiving recipes the internet has to offer! From traditional sweet potatoes, tasty desserts, classic entrees, and unique cocktails, this list has it all!
As the name implies, we complied a pretty large list of Thanksgiving recipes you have to try.
Before we get started, this round-up isn't just your Grandma's favorite recipes.
We've included cocktails and desserts, so you're bound to find something you love on this list. Now, enough chic-chat, let's get to the food!
When you're done looking at this list, check out game day dip recipes or our Memorial Day recipes for ideas for your next big game party!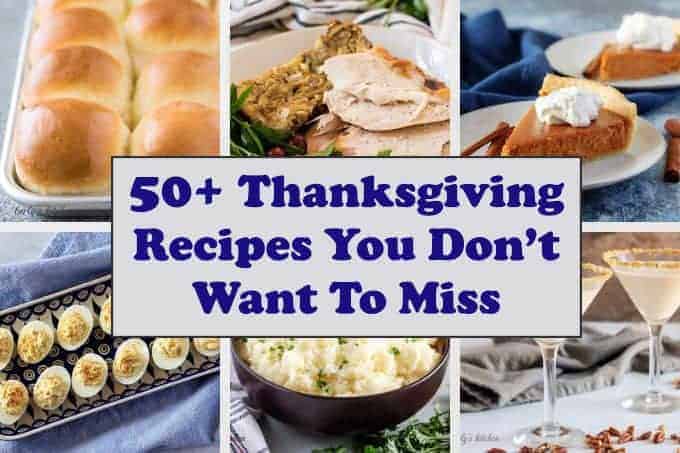 Thanksgiving Drinks and Cocktails
Every Thanksgiving table needs a drink of some sort. Here are our favorite options for grown-up and kid-friendly drinks that everyone will enjoy!
Thanksgiving Appetizers and Starters
Our family loves to snack on finger foods and snacks while the main meal is cooking. Here are some of our favorites!
Thanksgiving Entrees and Main Dishes
Thanksgiving entrees are fairly traditional. We've decided to toss in some meal ideas for that leftover turkey and ham, too. Just in case!
Thanksgiving Side Dishes
This is probably the largest and most diverse category of recipes. Thanksgiving side dish recipes ranges from mac and cheese and brussel sprouts to stuffing and mashed potatoes. We have tons and tons of recipes to choose from!
Thanksgiving Desserts
Thanksgiving dessert recipes might just be my favorite part of Thanksgiving dinner. Whether it's blueberry pie, pumpkin ice cream (not traditional but tasty anyway!), or a simple banana bread, you really can go wrong saving a tiny bit of room for dessert.
If you like these Thanksgiving recipes, please leave us a comment and rate the recipe card. You can also find us on Facebook, Pinterest, Twitter and Instagram searching for Berly's Kitchen!