A round up with over 80 pantry recipes using ingredients found in most kitchens. We also included substitution ideas and suggestions for most of the recipes!
For today's post, I decided to do something a little different. Instead of sharing 1 recipe, I chose to do a recipe round-up.
Listed below are over 80 different recipes, including breakfast, lunch, dinner, and Instant Pot, just to name a few.
Now, not every recipe can have ingredient substitutions, With that being said, I did my best to provide ingredient swaps wherever possible.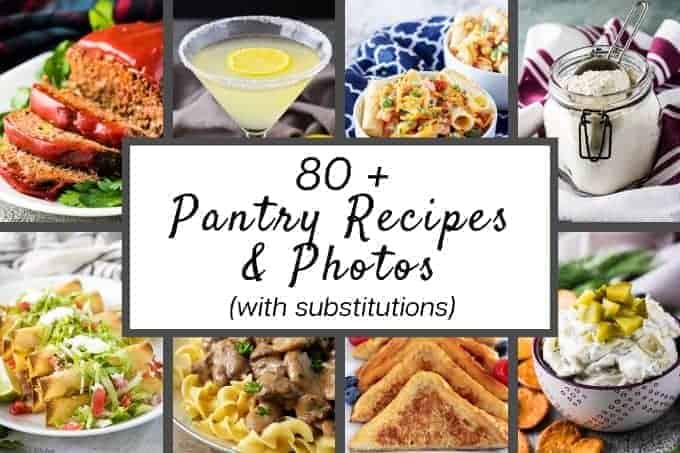 We hope you enjoy this list and invite you to share it with family and friends. Hopefully, you'll find a quick dish for your next meal. 🙂
Breakfast Recipes:
Here's some of our favorite breakfast recipes. Some are simple, while other will take a little time. But, those dishes are worth the effort!
Appetizer Recipes:
The list below contains a few simple appetizers that you can make with commonly found ingredients in most kitchens.
While there may not be many substitutions; hopefully, you won't need them!
Cocktails:
When it comes to cocktails, I don't recommend using substitutions. Because, most drinks have been perfectly measured to create a specific flavor.
Using ingredient substitutions in these drinks will result in a completely different end product.
The only reason I'm including them is because they use very few ingredients that are easily found in most wet bars.
Main Dish Recipes:
It's time to move on to main dishes. The list below contains some of the easiest recipes you'll find on our website.
Instant Pot Recipes:
We didn't forget our pressure cooker readers. Listed below are some simple options for everyone's favorite kitchen appliance.
Dessert Recipes:
Who's ready for for some sweet treats? I know I am. Nothing completes a simple meal like a dessert. Here's a few suggestions for your next after dinner treat.
Homemade Condiments and Substitutes:
This category is purely intended to replace processed sauces and condiments. So, we won't be providing ingredient substitutions for the recipes found below.
Salad Dressings and Vinaigrettes:
These are technically condiments, I know. However, we have a quite a few offerings, so I thought I'd give them a separate category.
If you like this list, leave us a comment and let us know. You can also find us on Facebook, Pinterest, Twitter and Instagram searching for Berly's Kitchen!